Roasted Lime and Garlic Shrimp Cocktail – A flavorful spin on the classic!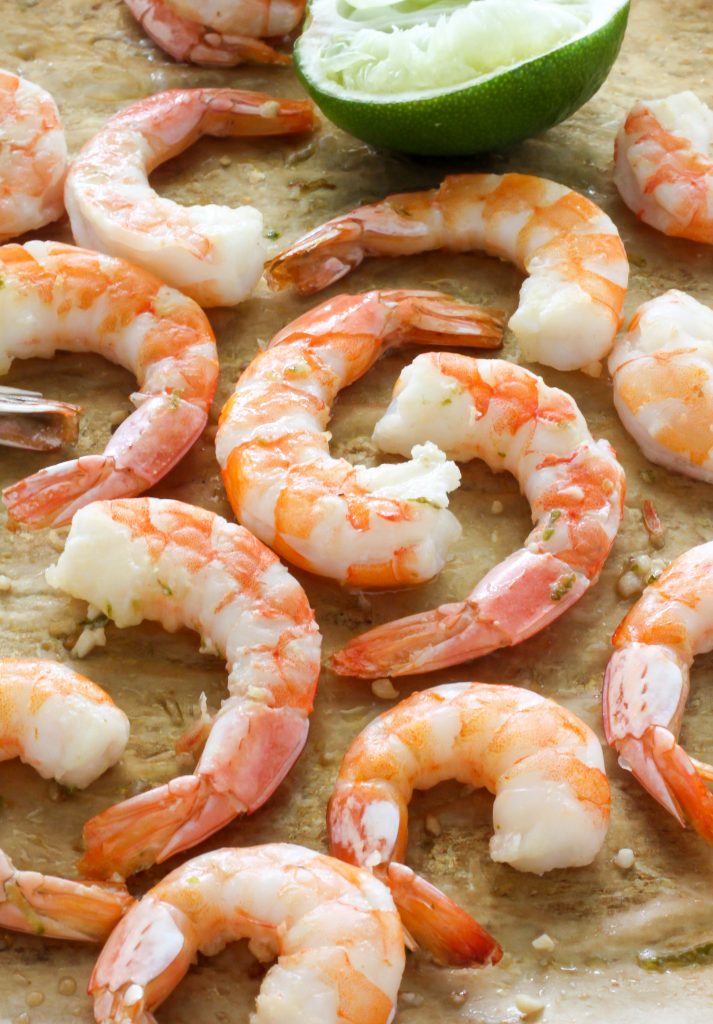 I have to be honest, when I initially made this recipe last week, I had zero intention of sharing it on the blog. I simply had a hankering for shrimp, and wanted them in the quickest, easiest way possible. I also wanted to dress them up with some major flavor (naturally). So I tossed said shrimp with a little lime juice, a little lime zest, and few cloves of garlic; arranged them onto a baking sheet and then popped them into the oven; and roasted them to plump, pink, shrimp-y perfection. I also whipped up the easiest homemade cocktail sauce because, um… dipping is delicious.
The results?! Well let's just say I only had enough self control to snap a few quick photos before diving in! This is a great recipe for parties, picnics, and BBQ celebrations; it also makes a wonderful light lunch or dinner. The shrimp only 8 or 9 minutes in the oven, so you can have this on the table FAST. Enjoy! xoxo
Roasted Lime and Garlic Shrimp Cocktail
A flavorful twist on classic shrimp cocktail! Loaded with zesty lime and garlic - this is sure to fly off the table.
Ingredients
For the 2 pounds large shrimp, peeled and deveined, with the tails kept on
Zest of 1 large lime
1 tablespoon lime juice
1 tablespoon olive oil
1/2 teaspoon salt
1/2 teaspoon black pepper
2 cloves garlic, minced
For the cocktail sauce:
1/2 cup ketchup
1 -2 tablespoon horseradish (or to taste)
1/2 tablespoon lime juice
1 ⁄4 teaspoon Worcestershire sauce
1 ⁄4 teaspoon salt
1/8 teaspoon pepper pepper
Instructions
For the Shrimp:
Preheat the oven to 400 degrees (F). Place the shrimp in an even layer on a large baking sheet; set aside. In a small bowl combine the lime zest, lime juice, oil oil, salt, pepper, and garlic; stir well to combine. Pour the mixture over the shrimp and toss the shrimp around a little to help coat them evenly. Be sure to arrange the shrimp in an even layer without any of them overlapping when finished. Roast the shrimp for 8-9 minutes, or until they're pink and opaque all the way through. Transfer shrimp to a clean dish and let them cool. Place in the fridge until needed.
For the cocktail sauce:
In a small bowl combine all of the ingredients, mixing well to evenly combine. Chill until needed.
Notes
This recipe can easily be double as needed. This recipe may be made up to 12 hours in advance and kept in the fridge until served.