These Rosemary Goat Cheese Biscuits are soft, flaky, and exploding with flavor. Made with fresh rosemary and soft goat cheese, their unlike any other biscuit you'll ever make! Perfect biscuits for breakfast or brunch!
Rosemary Goat Cheese Biscuit Recipe
A few years ago I spent a week in Vermont with two of my best friends. We lodged at a really cute B&B (that's sadly not in business anymore…) that served the most incredible complimentary breakfast. Each morning we would groggily wander down to the dining room to be greeted with coffee (thank God), breakfast, and lots of smiles.
One of the most memorable things I ate on that trip was a Rosemary Goat Cheese Biscuit slathered in fresh strawberry jam. It was soft, flaky, and so flavorful. In fact, it was so spectacular I've spent the last two years attempting to recreate it.
Last week, all of my hard work finally paid off!
These goat cheese biscuits taste exactly like the ones I remember eating on vacation!
They're mile-high, incredibly buttery (and yet only have 3 tablespoons of butter in the recipe!), speckled with tangy goat cheese, and delightfully flavored with fresh rosemary.
The best part? They only take about 40 minutes start to finish. Meaning… you could technically be eating one of these beauties REAL soon 😉 I suggest eating them warm from the oven for a delicious experience you won't soon forget!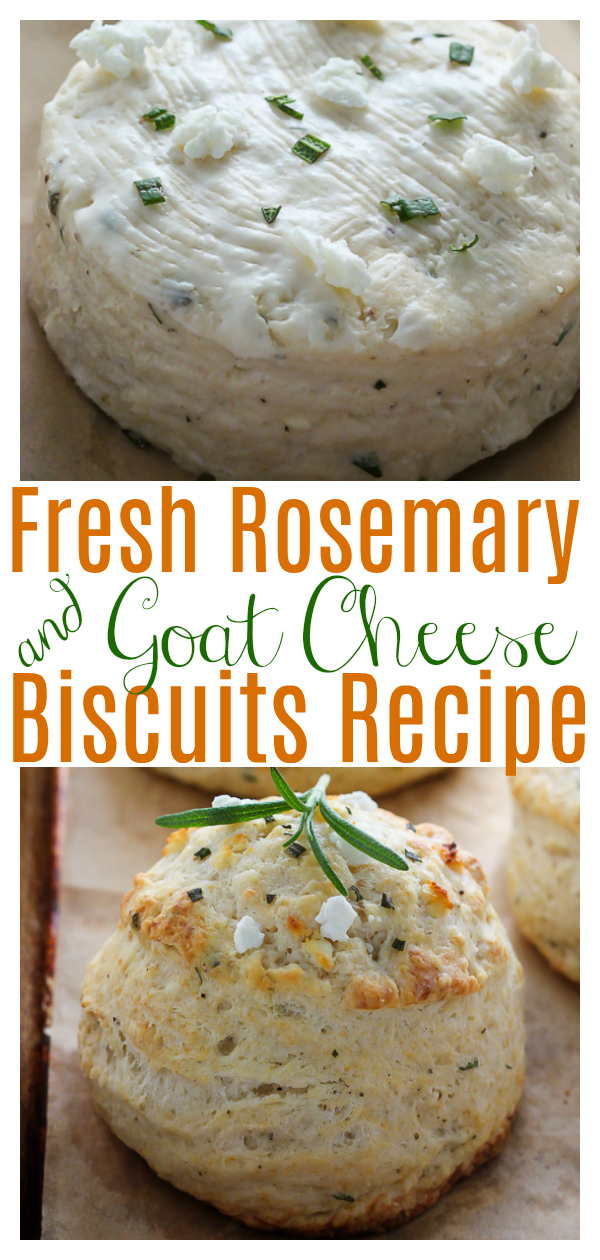 More Biscuit Recipes: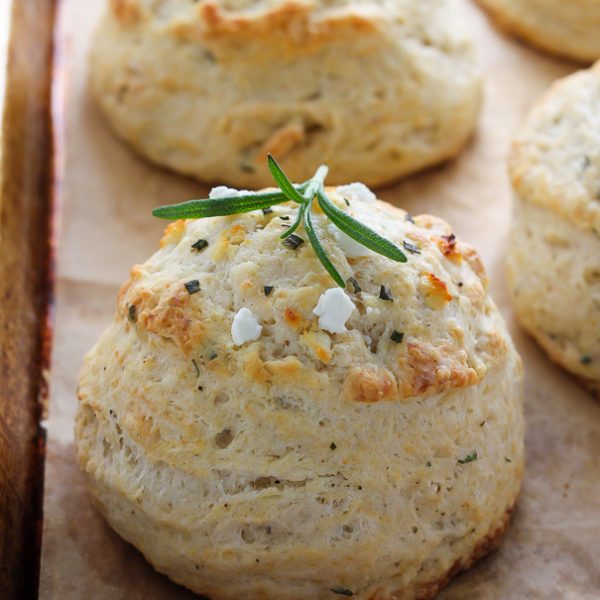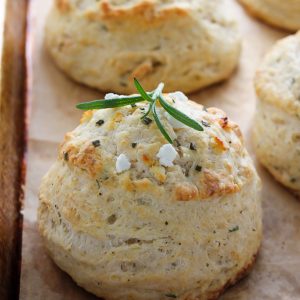 Rosemary Goat Cheese Biscuits
Nothing beats the smell of homemade biscuits baking up in the oven! These Rosemary and Goat Cheese Biscuits are sure to become a new favorite.
Ingredients
2 Cups All-Purpose Flour
1 Tablespoon + 1 Teaspoon Baking Powder
2 Tablespoons Granulated Sugar
3/4 Teaspoon Salt (Kosher or Table Salt)
1/2 Teaspoon Freshly Ground Black Pepper
3 Tablespoons Unsalted Butter, Very Cold
1/4 Cup Fresh Rosemary, Chopped
(1) 6 ounce Log of Fresh Goat Cheese, Crumbled
1 Cup + 4 Tablespoons Heavy Cream; Divided
Instructions
Preheat oven to 400 degrees (F). Line a large baking sheet with a piece of parchment paper; set aside.

In a large bowl combine the flour, baking powder, sugar, salt, and black pepper; whisk well to combine. Using a large cheese grater shred the butter into the dry ingredients; use your fingertips to rub the butter into the mix, stopping when the mixture is a coarse meal. Stir in the rosemary, then add in the goat cheese and 1 cup + 3 Tablespoons of the cream; stir with a fork just until a messy (sticky) ball is formed. Turn the dough out onto a generously floured surface and knead (with very floured hands) until the dough has been worked into a ball; about 6-7 times should do it. Pat the ball down into a 1" thick round, then use a biscuit cutter to cut out as many rounds as possible, re-rolling the scraps as needed.

Place the biscuits on the prepared baking sheet, brush each one with a little of the remaining cream, and bake for 18-20 minutes, or until golden brown. Eat at once! These are really good with butter and strawberry jam!