White cheddar cheese, crispy bacon, and apple make these buttery biscuits irresistible! Perfect for breakfast or as a side at dinner. Everyone loves these savory apple biscuits!
Rosemary Cheddar Biscuits with Bacon and Apple
Call me crazy, but I've never been big on breakfast. I should clarify. What I mean is, given the choice, I always prefer non-breakfast foods over more traditional morning meals.
A few months ago, I made these Bacon, pepper jack and jalapeno scones and my breakfast world was shaken, rocked, rattled, and rolled. A few weeks later, riding high on the coattails of their success, I made another breakfast hit: Rosemary Goat Cheese Biscuits. Savory, flaky, buttery biscuits loaded with so much awesomeness… where have you been my whole life?!? Needless to say, savory scones and biscuits have dug deep into my heart and are here to stay. If you have any requests, my ears are here for the whispering 😉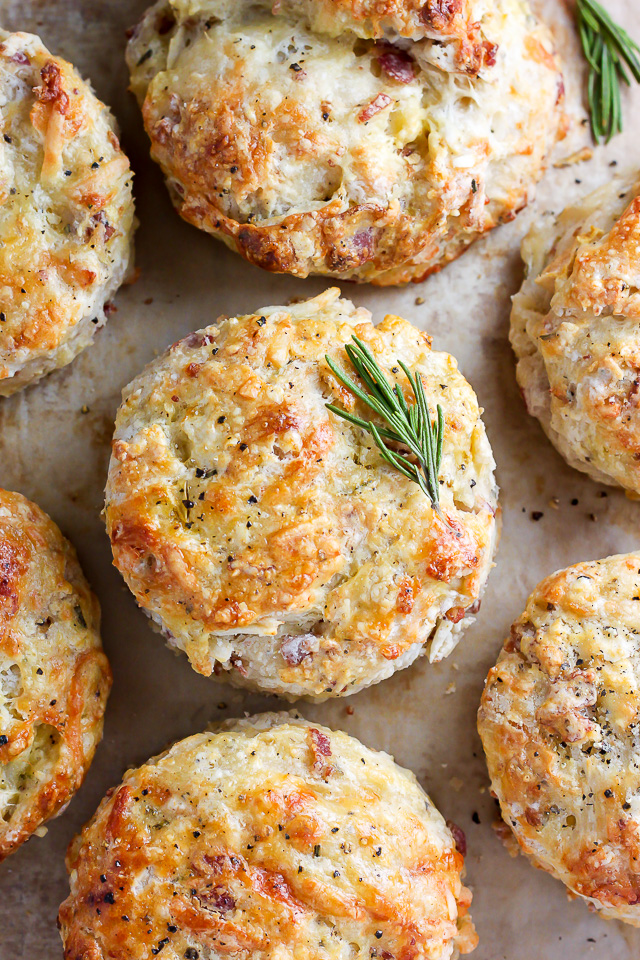 Bacon Apple Biscuits
Today's savory biscuit recipe is inspired by the upcoming season of Fall. I know, I know. "BUT IT'S ONLY AUGUST" you say (or scream if you're a teacher like my mom and know each day is taking you closer and closer to the first day of school). I hear you. I'm not rushing Summer out. In fact, I'm holding on to it just as tightly. But since the seasonal shift from hot and sticky, to cool and crisp is inevitable, I thought you might like to be prepared with flaky, buttery, super loaded biscuits. Edible silver linings is what the good life is all about.
P.S. If you're giving me the stink eye right now over that whole Fall conversation… I have something BLUEBERRY coming up next. So let's stay friends pleeeeeeeease 🙂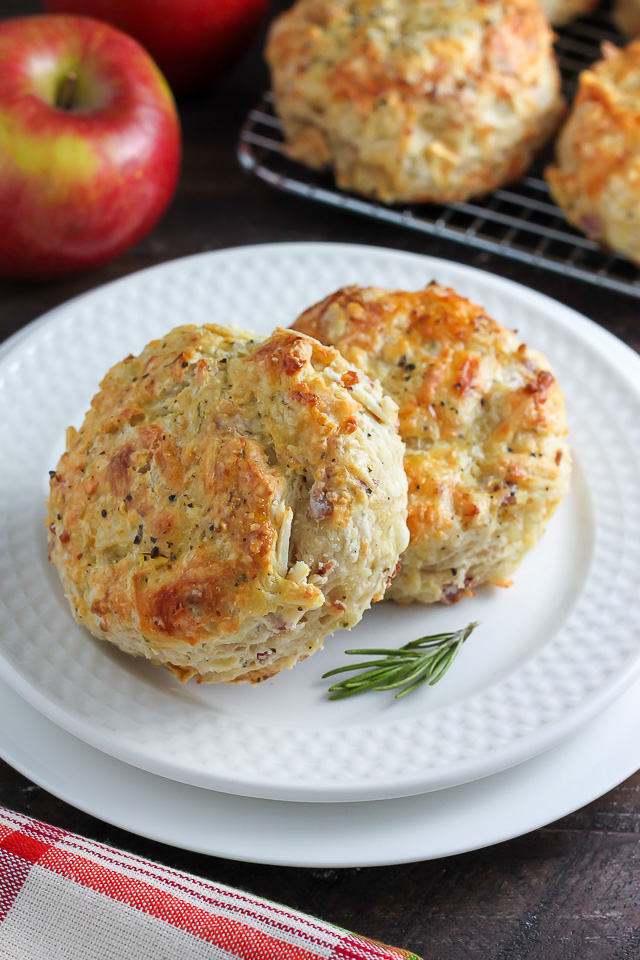 How to Make White Cheddar, Apple, and Bacon Biscuits
Let's talk ingredients!
The basic ingredients you'll need to make these biscuits are flour, baking powder, sugar, salt, black pepper, rosemary, butter, and cream. It's very important the butter is niiiiice and cold before adding it to the flour.
PRO TIP: I like to place my stick of butter in the freezer for 20 minutes, then use a cheese grater to quickly shred it straight into the mix. If you don't own a grater, simply cut the butter into tiny cubes and work it in quickly with a pastry cutter (or two forks).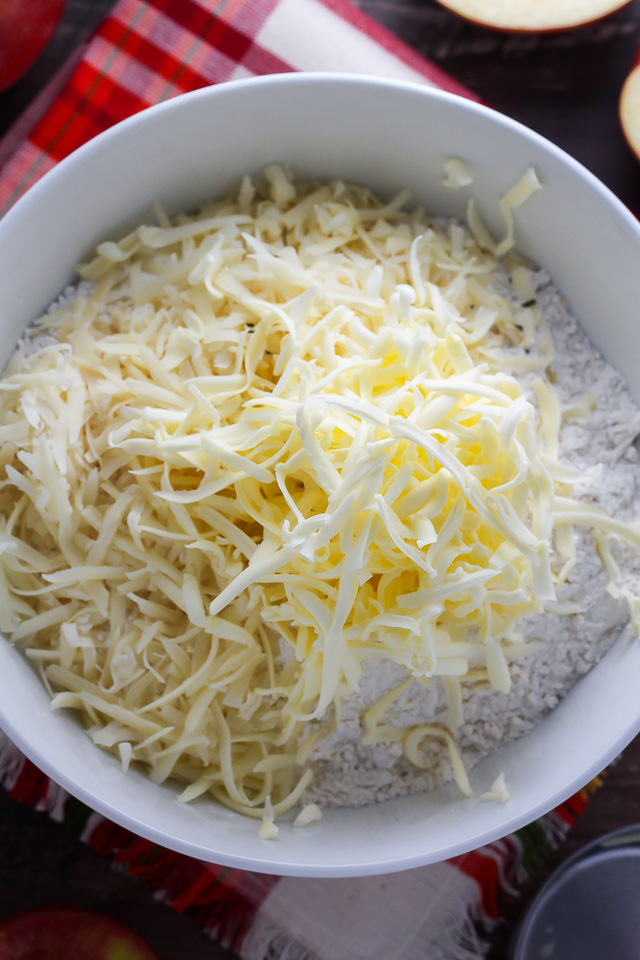 The superstar ingredients you'll need for this recipe are apples, bacon, and white cheddar cheese. This slightly sweet, totally savory flavor combo is like no other ♡♡♡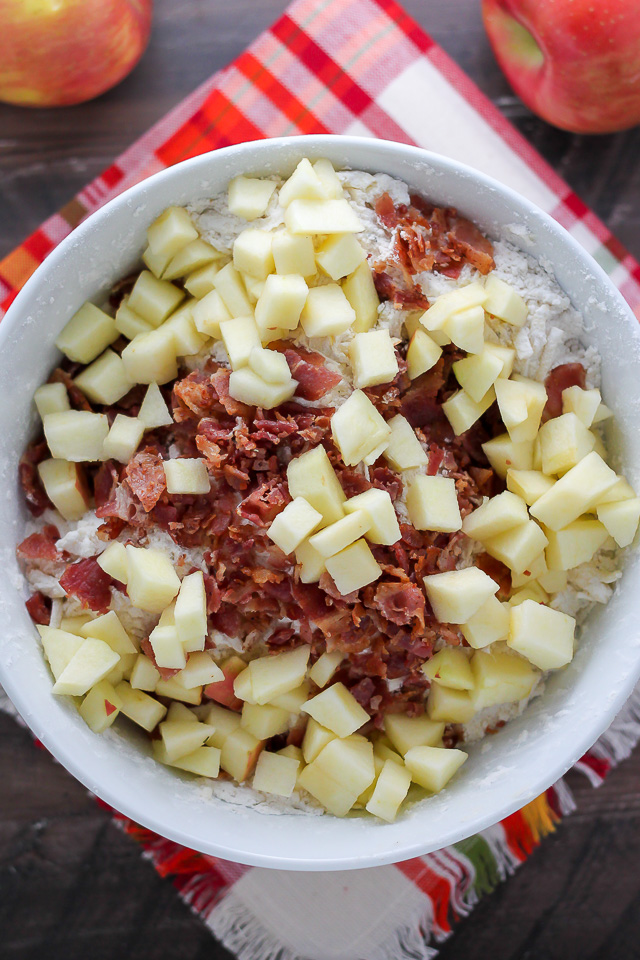 Now. I've said this before and I'll say it again, making good biscuits requires one thing you cannot find on shelves or in stores: Patience.
You will need a great deal of this while working the dough together. At first it will appear to be a great big shaggy mess. Then you will start to knead it and think "surely this needs more moisture". <— RESIST THE URGE TO ADD MORE CREAM. Finally, after gently and lovingly working the dough a few times you'll witness the miracle of it coming together! Just keep your cool during the kneading step and don't let the dough drama wreck your biscuit making adventure. #YouGotThis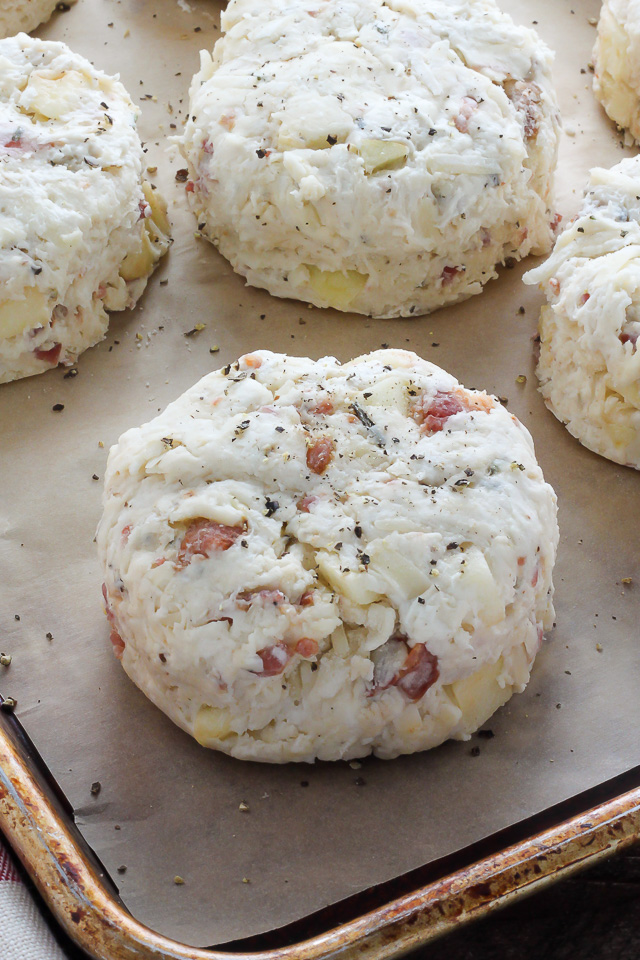 When it comes time to cut out the biscuits you can use a traditional cutter if you own one, or get creative and use a large rimmed glass.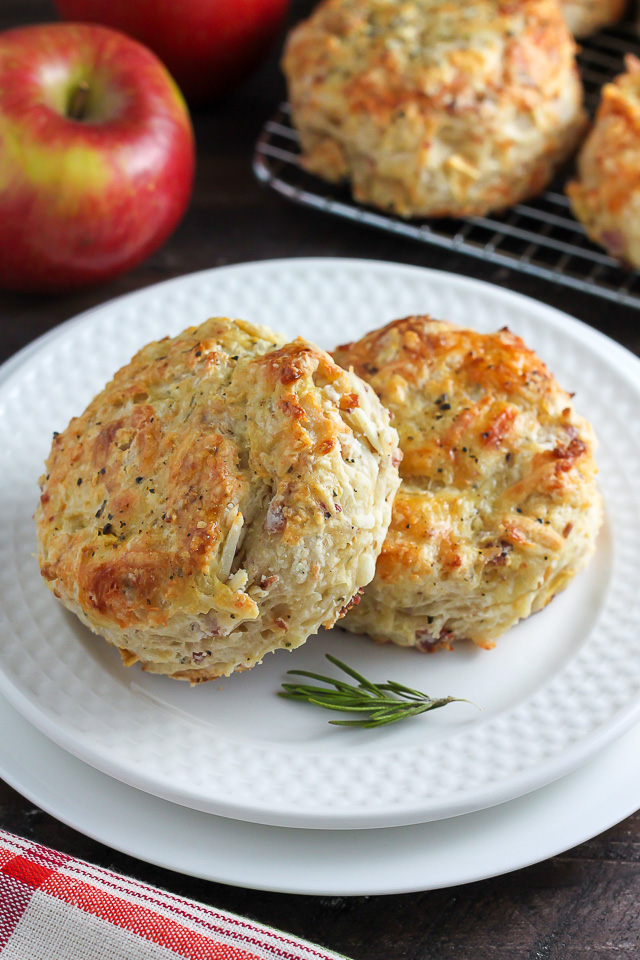 These biscuits are a breakfast lovers dream come true. Buttery biscuits, crispy bacon, a pop of fresh rosemary and black pepper, apples, and white cheddar cheese. Ridiculously good!!!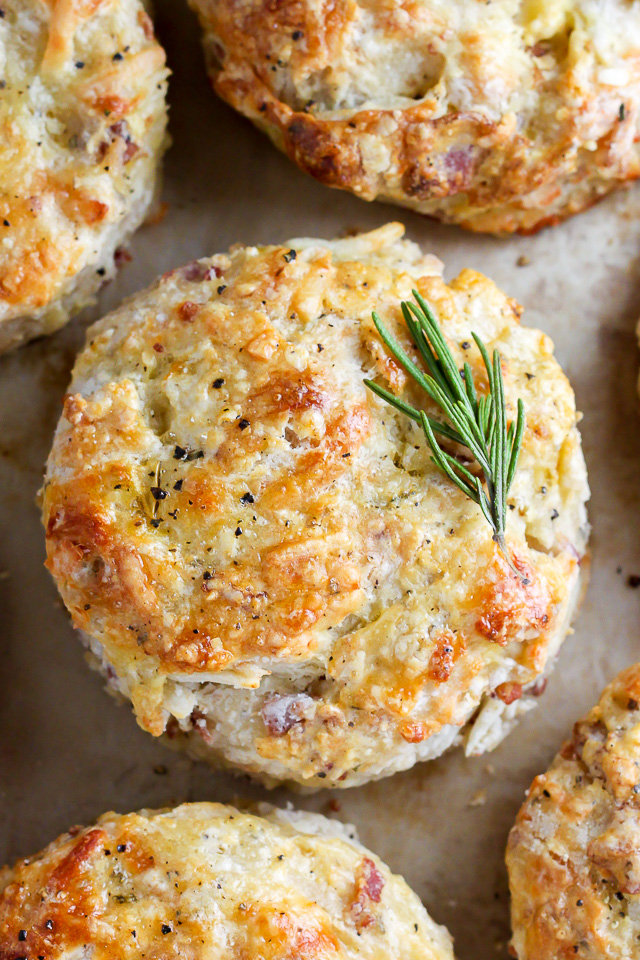 More Biscuit Recipes:
P.S. I think these biscuits will be a fabulous side dish come the… HOLIDAYS. Yes, I really just went there. Love you guys and see you soon!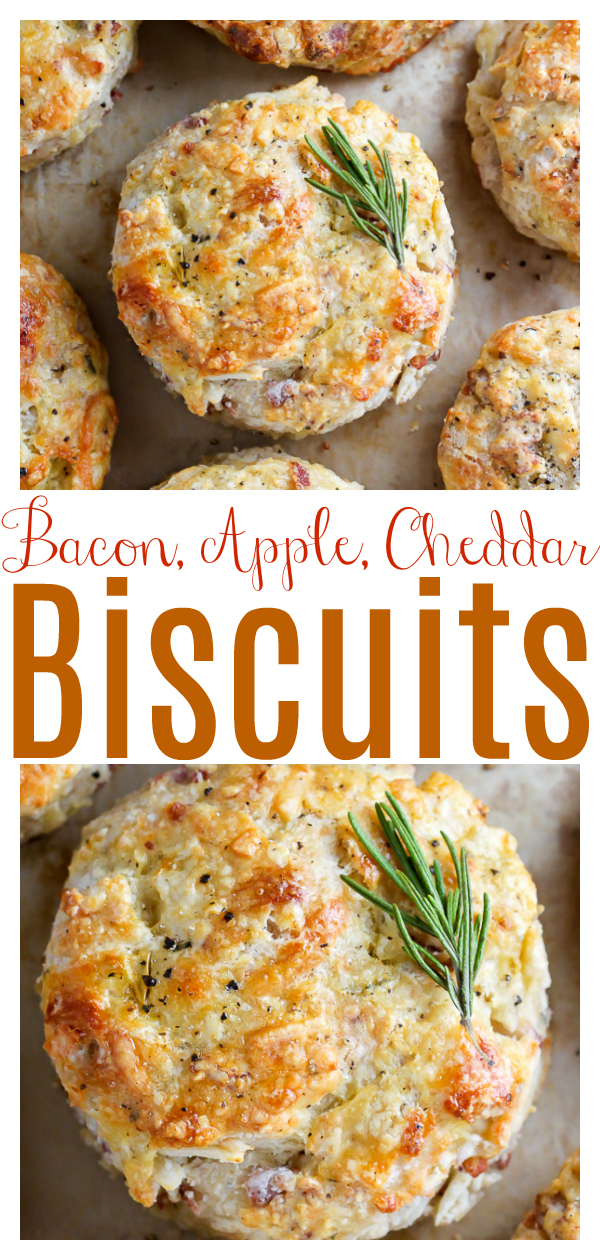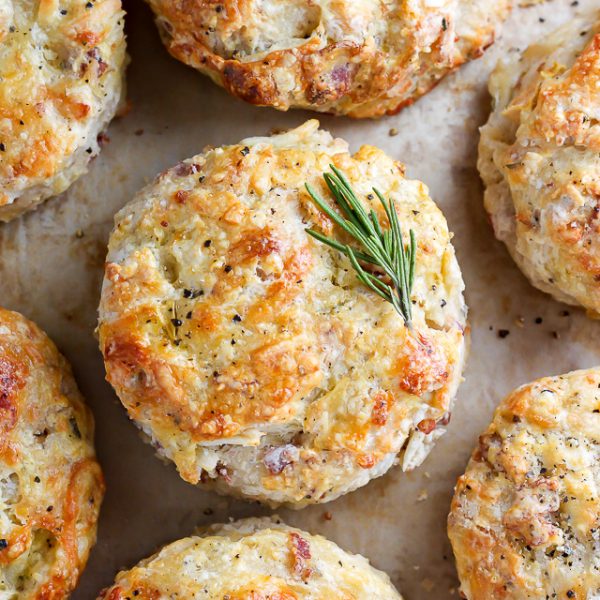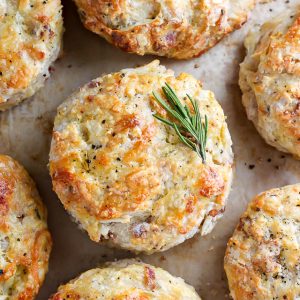 White Cheddar, Bacon, and Apple Biscuits
Nothing beats the smell of homemade biscuits baking up in the oven! These White Cheddar, Bacon, and Apple Biscuits are sure to become a new favorite.
Ingredients
2 Cups All-Purpose Flour
1 Tablespoon + 1 Teaspoon Baking Powder
2 Tablespoons Granulated Sugar
3/4 Teaspoon Salt (Kosher or Table Salt)
1/2 Teaspoon Freshly Ground Black Pepper
6 Tablespoons Unsalted Butter, Very Cold
1/4 Cup Fresh Rosemary, Chopped
1 medium-sized apple, peeled and chopped (small dice)
1/2 cup white cheddar cheese, grated
6 slices bacon, cooked and crumbled
1 Cup + 4 Tablespoons Heavy Cream; Divided
Instructions
Preheat oven to 400 degrees (F). Line a large baking sheet with a piece of parchment paper; set aside.

In a large bowl combine the flour, baking powder, sugar, salt, and black pepper; whisk well to combine. Using a large cheese grater shred the butter into the dry ingredients; use two forks or a pastry cutter to work the butter into the mix, stopping when the mixture is a coarse meal. Stir in the rosemary, then add in the chopped apple, grated cheese, crumbled bacon and 1 cup + 3 tablespoons of the cream; stir with a fork just until a messy (sticky) ball is formed. Turn the dough out onto a generously floured surface and knead (with floured hands) until the dough has been worked into a ball; about 6-7 times should do it. Pat the ball down into a 1" thick round, then use a biscuit cutter to cut out as many rounds as possible, re-rolling the scraps as needed.

Place the biscuits on the prepared baking sheet, brush each one with a little of the remaining cream, and bake for 18-20 minutes, or until golden brown. Eat at once! These make excellent breakfast sandwiches.