Rosemary Parmesan Biscuits are fluffy, flavorful, and so good with a bowl of soup or chili! These easy parmesan biscuits are so flavorful because they're made with fresh rosemary, black pepper,  and garlic powder. Perfect for Thanksgiving or Christmas!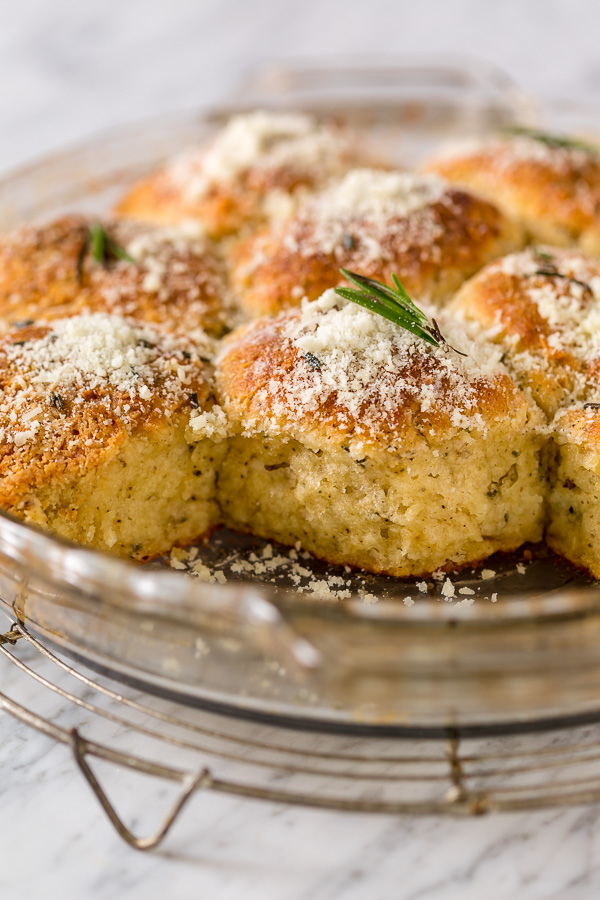 Rosemary Garlic Parmesan Biscuits
Do you have biscuits on your Thanksgiving menu? I sure do! I'm baking white cheddar, bacon, and apple biscuits, goat cheese biscuits, and these rosemary and parmesan biscuits! I'm also making honey jalapeno cornbread muffins! Because you can never have too many options – or carbs – on Thanksgiving… right?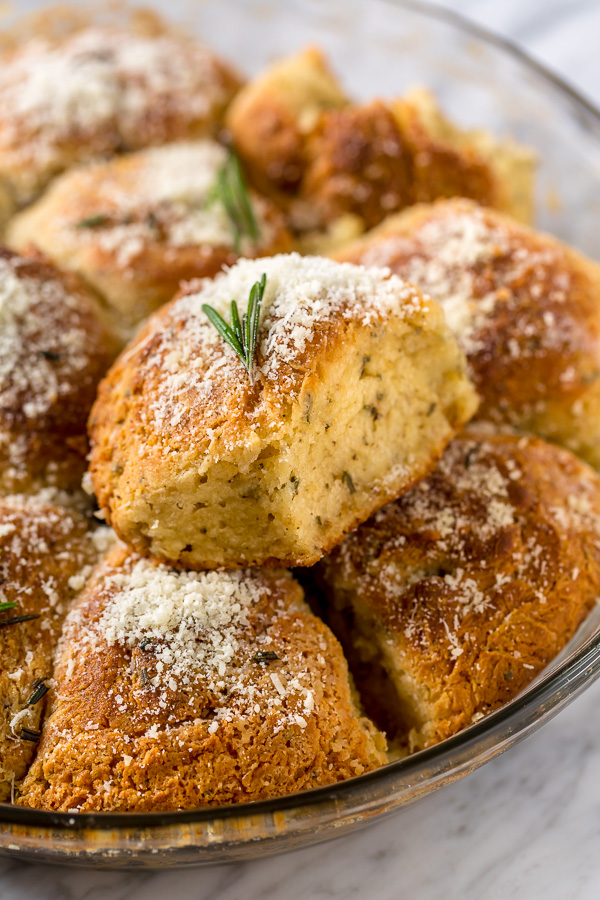 If you love ultra fluffy biscuits that are full of flavor, you have to try these rosemary parmesan biscuits! They're made with just a handful of everyday ingredients, and can be ready in less than 30 minutes. You can also freeze them for up to 2 months! I have all of those details and more below ↓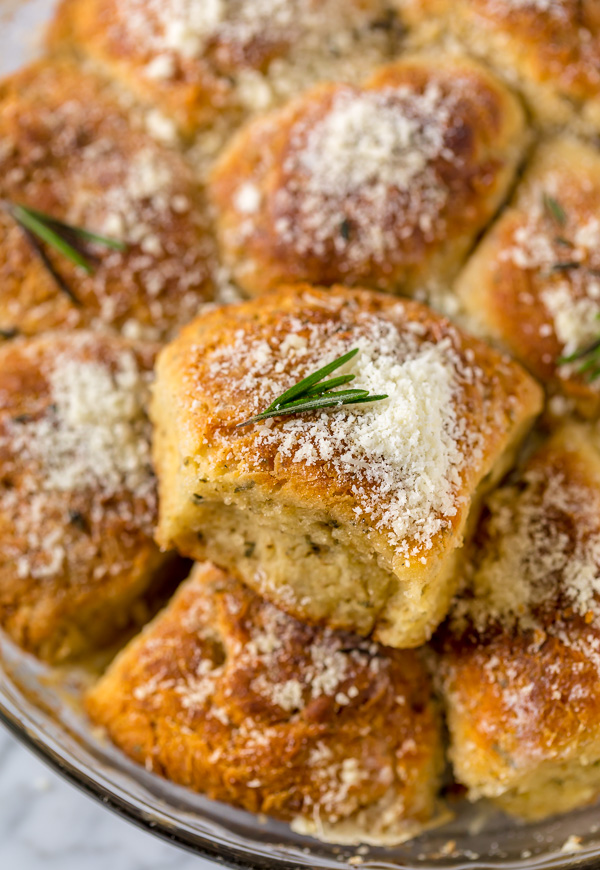 Tips and Tricks for Recipe Success:
Ingredients
To make these rosemary garlic parmesan biscuits you'll need flour, baking powder, salt, garlic powder, parmesan cheese, black pepper, butter, half and half, and fresh rosemary.
Fresh rosemary is an essential ingredient and I don't suggest subbing dried rosemary in its place.
If you dislike garlic, you may omit the garlic powder from the recipe without making any additional changes.
Half and half is a dairy product consisting of half milk and half cream; it can be found in the dairy aisle of most grocery stores.
For best results, this recipe should be followed exactly as written.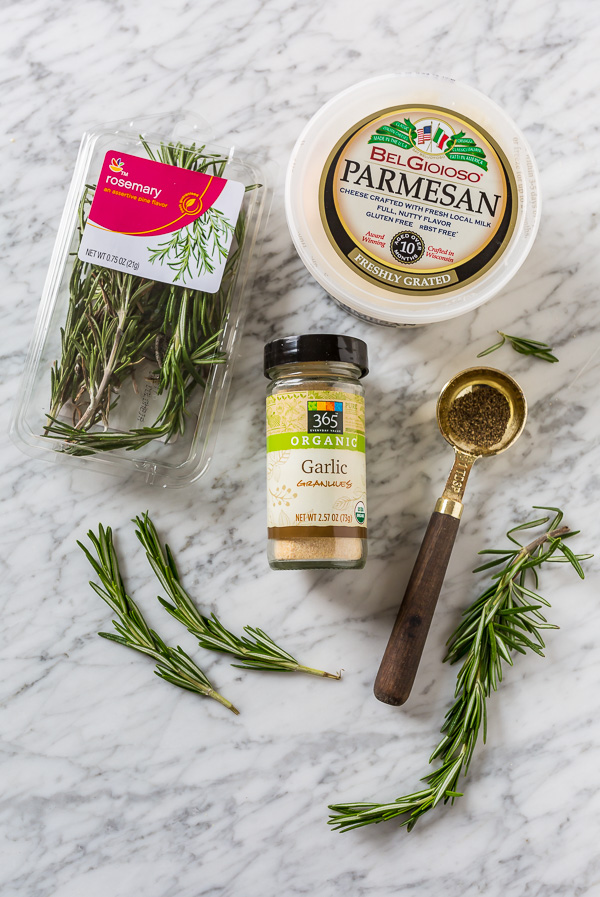 Assembly
Assembling these rosemary parmesan biscuits is easy, but there are a few steps! The first of which is combing the dry ingredients together in a large mixing bowl. Super simple!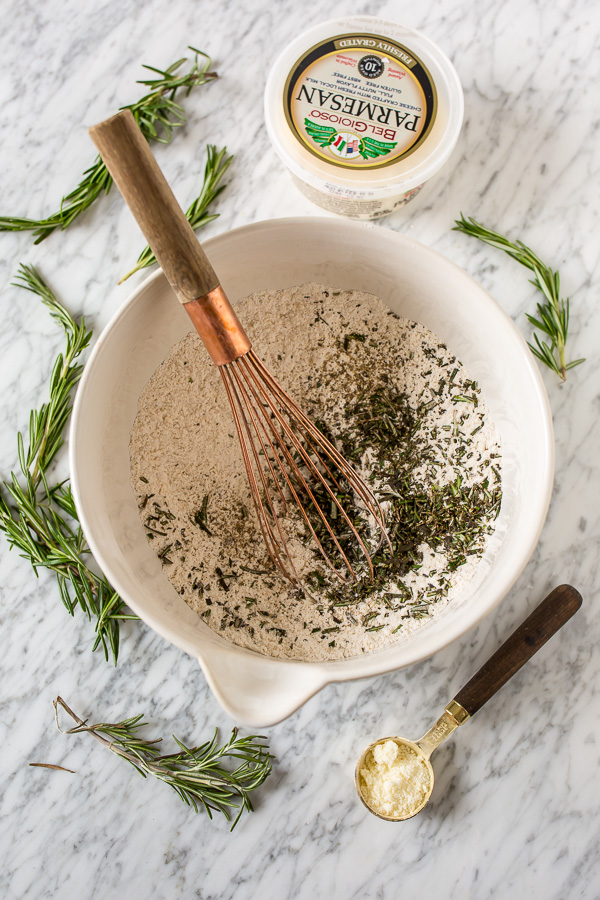 Once you've combined the dry ingredients, you'll work in your butter using a pastry blender (or two forks). Stop working when the mixture resembles a coarse meal.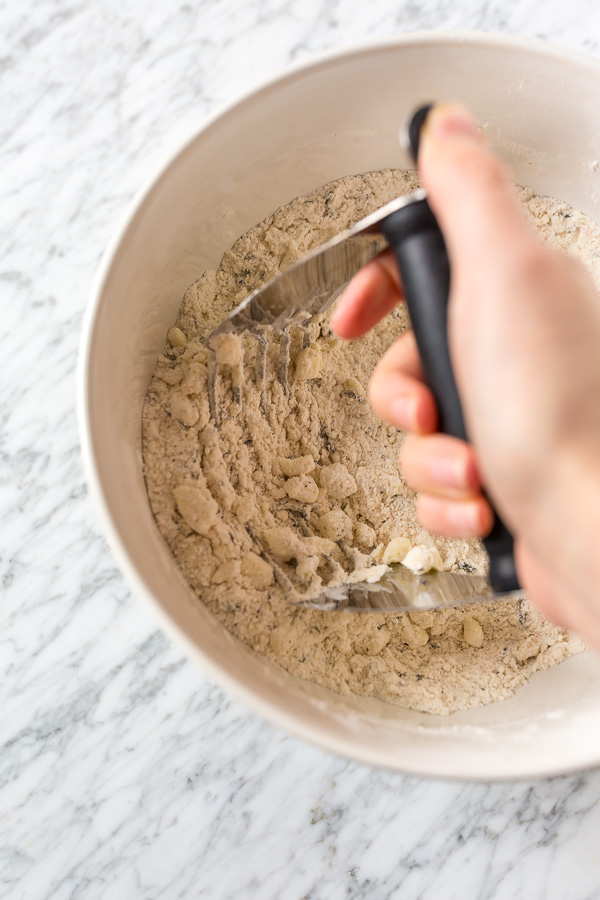 Next up we add our half and half and mix until combined. The mixture is going to be VERY WET! But don't fret. Because the next step is scooping the dough onto a generously floured surface. To do this you'll need a well greased 1/4 cup measuring cup.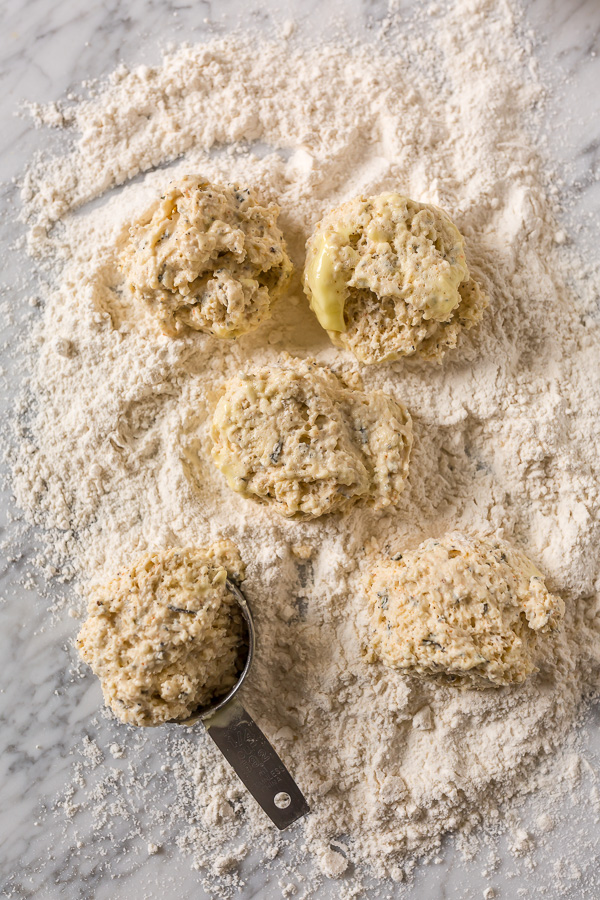 You'll want to gently coat each side of the dough mounds, dust off any excess flour, then gently shape the dough into a ball. You'll then place the balls of dough into a buttered 9″ pie plate. A 9″ cake pan will work fine, too.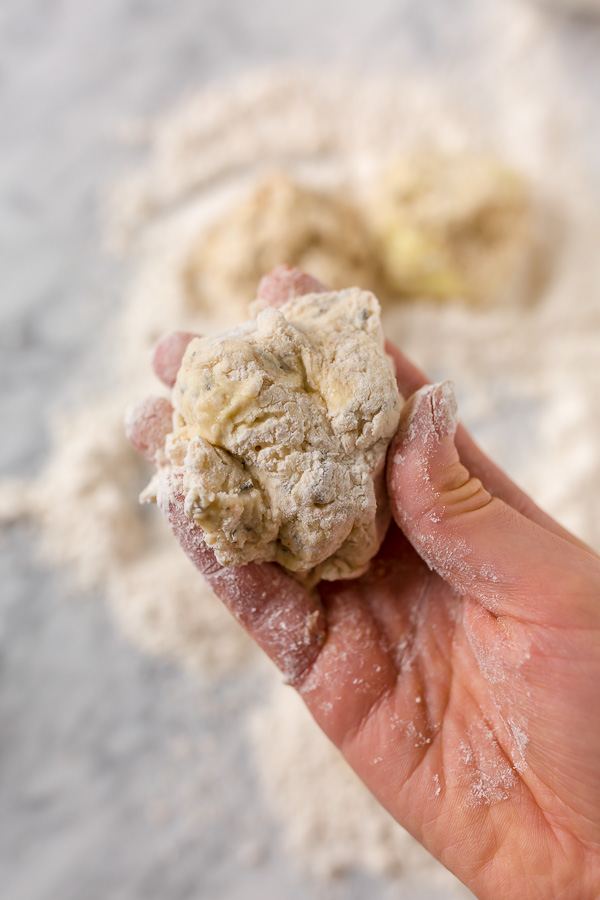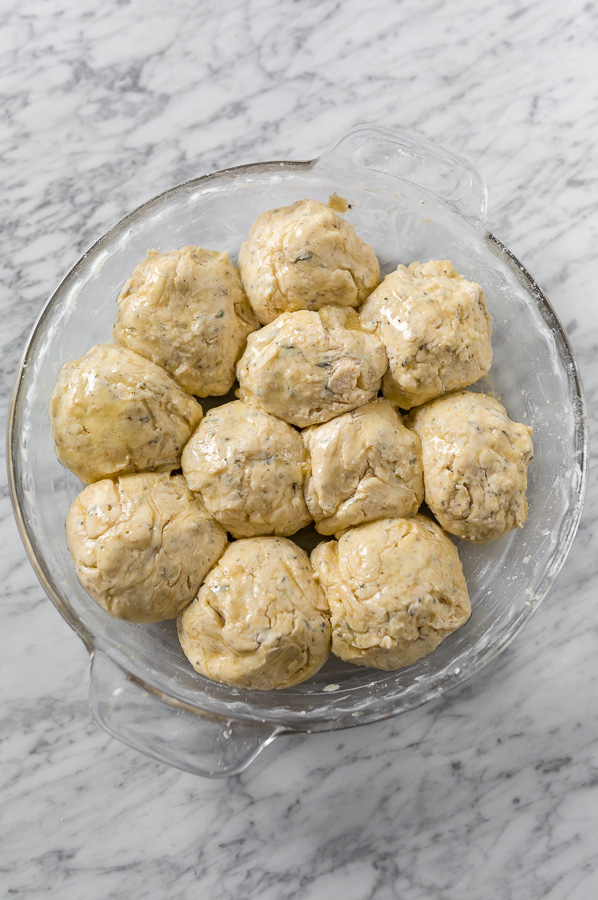 Baking
Ok, let's talk baking! These rosemary parmesan biscuits only take 22 minutes to bake, but they require two baking temperatures. You'll start the biscuits off at 475 degrees (F) and then reduce the temperature to 400 degrees (F) after 8 minutes. This allows the biscuits to rise and get crispy, without them getting too brown and/or burning.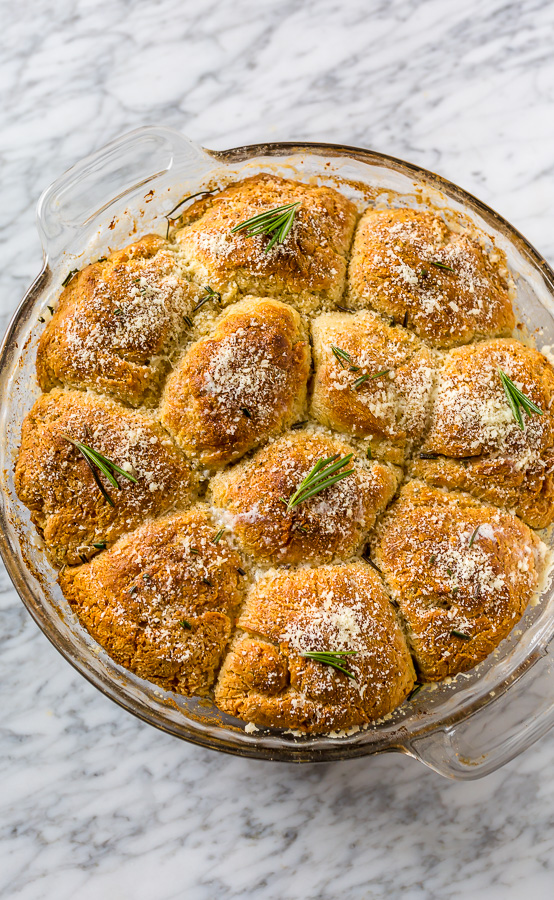 Cooling
Cooling is a breeze when it comes to these rosemary parmesan biscuits! Because they only require 5 minutes of cool time!!! Of course you can let them cool a bit longer if you'd like. But there's nothing like a warm and cheesy biscuit!!! So I say eat them as soon as possible.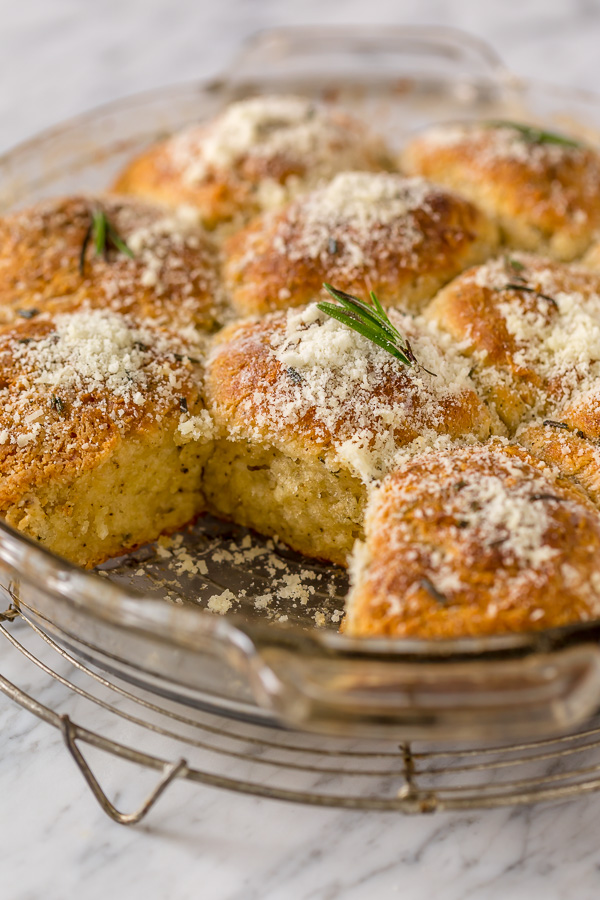 How to freeze Biscuits
Baked – and fully cooled – these rosemary parmesan biscuits freeze well for up to 2 months. When you're ready to serve, simply thaw them in the refrigerator for at least 6 hours and then warm briefly in the oven or microwave before serving.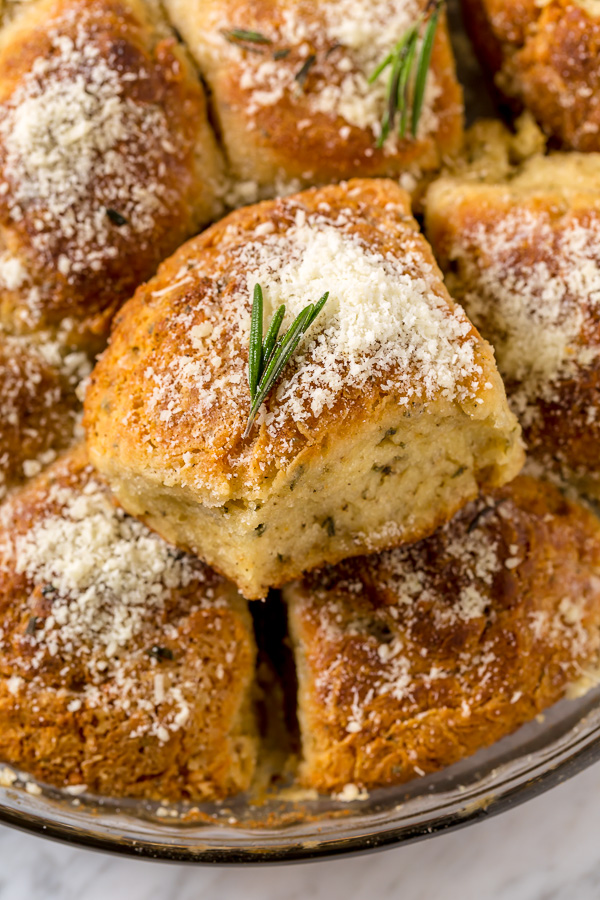 Serve with…
I can't think of a meal these rosemary parmesan biscuits wouldn't be good with! But here are a few favorites:
All of those recipes are incredible on their own, but even better with cheesy rosemary biscuits! Any soup, chili, mac and cheese, or bbq recipe would pair perfectly with these biscuits! Heck, even something as simple as scrambled eggs go great with these. The options are endless! P.S. If you don't want to make these a meal, you could pair them with a side of marinara sauce. Like I said… endless options lol!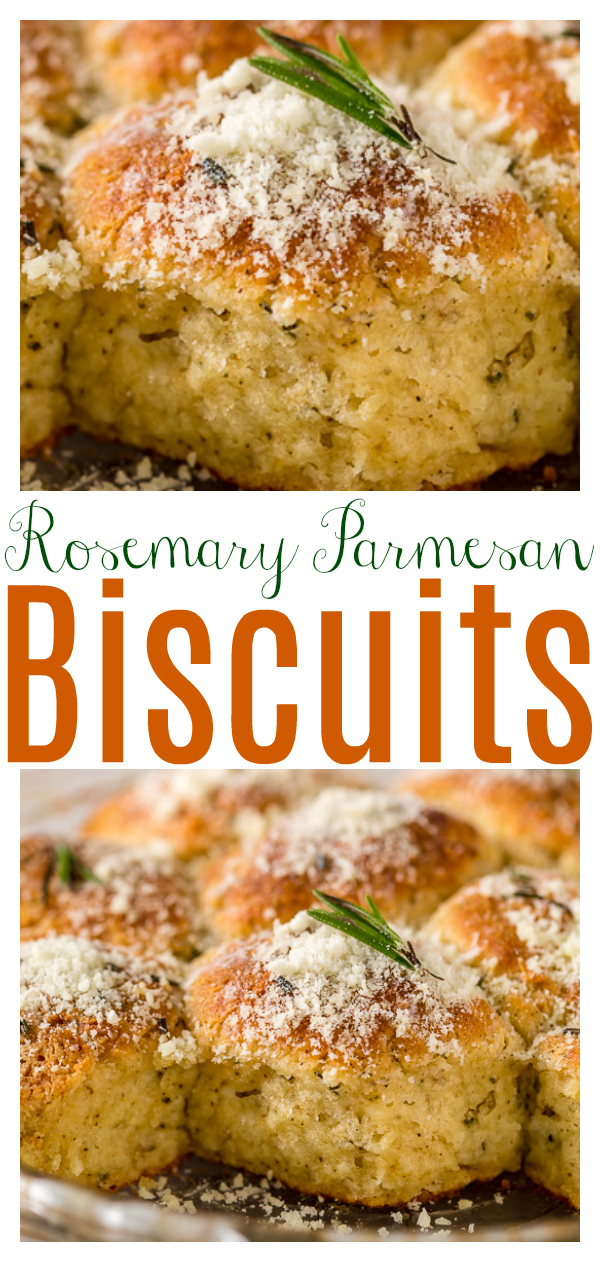 Hope you love these fantastically fluffy and flavorful rosemary parmesan biscuits as much as we do!!! See you soon with a few more Thanksgiving recipes… and then: CHRISTMAS RECIPES! Which I'm so excited about. And as always, if you have any requests, let me know!
IF YOU TRY THIS RECIPE FOR ROSEMARY PARMESAN BISCUITS, PLEASE LET ME KNOW WHAT YOU THINK! LEAVE A COMMENT BELOW, AND DON'T FORGET TO SNAP A PIC AND TAG IT #BAKERBYNATURE ON INSTAGRAM! SEEING YOUR CREATIONS SERIOUSLY MAKES MY DAY ♥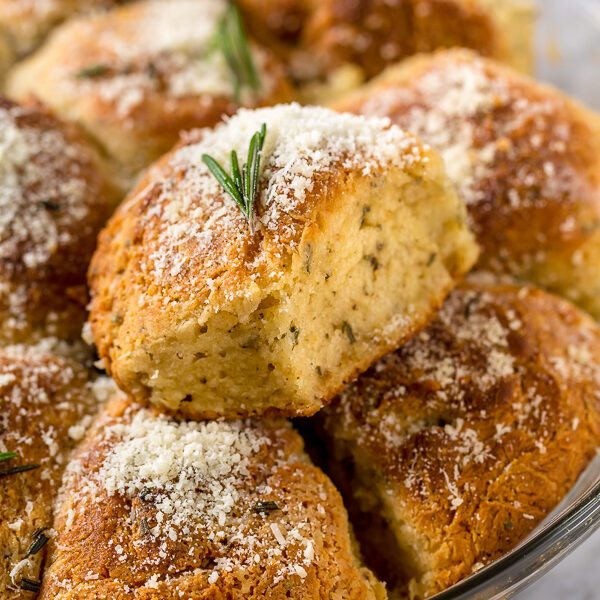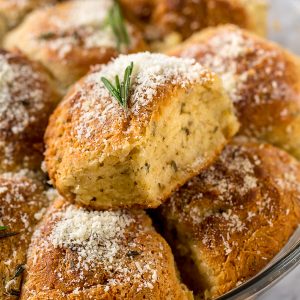 Rosemary Parmesan Biscuits
Super fluffy and flavorful Rosemary Parmesan Biscuits! Perfect for Thanksgiving or any meal. And freezer friendly! 
Ingredients
2 Cups all-purpose flour
1 Tablespoon baking powder
2 Tablespoons granulated sugar
3/4 teaspoon salt
1/2 teaspoon garlic powder
1/2 teaspoon freshly ground black pepper
1/4 Cup fresh rosemary, finely chopped
1/2 cup finely grated Parmesan cheese
5 Tablespoons unsalted butter, very cold and cut into pieces
1 and 1/3 cups half and half
For brushing the biscuits:
2 Tablespoons unsalted butter, melted
Instructions
Preheat oven to 475 degrees (F). Generously grease a 9" pie plate; set aside.

In a large bowl combine flour, baking powder, sugar, salt, garlic powder, black pepper, and rosemary, and Parmesan cheese, whisk well to combine.

Add in the butter and toss well to coat. Using a pastry blender, or two forks, work the butter into the dry ingredients until the mixture resembles a coarse meal.

Pour in the half and half and, using a rubber spatula, stir until ingredients are just combine.

Sprinkle a generous amount of flour (about 3/4 of a cup) onto a clean work surface. Spray a 1/4 cup measuring cup with nonstick spray and scoop level amounts of the batter onto the floured surface. Sprinkle the tops of the dough lightly with some of the flour. Form each mound of dough into a ball shape, then place them in the prepared pan. It's fine if they're touching each other in the pan. 

Brush the tops and sides of the biscuits with melted butter. 

Bake in preheated oven for 8 minutes, then reduce the temperature to 400 degrees (F) and continue baking for 14 to 15 minutes, or until golden brown.

Place pan on a cooling rack to cool for 5 minutes. Then sprinkle with additional Parmesan cheese, if desired, and serve! You can cut these apart with a knife, or just pull them apart with your hands! 
Notes
Half and half is a dairy product that can be found in the dairy section of most grocery stores. If you cannot find it, use equal parts heavy cream and whole milk to create a DIY version. 
Fresh rosemary is essential in this recipe and should not be replaced with dried rosemary.