Salted Caramel Snickers Fudge Brownies are super chewy, gooey, and utterly decadent! Perfect for using up any leftover snickers bars you have from Halloween!
Snickers Brownies
Hello! With Halloween just a few days away, I caved to the candy bar cravings and swiped up a bag of Snickers! They're officially my favorite this season, and I knew right away I wanted to bake them into some brownies for you. Ok… for us! I also added flaky sea salt and caramel, because… why not?! The more awesome the merrier, eh?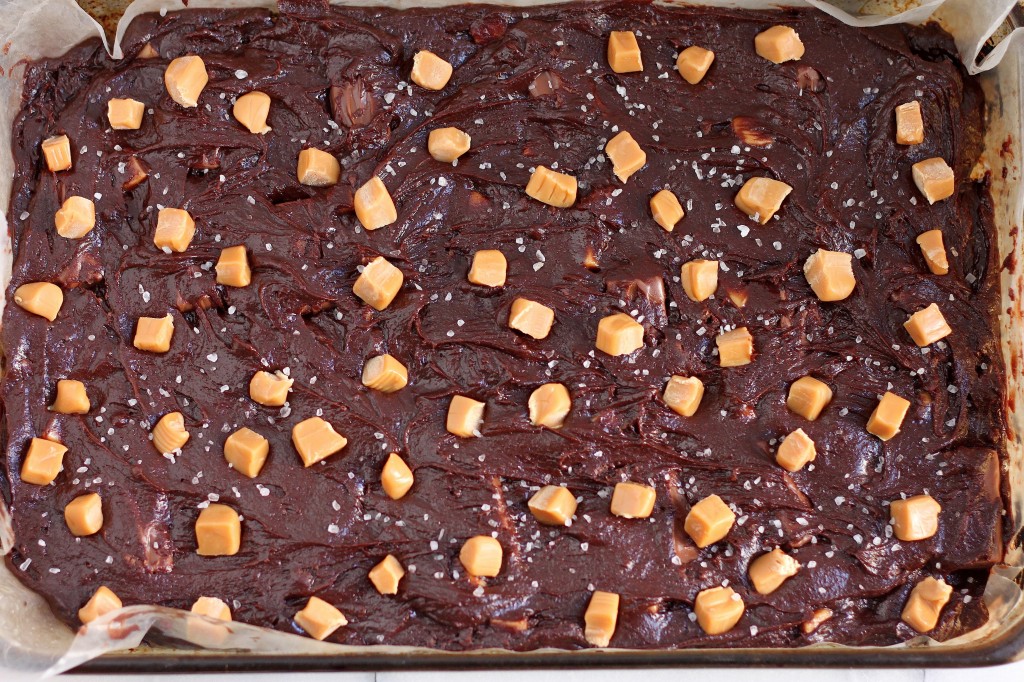 You can't see it, but there's a whole layer of snickers hiding under there. Total decadence!
These brownies are very rich and fudge-y! The snickers melt into the base of the brownies, making a sort of crust that's chewy and amazing. I love the little bites of nougat and peanuts that are hiding in every piece. I also love that while the caramel, salt, and snickers are all very present, they don't take over the brownie. You still get bites of pure, wonderful brownie!
If you're a brownie lover who also adores chocolate, caramel, and sea salt, these are going to blow your mind! Happy Monday 🙂
More Brownie Recipes:
Salted Caramel Snickers Fudge Brownies – Baker by Nature 
Ingredients:
(1) 11 oz bag fun sized Snickers
(1) 14 oz bag Kraft caramels
1 1/2 cups all-purpose flour
3/4 teaspoon salt
1/4 cup unsweetened cocoa powder
6 ounces dark chocolate, coarsely chopped
4 ounces unsweetened chocolate, coarsely chopped
1 cup (8 ounces) unsalted butter, cut into 1-inch pieces
2 teaspoons instant espresso powder
1 cups granulated sugar
1 cup packed light brown sugar
4 large eggs, at room temperature
1 tablespoon vanilla extract
1 teaspoon flaky sea salt
Instructions: 
Preheat oven to 350 degrees (F). Grease the sides and bottom of a 9×13-inch baking pan. Line the pan with parchment paper; set aside.
In a medium bowl whisk the flour, salt, and cocoa powder together.
Place the chocolate, butter and instant espresso powder in a large bowl, and set it over a saucepan of simmering water – stirring occasionally – until the chocolate and butter are completely melted. Remove from the heat and add the sugars; whisk until completely combined. Let mixture sit for 5 minutes, then add eggs, one at a time, to the chocolate mixture, whisking just until combined. Add the vanilla and stir until combined.
Gradually add the flour mixture into the chocolate mixture, using a rubber spatula to gently fold the mixture together. Stir until just combined.
Line the bottom of the prepared baking pan with the snickers bars, then pour half the batter into the pan and smooth the top. Add 1/2 of the caramels and sea salt, then the remaining batter, smoothing the top. Sprinkle the remaining caramels and salt on the top of the brownie batter. Place pan in the oven and bake for 35-40 minutes, rotating the pan halfway through the baking time, until a toothpick inserted into the center of the brownies comes out with just a few crumbs sticking to it. Cool completely in the pan, then lift them out using the parchment paper. Cut into squares and serve, or store in an air tight container until serving.