These Homemade Peanut Butter Eggs are sure to be a hit this Easter!!! Made with just a handful of basic ingredients, these salted chocolate covered peanut butter eggs are super easy to whip up!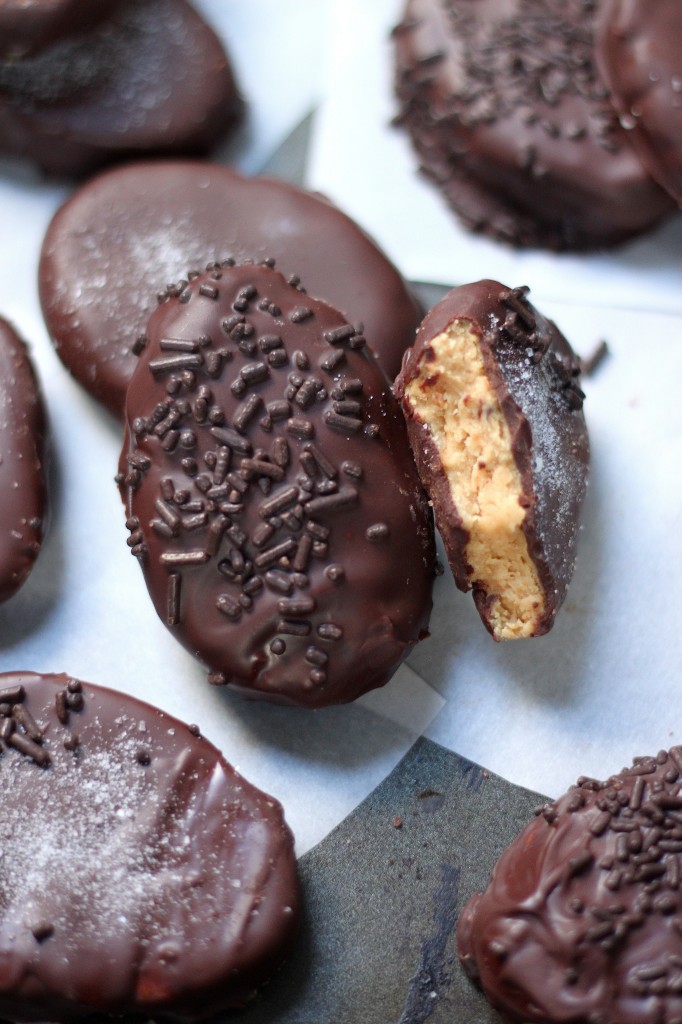 Homemade Peanut Butter Egg Recipe
Last week, in a moment of post zumba weakness and hunger, I swiped up one of those coveted peanut butter eggs they sell at the grocery store and went-to-town. Is it just me… or are they not as good as they use to be? I have a childhood memory of them being this "HELLO sugar spiking creamy peanut butter heaven" kinda treat. But now…? Well, I don't want to diss. But let's just say I won't be running out for more. Oh well. There's always the make it yo self solution! And that my friends, is exactly what I did.
Say hello to my version of Homemade Reese's Eggs!!!
The peanut butter filling is perfectly sweet, the chocolate coating is firm but melts in your mouth, and just a touch of sea salt makes them taste so gourmet!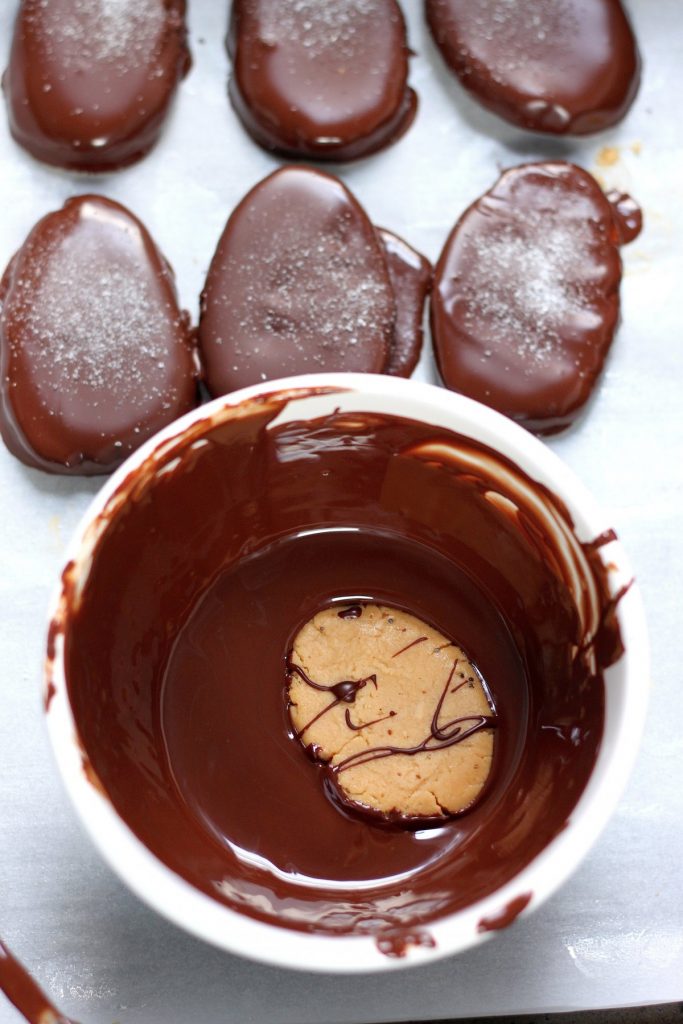 Side note – do any of y'all take zumba classes?! I've wanted to try them for yeeeeears, finally did a few weeks ago, and whoa! Not at all what I expected. In a good but "wow I really can't dance" kind of way. They're intense. But I'm going to try and stick with it. Maybe I'll even get better! … We'll see.
Ok! Back to chocolate and peanut butter – the important stuff! 
How to Make Peanut Butter Eggs
These sweet little egg shaped treats couldn't be easier to make. All you do is combine one jar of peanut butter (yay for no measuring!), powdered sugar, vanilla, and milk until they're well combined and kind of like… well, peanut butter play dough. Edible peanut butter play dough… We should make this a thing!
Then you can easily scoop out the dough onto wax paper, shape it into eggs (this is easy!), and freeze for an hour or so. The freezing will help your eggs stay firm for their chocolate bath! Chocolate bath… Hmmm! Don't you want to take a dip in that?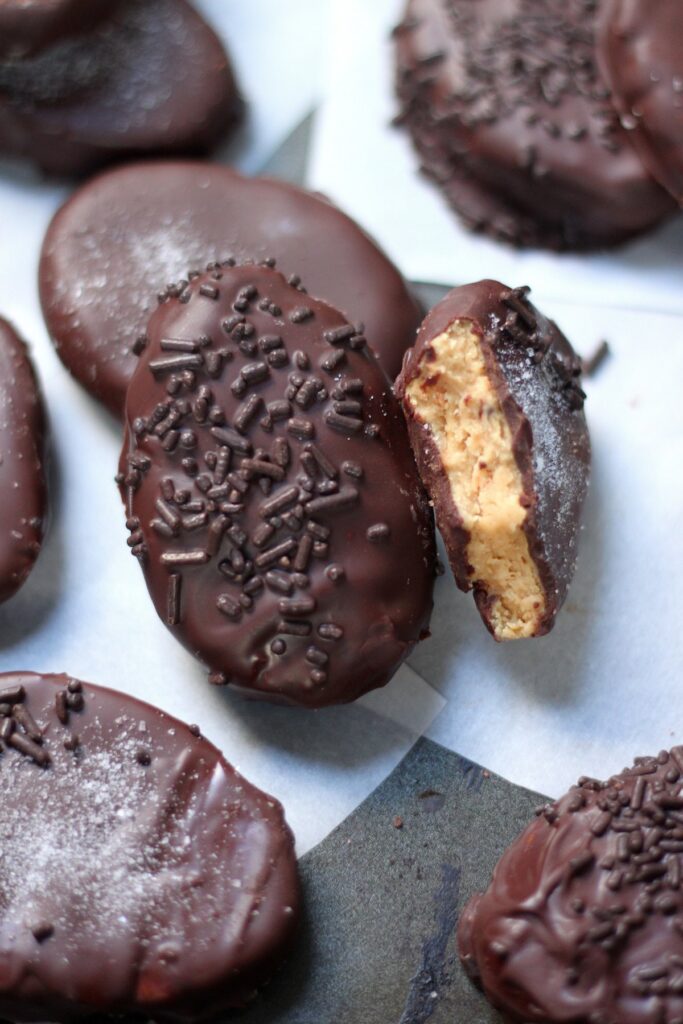 Once they've been dunked and are looking pretty in their gorgeous robe of chocolate, you can sprinkle them with sea salt, and – if you're feeling extra fancy – chocolate jimmies! There can never be too much chocolate 😉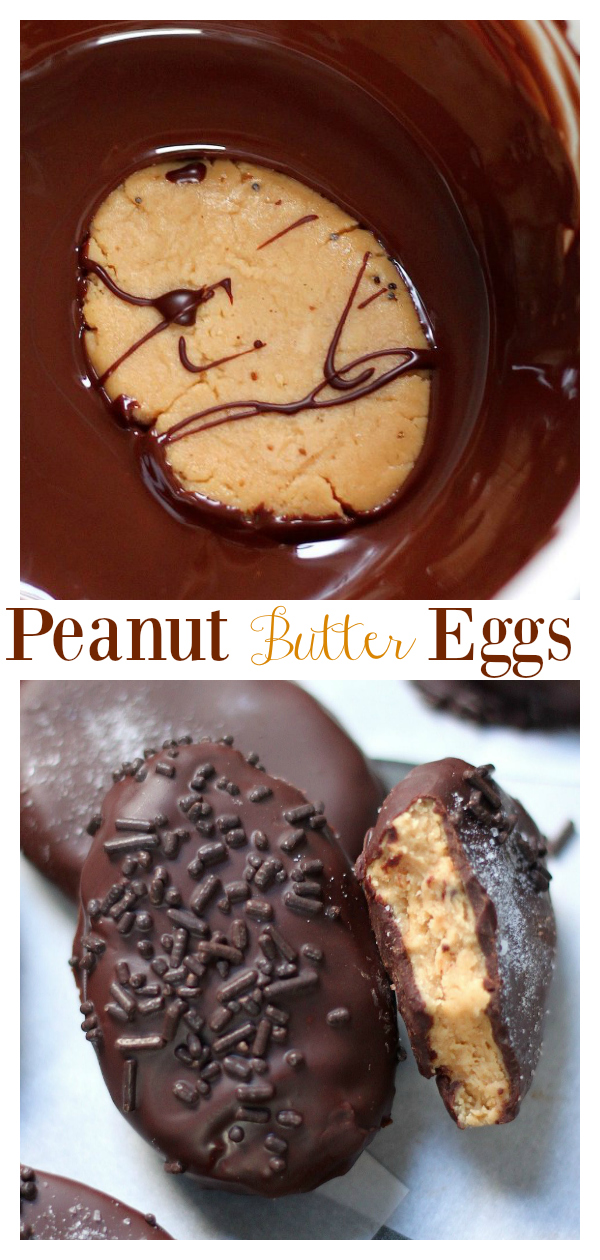 More Easter Candy Recipes:
Chocolate Covered Coconut Cream Eggs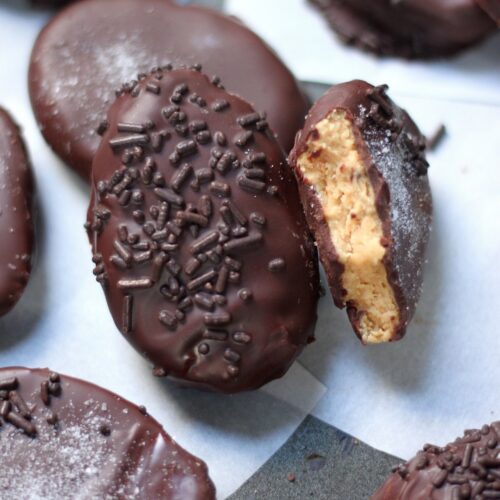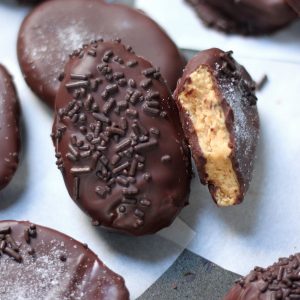 Salted Chocolate Covered Peanut Butter Eggs
These Homemade Peanut Butter Eggs are sure to be a hit this Easter!!! Made with just a handful of basic ingredients, these salted chocolate covered peanut butter eggs are super easy to whip up! 
Ingredients
3 1/2 cups powdered sugar (more if you can't get the dough to be workable, but I found this to be the perfect amount)
(1) 15 oz jar of unsweetened creamy peanut butter
1/4 cup butter, very soft
1 teaspoon all natural vanilla extract
2 -3 tablespoons milk (I used almond milk, but I'm sure cow milk will work just fine)
3 cups bittersweet chocolate chips
1 tablespoon coconut oil
1 tablespoon sea salt
Chocolate jimmies, optional
Instructions
In a large bowl or the body of a stand mixer fitted with the whisk attachment, mix together powdered sugar, peanut butter, vanilla, and softened butter.

Add milk, one tablespoon at a time until it becomes a nice workable dough. It will be a little sticky, but totally scoop-able and easy to work with.

Scoop 2 tablespoon sized rounds onto a large baking sheet lined with parchment paper. Form each round into egg shapes. I did this by simple squeezing the bottom of one side down and out a little.

Place eggs in freezer to firm up for 1 hour.

When ready to dip in chocolate, place chocolate chips in and coconut oil in a heatproof glass measuring cup. Microwave 30 seconds at a time, stirring in between, until melted.

Carefully dip each egg in the melted chocolate. I did this by placing each egg of a fork, then quickly dipping it in the chocolate and pulling it pack out, letting the excess chocolate drip back into the bowl.

Once dipped in chocolate, place eggs back on the waxed paper lined baking sheet, sprinkle with salt and sprinkles, and leave to set. About 1 hour. You can speed this up by placing the eggs in the refrigerator.