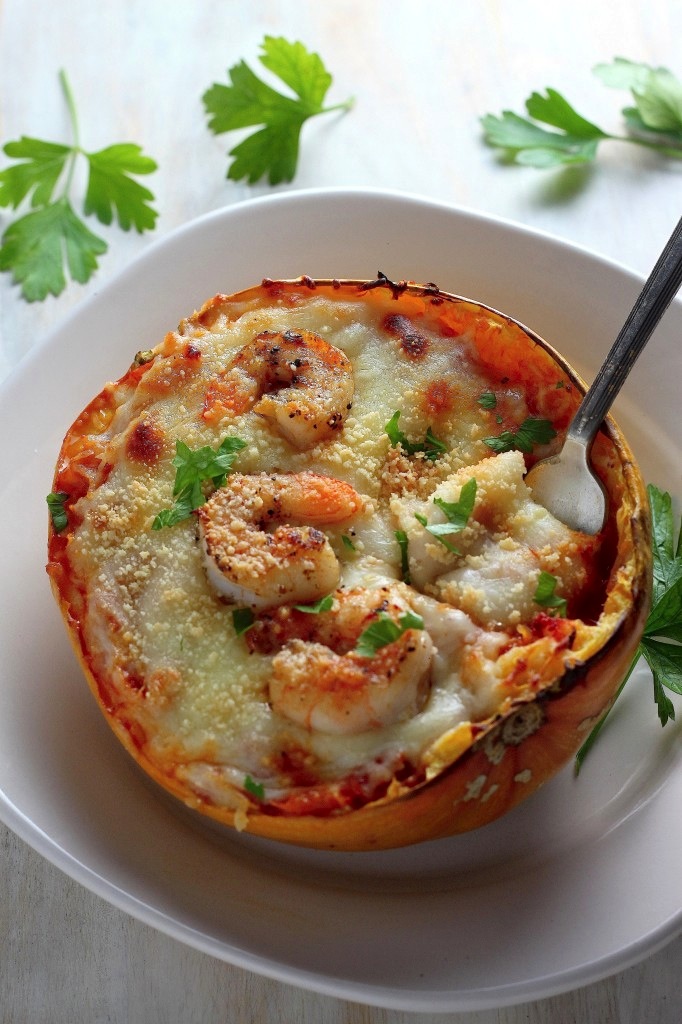 Hello, there! So. Remember that time I taught you how to roast spaghetti squash? Well, that information is about to come in handy – right now. Because we're making skinny shrimp parmesan – spaghetti squash style!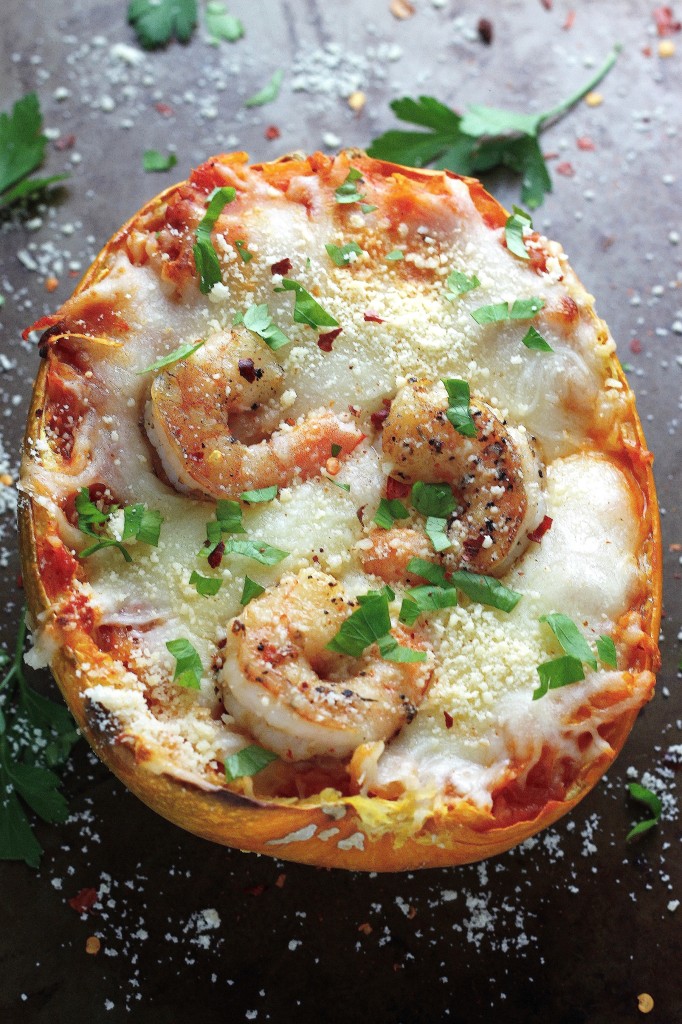 Warning: this meal is so awesome you may just have to make it to-night!!!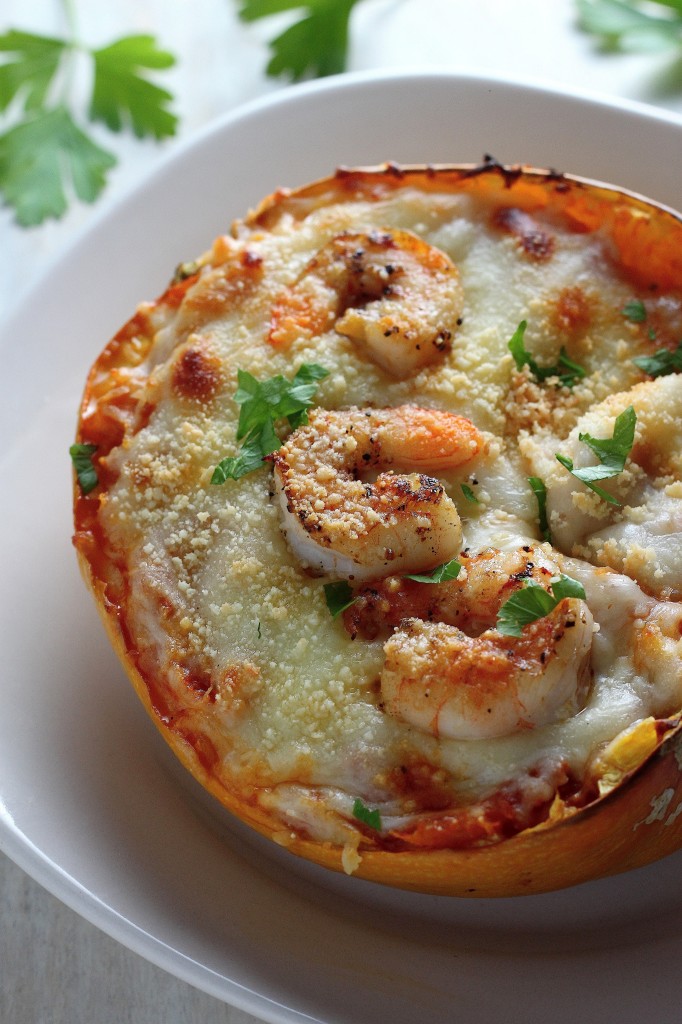 I have to confess that I am on a skinny recipe kick right now. I think it has something to do with the weather taking a turn for the worse (it's getting so cold!), and me wanting to eat everything in sight – especially cheesy, gooey, ultra saucy, comfort foods. I love comfort food!!! 
And this right here, is comfort food to the max!!!
Tender strands of healthy spaghetti squash are coated in classic marinara sauce, then topped with gooey mozzarella, crunchy bread crumbs, and flavorful shrimp! Finish it off with an extra sprinkle of parmesan and some fresh herbs, and you're ready for the easiest, tastiest, healthy meal of your life! Three words: Doooooo it tonight 😉 Skinny Shrimp Parmesan Spaghetti Squash… you're going to love it! You can thank me later! xo
Skinny Shrimp Parmesan Spaghetti Squash
Skinny Shrimp Parmesan Spaghetti Squash is a healthy, hearty, and so flavorful!
Ingredients
1 small to medium sized spaghetti squash, roasted
1/2 cup Marinara Sauce
1/2 teaspoon Italian seasoning
1/2 teaspoon garlic powder
1/2 cup Mozzarella cheese, shredded (you may use low-fat if preferred)
1/4 cup parmesan cheese
2 tablespoons whole wheat Italian breadcrumbs
1 tablespoon olive oil
Salt and pepper
6 large shrimp
2 tablespoons fresh parsley or basil, for serving (optional)
Instructions
Preheat oven to 425 degrees (F).

Scoop the shredded spaghetti squash (you should have about 2 1/2 cups) out of the shells and into a large bowl. Add the marinara sauce, seasoning, and garlic powder, mix well to combine.

Divide the saucy spaghetti squash evenly into the shells, then top with mozzarella cheese (1/4 cup per side).

Place the spaghetti squash "boats" on a large baking sheet, and place pan in the oven for 5-6 minutes, or unlit the cheese is melted.

In the meantime, make your shrimp!

Add the olive oil to a large skillet and place over medium-high heat. Generously season shrimp with salt and pepper. Add shrimp to skillet once the oil has begun to sizzle, and cook for 45 seconds on each side, or until the shrimp are just pink and no longer translucent.

Remove shrimp from heat; set aside.

Once the cheese has melted on the spaghetti squash, carefully remove the pan from the oven, and top with shrimp (3 per side), parmesan cheese (1 tablespoon per side), and breadcrumbs (1 tablespoon per side). Place pan back in the oven for another 4 minutes.

Transfer squash boats to a serving platter, sprinkle with parsley or basil if preferred, and serve at once.