Welcome to the first – of many – weekend brunch recipe posts! It's a new feature I thought would be fun for both of us, because let's be honest, doesn't brunch food just rock? Sometimes the recipes will be quick and simple – like this pretty little tartine – other times I'll go a little more Martha and get really into it. Either way, it's going to be an awesome way for us to share brunch every weekend. Yay! Let's do this.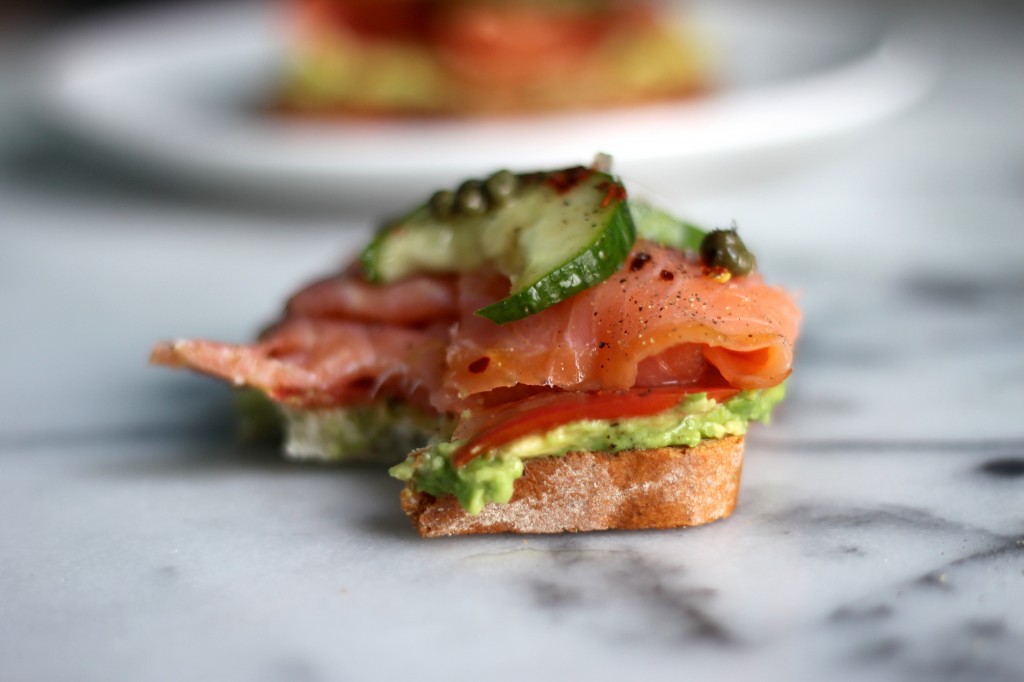 These smoked salmon & smashed avocado tartines take the famous avocado toast to a whole new (amazing!) level. Smoked salmon and smashed avocados are totally soul mates, and they sail this simple French open-faced sweetie to – wait for it – legendary sandwich status.
If you're making these for a brunch party that has a few vegertarians in the mix, make some minus the salmon for a fun twist on avocado toast 🙂
They'll be a hit either way. And that's a promise.
See you tomorrow! xo
Smoked Salmon & Smashed Avocado Tartines
Start the day off right with a simple smashed avocado and smoked salmon tartine. Ready in just minutes!
Ingredients
2 slices bread of choice, toasted
1 ripe avocado
4 ounces smoked salmon
4 slices tomato
8 thin slices cucumber
1 tablespoon capers
1 tablespoon olive oil
Fresh lemon juice for squeezing
1/2 teaspoon crush red pepper flakes
1/2 teaspoon flaky sea salt
1/4 teaspoon freshly ground black pepper
Instructions
Smash 1/2 an avocado on a piece of toast until it resembles the consistency of guacamole. Layer on (1/2) of the tomato, salmon, cucumbers, and capers. Drizzle with olive oil, and squeeze lemon juice over the top of the tartine before sprinkling the pepper flakes, salt, and pepper. Serve right away.