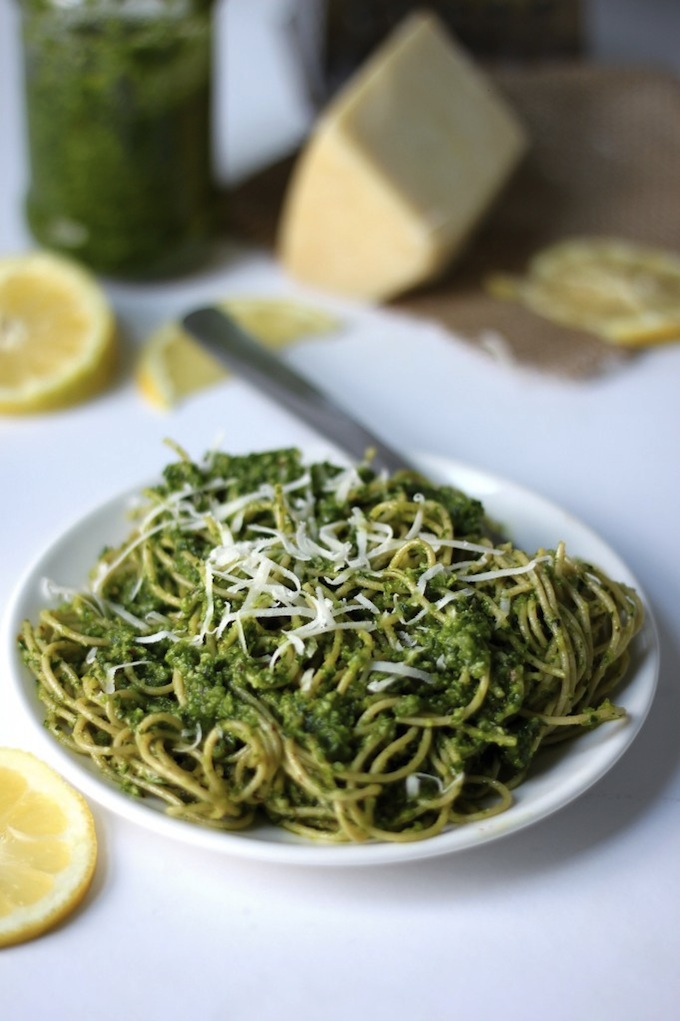 Italy has me so inspired right now. The colors, textures, and freshness of the food has been a wake up call… and a delicious one. People here just eat better. Every day. It's a life style. And one I personally am devoted to keeping post vacation. I want to eat good food everyday. Real food everyday. And I think we should. You in?
One of the main things I'm learning on this trip is the value of simplicity. Less is more. All you need for a flavorful feast is a few good (read: quality) ingredients and the knowledge of tossing them together in the proper way, and bam – you've got yourself a meal anyone is sure to love. It really is as easy as that.
I've been dancing around the idea of a parsley pesto for years now. Something about it just seemed… wrong. Basil is for pesto! Or so I thought…
I finally smacked myself into submission a few days before we left the states, and wow! It's a keeper and a half. Not only is parsley affordable and easily available, but it also keeps well for up to a week and makes one killer pesto. I am officially a convert.
I dolled this pesto up with scallions, asiago cheese, almonds, and a touch of lemon. Oh, and garlic! One cannot forget the garlic when it comes to a pesto party. The flavors are nice and bold and really wake up the mild parsley.
Once your pesto is whipped up and ready to go, all you need is some al dente  spaghetti, and you're set! Of course wine and cheese are always welcome 😉 xoxo
Spaghetti with Parsley Pesto
Ingredients
1 pound spaghetti, cooked al dente
1 tablespoon salt, for the pasta water
1/3 cup unsalted slivered almonds
1 large bunch fresh flat-leaf parsley leaves
1/2 cup chopped scallions
Juice and zest of one small lemon
2 cloves garlic, minced
3/4 cup extra-virgin olive oil
1/2 cup finely grated asiago cheese
1/2 teaspoon freshly ground black pepper
Instructions
Cook spaghetti in a large pot of boiling salted water, stirring occasionally, until al dente; about 9 minutes. Drain, reserving 1 cup of pasta water.

In the body of a blender of food processor pulse almonds, parsley, scallions, oil, lemon, garlic, and asiago; blend until smooth. Season with salt and pepper.

Toss spaghetti and pesto in a large serving bowl. Add reserved pasta water by the tablespoon until saucy. Season with salt and pepper. Serve at once.