Is there anything more comforting than a giant bowl of pasta? I mean.. just thinking about a generously piled saucy stack of noodles makes me weak in the knees. They're just so yummy! And while I've honestly never met a noodle I didn't fall for, I have an extra soft spot for farfalle these days. Also known as those cute lil' bow tie noodles. Adorable AND addicting? Yes please.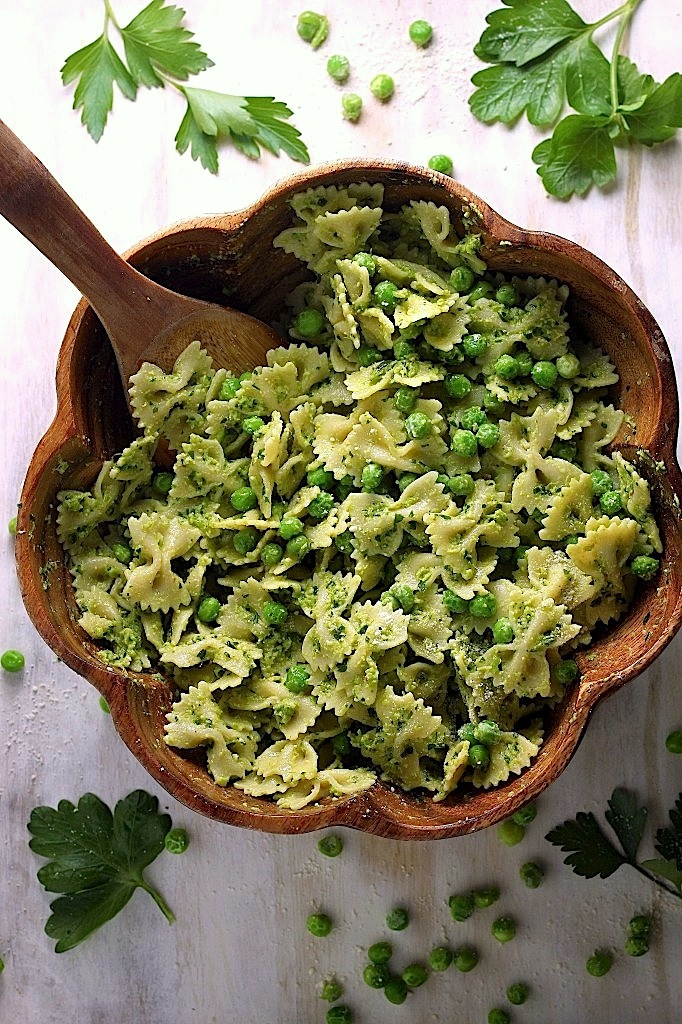 Fact: I – no lie – ate 3 bowls of this pasta before snapping a single shot. 3 big mama bowls, too. No ant sized servings here. It began, as it often does, with just one bite. You know, to make sure it's tasty and worthy and all that mess. Then, it hit me. The parsley… the peas… the parmesan. And then – subtler, but still oh-so-seductive – the garlic, the lemon, the crushed red pepper. Oh babe. But I'm getting ahead of myself. Let's break down this pasta piece by piece. Hold on, just need one-more-bite…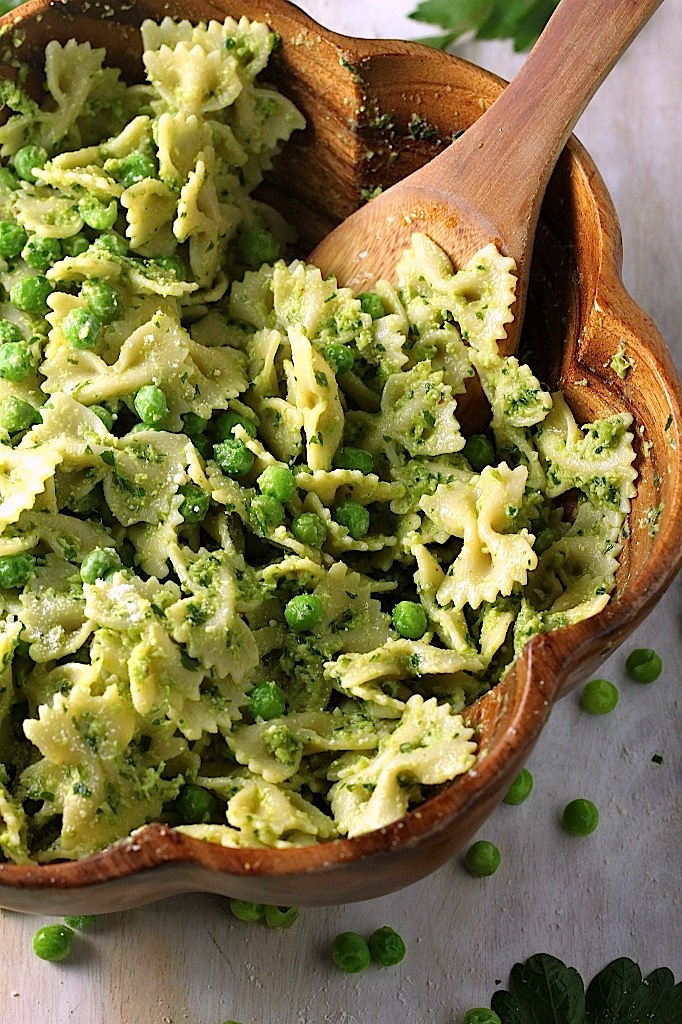 So, let's start with the elephant in the room. ALL OF THE GREEN. See all that green beauty coating each toothy little bow tie? That's pesto. Super pesto packed with parsley, peas, pecans, and parmesan. So many P's! Mwah ha ha. Random evil laugh courtesy of too many pumpkin spice lattes this morning. This gorgeously green pesto is also packed with garlic, a squeeze of fresh lemon juice, a pinch of crushed red pepper (more if you dare), and olive oil. It makes about 2 hearty cups, too! Which is great because 2 cups = 2 meals! Freeze half the batch and you've got dinner for another night all ready to go. Life win to the max. So what are you cooking for dinner tonight? Answer: thiiiiiis! Duh. One bite and I guarantee you'll be a peas, parsley, and parmesan pasta SUPER fan FO' life. Ending statement ———-> You will LOVE this. <3 <3 <3 xo
Farfalle with Peas, Parsley, and Parmesan
Ingredients
2 cups frozen peas (from a 10-ounce bag)
1 cup packed fresh parsley leaves
1/2 cup pecans, toasted
3/4 cup grated Parmesan, plus more for serving
5 garlic cloves, smashed and peeled
1/4 teaspoon crushed red pepper flakes
1 tablespoon fresh lemon juice
1/2 cup extra-virgin olive oil
Coarse salt and ground pepper
16 ounce box Farfalle pasta
Instructions
Cook 1 cup peas according to package instructions. In a food processor, combine cooked peas, parsley, walnuts, Parmesan, garlic, and 1 tablespoon water. Pulse until a paste forms. With machine running, slowly add oil, processing until blended; season with salt and pepper.

In a large pot of boiling salted water, cook pasta according to package instructions, adding 1 cup peas 30 seconds before end of cooking. Reserve 1 cup pasta water; drain pasta and peas. Return pasta and peas to pot; toss with 3/4 cup pesto (reserve remainder for another use), adding enough pasta water to create a sauce that coats pasta. Serve pasta with more Parmesan.