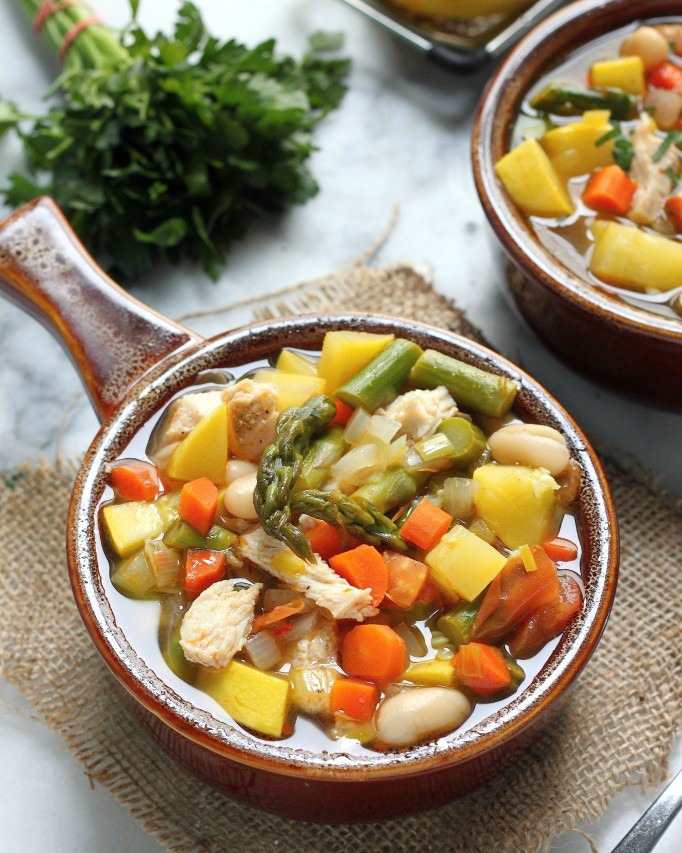 Spring Chicken Soup
I'm currently hiding from the gigantic, sticky, and unsuccessful pancake mess that has taken over our kitchen. It's pretty bad, you guys. Like 4 skillets, all of our spoons, and batter in places I don't even want to think about BAD. And right now… I'm not just up for it. Instead I swiped up the last of this bright and lovely Spring soup, grabbed a spoon, and headed to the office (bedroom) to get down to business! The sharing with you business, that is. Because y'all come first! That mess can wait… 😉
I made this soup last Sunday and was so close to tossing in some tortellini or rice or something carby/ starchy, but somehow overcame that urge and kept it pure chicken and veggies. It was the right call! But such a tough one. I have the habit of thinking I need to add more, more, more. Do you guys ever get in the more, more, more mode? It's so hard to snap out of!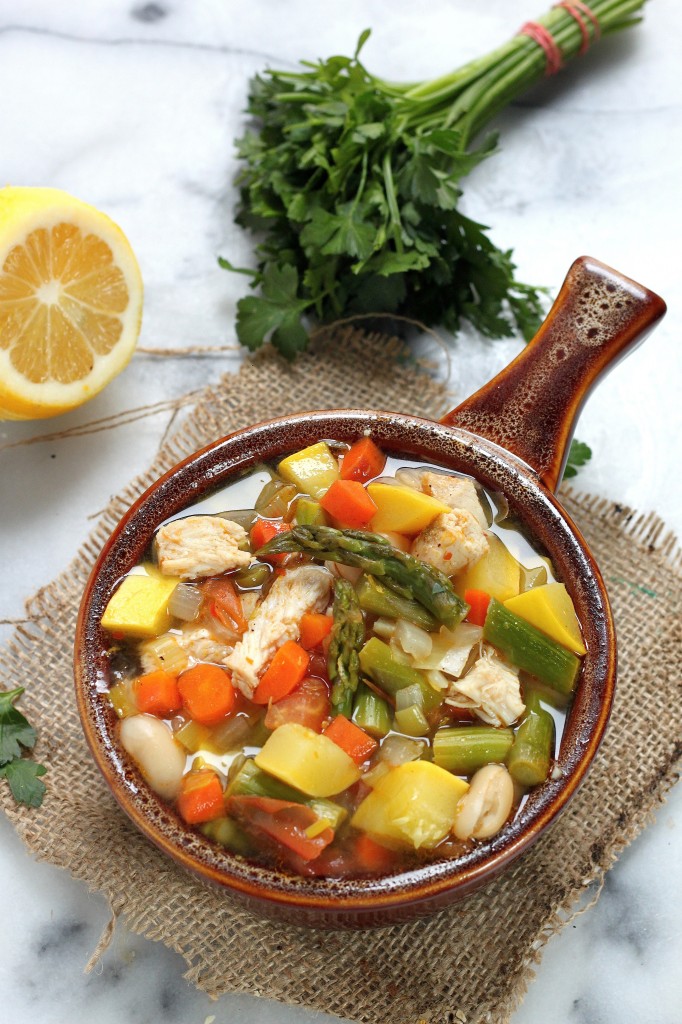 Let's talk soup details! The base of this soup begins with leeks, onions, and BACON. I know you're probably like whaaaa? Bacon? But trust me! It adds the best pop of smokey, rich flavor. You want it 🙂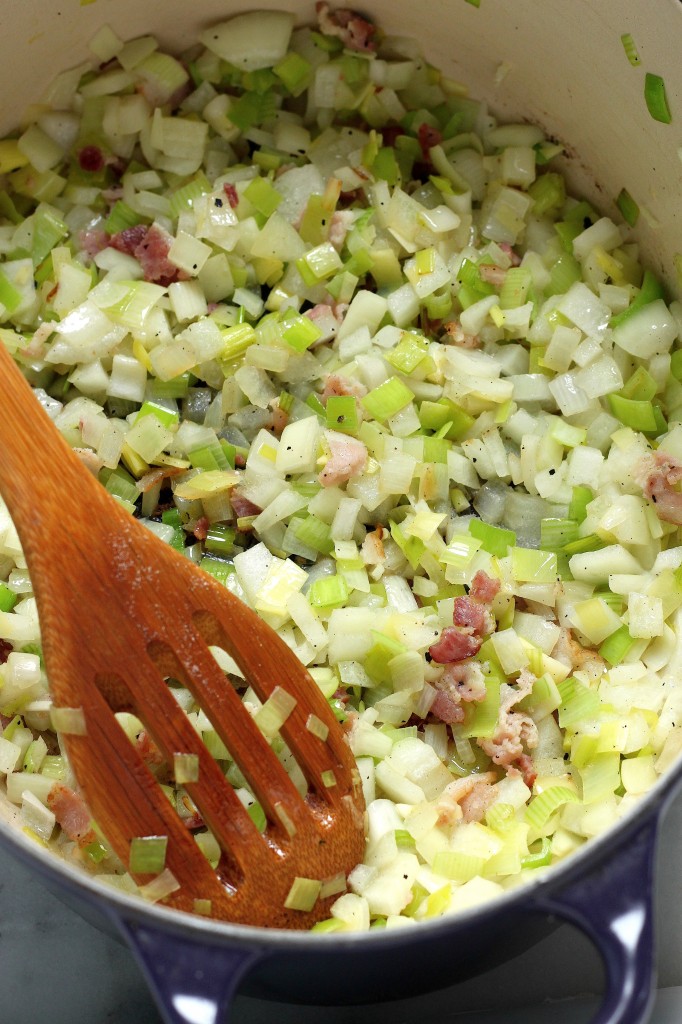 Then we add the veggies! Yellow zucchini, fresh Roma tomatoes, asparagus, and some vibrant carrots make up the cast. There's also a whole bunch of good-for-you garlic floating around in the veggie mix. So wonderful!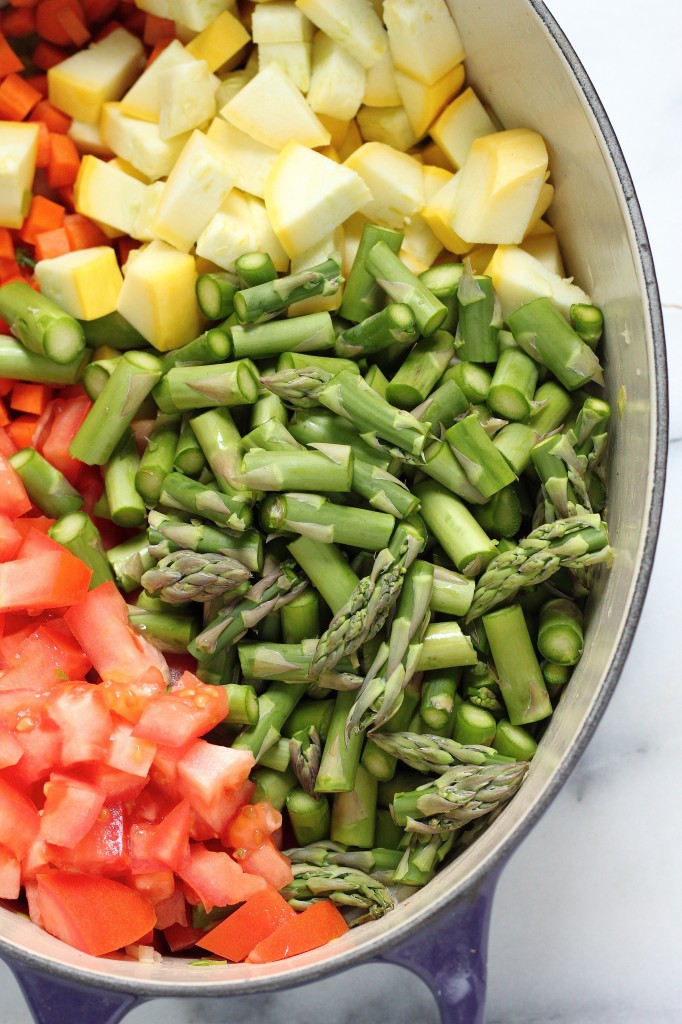 Before I forget – let's talk about the chicken! For this soup I chose to roast the chicken breasts and then shred the meat once tender, adding it to the soup right at the end. I love doing it this way because you can really season the chicken and it just adds so much flavor to the finished product. Also, it's just easy! All you have to do is throw a couple spices on the breasts before popping them in the oven and then it takes over and does the rest of the work for you. My kinda cooking 😉
The final touches on this soup is the cannellini beans (which get mixed in just a few minutes before the soup is finished), fresh parsley, and parmesan! Also, a squeeze of lemon if you're into it. xoxo
More Chicken Soup Recipes:
Spring Chicken Vegetable Soup
Ingredients
2 boneless, skinless chicken breasts
1 tablespoon olive oil
1 teaspoon cumin
1 teaspoon garlic powder
1 teaspoon white pepper
1/2 teaspoon cayenne pepper
1 teaspoon onion powder
2 strips bacon, diced
2 tablespoons olive oil
2 leeks, diced
1 large Spanish onion, diced
5 cloves garlic, minced
1/2 teaspoon crushed red pepper
1 yellow squash, diced
4 roma tomatoes, diced
1 bunch asparagus, cut into 1″ pieces
3 carrots, peeled and diced
48 ounces (6 cups) chicken broth
(1) 15.5 ounce cannellini beans
Salt and pepper
2 tablespoons fresh parsley, chopped
Parmesan, for serving
Lemon, for serving
Instructions
Preheat oven to 375 degrees (F). Line a large baking sheet with foil, then place chicken breasts on the sheet. Sprinkle both sides of the chicken with the spices, adding salt and pepper as well, then drizzle with olive oil, making sure both breasts are evenly coated. Place chicken in the oven to bake for 20-25 minutes, or until tender and cooked through. Once cooked, let chicken cool until it can be easily handled without burning your hands, then shred chicken into bite sized pieces.

Heat bacon in a large skillet over medium-heat for 3-4 minutes, or until a good amount of the fat has been released and it's beginning to crisp. Add olive oil, then add leeks and onion. Stir to coat the onions, and cook for 4-5 minutes, or until the onions have softened. Add the garlic, crushed red pepper, and a big pinch of salt; cook for another minute before adding the squash, tomatoes, asparagus, and carrots. Stir to combine vegetables, then cook for 5 minutes. Add chicken broth and bring soup to a boil. Reduce heat and simmer for 20 minutes, or until the carrots are tender. Stir in beans. Stir in chicken.

Season soup with salt and pepper as needed. When ready to serve, ladle soup into bowls, then top with a sprinkle of parsley and parmesan, and a squeeze of lemon. Enjoy!