This Steak and Asparagus Teriyaki Ramen is so easy and flavorful! Way better than take-out, this Asian inspired steak and asparagus recipe is always a crowd-pleaser!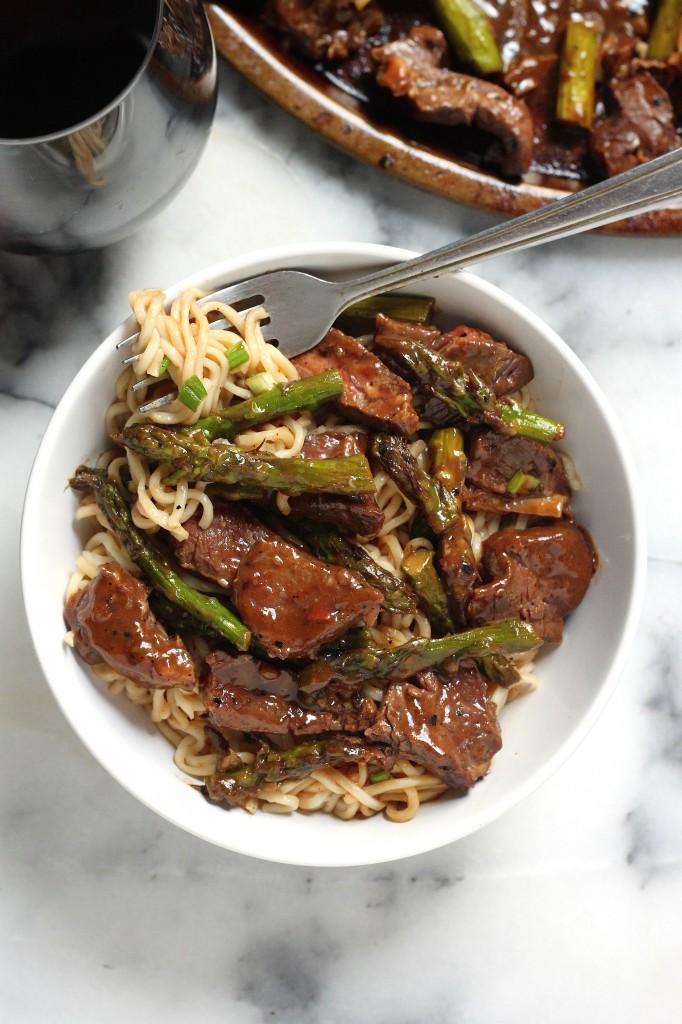 Teriyaki Beef Ramen
I finally found asparagus at the farmer's market!!! To me, farm fresh asparagus means Spring is really here. At last! And I'm majorly rejoicing over this. It's been such a hellish, naughty Winter, I almost feel a moment of silence and gratuity for sunshine seasons bright and poppy arrival is in order.
…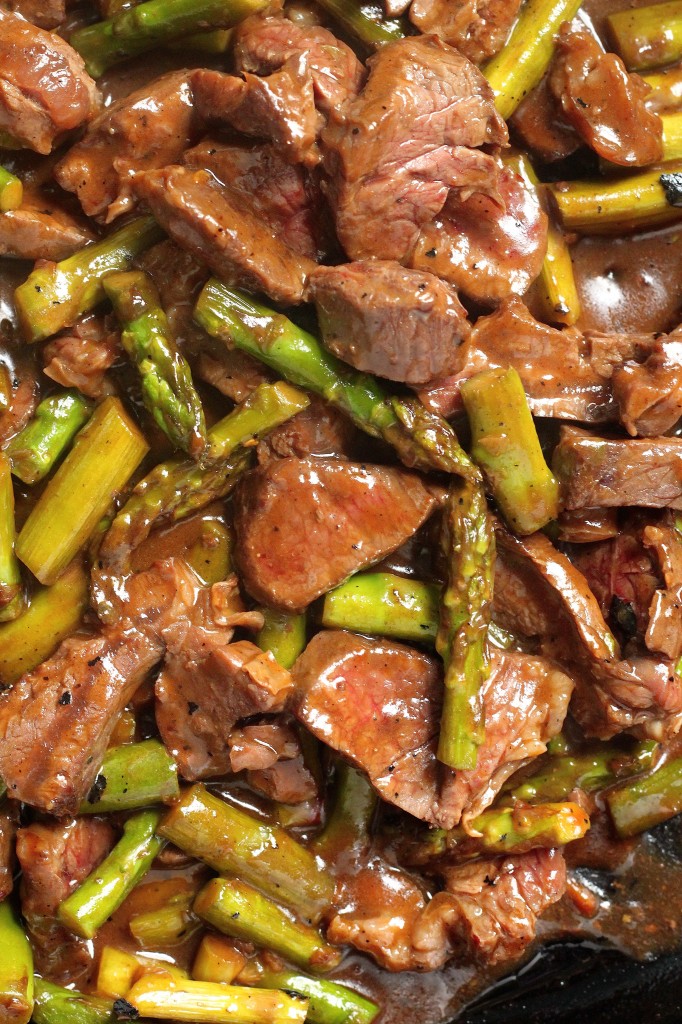 And we're back! Let's talk meat, veggies, and ramen.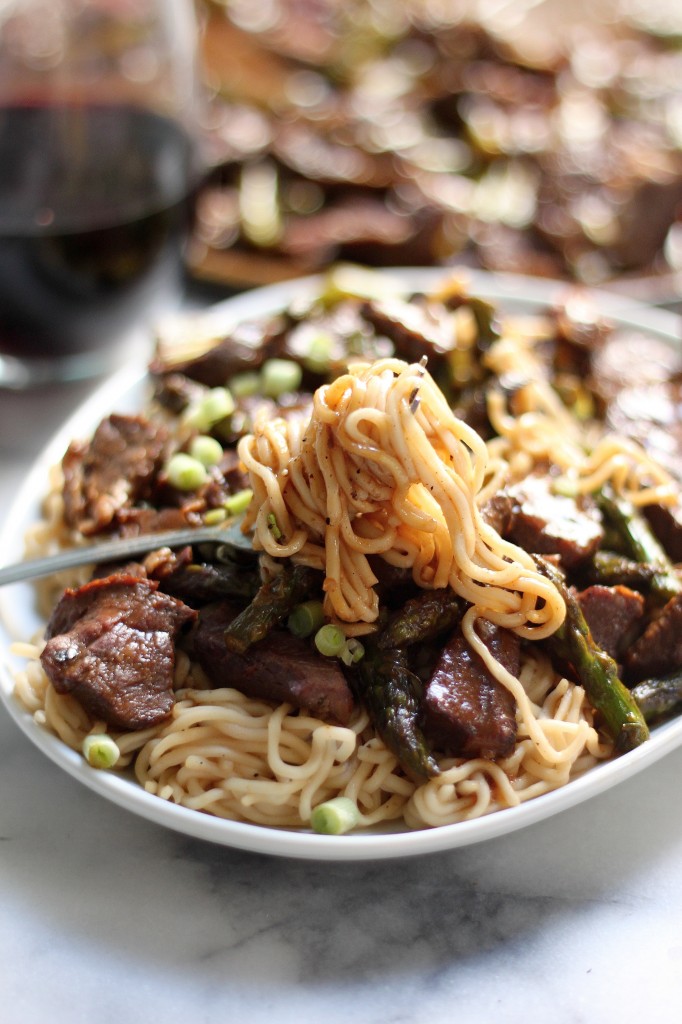 Teriyaki Beef Ramen Noodles
I've always been intrigued by ramen. I don't why really… I ate it all the time growing up. I guess it's just one of those foods that has endless possibilities, and thus, never gets old. Plus, it's noodles! I could live happily on noodles alone till the day I die. I love them.
The steak and asparagus are the real stars of this dish! They're cooked quickly in a skillet, and tossed in a slightly spicy – super garlicky teriyaki sauce that's sure to win your heart – or at least your belly. I wanted to eat the sauce with a spoon! It was that good.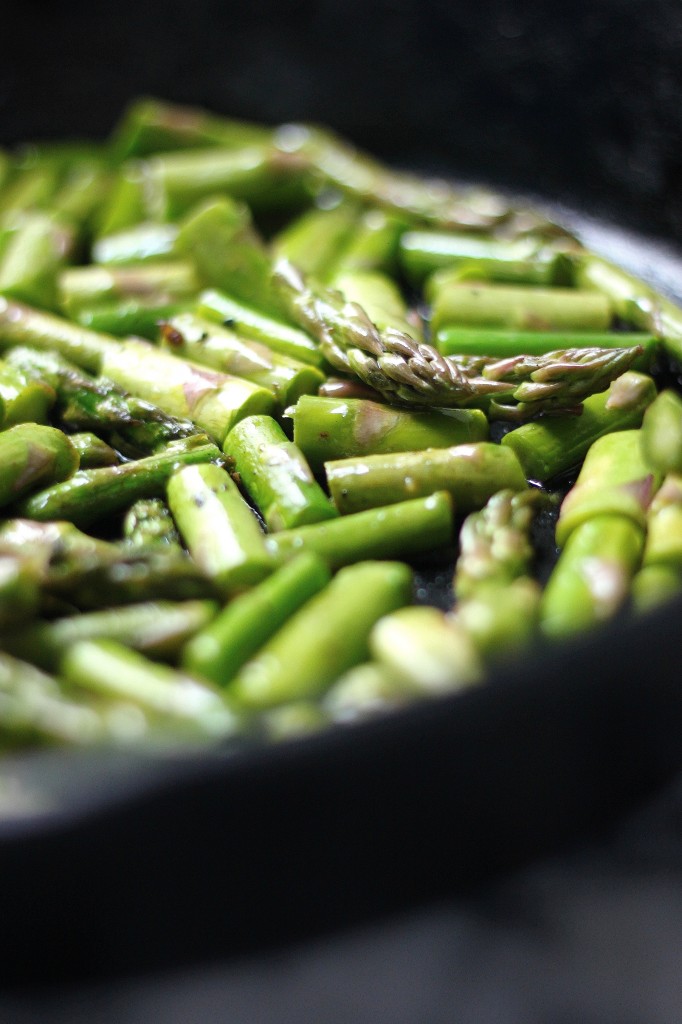 The ramen is simply boiled, drained, and tossed in a little soy sauce mixture. It also gets a hearty sprinkle of scallions. They add a great crunch that you don't want to miss.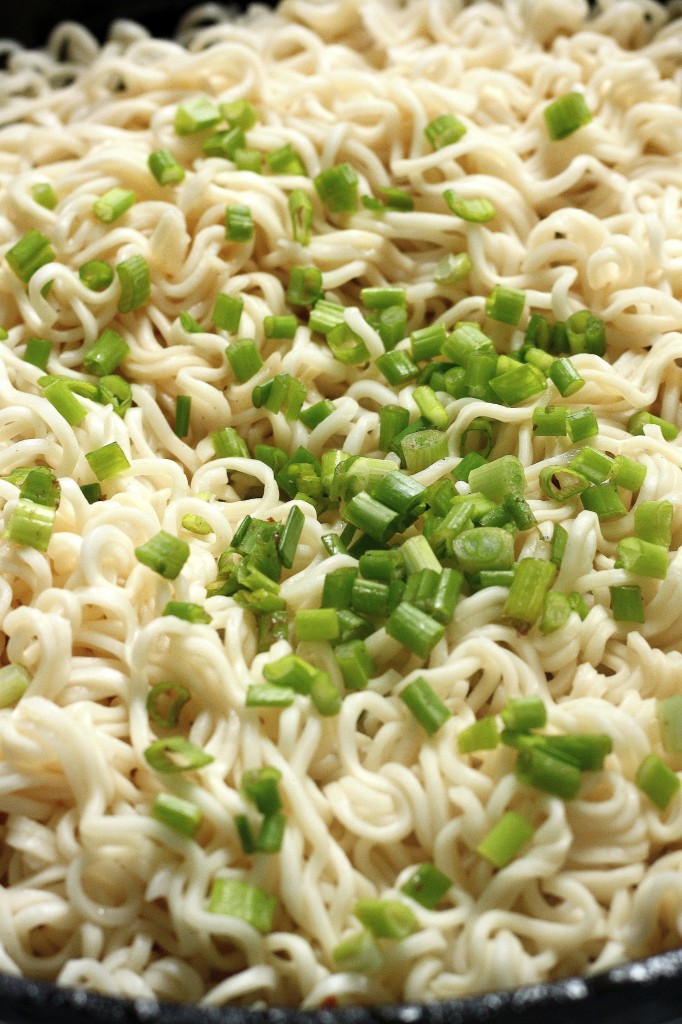 This makes a TON of food, but luckily, the leftovers are just as dreamy the next day! We actually lived off this teriyaki situation for 3 days straight and it was wonderful. If you want to scale it down you can probably cut it in half, but I haven't tried it yet. We love leftovers 🙂
Steak and Asparagus Teriyaki Ramen is a million times tastier than any take-out! Make this tonight!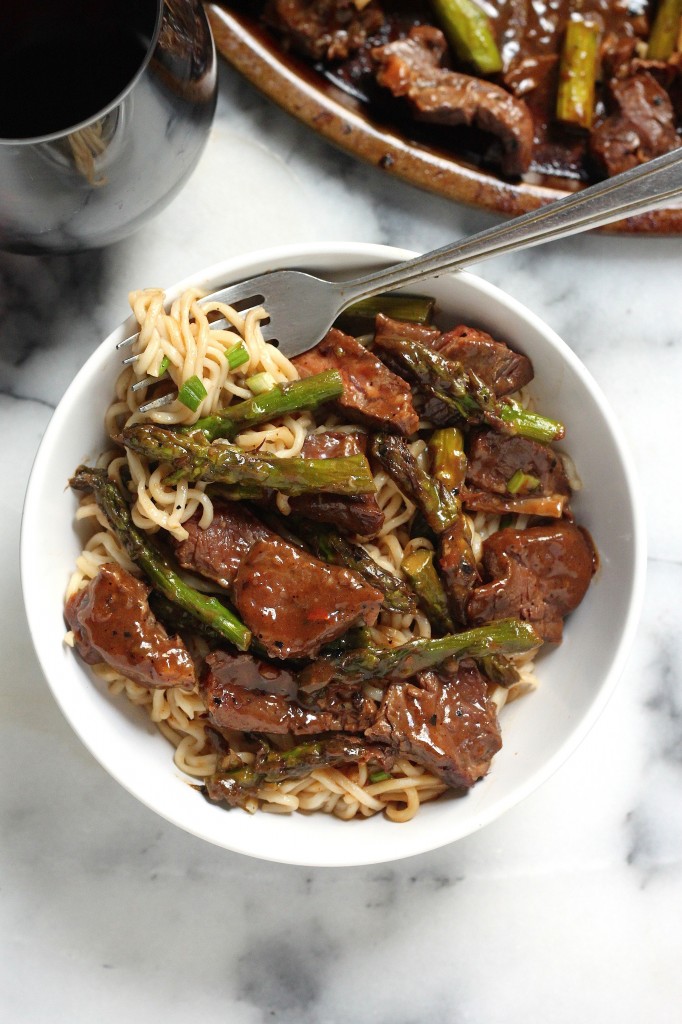 More Ramen Recipes: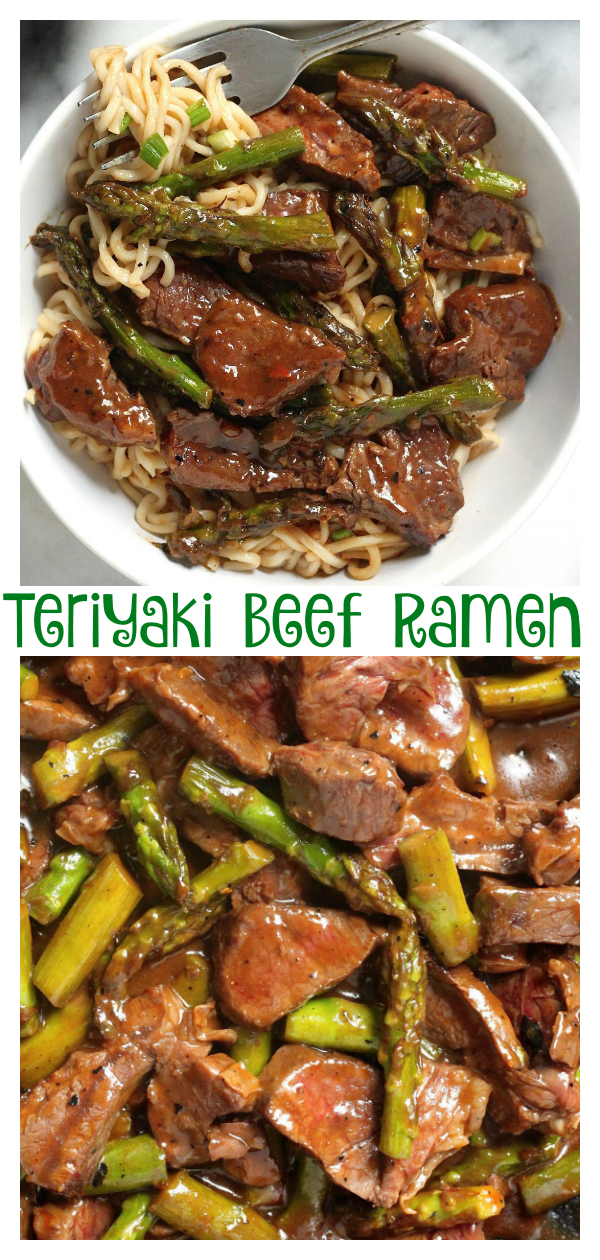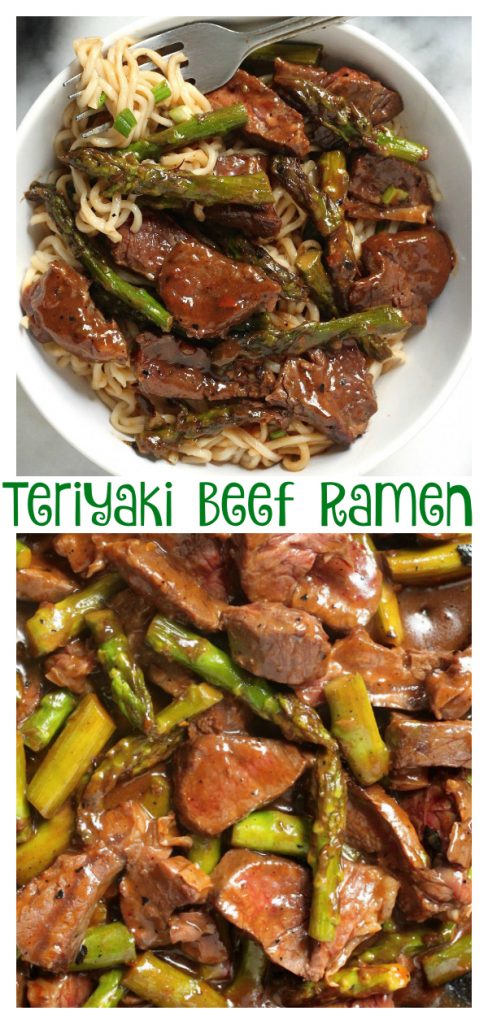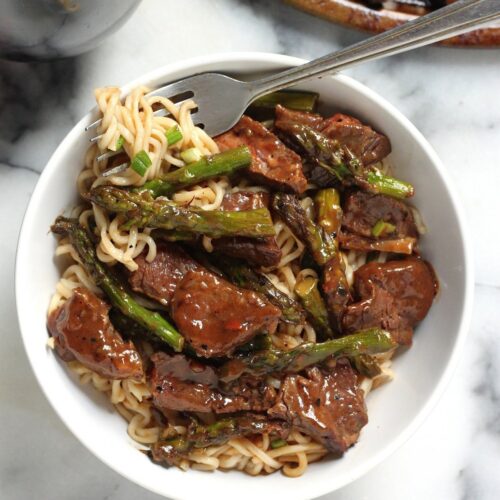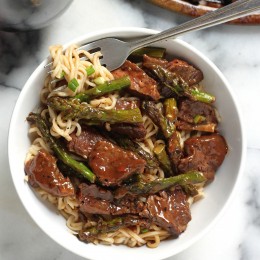 Steak and Asparagus Teriyaki Ramen
A delicious and easy recipe for Teriyaki Beef Ramen Noodles! 
Ingredients
Two packages ramen noodles (I used the ones from soup packages!)
1 pound boneless skirt steak
1/4 cup beef broth
3 tablespoons soy sauce; divided
1/2 tablespoon honey
1/4 teaspoon garlic powder
1/4 teaspoon crushed red pepper flakes
3 teaspoons cornstarch
2 teaspoons brown sugar
1 1/2 teaspoons toasted sesame oil
6 tablespoons olive oil
1 large bundle of asparagus, chopped into bite sized pieces
1 tablespoon finely chopped ginger
4 cloves garlic, minced
4 green onions, thinly sliced, plus more for garnish, optional
Instructions
Place noodles in a large heat proof bowl. Cover with boiling water, cover with a small plate on top, and soak for 3-5 minutes, or until completely cooked. Drain well and set aside.

Cut the beef crosswise into 3" pieces and then rotate a quarter and slice very thinly lengthwise, cutting across the grain.

In a medium-sized bowl, stir together the beef broth, 2 tablespoons of soy sauce, honey, garlic powder, crushed red pepper flakes, cornstarch, brown sugar and sesame oil, whisking well to combine; set aside.

Heat 1 tablespoon of the olive oil in a large nonstick skillet over high heat. Once sufficiently hot (the oil should be sizzling) add half of the beef and cook, stirring once or twice, until brown on the outside and still juicy on the inside, about 2 minutes. Remove meat with a slotted spoon and transfer to a large serving bowl. Repeat with the remaining beef, adding 1 tablespoon of oil to the pan. Transfer all cooked meat to the serving bowl, keeping the skillet on the burner.

Add 1 1/2 tablespoons of oil to the skillet. Add the asparagus and cook, stirring frequently, just until it starts to soften, about 1 minute. Reduce the heat to medium, add a dash of oil, the ginger and the garlic. Cook, stirring constantly, until *just golden and fragrant, about 30 seconds. Add 2 tablespoons of water to the skillet and cook, stirring occasionally, until mostly evaporated, about 1 minute.

Add the beef broth mixture to the skillet. Cook, stirring occasionally, until thickened; about 1 minute.

Add the beef; stir to coat. Transfer the beef to a large serving platter, leaving room for the noodles.

Wipe out the skillet and heat the remaining oil and soy sauce over medium-high heat.

Add the ramen noodles and and cook, stirring frequently, until heated through, about 1 minute.

Transfer to the serving platter and garnish with additional green onions if desired. Serve at once!