If you love spicy ramen, you have to try this easy 20-Minute Spicy Sriracha Ramen Noodle Soup! It's super easy and so delicious. Serve piping hot, with fresh scallions, cilantro, and a poached egg.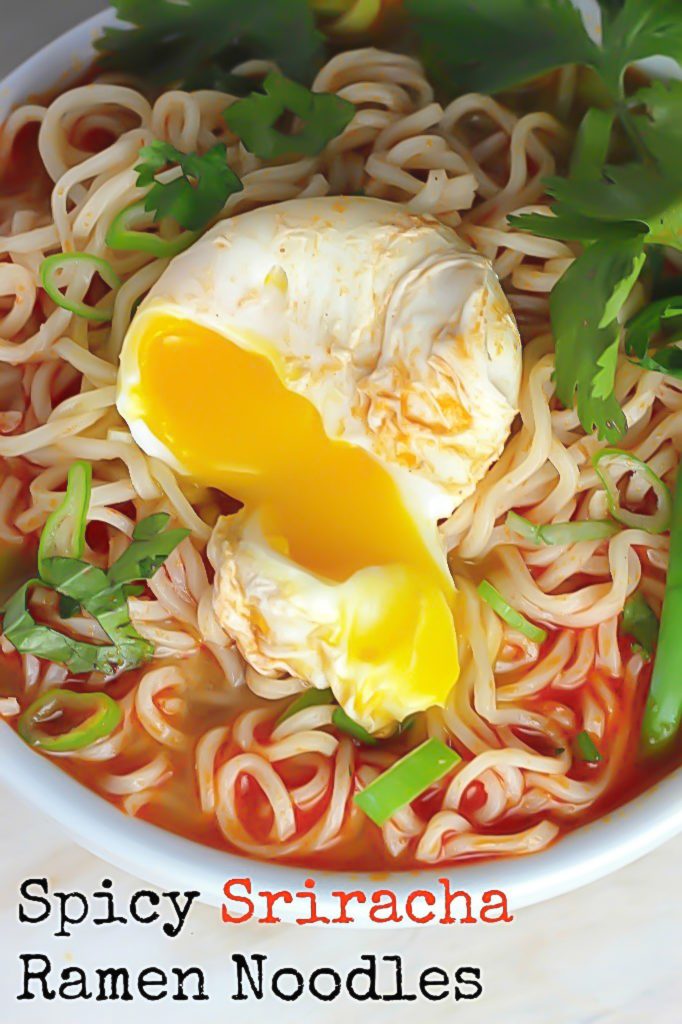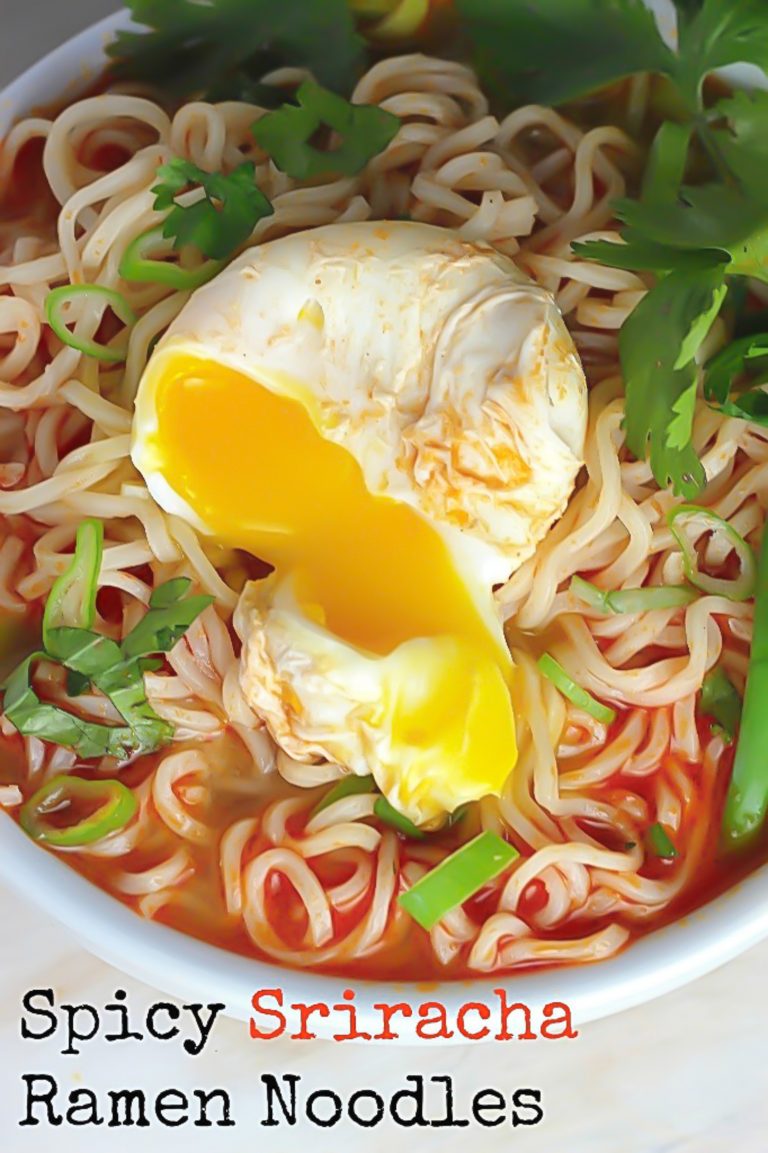 Spicy Ramen Noodles
It's finally Fall! And that means you can find me taking comfort in fuzzy boots, soft sweaters, and GIANT bowls of spicy, slurpy soup. And although September is hardly the heart of the season, I say it's never too early to start filling up our recipe boxes with easy, healthy, cozy soup recipes. I'll hold off on the chili and stews for another month or so… but soup season? It starts NOW!
And we're kicking off the season with this homemade ramen soup! Flavored with spicy sriracha sauce, it's a insanely flavorful and sure to become a hit with your family and friends.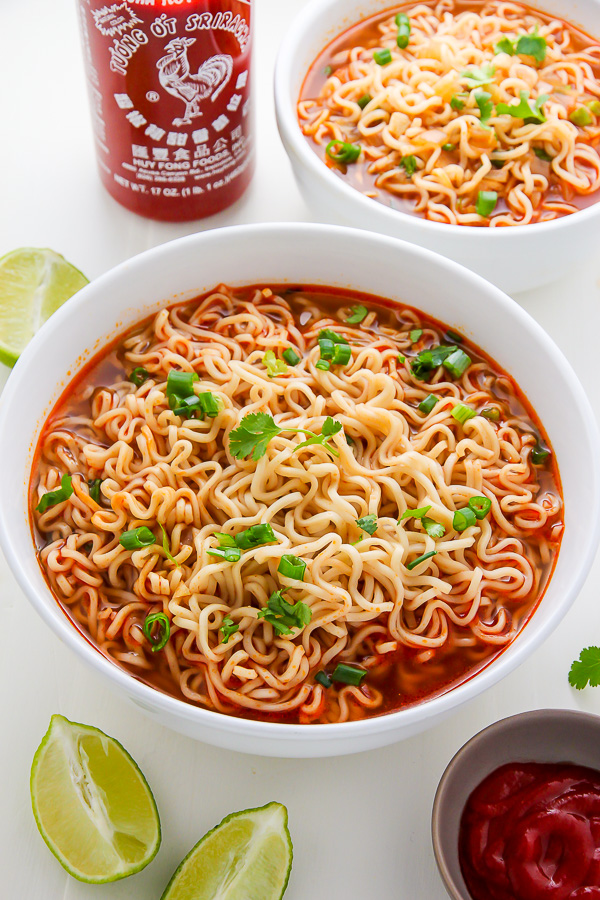 This delightfully hearty noodle soup is made with dried ramen noodles, vegetable stock (but chicken broth could be subbed here), fresh veggies, dried herbs, and sriracha! It's truly incredible. 
For the packaged ramen noodles, you may use the easily available (and very affordable) soup kits they sell at the grocery store (just discard the seasoning!), or there are a bounty of healthier options available at health food stores. I have found ramen noodles made from millet, rice, and whole wheat flour, so keep your eyes open for fun and interesting varieties.
You may choose to top your spicy soup bowl off with cilantro, hot peppers, scallions, a soft boiled egg, or – my personal favorite – ALL OF THE ABOVE! Can I hear a heck-to-the-yum?!
Question: What are your favorite toppings when it comes to ramen? I'm open minded when it comes to this and always looking for new, creative add-ins.
The great thing about this comforting recipe is it's SO simple to throw together – even on a night where you don't feel like cooking. The steps are so easy! First you simmer some sesame oil with an onion, parsley, garlic, chopped tomato, and some spices. That takes about 6 minutes. Then you'll transfer that mix to the blender for a quick whirl – 20 seconds max – before pouring it back into the pot, adding some water and store-bought stock, and bringing it to a boil over high heat. At this point you're half way done! Woot. Lastly you'll add a splash of sriracha, soy sauce, and vinegar (optional, but I love the slight tang), boil for another minute or so, then add your noodles. The noodles only need to cook about 2 minutes, so be sure you've tasted your soup and adjusted the seasoning to your taste preference before adding the noodles. Soggy noodles suck 😉 So I'm just trying to save you from that.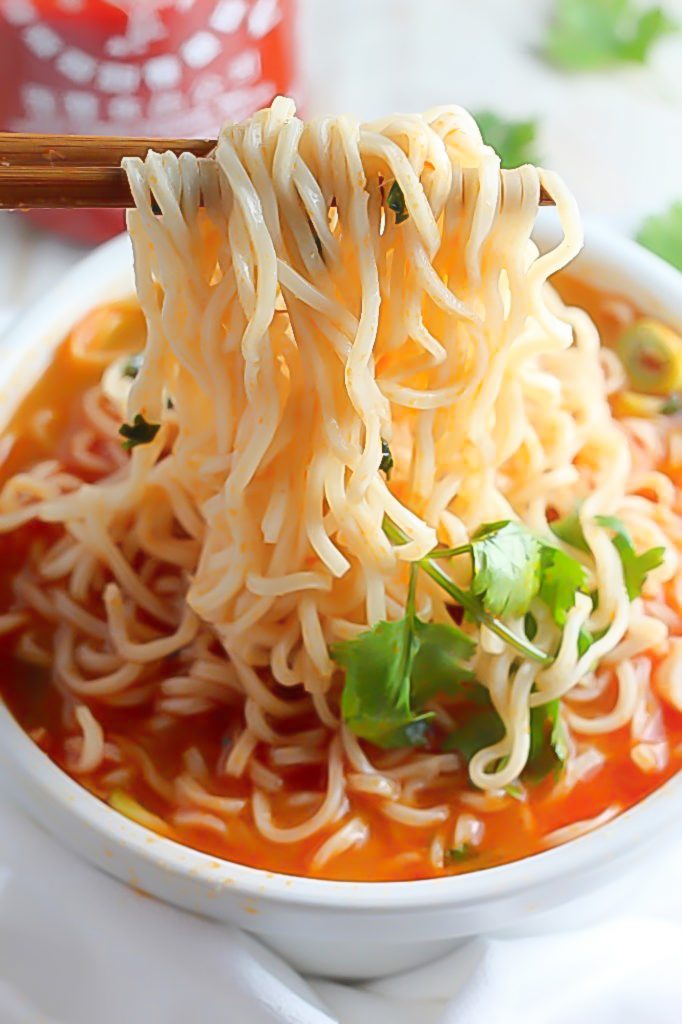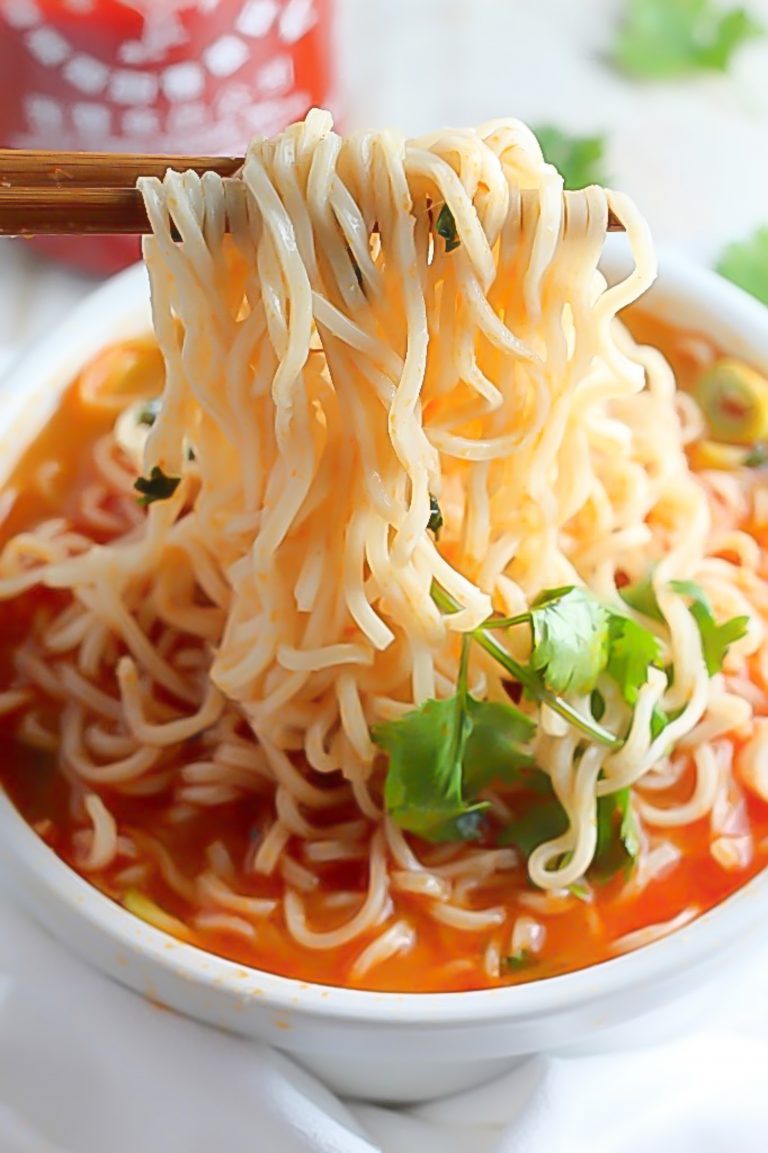 Once your soup is ready, just top it off with a little – or a lot – of whatever you like, and slurp away!!! I hope you enjoy this spicy soup as much as we do. If you make it be sure to snap a pic and share it on instagram (do you follow me?) using the hashtag #bakerbynature
I love seeing your photos and creations 🙂 Also, I love you! Thank you for letting me share soup and life with you. xo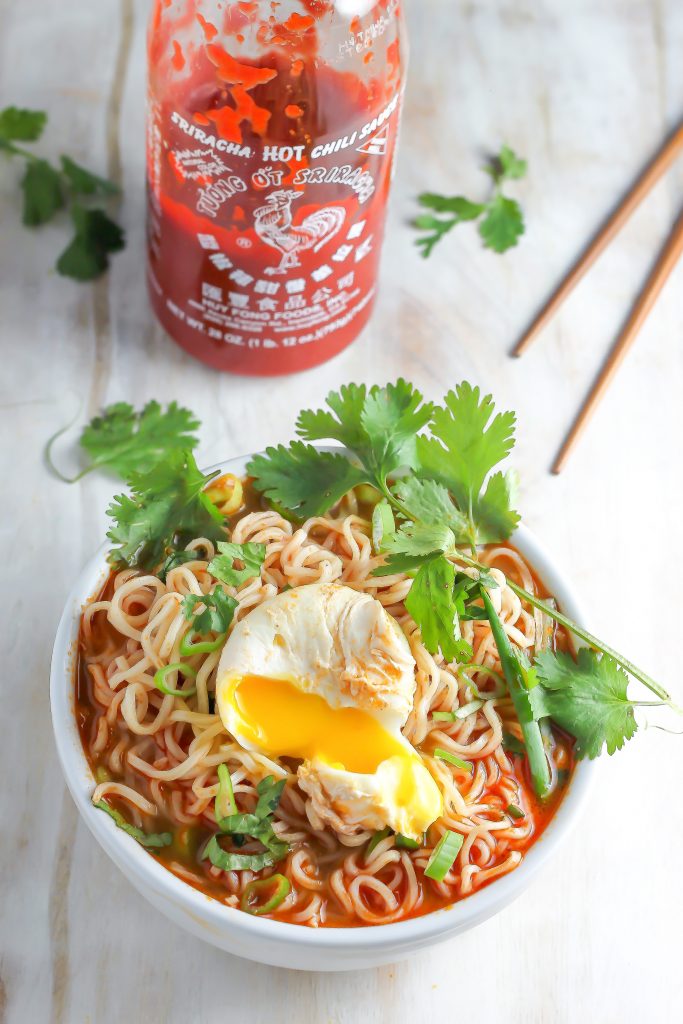 More Sriracha Recipes:
20-Minute Spicy Sriracha Ramen Noodle Soup
Yield 4 bowls
A spicy ramen noodle soup spiked with sriracha hot sauce and ready in just 20 minutes!
Ingredients
2 tablespoons sesame oil
2 tablespoons sriracha hot sauce
1 small onion, diced
1 small roma tomato, diced
1 tablespoon ginger, grated
5 cloves garlic, minced
1/2 teaspoon garlic powder
1/2 teaspoon celery salt
2 cups water
4 cups vegetable broth
1 tablespoon soy sauce
1 teaspoon rice vinegar (optional; only if you like tang)
3 packages ramen noodles
1/2 cup scallions, chopped
1/2 cup cilantro, chopped
4 poached eggs (optional)
Instructions
Add the sesame oil and sriracha to a large stockpot and bring to a simmer over medium-heat. Add the onion and tomato and cook for 4 minutes, stirring occasionally. Add the ginger, garlic, and seasonings; cook for 2 minutes or until fragrant. Add 2 cups of water and transfer mixture to a blender or food processor and pulse until smooth. Return mixture to the pot and add the broth.
Bring to a simmer; add soy sauce and vinegar (if using), and simmer for 8-10 minutes. Taste and adjust seasonings as needed.
Add the ramen noodles to the broth and simmer for an additional 2-3 minutes, or until the noodles have softened. Remove pan from heat, ladle soup into bowls, and top with scallions, cilantro, and eggs (if using). Enjoy!
Notes
If you plan to make this ahead of time, I advise making the broth and noodles separately. Drain the noodles and pat them dry, then stir them in right before re-heating and serving. This will help avoid the noodles becoming soggy and soaking up all of the broth.
Courses Dinner
Cuisine Asian
Nutrition Facts
Serving Size 1 bowl
Amount Per Serving
% Daily Value
* Percent Daily Values are based on a 2,000 calorie diet. Your daily values may be higher or lower depending on your calorie needs.