If you love chicken noodle soup and ramen, this Blackened Chicken Ramen Noodle Soup is going to blow your mind! Made with a rich chicken broth and loaded with carrots, kale, and cooked chicken breast, it's hearty and so flavorful! Top with green onions, soft boiled eggs, or just serve with as is!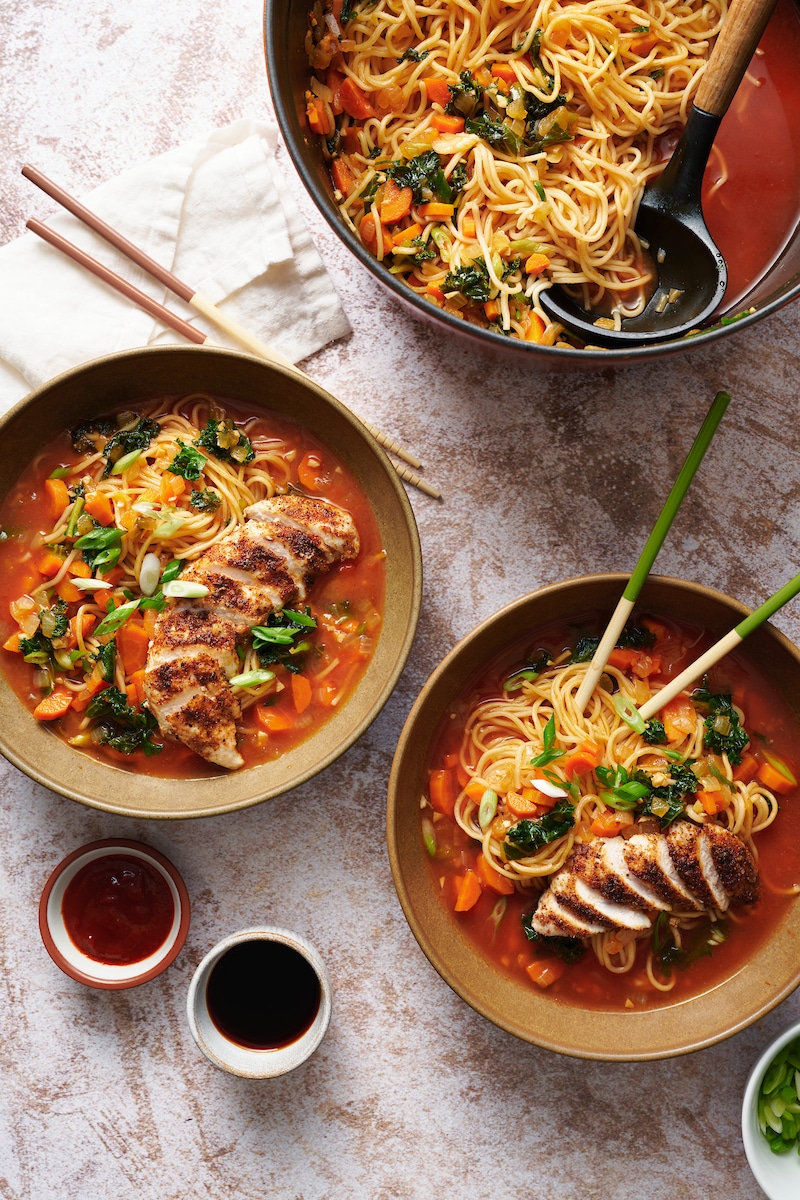 Chicken Ramen Noodle Soup
Summer is off to quite a rainy start here in the Hudson Valley. The past two weeks have been scattered with a hearty dose of thunderstorms, and nothing makes me crave comfort food like a dark and dreary day spent indoors with the A/C cranked up to full blast.
My go-to comfort meal? Ramen! Shrimp ramen, steak ramen, and spicy sriracha ramen… I love them all!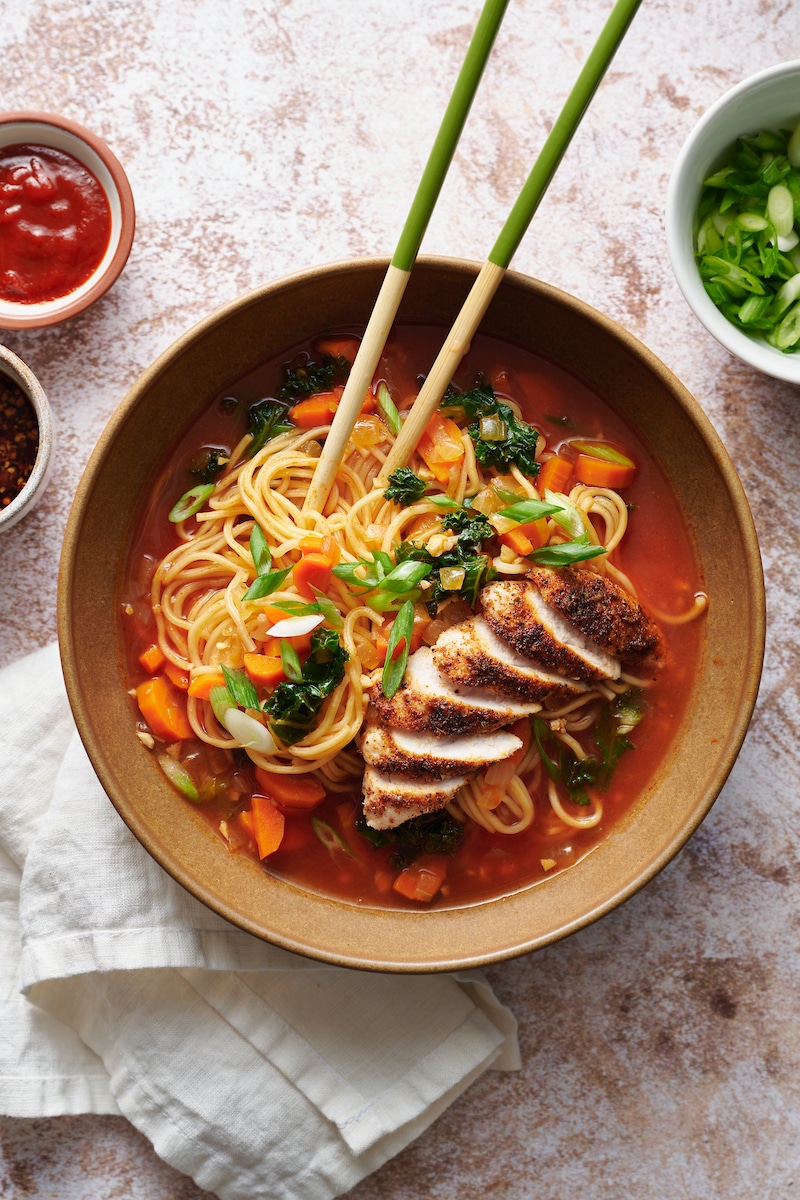 I should also confess I'm totally one of those weirdos who eats soup even in the hottest months of Summer! So ya know, this whole soup in June thing was bound to happen sooner or later 😉
Enter this Blackened Chicken Ramen Noodle Soup! It's light yet hearty; full of flavor; and so delicious you're bound to find yourself making pot after pot no matter what the season. <— That's a guarantee!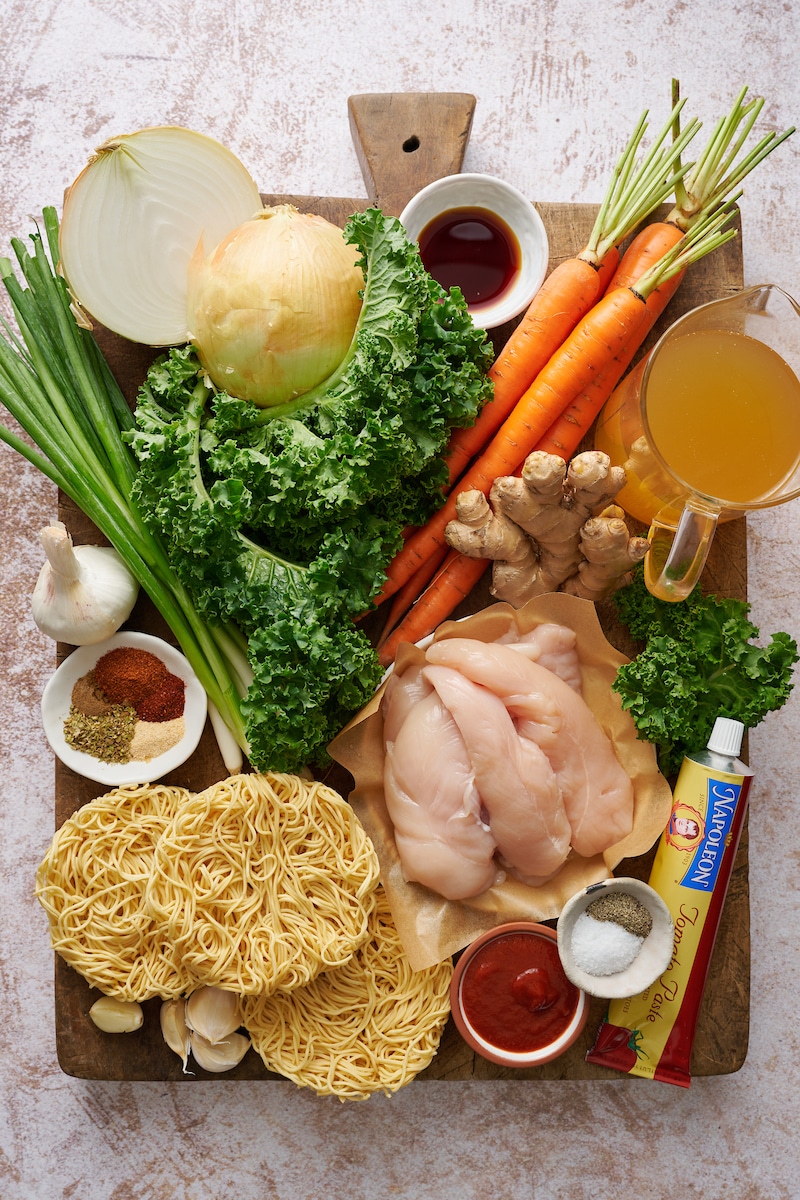 How to make Blackened Chicken
The first step to making this soup is getting the chicken in the oven. You'll coat the chicken with a mix of oil and herbs, then roast it to tender, juicy perfection. I'm not a huge chicken fan, but this is my go-to method when I do choose to cook it.
If you're looking to make this easy chicken soup even easier… you can definitely use a rotisserie chicken. Just be warned: the flavor won't be the same!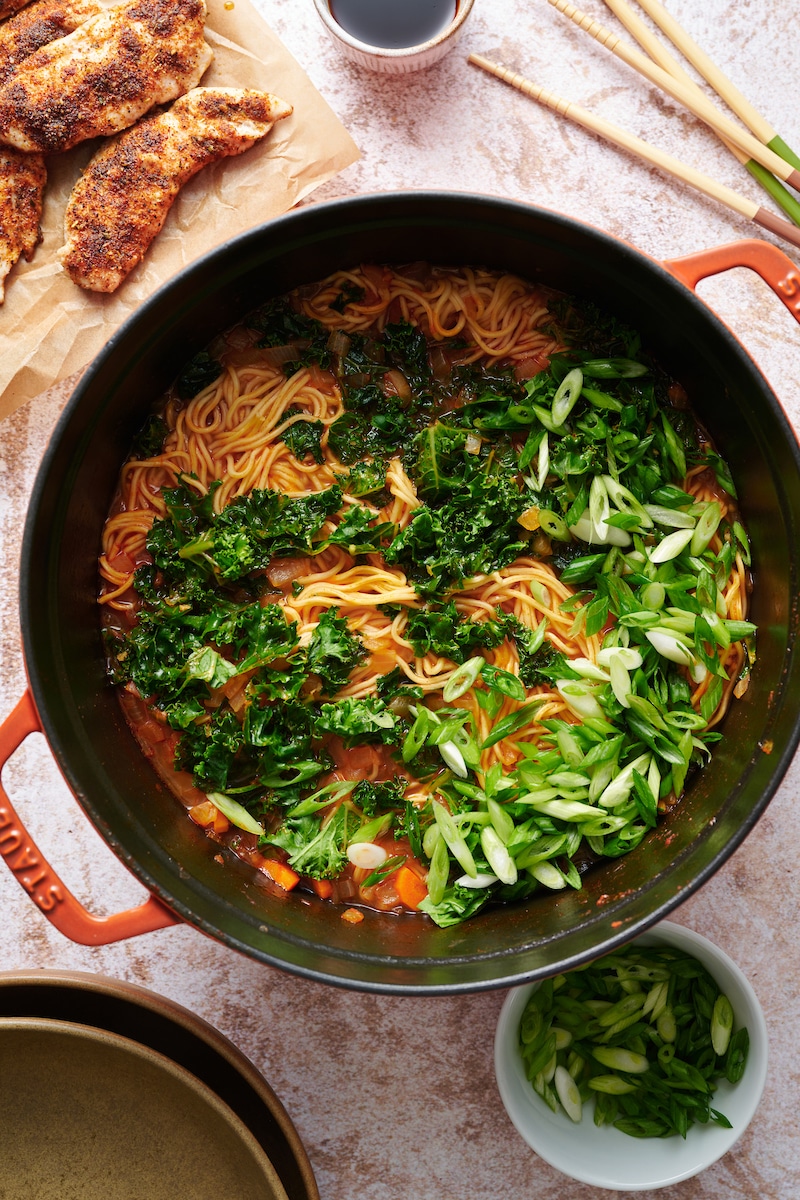 Let's Make Easy Chicken Ramen
While the chicken is roasting (it'll take around 25 minutes, depending on the thickness of your tenders), you can make the soup. This soup is extremely easy (and adaptable) and is ready by the time your chicken comes out of the oven.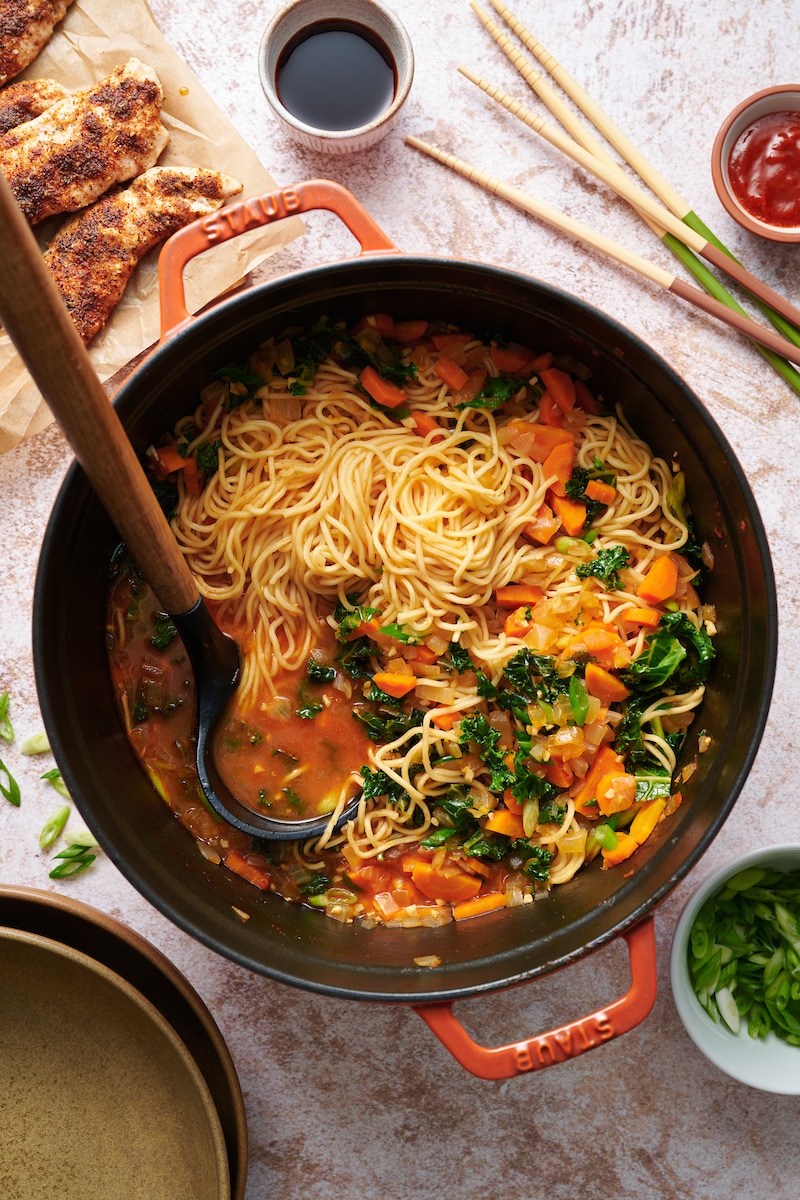 You'll start out by cooking the vegetables in some olive oil, then add in the chicken stock, soy sauce, and vinegar and bring to a boil over medium high heat.
Then you'll simmer for about 15 minutes before adding in your noodles. I use the noodles that come in those instant ramen packages, and just discard the flavor packet. But you can definitely buy fancy/healthy ramen noodles if you want.
Once the noodles are soft, you're ready to eat! If you want to up the veggie in this recipe, feel free to increase the kale and carrots – celery or bok choy are also great additions.
Taste the broth before serving! If the soup tastes lacking in punch, add more soy, or season with salt and pepper. Add a little bit at a time, and tweak to your hearts delight!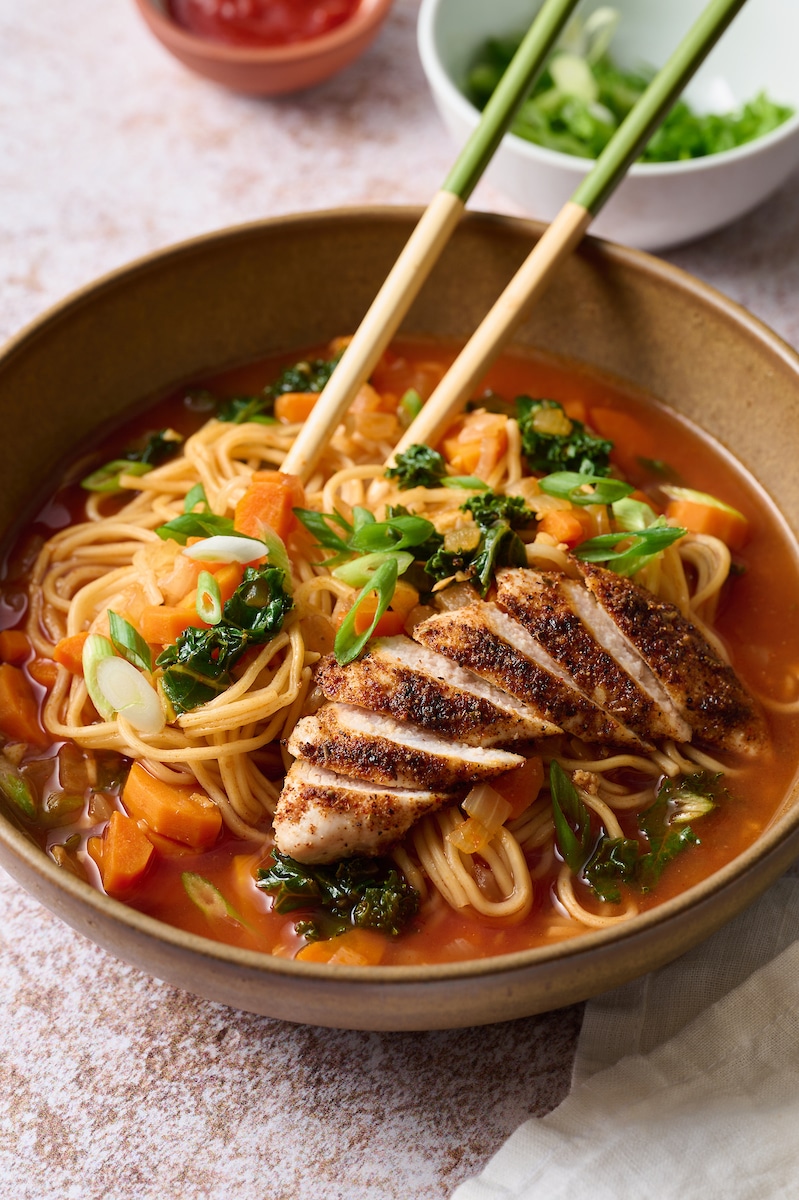 Ready in about 30 minutes, this recipe is a winner winner chicken dinner the whole family will love!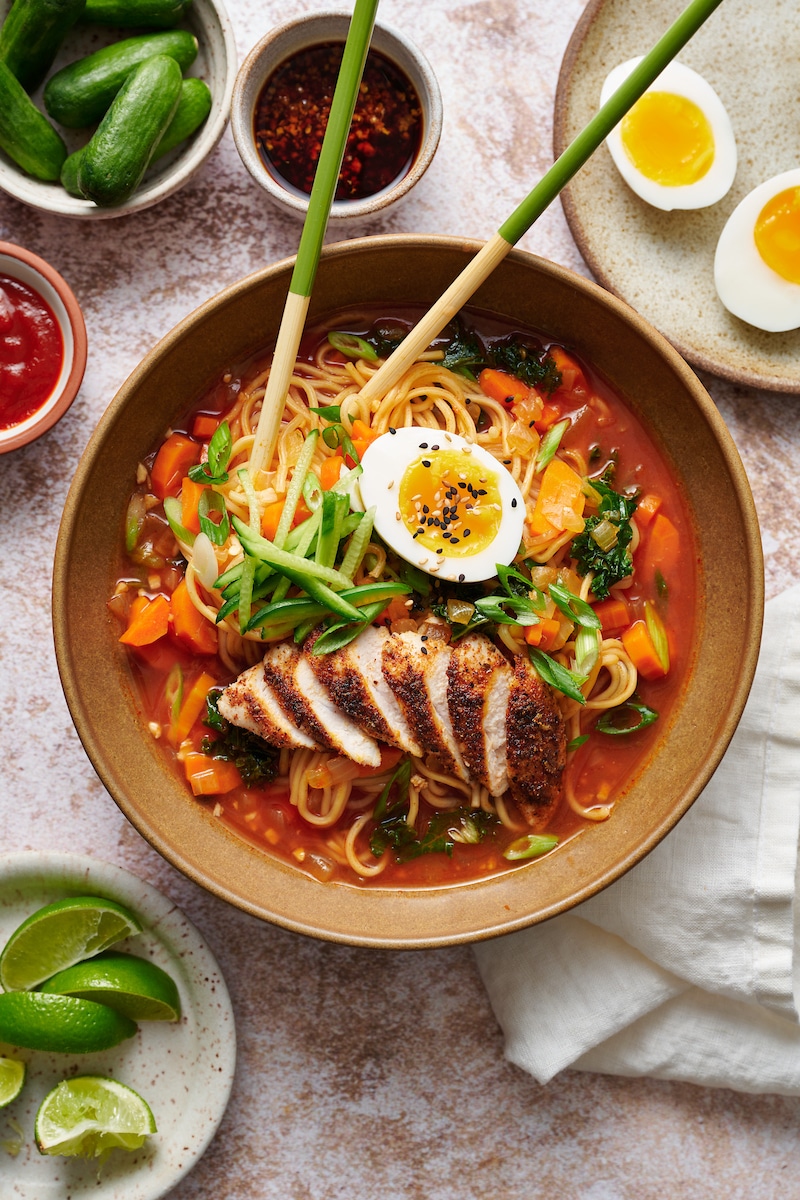 More Easy Chicken Soup Recipes: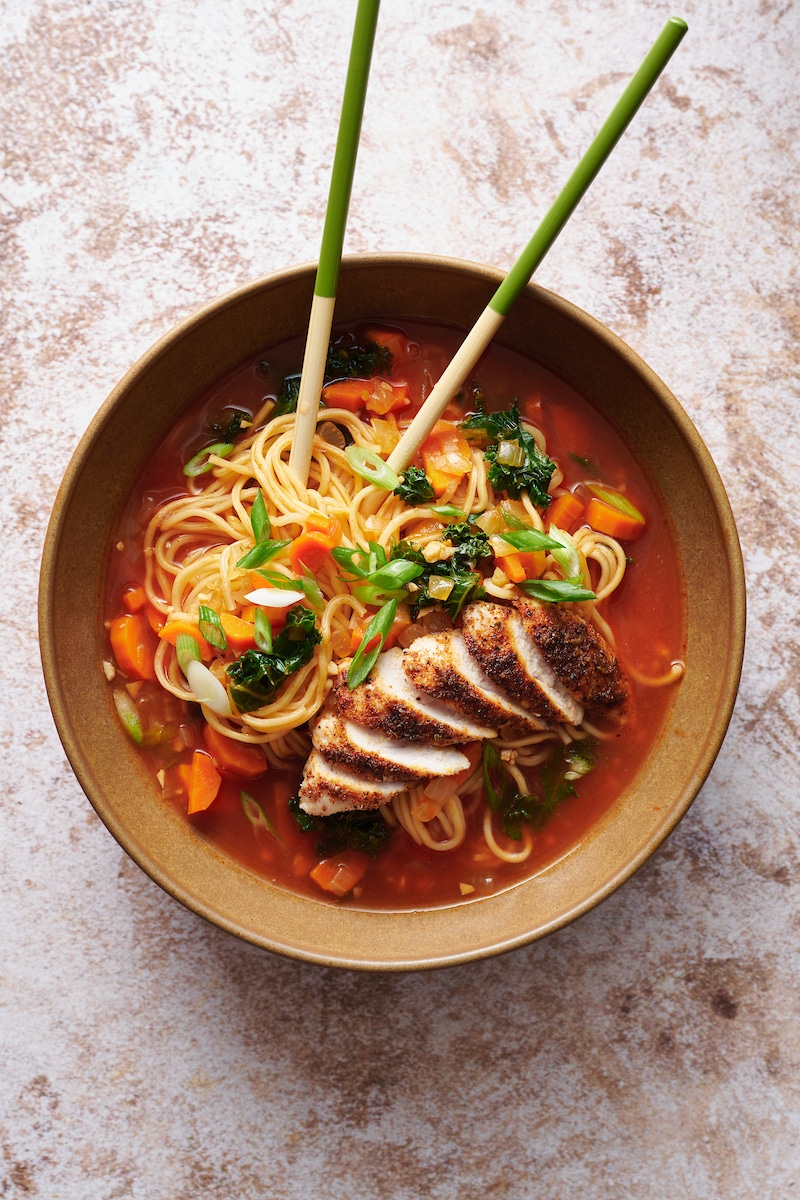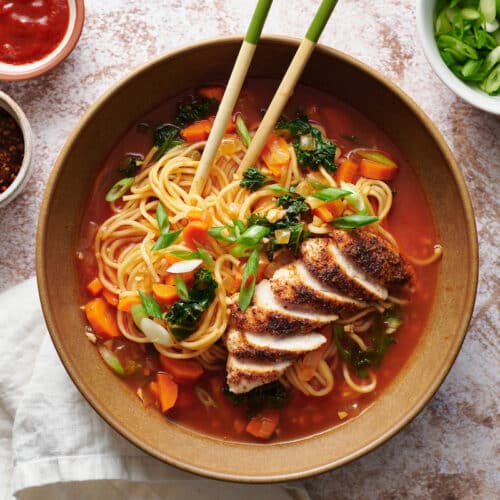 Blackened Chicken Ramen Noodle Soup
A hearty Ramen Noodle Chicken Soup loaded with flavor!
Ingredients
For the Chicken:
1 pound skinless, boneless chicken breast tenders
2 Tablespoons (28ml) olive oil
1 teaspoon garlic powder
1 teaspoon ground cumin
1/2 teaspoon chili powder
1/2 teaspoon cayenne pepper
1/2 teaspoon dried oregano
3/4 teaspoon salt
3/4 teaspoon ground black pepper
For the Ramen Noodle Soup:
2 Tablespoons (28ml) olive oil
2 Tablespoons (28ml) sriracha hot sauce or similar style hot sauce
1 large yellow onion diced
2 Tablespoons (28g) tomato paste
4 large carrots peeled and chopped into chunks
2 Tablespoons fresh ginger peeled, grated
6 cloves garlic minced
1/2 teaspoon garlic powder
1/2 teaspoon celery salt
6 cups (1.3L) chicken bone broth
1 cup (227ml) water
1 and 1/2 Tablespoons (21ml) soy sauce
1 teaspoon rice vinegar optional but adds tangy flavor
4 3 ounce packages ramen noodles 12 ounces total
2 and 1/2 cups kale roughly chopped
2/3 cup scallions divided
Instructions
For the Chicken:
Preheat oven to 375 degrees (F).

Place chicken tenders in a large baking dish lined with parchment paper. Drizzle with 2 tablespoons of oil and sprinkle with spices. Toss well to coat.

Place in the oven and bake for 24 minutes, flipping the chicken at the halfway point.

Once cooked, cool for 10 minutes. Then slice the chicken into thin strips. While the chicken is roasting, make the soup.
For the Ramen Noodle Soup:
In a large soup pot or dutch oven over medium-heat, warm the oil until it shimmers. 

Stir in the sriracha, onion, and tomato paste and cook for 5 to 6 minutes, stirring occasionally. Stir in the carrots and cook for another 3 minutes, stirring occasionally.

Add the ginger, garlic, and seasonings and cook for 2 minutes or until fragrant. Stir in the chicken broth and water and bring the mixture to a rolling boil.

Reduce to a simmer. Add in the soy sauce and vinegar, and simmer for 15 minutes. Taste and adjust seasoning as needed.

Add the ramen noodles and kale to the broth and cook for 2 to 3 minutes, or until the noodles have softened. Add half of the scallions and stir to combine.

Remove pan from heat, ladle soup into bowls, and top with chicken and scallions.