This 20-Minute Sriracha Shrimp Ramen is so easy and delicious! A flavorful ramen noodle soup recipe the whole family will love!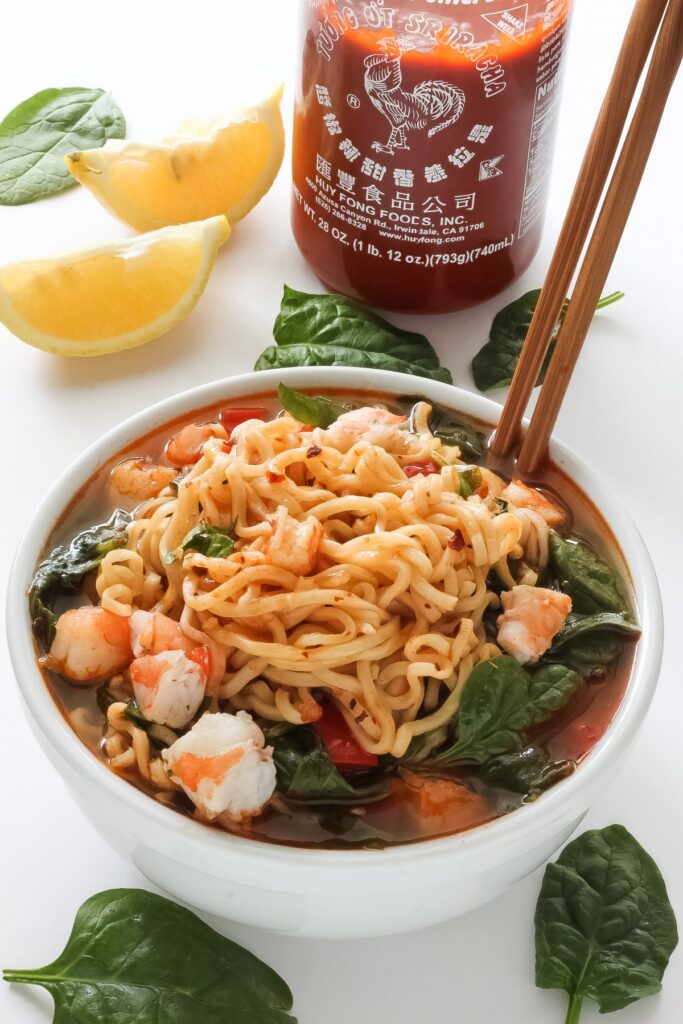 Shrimp Ramen
Ramen is at the top of my list of favorite foods to eat in the Winter. It's fast, flavorful, moderately healthy, and fantastically filling. Each slurpy bite warming both belly and soul. It's kind of like magic. (Insert blissful sigh here.)
One of the best things about this ramen recipe is it's FAST. Ready in just 20 minutes; 25 if you're really taking your time. I like quick dinner recipes, especially in the Winter when the days seem to fly by so fast. So this one is for all my friends who want to get in and out of the kitchen in a jiffy… but still create a memorable meal. Hooray for ramen!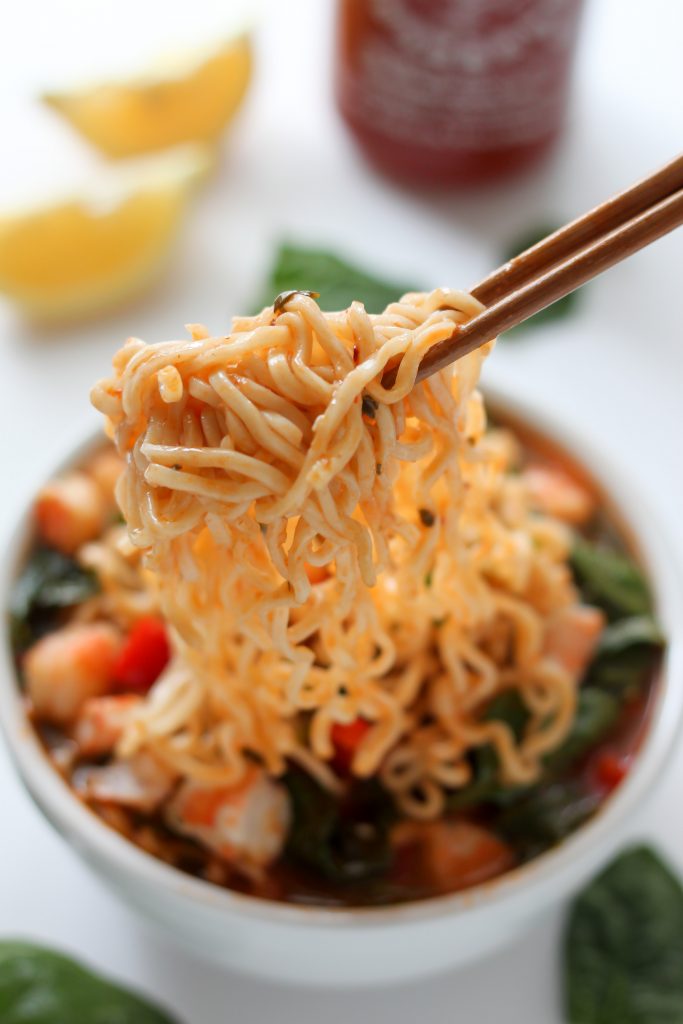 Shrimp Ramen Noodles
You might recall me sharing a ramen recipe not too long ago, ya? It was this 20-minute spicy sriracha ramen noodle soup. I know… It sounds pretty similar to this recipe, right? But I promise, the differences are there! For starters, this recipe is sans poached egg. A gift to all of my readers who don't fancy a yolky egg in their soup (my better half included).
Also, there's shrimp in this soup! Shrimp flavored ramen was always my favorite growing up (and yes, I'm talking about the pink packaged stuff they sell for 37 cents in the grocery store). I was determined to make an authentic shrimp ramen this Winter that was full of plump meaty (real) shrimp bites and whoo-boy —> this is just that. All you shrimp lovers are going to go wild for this, so um, consider yourself warned 😉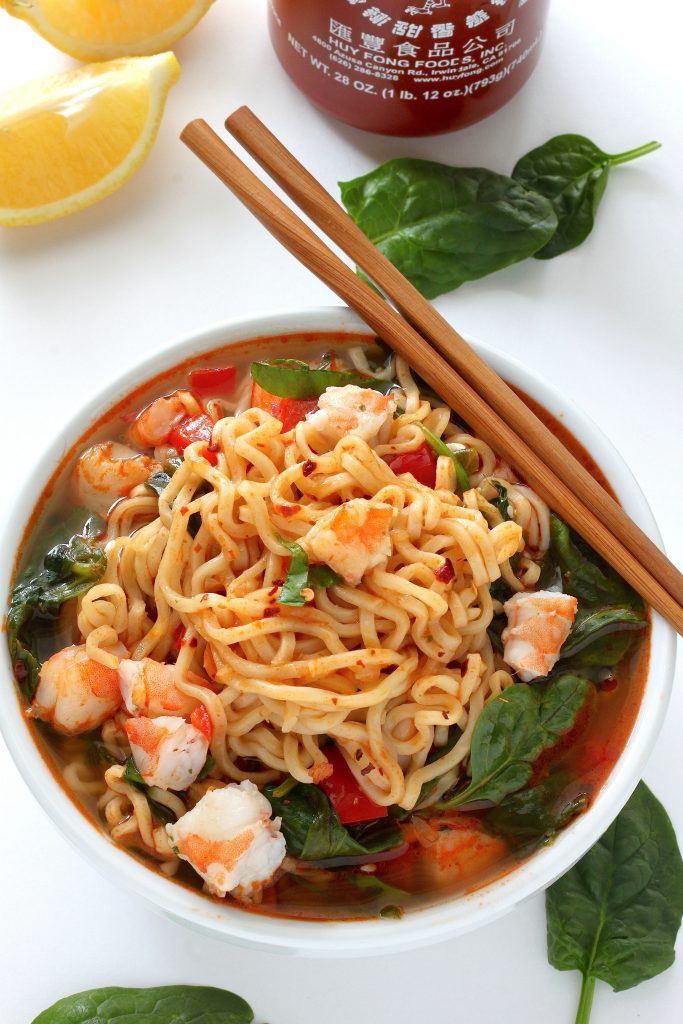 Shrimp Ramen Recipe
Ingredients:
Sesame Oil
Large Shrimp
Dried Basil
Salt and Pepper
Sriracha Hot Sauce
Yellow Onion
Red Bell Pepper
Fresh Ginger
Garlic Cloves
Chicken Stock
Water
Tomato Paste
Garlic Powder
Onion Powder
Celery Salt
Soy Sauce
Rice Vinegar
Ramen Noodles
Baby Spinach
and Lemon Juice
I know that looks like a long list! But you probably already have a lot of those ingredients in your kitchen!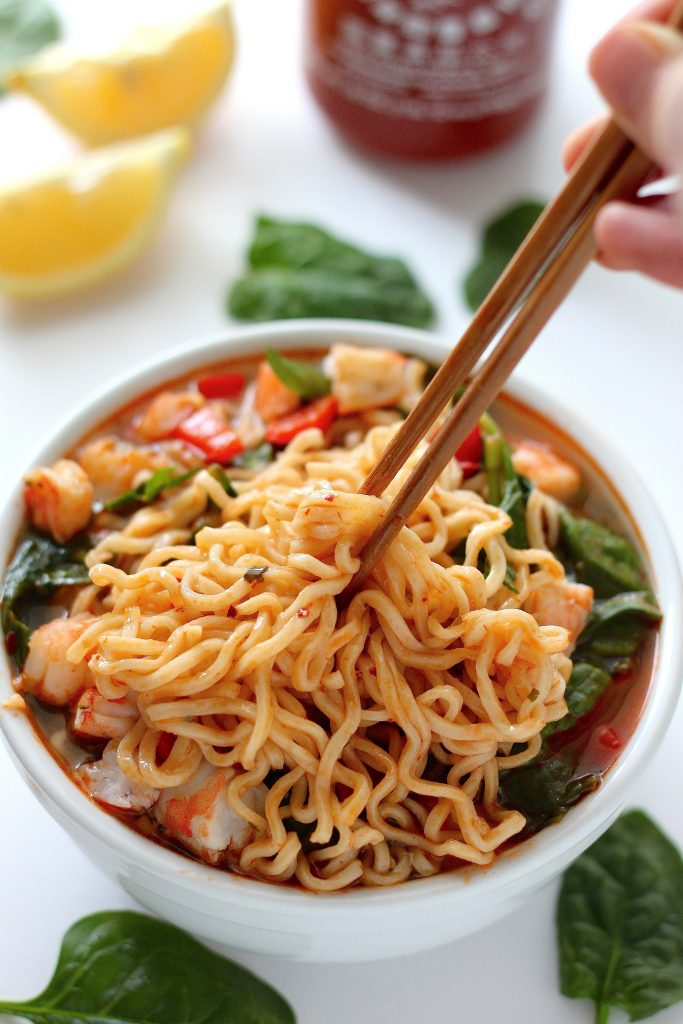 Everything is cooked in one pot, and you can probably get 4 meals out of this recipe. If I know it's going to be a busy week, I'll sometimes make the broth ahead of time, and heat the noodles up day-by-day as I polish the pot off. Since the noodles cook so quickly (I'm talking a matter of minutes) it's really easy to fall in love with this as a make ahead meal standby 😉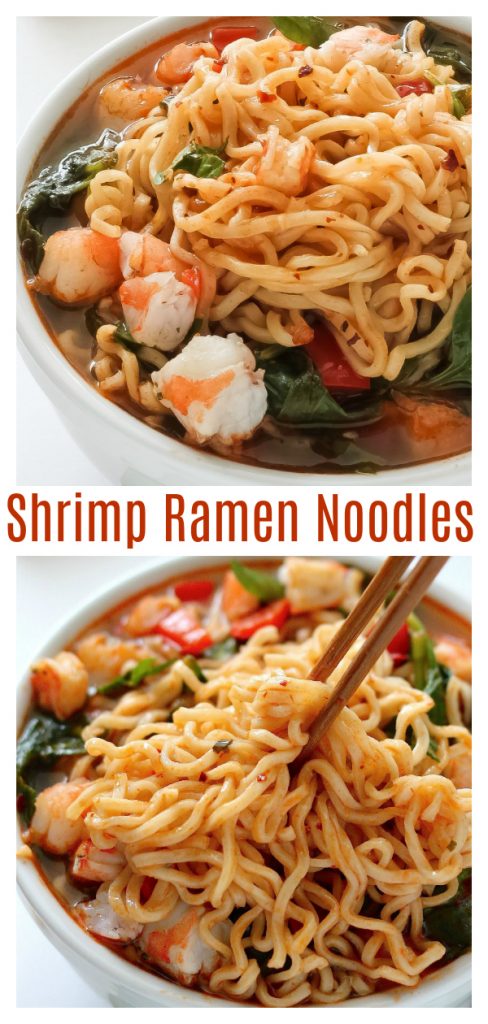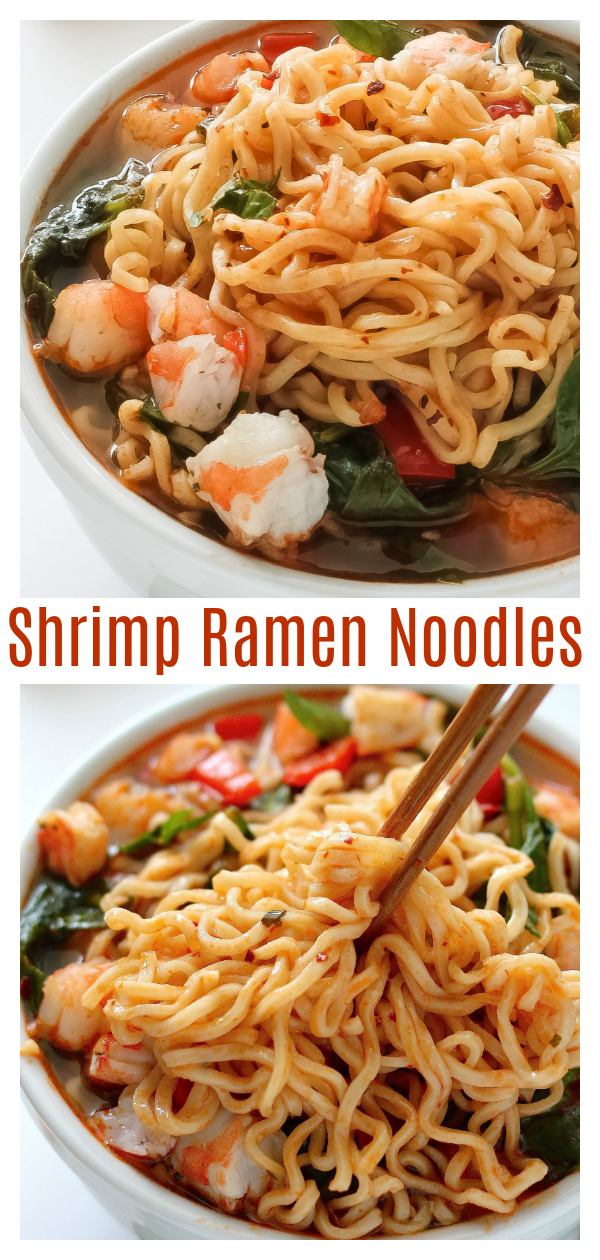 This 20-Minute Sriracha Shrimp Ramen is a total home run. If you love ramen, I have a good feeling this is going to become a new favorite in your life and home. I hope the rest of your day is deeply satisfying and delicious 🙂 xo
More Ramen Recipes: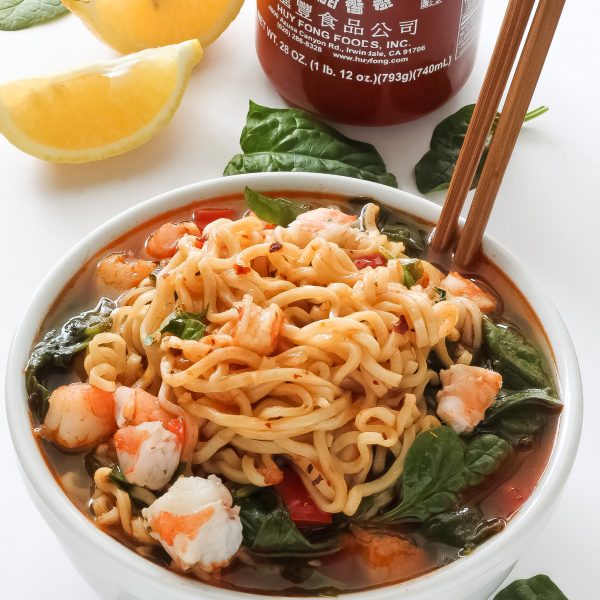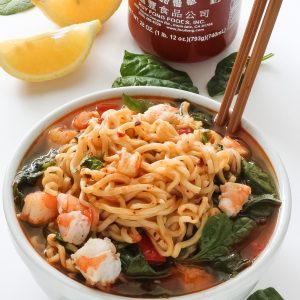 20-Minute Sriracha Shrimp Ramen
An easy 20-minute Shrimp Ramen Noodle Soup spiked with sriracha hot sauce - one of our favorite weeknight meals!
Ingredients
3 tablespoons sesame oil, divided
1/2 pound large shrimp, peeled and devined
1 teaspoon dried basil
1/2 teaspoon salt
1/2 teaspoon black pepper
2 tablespoons sriracha hot sauce
1 small yellow onion, diced
1 small red bell pepper, diced
1 tablespoon ginger, grated
6 cloves garlic, minced
4 cups chicken stock
2 cups water
2 tablespoons tomato paste
1/2 teaspoon garlic powder
1/2 teaspoon onion powder
1/2 teaspoon celery salt
1 1/2 tablespoons soy sauce
1 teaspoon rice vinegar
3 packages ramen noodles
1 cup baby spinach, roughly chopped
2 tablespoons fresh lemon juice
Instructions
Heat 1 tablespoon of sesame oil in a large soup pot or dutch oven over medium-high heat. Once the oil is sizzling, add shrimp in a single layer; sprinkle the shrimp with dried basil, salt, and black pepper. Cook shrimp for about one minute on each side, or until firm and pink. Use a slotted spoon to transfer the cooked shrimp to a cutting board.

In the same soup pan add the remaining sesame oil. Bring oil to a low sizzle over medium heat.

Add in the sriracha sauce, yellow onion, and red bell pepper; sauté for 4 minutes, stirring occasionally, or until the onion and pepper have softened. Add in the ginger and garlic and cook for about 1 minute or until fragrant.

Add the chicken stock and water to the soup pot, stir well to combine. Turn the heat up to high and allow the soup to come to a rapid boil, this should take only a minute or so. Add in tomato paste, garlic powder, onion powder, celery salt, soy sauce, and rice vinegar; stir well to combine. Reduce heat to medium and simmer broth for 8 minutes.

While the soup is simmering, chop the cooked shrimp into bite sized pieces; set aside. Roughly chop the baby spinach; set aside.

Add the dry ramen noodles to the broth and cook for 2 minutes, stirring as needed. Stir in chopped shrimp, spinach, and lemon juice, mixing well to combine before removing the pan from heat. Taste the broth and adjust spices as needed. Ladle the soup into bowls and serve at once.
Notes
If you plan to make this ahead of time, I advise making the broth and noodles separately. Drain the noodles and pat them dry, then stir them in right before re-heating and serving. This will help avoid the noodles becoming soggy and soaking up all of the broth.