An easy recipe for 20-Minute Spicy Sriracha Shrimp and Zucchini Lo Mein! This quick and family friendly dinner recipe is sure to be a hit in your home! And the leftovers are even better the next day.
[adthrive-in-post-video-player video-id="VUt9vf3n" upload-date="2017-07-20T02:18:49.000Z" name="20-Minute Spicy Shrimp and Zucchini Lo Mein" description="This 20-Minute Shrimp and Zucchini Lo Mein is so much better than take-out!"]
Sriracha Shrimp Lo Mein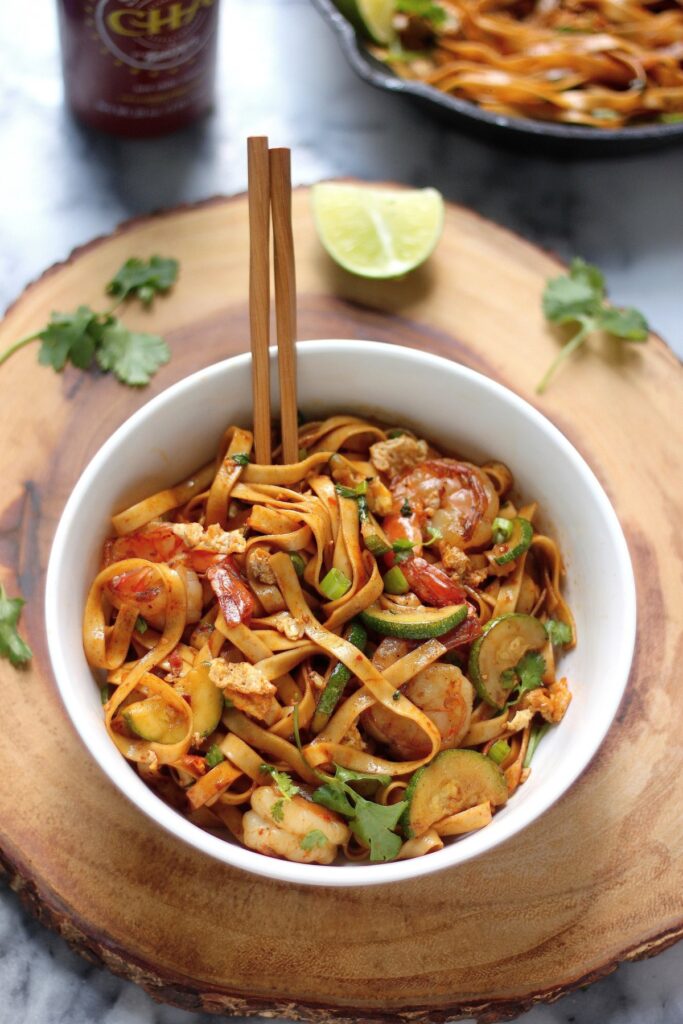 Zucchini Shrimp Stir Fry with Lo Mein Noodles
This colorful noodle dish is seriously a lazy cooks DREAM! It comes together so fast and effortlessly, and let's be real, sometimes we all just need a quick, tasty, noodle dish – right?!
I added charred zucchini for a veggie kick (and because we're already swimming in it), but I have a hankering you could really add any veggie you want. I also added spicy little shrimps because, well, because they're super delish and take 2 minutes to cook. YES!!! You could probably add chicken or beef, too, but keep in mind they would take longer to cook.
Happy Sunday! I hope this weekend is being kind to you 🙂 xoxo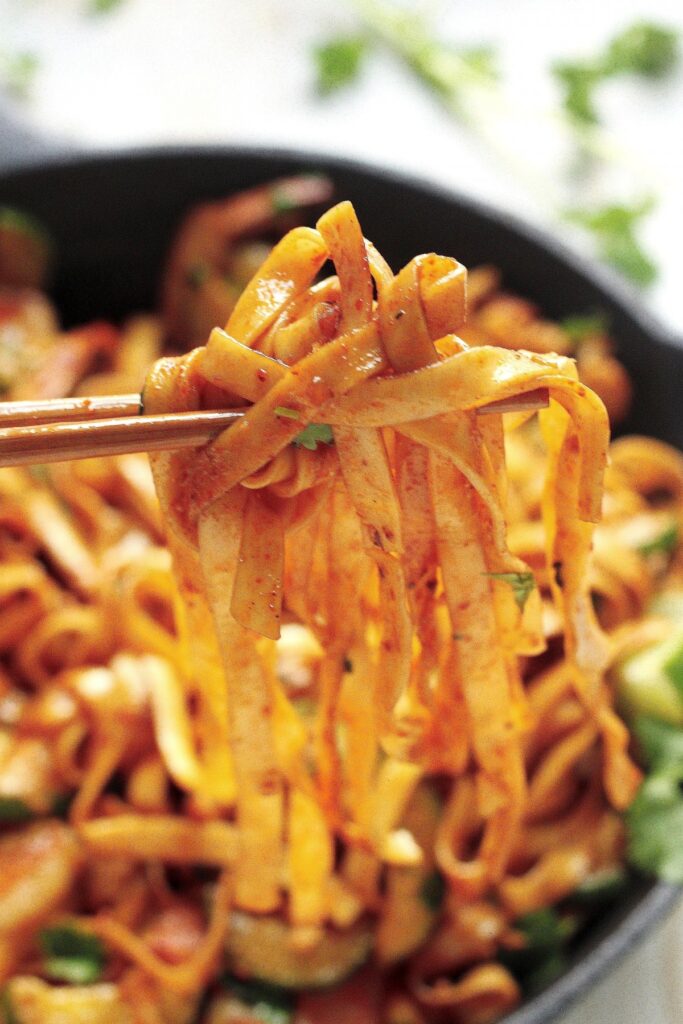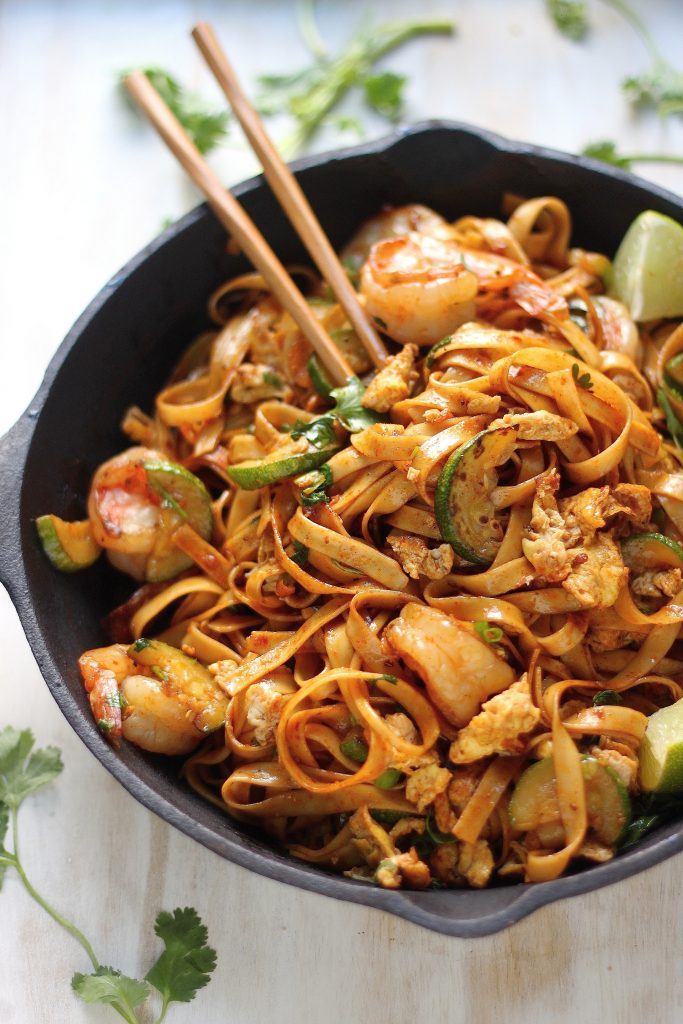 More Sriracha Recipes: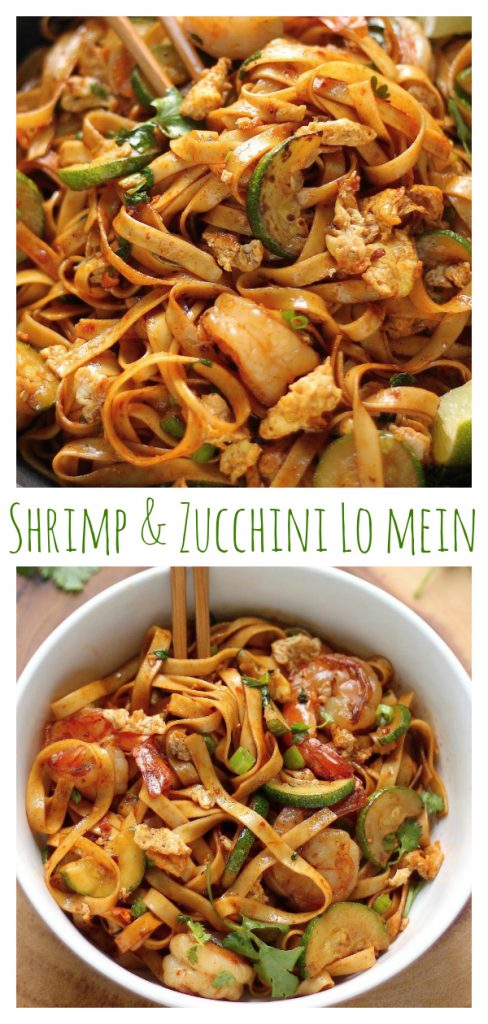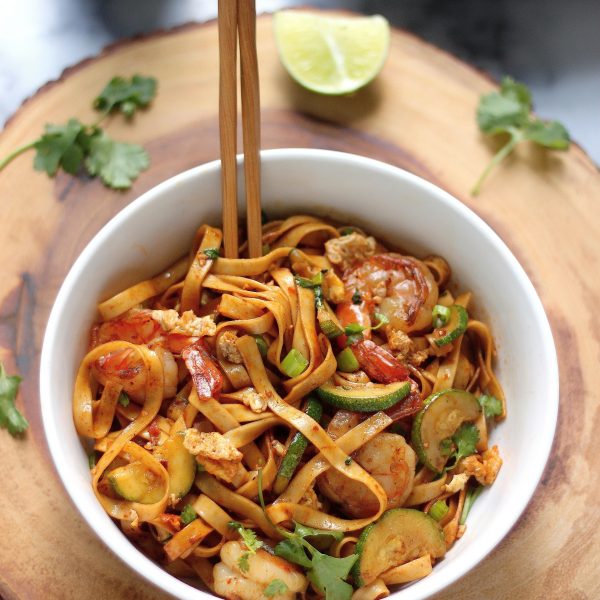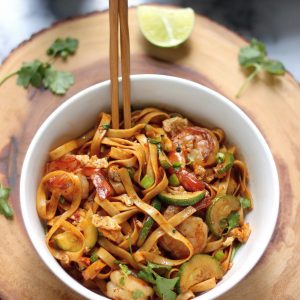 20-Minute Spicy Sriracha Shrimp and Zucchini Lo Mein
Ingredients
(1) 8 oz. package lo mein noodles (I found them in the ethnic foods section of our grocery store)
2 Tbsp olive oil
1 tablespoon butter
1/2 pound shrimp, peeled
1 medium zucchini, cut in half vertically, then cut into half moon shapes
3 cloves garlic, minced
1/2 tsp crushed red pepper flakes
2 large eggs, lightly beaten
1 Tbsp brown sugar
2 1/2 Tablespoons soy sauce
2 Tablespoons Sriracha hot sauce
1 teaspoon grated ginger (optional)
1 teaspoon sesame oil (optional)
1/2 cup fresh cilantro
3 green onions, sliced thinly
Salt to taste, if needed (the soy sauce has a lot of sodium, so taste before you add any to the finished product)
Instructions
Begin a large pot of salted water to boil. Once the water reaches a full boil, add the noodles and cook according to the package directions (about 4-5 minutes).

While waiting for the water to boil, prepare the spicy sriracha sauce. In a small bowl stir together the brown sugar, soy sauce, sriracha, ginger, and sesame oil.

In a large skillet melt 1 tablespoon of butter over medium-low heat. Add the crushed red pepper to the butter, and once it's completely melted whisk in the eggs. Stir gently and cook for about 3 minutes. Once the egg is done cooking, keep the pan on the burner but transfer eggs to a small plate; set aside. Add 1 tablespoon of oil to the pan and increase the heat to medium-high. Add shrimp and cook for 2 minutes on each side, or just until firm and bright pink. Remove with a slotted spoon and transfer to a clean plate; set aside. Add zucchini to the pan, increase heat to high, and remaining oil; stir fry until just charred; about 3 minutes. Stir in garlic and cook for one minute.

Add drained noodles to the skillet along with the cooked egg, shrimp, and prepared sauce. Turn the heat on to medium-low, and stir until everything is coated well with the sauce. Sprinkle the sliced green onions and cilantro and serve at once!