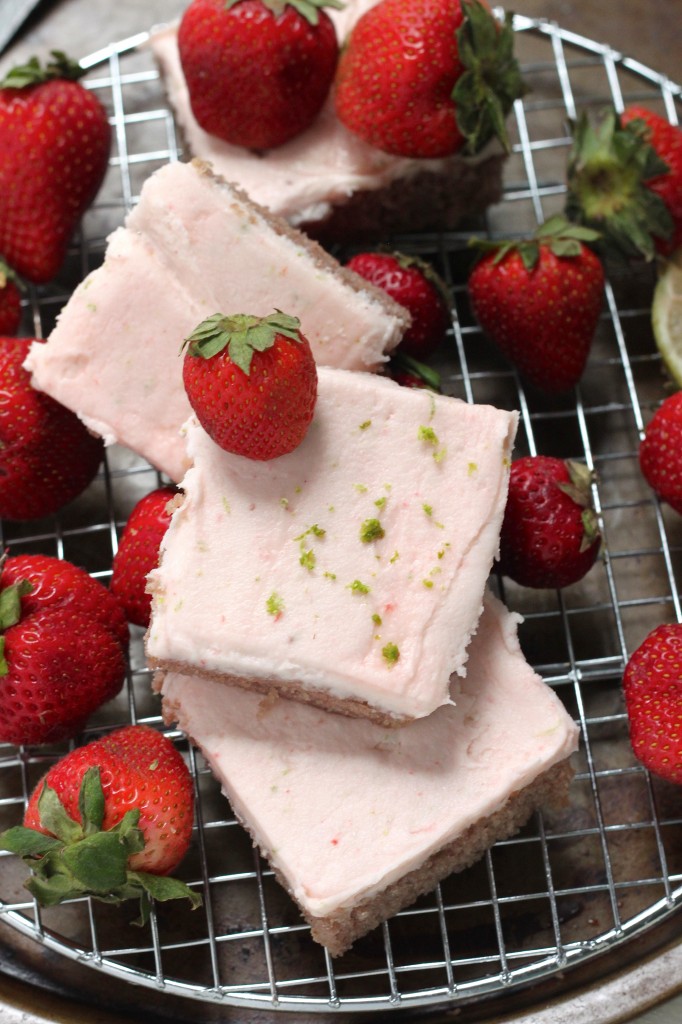 I thought we could celebrate today with this bright and boozy strawberry margarita sheet cake. I've been working on a go-to sheet cake recipe for a while now, and this is definitely the one. At least when it comes to Summer barbecues, birthday parties, and outdoor gatherings. It's just the perfect cake for those kind of celebrations!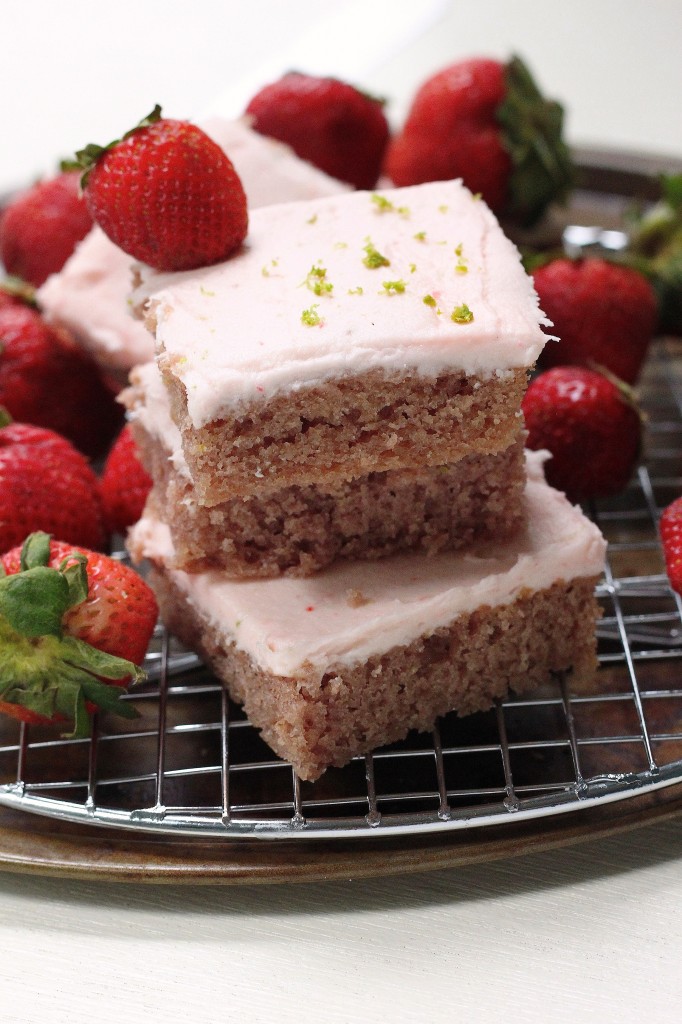 The base of this bright and lovely baked treat is moist, tender strawberry cake. It gets a lovely reddish/pink hue from the fresh strawberry margarita puree you mix in, and it's just so fresh and tasty! The fresh strawberry puree comes together simply and in seconds – and since your blender does all the muscle work, it really take little to no effort on your part 😉 Niiiice and easy!
Once the cake is cooked and cooled (completely, of course), you'll want to frost it generously! I always like to make the frosting while the cake is baking so I can clean everything up in one fell swoop, but you can definitely make it right before if you like.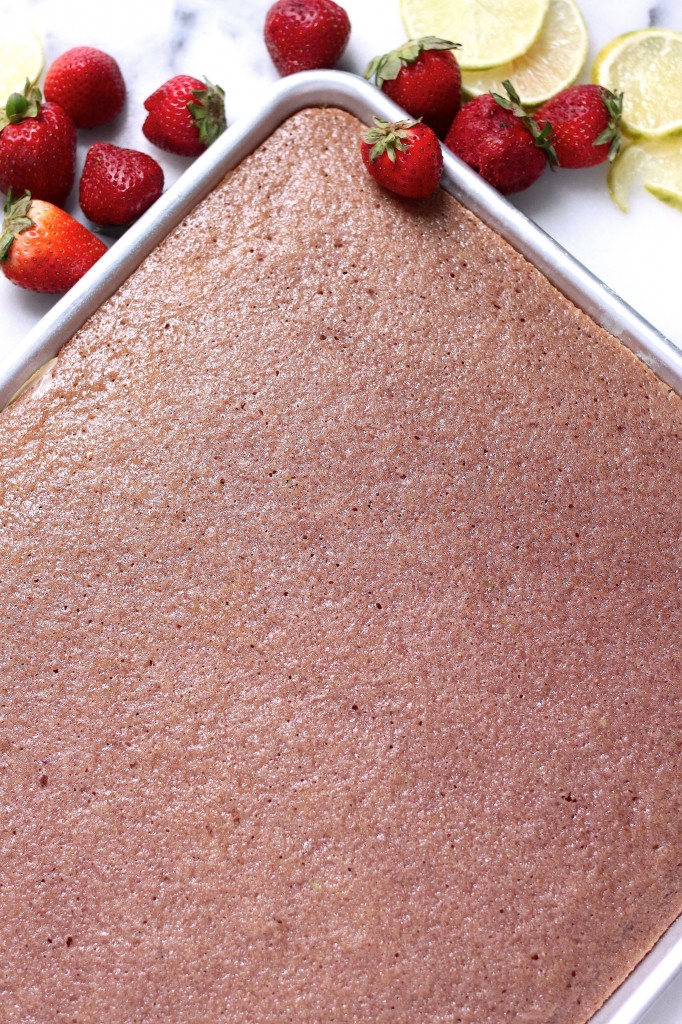 There are two key ingredients in the frosting that take it from ho-hum cake topping to HELLO, margaritaville! First, the tequila. It's just 2 tablespoons, but it really does bump up the flavor – you can always buy those tiny little bottles they sell at the front of the liquor store if you don't want to invest in a whole bottle. And secondly, triple sec. Again, there's only a splash in the frosting, but it counts 😉 It adds depth and personality and all that good stuff. And it's pretty affordable. I bought a giant bottle last Summer for like 9 bucks or something, and still have half left. It's a good investment.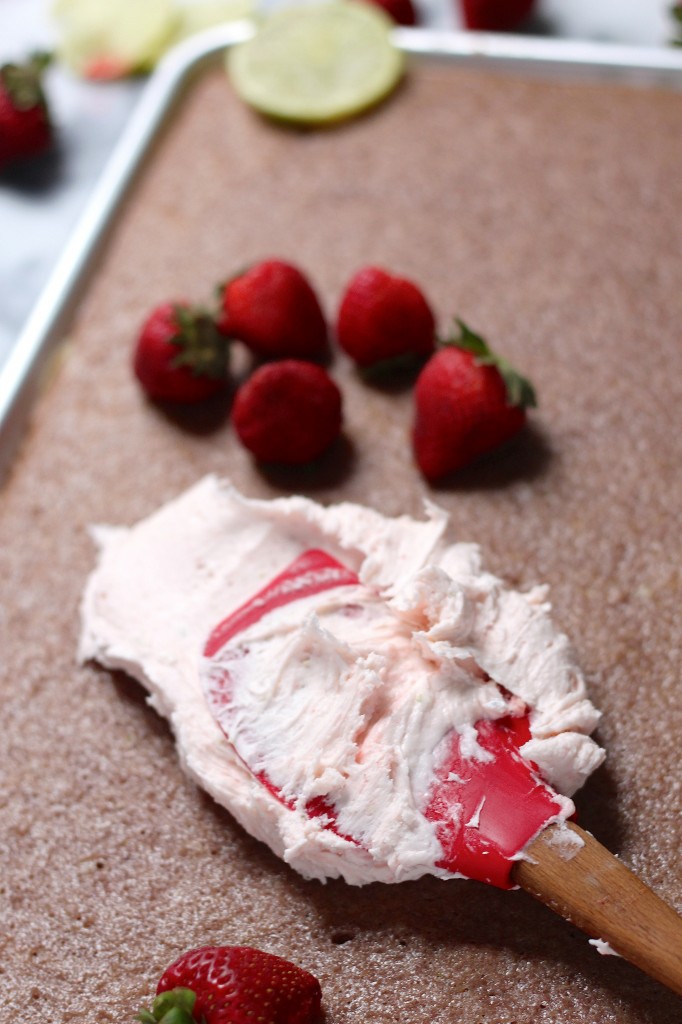 This cake travels like a dream, and even if you cut it in squares pre-getting a move on, it'll stay in place perfectly. Just be sure to keep it frosting side up 😉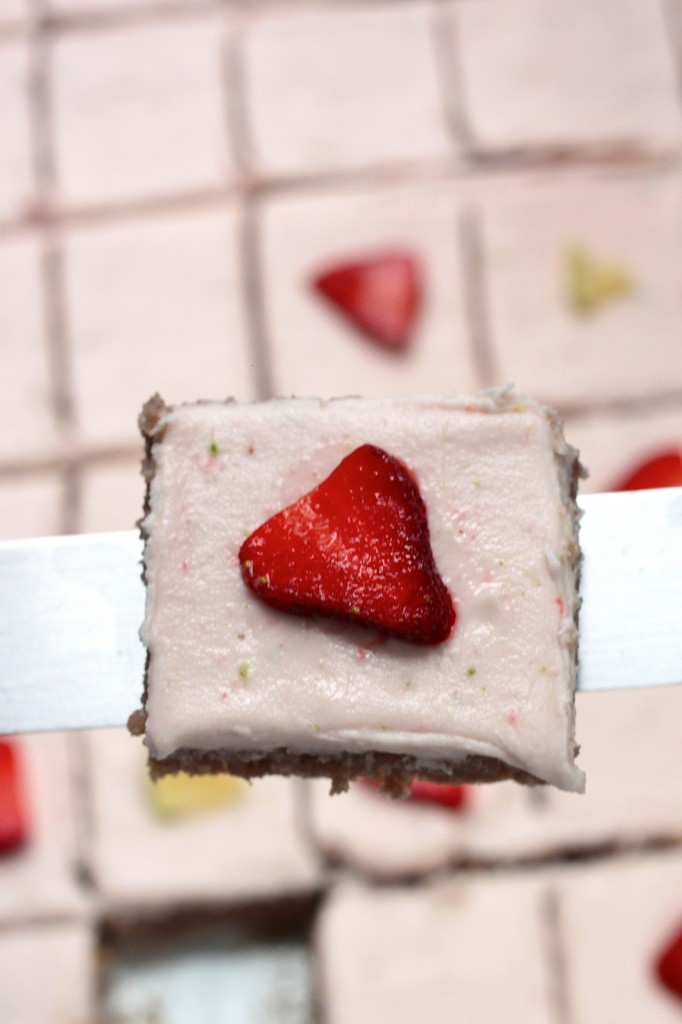 *If you're 100% not interested in purchasing booze for this cake, you can leave it out, and sub orange juice in the frosting. It won't be a margarita can per se, but it will be a very tasty strawberry sheet cake 🙂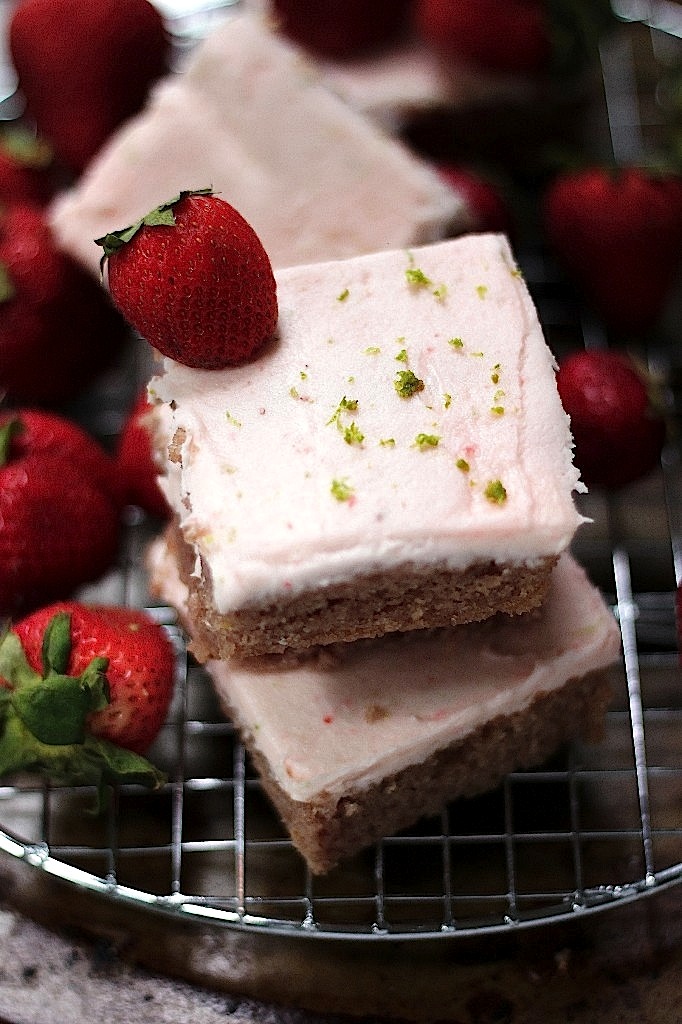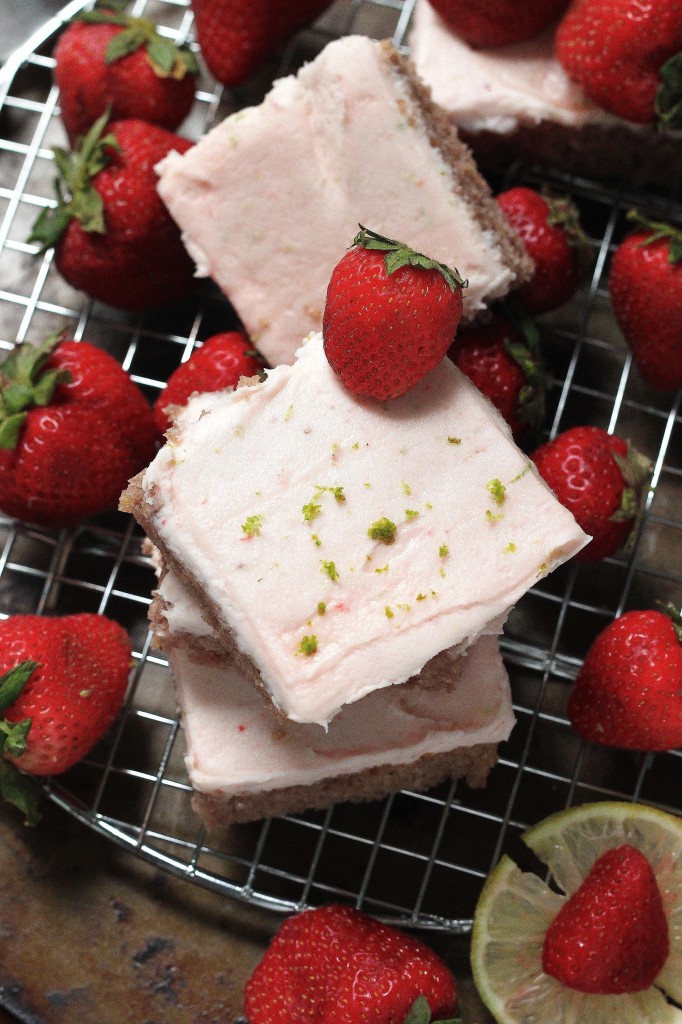 Have a great days, friends! xoxo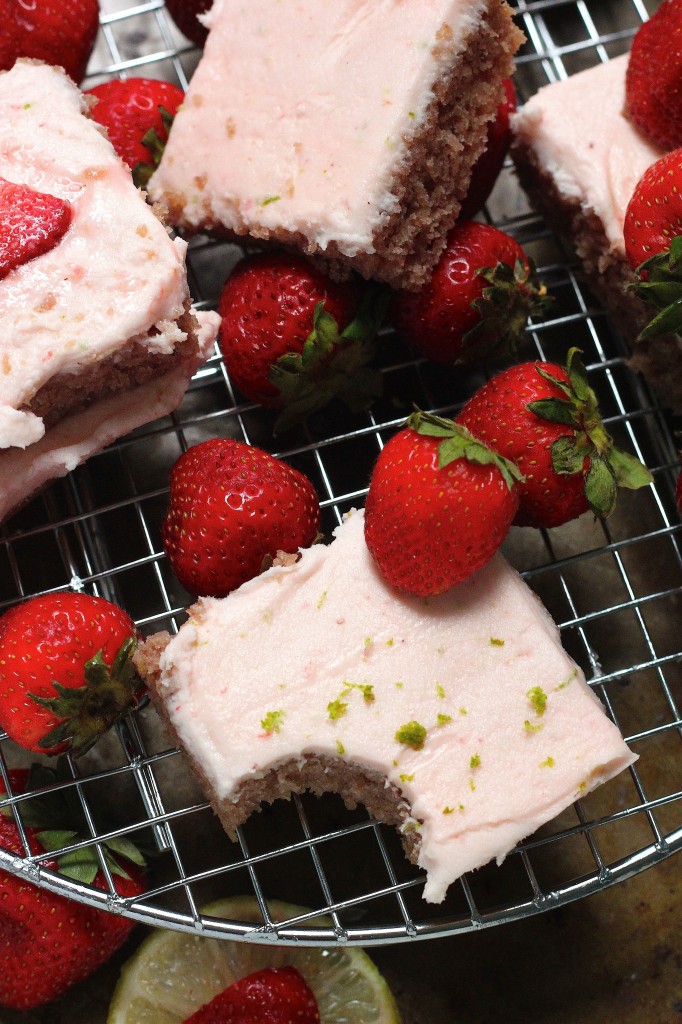 Strawberry Margarita Sheet Cake
Ingredients
2 cups All Purpose Flour
2 cups granulated white sugar
2 teaspoons lime zest
(1) 16 ounce container fresh strawberries
2 tablespoons orange juice
2 tablespoons lime juice
1/2 teaspoon salt
1/2 cup sour cream
2 large eggs, at room temperature
1 teaspoon vanilla extract
1 teaspoon baking soda
1 cup (2 sticks) salted butter, melted
ICING:
1 3/4 sticks unsalted butter, verrrry soft
2 tablespoons tequila
1 tablespoon triple sec
2 tablespoons prepared strawberry puree
1 pound confectioners sugar
1 teaspoon lime zest
Instructions
Preheat the oven to 350 degrees (F). Generously grease a 12 x 18" rimmed baking sheet; set aside.

In a large bowl, whisk together the flour, sugar, lime zest, and salt.

Place strawberries, orange juice, and lime juice in the body of a blender and pulse until completely liquified. Remove 3 tablespoons of the puree and set it aside. That will be for your frosting.

In a large separate bowl, whisk together the remaining strawberry puree, eggs, vanilla and baking soda.

In a medium saucepan, melt the butter; set aside.

Pour the strawberry mixture into the flour mixture and stir to combine.

Fold in sour cream and butter until completely combined.

Pour into prepared pan and bake for about 20 minutes, or until the cake is set and no longer jiggly in the middle.

While the cake is baking, make the icing!

Place the softened butter in a large bowl or body of a stand mixer. Add the tequila, triple sec, and strawberry puree; beat until smooth. Add the confectioners sugar - 1 cup at a time - and stir/ beat vigorously to get all of the lumps out.

Spread the icing over the cake as soon as it's cooled. Serve at room temperature.

Cake stays fresh for up to 3 days.