Today on my blog I'll be showing you exactly how to make an easy and delicious Summertime Cheese & Charcuterie Spread! Perfect for light dinners, picnics in the park, or parties on the deck!
Let's get this Summertime cheese & charcuterie party started!
If you've been following along with my blog this week, I'm sure one thing has rang pretty clear… I CANNOT WAIT FOR SUMMER. Dining Al fresco, concerts in the park, bocce ball and long picnics with friends. I am ready for it all!  Today I'm sharing with you my go-to Summertime Cheese & Charcuterie spread. Because um… who doesn't love to spread out a blanket, pour some vino, and pair with the bread, cheese, and meat? Read on to learn how I pack the ultimate cheese & charcuterie picnic basket.
Today's post is proudly brought to you by the kind folks over at Ribera y Rueda wines. They were sweet enough to send us two bottles of their delicious wine, and the minute I set eyes on the beautiful bottles, I knew they were destined to pair with meat and cheese. But I digress! Let's talk a little more about THE WINE. For 2,000+ years, winemakers from Ribera and Rueda – located in northwest Spain and only about an hour away from Madrid – have cultivated what's new and what's next in every vineyard and vintage they produce. Rueda Verdejos (white grape varietal) are bright, crisp and creative. It's also perfectly refreshing on a HOT Summer evening! Ribera del Duero Tempranillos (red grape varietal) are bold, rugged and ripe. I drink red wine year round and loved this variety with steak right off the grill ♡♡♡.

FYI: When you're ready to serve the Ribera Tempranillo, open the bottle and let it breath for around 10-15 minutes. The Rueda Verdejo is best served chilled.
Alright alriiiiiight. So now that we know what wine we're serving and how to serve it, let's dive into the FOOD. Today's Summertime Cheese & Charcuterie Spread is inspired by a recent trip I took to New Orleans. We ate at an outdoor restaurant and experienced an EPIC charcuterie experience. I mentally tucked away what I liked best about the board, what I wish would have been included, and what I knew would pair well with wines both red and white and created this: The ULTIMATE Summertime Cheese & Charcuterie Spread.
This board features salty prosciutto, spicy capicola, and salami as the meat options. For the cheese we have brie, blue, and asiago. I like to buy at least a 1/4 pound of each PER PERSON… but you can do more or less depending on your audience. In the recipe box below I have included the exact recipe for the tomatoes and strawberries, but if you need more help crafting the perfect board, send your questions this way 🙂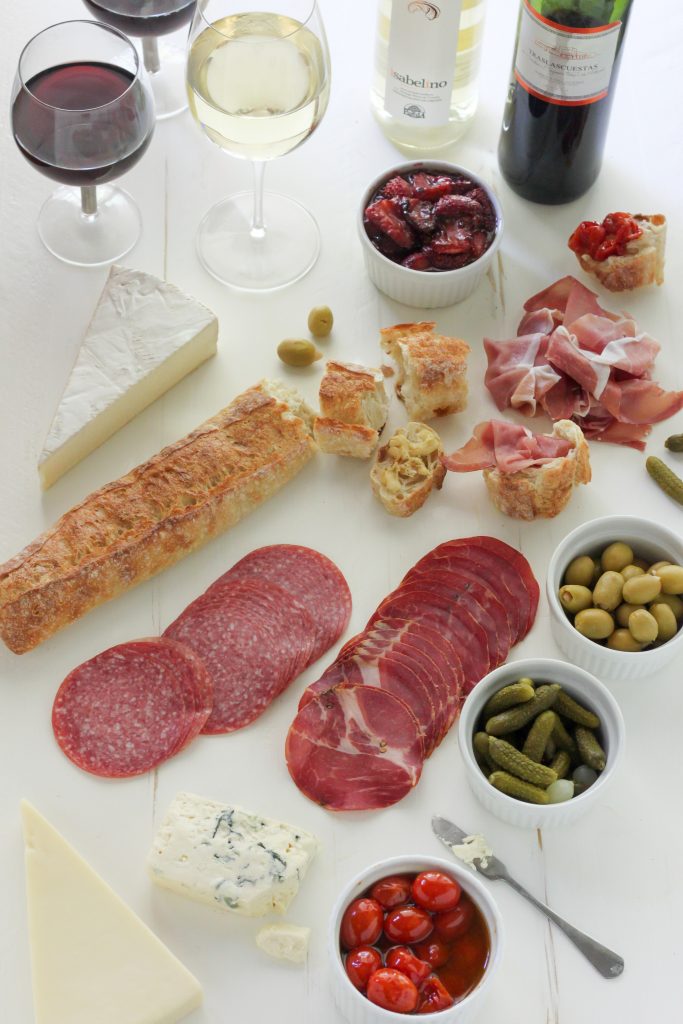 Now, let's talk condiments! For this spread I roasted both tomatoes (in just salt, pepper, and olive oil), garlic (roasted with the tomatoes then spread on baguette), and strawberries (in balsamic and olive oil). <—– Those three roasted items in my opinion are the true stars of the spread. I also added garlic stuffed olives and cornichons because I believe every charcuterie board should have them on it! Lastly. The Baguette. I suggest finding a baguette that features a bold flaky crust and a soft, easily chewable interior. I like to cut half the baguette into bite-sized pieces, and leave the other half whole, encouraging guests to get in there and tear off any size piece they'd like.


See you soon with something SWEET. xoxo.
Summertime Cheese & Charcuterie Spread
Ingredients
For the Tomatoes:
2 cups of cherry tomatoes
3 tablespoons olive oil
Salt and Pepper
5 cloves of garlic (in peels, excess paper removed)
For the Strawberries:
4 cups fresh strawberries, cleaned, hulled, and cut in half vertically
1 tablespoon olive oil
1 tablespoon balsamic vinegar
Instructions
For the tomatoes:
Preheat oven to 300 degrees (F). Toss tomatoes and garlic cloves with oil, salt and pepper. Pour out into a baking roast for 1 hour, or until soft and just about to burst. Allow tomatoes to cool slightly before serving. Use roasted garlic to spread onto baguettes, if desired.
For the strawberries:
Preheat oven to 350 degrees (F). Toss berries with oil and vinegar, then roast for 40 minutes. Serve with cheese and meat platter (this goes great with baguette, brie, and a salty cured meat).