These Super Simple Garlic and Ginger Shrimp Soba Noodles are so delicious! Made with fresh ingredients like ginger, garlic, lime, cilantro, and scallions, this meal has so much flavor!! Perfect for dinner tonight!
Shrimp Soba Noodles
Super Simple. It's the dinner dream, right? Well, super simple and SUPER delicious. Add in a quick cook time and an easy clean up and – WHOA baby, now we're talking!
If said SUPER SIMPLE dinner also happens to be a total stud in the "pack me for lunch tomorrow, eat me cold, and guess what – I'm EVEN better" department… well, I don't think I need to tell you just how weak in the knees that idea gets me. Excuse me while I un-fluster myself and regain composure. This may take a moment…
And we're back!
Since this meal is all about simplicity, I will keep things short and to the point in my descriptions. The star of this show is definitely the soba noodles. They're a breeze to cook and take literally under 5 minutes. WIN!
The shrimp are equally an awesome part of this meal, and ALSO cook in under 5 minutes. Whaaaat? To good to be true? Nope. It's true!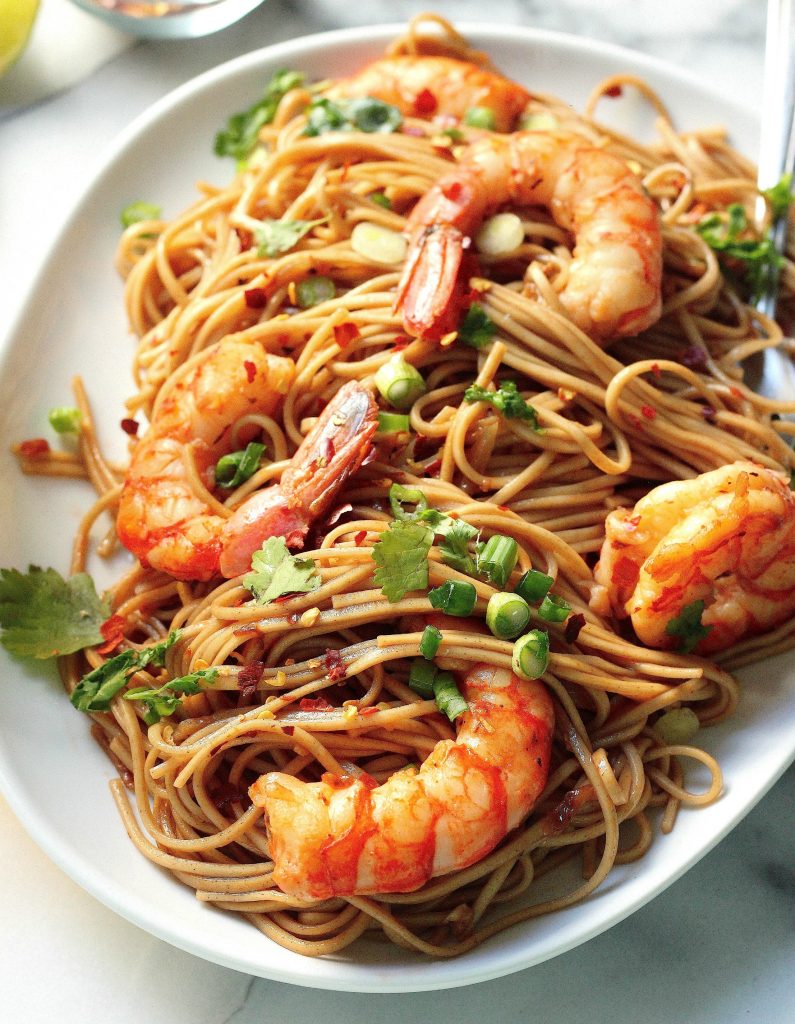 The rest of the meal consists of a simple sesame / soy sauce, fresh ginger, and lots of garlic. Cilantro and scallions are the finishing touches. And friends, it is all kinds of lovely!
I hope you give it a try! And don't fret if you think it makes too much. Like I said earlier, these noodles were born to play the role of leftovers! xoxo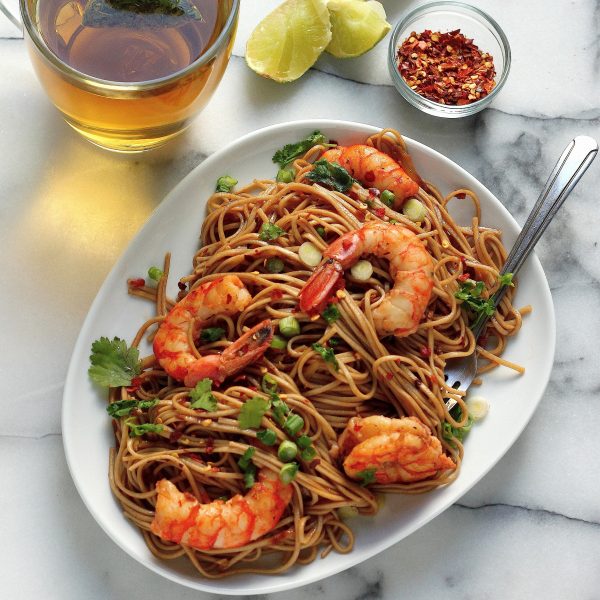 Super Simple Garlic and Ginger Shrimp Soba Noodles
These Super Simple Garlic and Ginger Shrimp Soba Noodles are so flavorful and perfect for dinner tonight! 
Ingredients
12 ounces soba noodles
1/4 cup sesame oil
2 tablespoons low-sodium soy sauce
1 large shallot, thinly sliced
2 teaspoons fresh ginger, peeled and grated
8 garlic cloves, coarsely chopped
1 pound large shrimp, shelled and deveined
Zest and juice of one large lime
Salt to taste
3 scallions, finely chopped
1/2 cup chopped cilantro
1/2 teaspoon crushed red pepper
Lime wedges, for serving
Instructions
Bring a large pot of water to a boil. Add the soba noodles and cook, stirring occasionally, until tender; 4 minutes. Drain and rinse noodles under cold water. Transfer noodles to a large serving bowl.

In a medium bowl, combine 2 tablespoons of the sesame oil with the soy sauce. Add sauce to the noodles and toss.

In a skillet, heat 1 tablespoon of the oil. Add the shallots and ginger cook over medium heat, stirring, until golden brown and crisp, about 3 minutes. Using a slotted spoon, transfer the shallot mix to a paper towel lined plate. Add the garlic to the skillet and cook over very low heat until golden; 2 minutes. Transfer the garlic to the same paper towel line plate.

In a bowl, combine the lime zest and juice with the remaining oil; stir in the shrimp and season with salt. Add shrimp to the skillet and cook on each side for about 1 minute; just until they're pink.

Sprinkle the noodles with the scallions, cilantro, crushed red pepper, ginger fried shallots, garlic, and shrimp. Serve at once, or chill until needed.