If you're a regular around here, you know how much we LOVE chocolate chunk cookies! So we're always looking for new twists to put on the classic. Which is where these Chewy Ginger Chocolate Chunk Cookies come into the picture! They're thick, chewy, and slightly crispy at the edges. But they're also spiked with a drizzle of molasses, warm spices like ground ginger, cinnamon, and cloves, and a hearty 1/2 cup of crystalized ginger (aka candied ginger).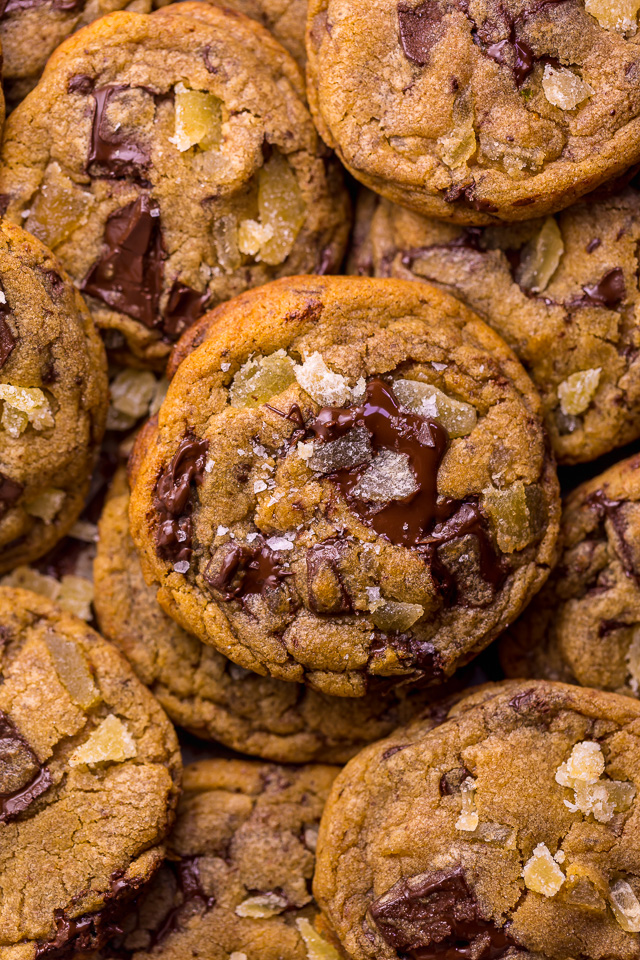 Gooey Ginger Chocolate Cookies
Anyone else overdose on baking cookies over the holiday season? I definitely did! Between Thanksgiving and Christmas I baked over 50 dozen cookies!!! Yes, 50! So I needed a tiny break. But with January almost over, I'm ready to bust out the parchment paper, preheat the oven, and get baking!!! Are you with me?!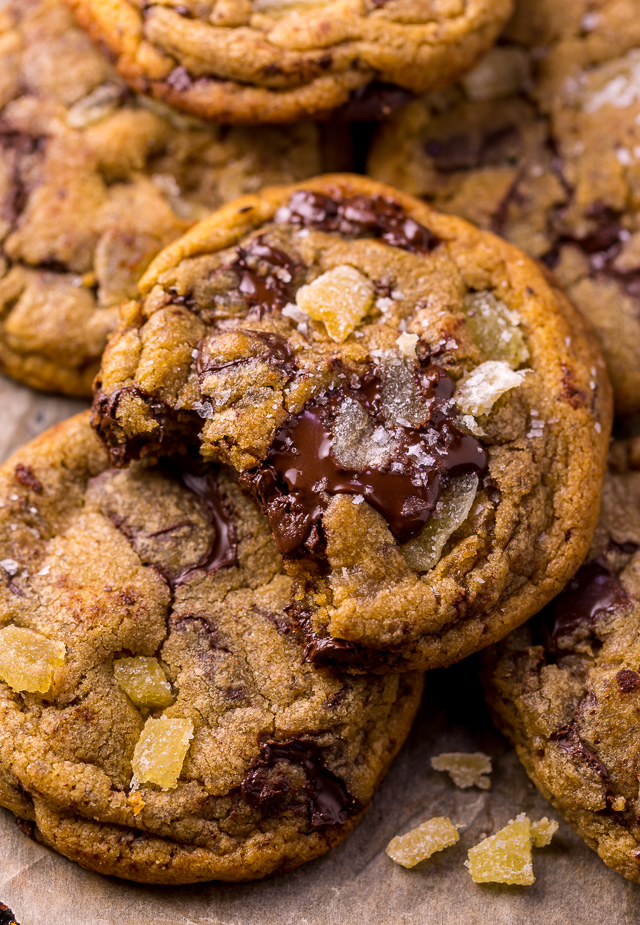 With the DREARY weather we've been having here in the Hudson Valley, I wanted to create a cookie with plenty of warm spices and cozy flavors. And let's be serious? Does it get cozier then CHEWY GINGER COOKIES?! I really don't think so!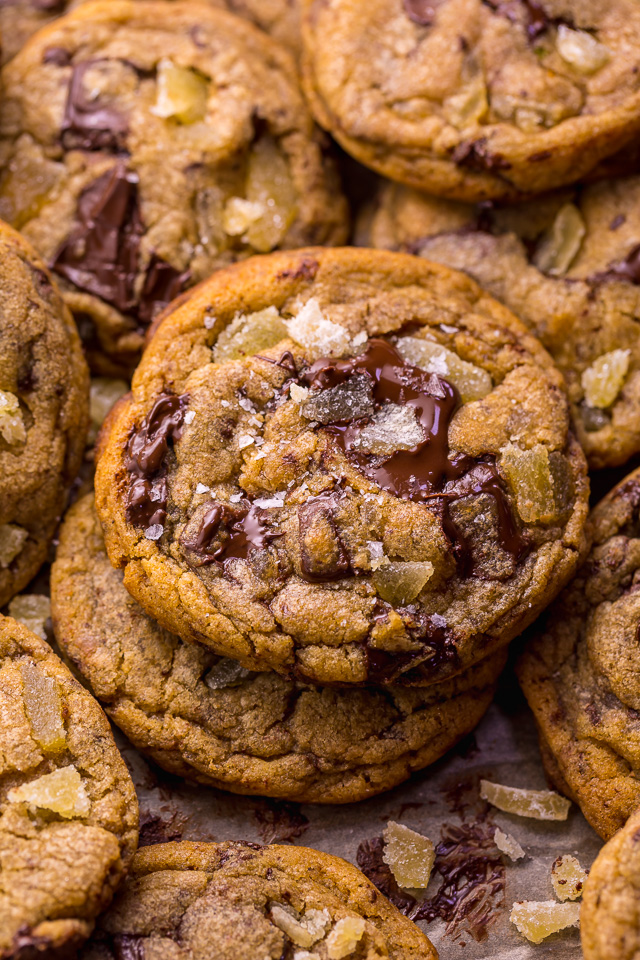 Now, to be very clear, these are not gingerbread cookies! So if you're looking for that, I suggest checking out my frosted gingerbread cookies, chewy chocolate gingerbread cookies, or brown butter gingerbread men. All fabulous gingerbread cookie options!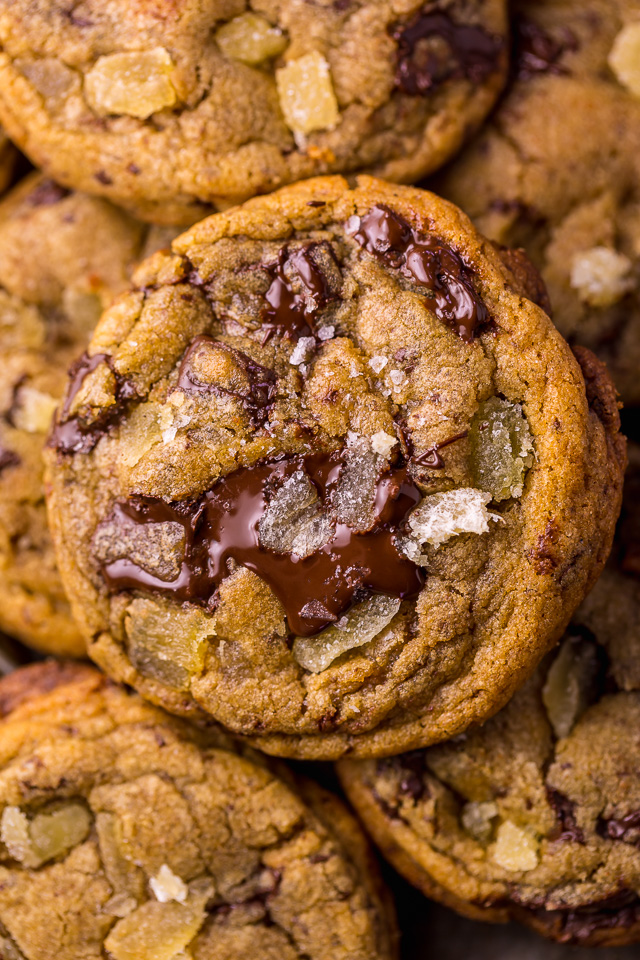 But these? They're a true chocolate chunk cookie that's infused with an intense POP of ginger. Like most chocolate chunk cookies, they're made with butter, granulated sugar, brown sugar, flour, baking soda, and a dash of salt. Unlike most chocolate chunk cookies, they're made with ginger, molasses, and warm spices. For the chocolate, you can use semi-sweet or dark chocolate chunks. Or chocolate chips!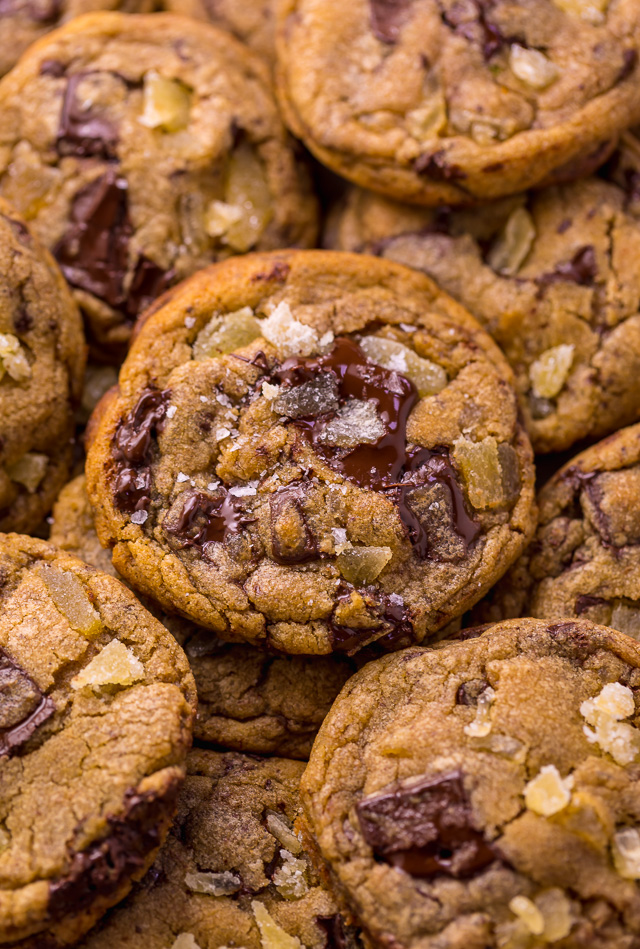 Tips and Tricks for Recipe Success:
You'll need a stand mixer or electric hand mixer for this recipe! Unfortunately, the cookie dough cannot be made without some kind of electric mixer, as the butter and sugar MUST be beaten at a high speed.
Speaking of the sugar and butter mixture, be sure to beat them until combined very well. Occasionally, you may need to turn the mixer off and use a spatula to scrape the bottom and sides of the bowl, then continue beating.
Refrigerate the cookie dough for at least two hours. The benefit of chilling the cookie dough is the cookies will bake up EXTRA thick! If you're super tight on time, you can technically bake right away, but the cookies will spread more than the ones you see in my photos. And if you're looking for super thick cookies, chill the dough balls for a few minutes, too.
Don't over bake your cookies! Actually, you should pull them out of the oven when they're still a little soft in the center. For me this is usually somewhere between 9 and 10 minuets, but if your oven runs low, or you prefer a crispier cookie, it could take up to 12 minutes.
When you remove the cookies from the oven place them on a wire rack and wither cool for a few minutes and eat gooey, or cool completely.
For an extra ginger punch, you can add in fresh ginger! Add up to 1 teaspoon of finely grated ginger. Place it in a small bowl and combine it with the the molasses! Just be warned, this will really amp up the ginger flavor.
Finally, you can find crystalized ginger at most grocery stores! I grabbed mine from Trader Joe's. Can't find it in store? Order it online!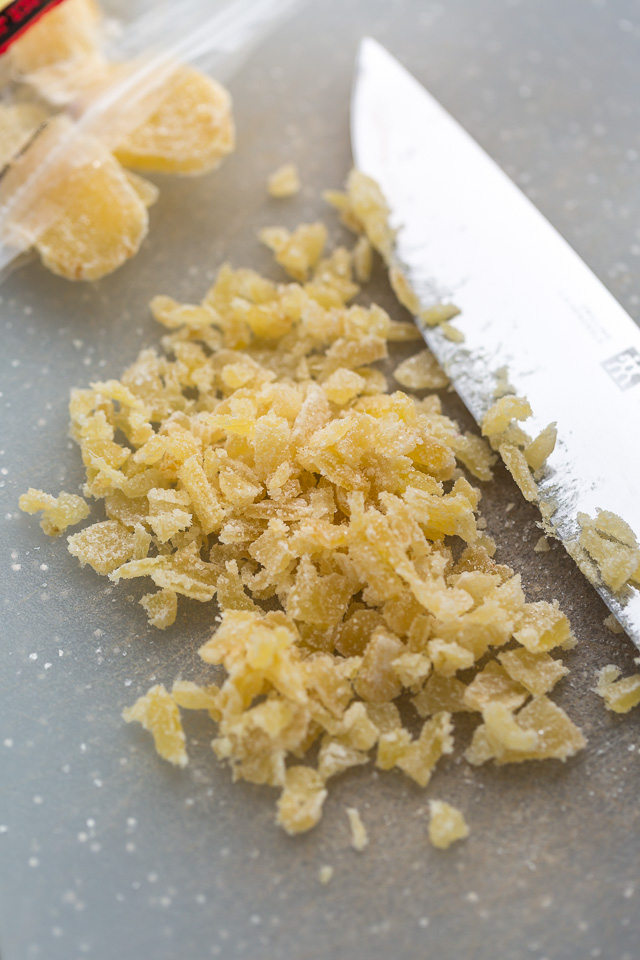 Want your cookies to look exactly like mine?! Simply press a few chocolate chunks and a little candied ginger on top of each cookie right after they come out of the oven. You can also sprinkle them with some flaky sea salt! I love Maldon sea salt because it's delicate, flaky, and oh so delish.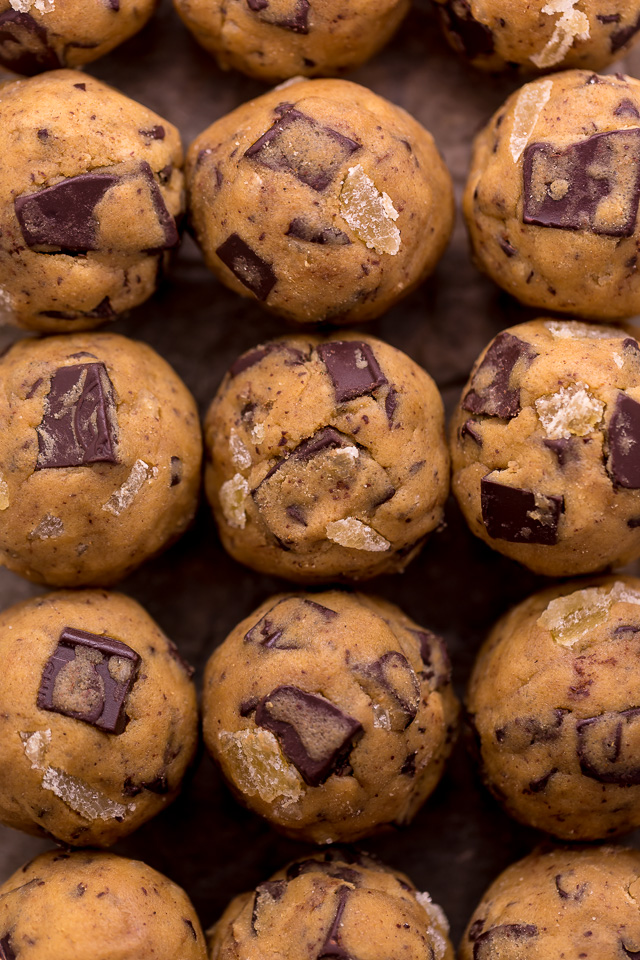 My Favorite Chocolate Chunk Cookies: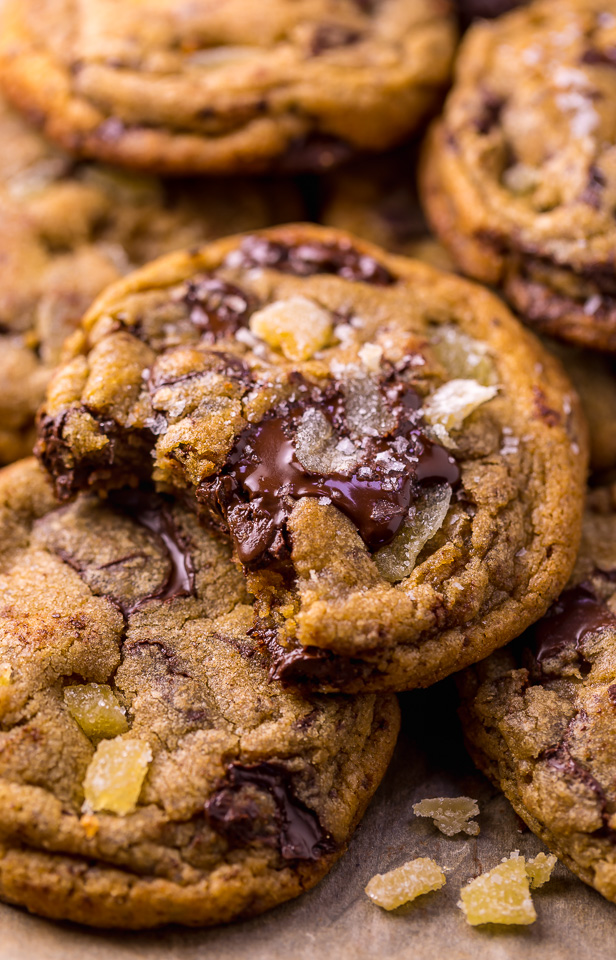 If you try this recipe for Chewy Ginger Chocolate Cookies, let me know! Leave a comment below and don't forget to snap a pic and tag it #bakerbynature on instagram! Seeing your kitchen creations makes my day.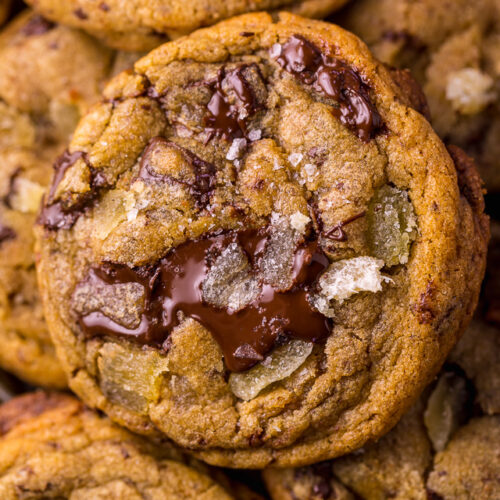 Chewy Ginger Chocolate Chunk Cookies
Chewy Ginger Chocolate Chunk Cookies are thick, chewy, and slightly crispy at the edges. They're also spiked with a drizzle of molasses, warm spices like ground ginger, cinnamon, and cloves, crystalized ginger. 
Ingredients
2 and 1/2 cups all-purpose flour
1/2 teaspoon salt
1 teaspoon baking soda
1 and 1/4 teaspoons ground ginger
1/2 teaspoon ground cinnamon
1/8 teaspoon cloves
8 ounces unsalted butter, at room temperature
1 cup dark brown sugar, packed
1/2 cup granulated sugar
2 teaspoons vanilla extract
2 Tablespoons molasses (not blackstrap)
2 large eggs, at room temperature
12 ounces semi-sweet chocolate chunks, roughly chopped
1/2 cup crystalized ginger, minced
Instructions
In a large bowl combine flour, salt, baking soda, ginger, cinnamon, and cloves; whisk well to combine then set aside. 

In a separate large bowl, using a handheld electric mixer, or in the bowl of a stand mixer fitted with the paddle attachment, combine butter and both sugars and beat on medium-speed until light and fluffy, scraping the sides and bottom of the bowl as needed; about 2 minutes.

Add in the vanilla extract and molasses, and beat until combined.

Beat in the eggs, one at a time, beating for 15 seconds after each addition. 

With the mixer on the lowest speed setting, gradually add in the flour mixture, beating only until the flour begins to disappear. Finally, beat in the chocolate chunks and crystalized ginger until evenly combined. 

Cover the bowl and chill the dough for at least 2 hours (and up to 3 days) before baking. Or bake right away for regular cookies (they'll be thinner and spread... but still be delicious). 
When you're ready to Bake:
Preheat oven to 375 degrees (F). Line two large baking sheets with parchment paper and set aside.

Roll 3 tablespoon sized scoops of dough between your palms to form a ball, then place on prepared sheets, leaving enough room in between each cookie for inevitable spreading. Continue this process until all the dough has been rolled. 

Place baking sheets in preheated oven, one at a time, and bake for 9 to 12 minutes, or until golden at the edges but still soft in the middle. Repeat with all cookie dough.

Let cookies cool for 10 minutes on the baking sheet before transferring to a wire rack to cool completely.