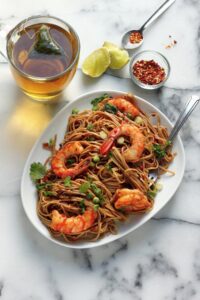 Super Simple Garlic and Ginger Shrimp Soba Noodles
Yield 2 servings
These Super Simple Garlic and Ginger Shrimp Soba Noodles are so flavorful and perfect for dinner tonight! 
Ingredients
12 ounces soba noodles
1/4 cup sesame oil
2 tablespoons low-sodium soy sauce
1 large shallot, thinly sliced
2 teaspoons fresh ginger, peeled and grated
8 garlic cloves, coarsely chopped
1 pound large shrimp, shelled and deveined
Zest and juice of one large lime
Salt to taste
3 scallions, finely chopped
1/2 cup chopped cilantro
1/2 teaspoon crushed red pepper
Lime wedges, for serving
Instructions
Bring a large pot of water to a boil. Add the soba noodles and cook, stirring occasionally, until tender; 4 minutes. Drain and rinse noodles under cold water. Transfer noodles to a large serving bowl.
In a medium bowl, combine 2 tablespoons of the sesame oil with the soy sauce. Add sauce to the noodles and toss.
In a skillet, heat 1 tablespoon of the oil. Add the shallots and ginger cook over medium heat, stirring, until golden brown and crisp, about 3 minutes. Using a slotted spoon, transfer the shallot mix to a paper towel lined plate. Add the garlic to the skillet and cook over very low heat until golden; 2 minutes. Transfer the garlic to the same paper towel line plate.
In a bowl, combine the lime zest and juice with the remaining oil; stir in the shrimp and season with salt. Add shrimp to the skillet and cook on each side for about 1 minute; just until they're pink.
Sprinkle the noodles with the scallions, cilantro, crushed red pepper, ginger fried shallots, garlic, and shrimp. Serve at once, or chill until needed.
Courses Dinner
Cuisine Asain
Recipe by Baker by Nature at https://bakerbynature.com/super-simple-garlic-and-ginger-shrimp-soba-noodles/