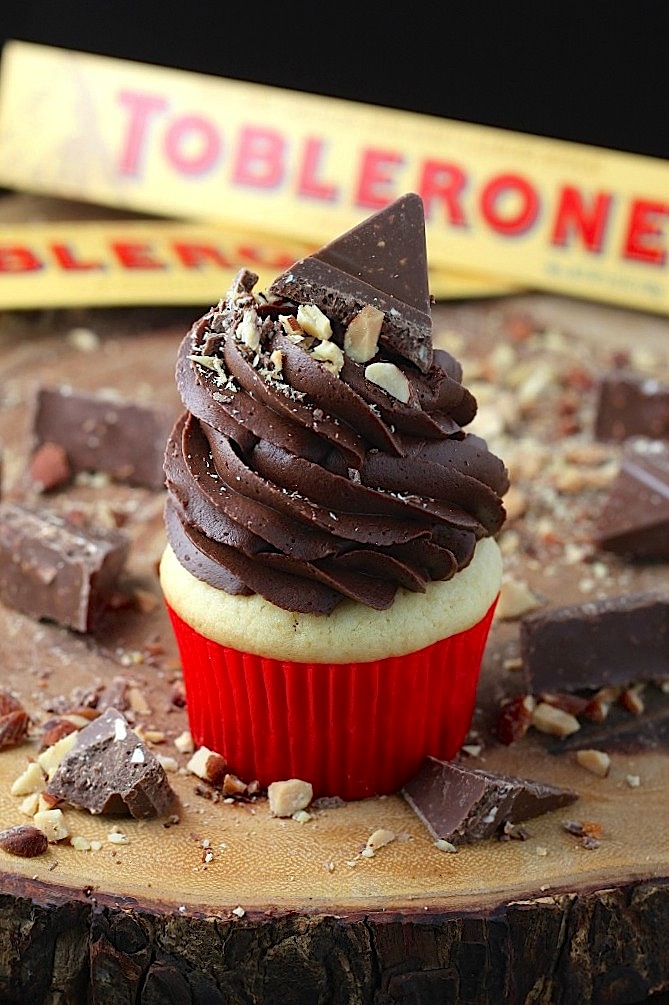 Fluffy homemade almond cupcakes are topped with creamy chocolate frosting and crushed toblerone candy! My friends went crazy over these!
Happy Tuesday, everyone! Today we're talking cupcakes! And friend, if you've been looking to up your cupcake game – these toblerone milk chocolate and almond cupcakes are for you!
A delightfully soft fluffy almond cupcake base + the creamiest, dreamiest milk chocolate frosting + chopped toblerone and salty almonds = the most crazy amazing cupcake you've ever seen!
The best part? These are so easy to make! There are no crazy steps or procedures in this recipe. If you can bake a simple batch of cupcakes and whip up some frosting – you can make these!
These would be a super impressive dessert for your next party… or make them just because! It's been so cold here I've been doing a ton of "just because" baking, and I have to say it's a pretty delicious way to keep warm 😉 xoxo
Toblerone Milk Chocolate and Almond Cupcakes
Ingredients
For the cupcakes:
1 3/4 cups all-purpose flour
1 teaspoon baking powder
1/2 teaspoon salt
1/2 cup sour cream (full fat)
1/2 cup vanilla almond milk
2 large eggs, at room temperature
1 stick (4 ounces) unsalted butter, melted
1 cup granulated sugar
2 teaspoons almond extract
1/2 teaspoon vanilla extract
For the Chocolate Buttercream:
1 stick unsalted butter, VERY soft
3 cups confectioners sugar
3/4 cup unsweetened cocoa powder
3 tablespoons sour cream
3 tablespoons Half and Half
1/2 teaspoon salt
1/2 teaspoon almond extract
1 Toblerone candy bar, chopped
1/4 cup toasted almonds, chopped
Instructions
Preheat oven to 350 degrees (F). Line a 12 mold muffin tin with paper liners; set aside.
In a medium-sized bowl combine flour, baking powder, and salt; mix well to combine. Set aside.
In a large measuring cup or bowl combine sour cream, almond milk, and eggs; mix well to combine. Set aside.
In a large bowl or stand mixer fitted with the paddle attachment beat melted butter and sugar on medium speed until well combined; about 2 minutes. Beat in almond and vanilla extracts. Slowly add the flour mixture to the butter/sugar combination, beating until just combined. Add in sour cream/milk/egg combo and beat on low until *just combined. Over-mixing will result in a dryer/denser cake.
Divide the cupcake batter among the 12 molds, filling each cup 3/4 of the way full, then place the pan in the oven. Bake for 16-18 minutes, or until a toothpick inserted into the center of a cupcake comes out clean. Allow cupcakes to cool completely before topping with frosting.
For the Chocolate Buttercream:
Sift together the confectioners sugar and cocoa powder, whisking well to ensure it's bump and lump free!
Using a handheld mixer OR a stand mixer fitted with the paddle attachment, beat the butter on medium-high speed until creamy; about 2 minutes. Reduce speed to low and slowly add the sifted sugar/cocoa powder, alternating with the sour cream and half and half, then add the salt and almond extract. Once all of the ingredients have been added, beat on high speed until light and creamy and combined; beat for at least 1 minute on high.
Frost cooled cupcakes with the buttercream, then top with chopped toblerone candy and almonds.
Cupcakes stay fresh when stored in an airtight container in the refrigerator for up to 4 days