You'd never guess these decadent Zucchini Chocolate Cupcakes are packed with an entire cup of fresh grated zucchini! They're moist, fluffy, chocolatey, and no, they don't taste like vegetables! A MUST bake this Summer and the perfect way to use up an abundance of zucchini!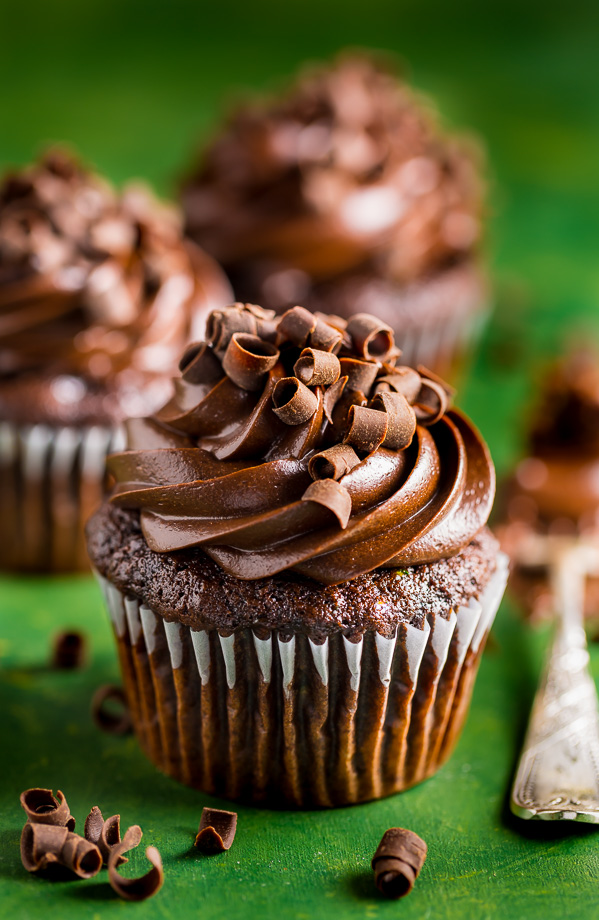 Chocolate Zucchini Cupcakes
Hello and happy Tuesday! Here are those zucchini chocolate cupcakes I promised you last week.
Have you ever baked with zucchini before? If not, you're missing out. I love adding it to bread, scones, cookies, muffins and now: chocolate cupcakes! I know it can seem strange at first. You are adding a vegetable into your dessert, after all.
But hear me out! Shredded zucchini adds incredible moisture! And the zucchini flavor is virtually nonexistent, so no one will even know it's in there! It can be your tasty little secret 😉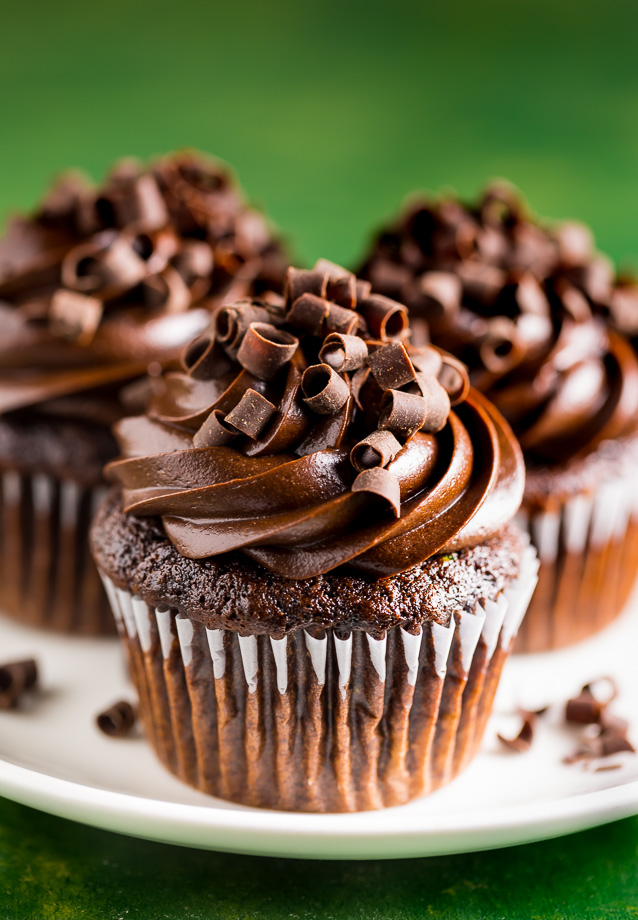 It took me a few tries to get these cupcakes just right, but I'm so happy I finally nailed it! That said, I highly suggest sticking to this recipe exactly as written. This will ensure your cupcakes come out looking like this ↓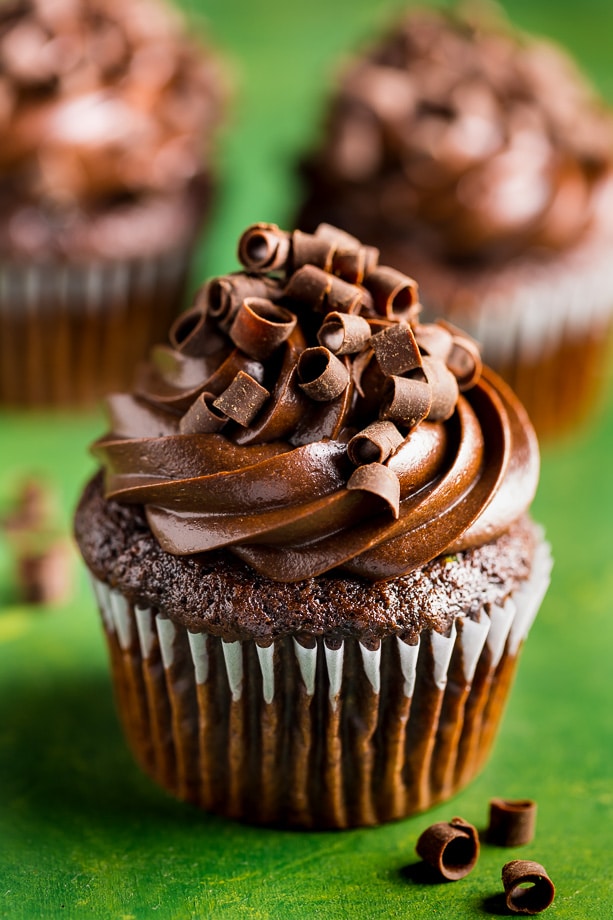 How to Make Zucchini Cupcakes:
Make sure you grate your zucchini coarsely and drain it before adding it to the batter. You can drain it by placing it in a fine mesh strainer and setting it over a bowl. Sprinkle it with a little sugar and set aside for 10 minutes. Then press down on the zucchini and squeeze out the excess moisture.
For best results, make sure your eggs, egg yolk, and sour cream have all come to room temperature before you begin baking.
When you measure your flour, be sure you're not packing it into the measuring cup. Packed flour will yield a dense and dry cupcakes.
Because over mixing can lead to very dry cupcakes, you'll want to make sure you're stirring the batter just until it's combined!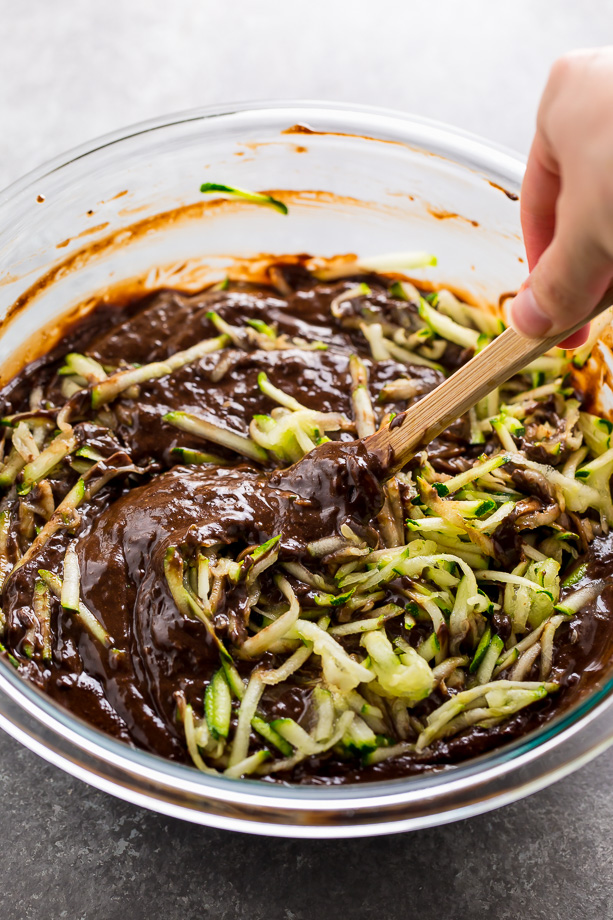 If you want your cupcakes to have an extra large dome, you can fill the batter up to the edge of the liner.
Otherwise I recommend filling it 3/4 of the way full. Also, remember not to open the oven while the cupcakes bake! This can cause them to sink.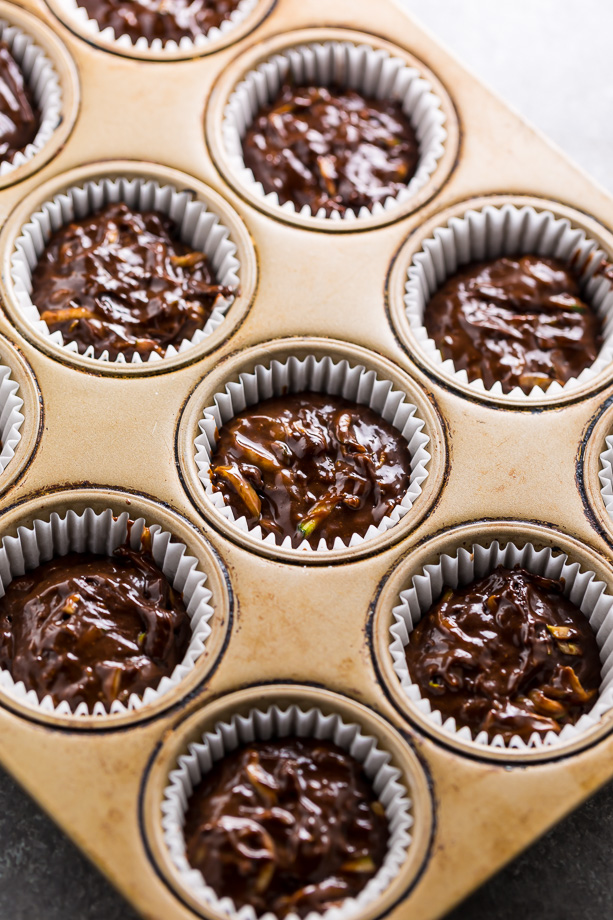 Finally, make sure your cupcakes have completely cooled before you frost them!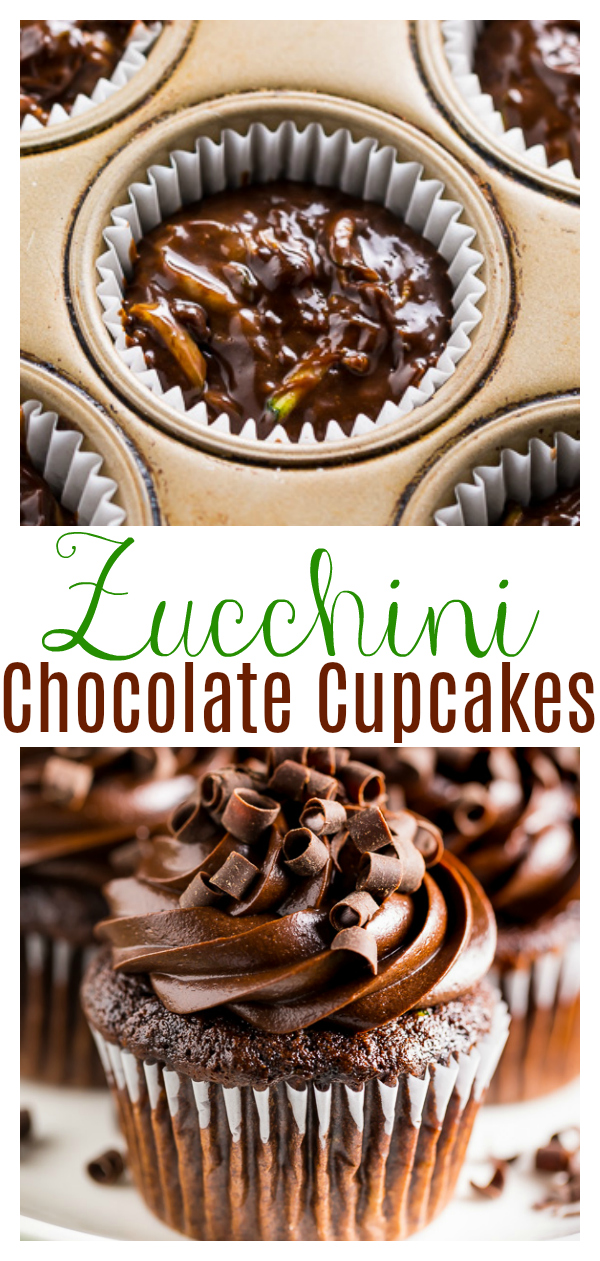 I hope you love these as much as we do!
More Zucchini Recipes:
If you try this recipe for Zucchini Chocolate Cupcakes, let me know! Leave a comment below and don't forget to snap a pic and tag it #bakerbynature on instagram! Seeing your kitchen creations makes my day. ♥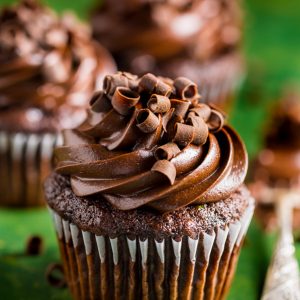 Zucchini Chocolate Cupcakes
Rich and decadent Zucchini Chocolate Cupcakes. A must bake this Summer!
Ingredients
For the Zucchini Chocolate Cupcakes:
1/2 cup canola oil
2 ounces semi-sweet chocolate, chopped
1 cup all-purpose flour, not packed
1 teaspoon baking soda
1 teaspoon baking powder
1/2 cup unsweetened cocoa powder
1 teaspoon ground cinnamon
1/2 teaspoon salt
2 large eggs + 1 large egg yolk, at room temperature
1 cup granulated sugar
1/3 cup light brown sugar, packed
1 teaspoon vanilla
1/3 cup full fat sour cream
1/3 cup hot coffee OR hot water
1 cup coarsely shredded zucchini, drained
For the Chocolate Buttercream:
3 cups confectioners sugar
3/4 cup unsweetened cocoa powder
4 ounces unsalted butter, a little softer than room temperature
2 tablespoons sour cream
3 tablespoons whole milk or half and half
1/4 teaspoon salt
1 teaspoon vanilla
Instructions
For the Zucchini Chocolate Cupcakes:
Preheat oven to 350 degrees (F). Line a 12-cup cupcake tin with paper liners and lightly spray with non-stick spray; set aside until needed.

Place the oil and chopped chocolate in a heatproof bowl and melt in the microwave, heating in 30 second increments, and stirring between increments each time, until completely melted. Whisk mixture completely smooth and set aside to cool.

In a medium-sized bowl combine the flour, baking soda, baking powder, cocoa powder, cinnamon, and salt; stir together until thoroughly combined and set aside.

In a large bowl, whisk together the eggs, yolk, both sugars, and vanilla; beat until smooth. Add the oil/chocolate mixture and whisk smooth. Beat in the sour cream.

Add in the flour mixture and, using a rubber spatula, gently fold the dry ingredients into the wet ingredients until barely combined.

Add in the hot water and mix until just combined. It's important not to over mix, here! Just stir until evenly combined.

Fold in the drained zucchini, stirring just until combined.

Fill prepared cupcake tin, filling each mold 3/4 full. You can really fill them up to the line if you want an extra large dome. If you have extra batter (you probably will), set it aside and bake a second batch later.

Bake for 20 minutes, or until a toothpick inserted in the center comes out clean. Cool completely before frosting.
For the Chocolate Buttercream:
Sift together the confectioners sugar and cocoa powder, whisking well to ensure it's bump and lump free!

Using a handheld mixer OR a stand mixer fitted with the paddle attachment, beat the butter on medium-high speed until creamy; about 2 minutes.

Reduce speed to low and slowly add the sifted sugar/cocoa powder, alternating with the sour cream and milk, then add the salt and vanilla.

Once all of the ingredients have been added, beat on medium-high speed until light and creamy and combined, about 2 minutes. Frost cooled cupcakes and top with any decorations if desired.

Cupcakes stay fresh, stored in an airtight container in the fridge, for up to 4 days. I suggest bringing them to room temperature before serving.