[adthrive-in-post-video-player video-id="claDG4aW" upload-date="2017-07-20T02:18:49.000Z" name="20-Minute BLT Pasta Salad" description="An easy 20-Minute recipe for BLT Pasta Salad."]
This easy blt pasta salad recipe is one of our favorite summer side-dishes! Creamy ranch dressing, crispy bacon, lettuce, and tomatoes ensure each bite is packed with flavor.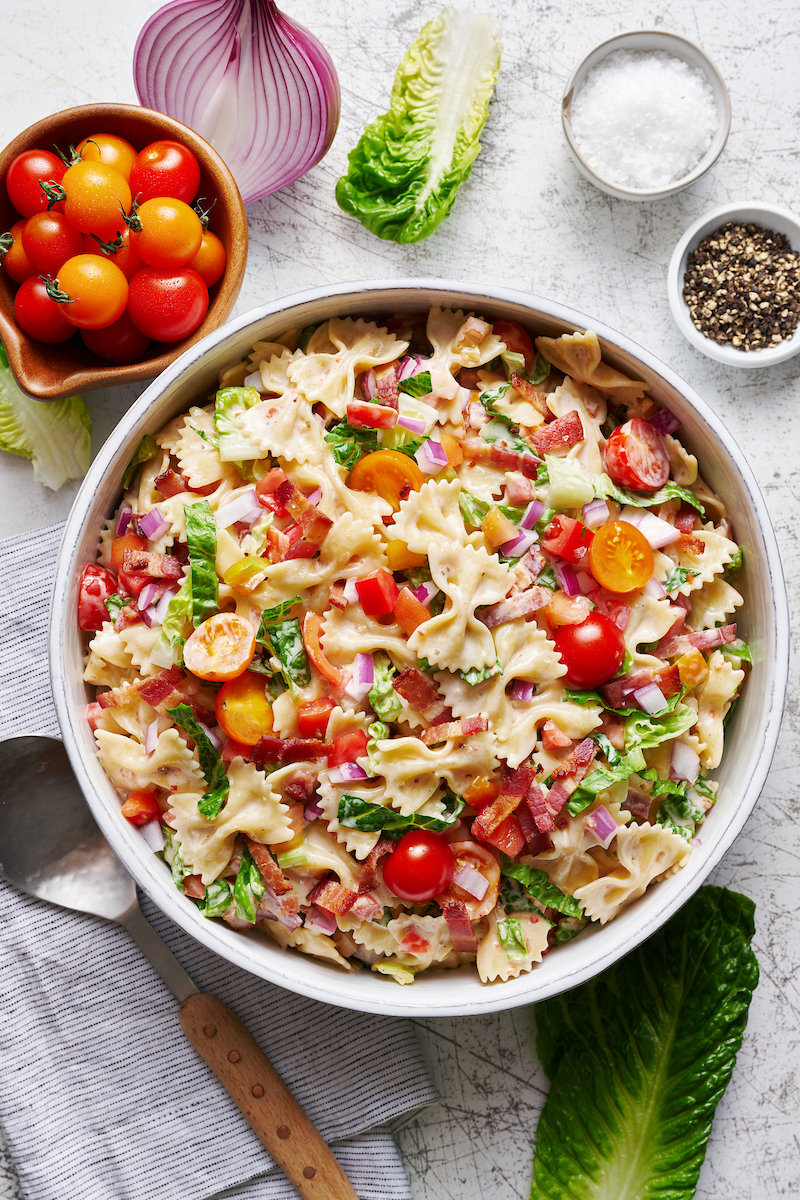 BLT Pasta Salad Recipe
Everyone needs a go-to cold pasta salad recipe. Especially during these sweltering summer months when most days it feels almost too hot to cook or eat! Key word, almost: because easy pasta salad recipes are the unsung summertime hero! I have a huge collection of pasta salad recipes, but it really doesn't get much better than blt pasta salad! Extra bacon, lettuce, and tomato on top make it extra pretty and extra delicious!
For the best taste, you'll want to make sure to assemble this pasta salad right before you plan on serving it. But the good news is it only takes 20 minutes to throw together! And a lot of the prep can be done ahead of time, so you can make it even faster.
This recipe is also pretty adaptable, so be sure to check out all of my ingredient notes and pro-tips below!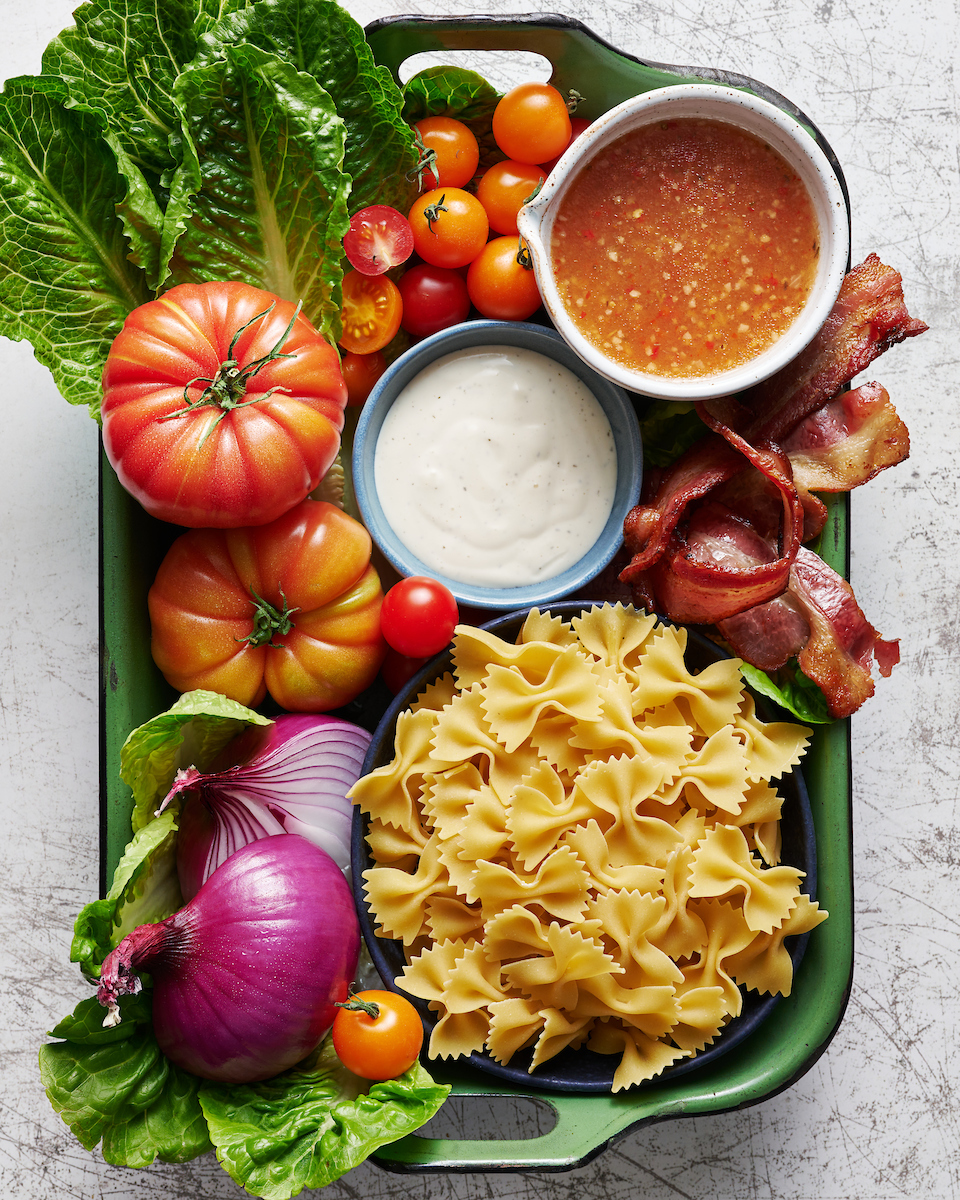 BLT Pasta Salad Ingredients
Pasta: Because you can't make pasta without pasta, this is the first ingredient we'll cover! My noodle of choice is farfalle, but any bite-sized pasta will work great. Try rotini pasta, penne, or even tortellini.
Bottled Italian Dressing: I prefer using zesty Italian dressing, but use your favorite brand/variety! And of course, if you want to make homemade Italian salad dressing and use that, you may.
Bottles Ranch Dressing: Aka my secret ingredient… it adds a subtle creaminess to the pasta salad that's too-die-for delicious. Feel free to use homemade ranch dressing instead. Or, add in an equal amount of sour cream or full-fat greek yogurt.
Crispy Bacon: This is one of the ingredients you could prep ahead of time. Fry until crispy, drain and cool, then wrap in plastic wrap. You can store in the refrigerator for up to 2 days.
Tomatoes: You'll use two varieties of tomatoes in this recipe, cherry tomatoes and whole tomatoes diced. The most important thing is that your tomatoes are fresh, ripe, and juicy.
Romaine: Crunchy leaves of romaine lettuce give this pasta salad ingredient texture. Don't add this ingredient until the very end, otherwise it'll get soggy.
Red Onion: Adds a pop of color and a kick of flavor to the dish. Feel free to omit or reduce the amount if you're not an onion lover.
Salt and Pepper: As always, I suggest seasoning to satisfy your own taste buds. So start with a small amount, taste, and add more as needed.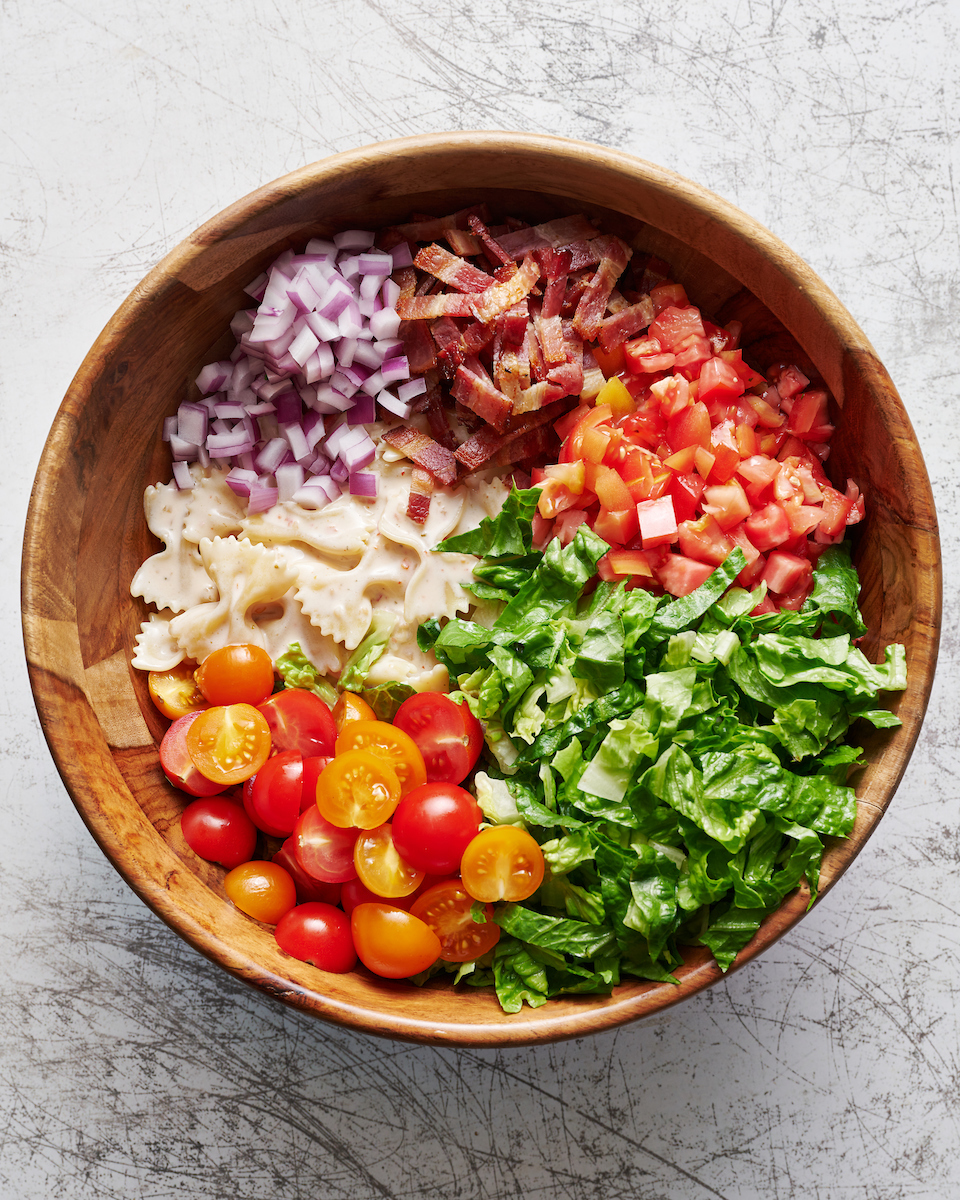 How to Make BLT Pasta Salad
Cook the Pasta: Cook pasta until al dente. Take care not to over cook your pasta! Drain and rinse under cold water (to stop the cooking). Then pour the pasta into a large bowl and set aside.
Cook the Bacon: Add bacon strips to a large hot skillet and cook until crispy on both sides. This usually takes about 6 to 8 minutes, but can vary depending on the pan you use. Transfer bacon to a paper towel lined plate.
Make the Dressing: Combine the zesty Italian dressing with the creamy ranch and mix together until well combined. Pour the dressing mixture on top of the cooked pasta and toss well to coat.
Add the Salad Ingredients: Toss in the crispy bacon, lettuce, tomato, and onion. I like to add in about 3/4 of these ingredients and toss well. Then I top the salad with the remaining ingredients for visual interest.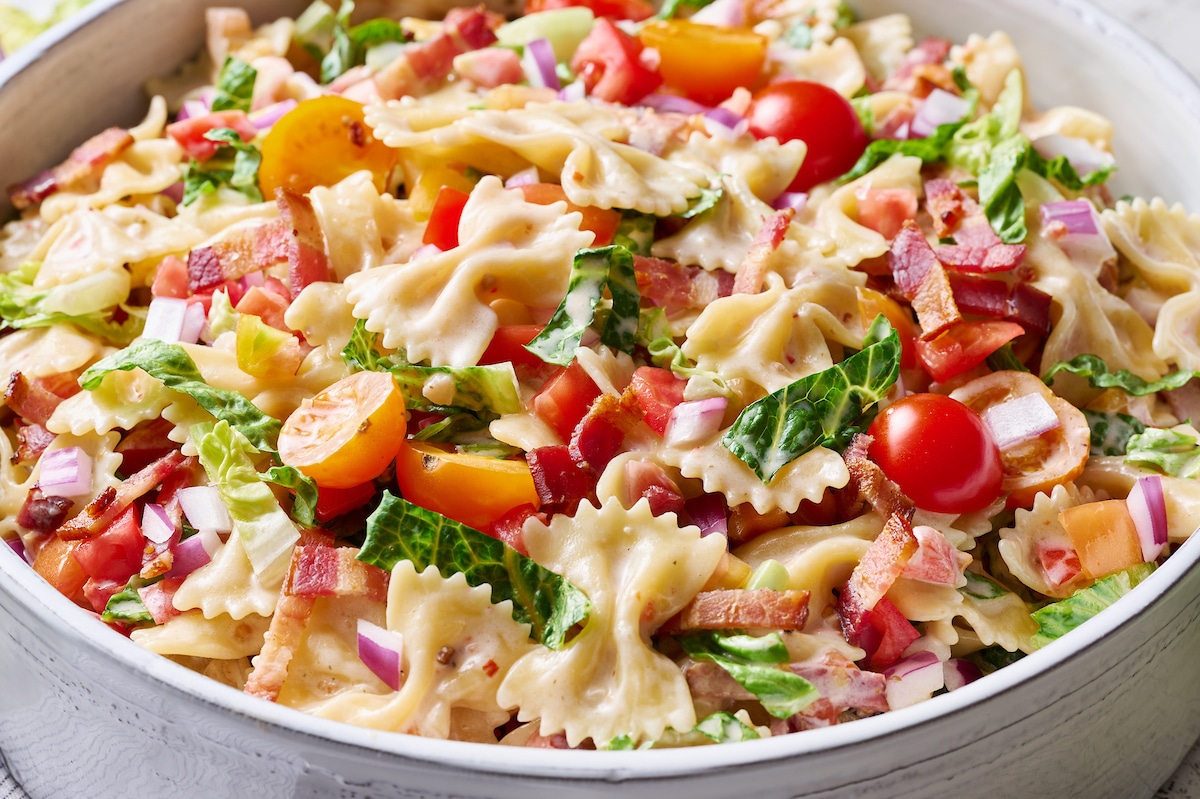 Storage/Serving Suggestions
This pasta salad is a quick and easy recipe that's ready in just 20 minutes! But if you really need to make it in advance, you can. It won't taste as fresh and crispy, but it will still be delicious. Here are a few pro tips to make it ahead of time:
Fry and chop your bacon and store it in the fridge. You can do this up to two days in advance.
Cook the pasta and toss it with the salad dressing. Cover and refrigerate. You can do this up to 2 days in advance, but be sure to undercook your pasta by 1 minute. This will ensure it doesn't get soggy.
Chop salad ingredients, store in individual bowls, cover, and refrigerate. You can do this up to 4 hours in advance. Unfortunately, doing this too far in advance will yield mushy vegetables.
Toss everything together right before serving! Or up to an hour beforehand is fine. You can keep it at room temperature or pop it back into the fridge until needed.
Or, you could assemble the salad completely, except for the lettuce! Cover the bowl and refrigerate for up to 8 hours. Right before serving, toss in the romaine lettuce and serve.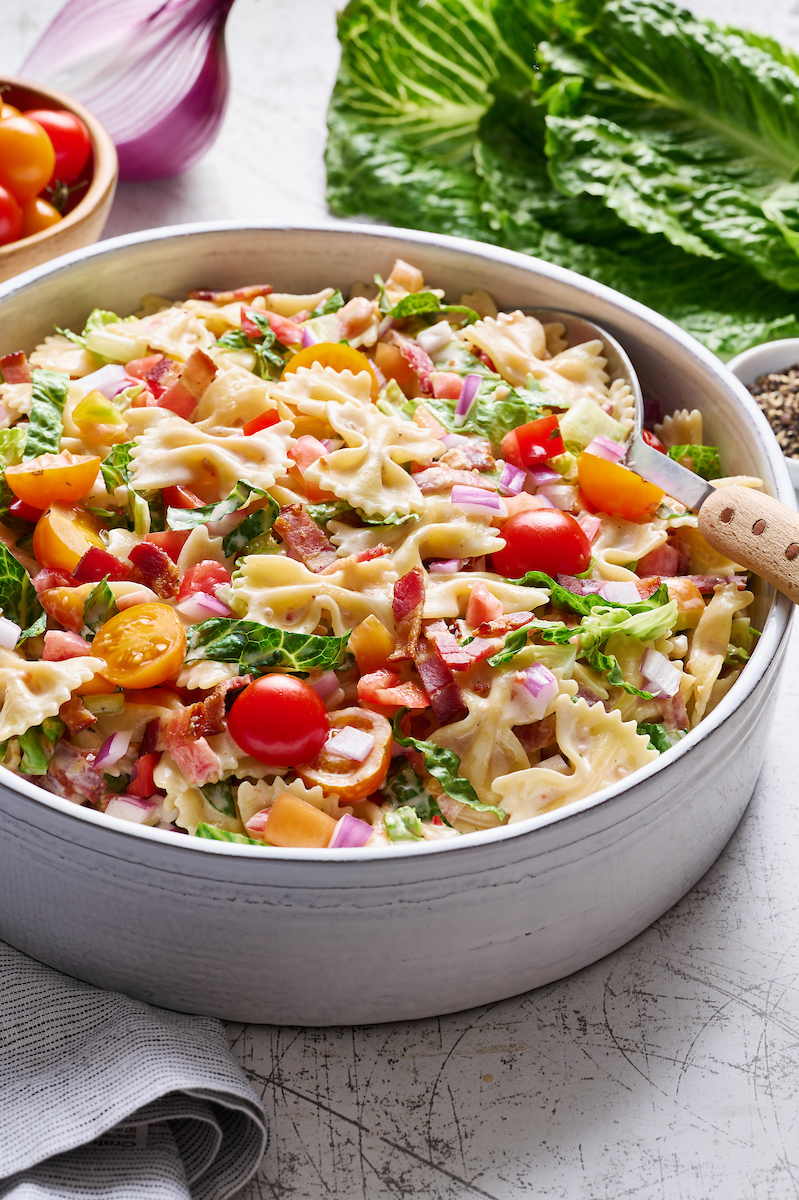 Tools for this Recipe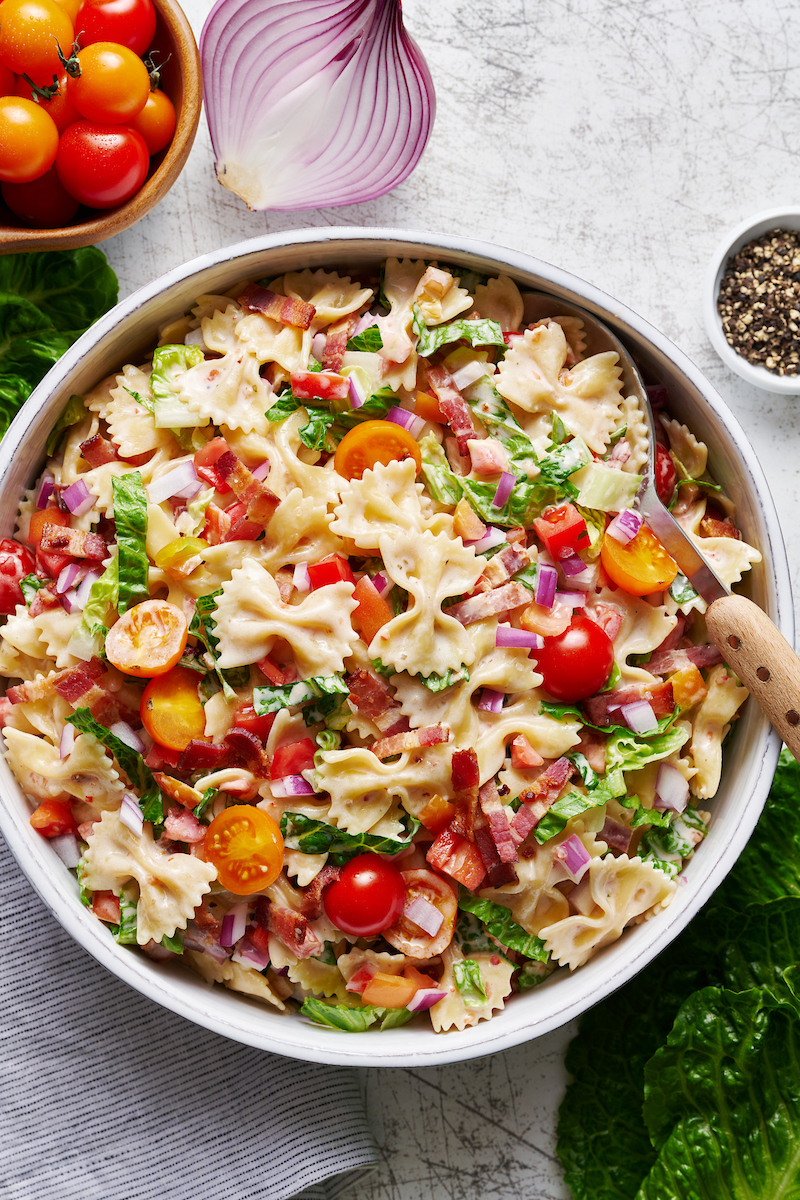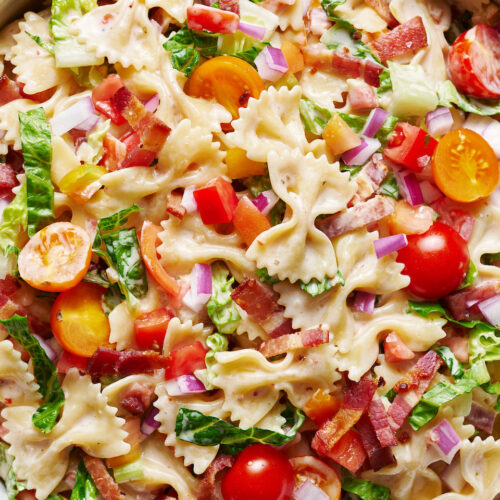 20-Minute BLT Pasta Salad
This 20 Minute BLT Pasta Salad is quick, easy, and a summertime staple in our house! Perfect for parties or potlucks. And easily adaptable!
Ingredients
1 pound bow tie pasta
1 cup zesty Italian salad dressing
1/2 cup creamy Ranch salad dressing
1 pound thick cut bacon cut into strips or crumbled (I think strips looks prettier, but it's a little more work)
2 large ripe tomatoes diced (heirlooms work great here if you can get your hands on them)
2 cups cherry tomatoes cut in half
10 leaves crispy romaine lettuce washed, dried, and chopped into bite sized pieces
1/3 cup red onion diced
Salt and pepper to taste
Instructions
Bring a large pot of salted water to boil. Add pasta and cook until al dente, about 10 minutes.

Drain pasta and rinse under cold water until cool.

While the water is coming to a boil, heat a skillet over medium heat; add bacon strips, and cook until crispy, about 4 minutes on each side. Transfer bacon to a paper towel lined plate.

Place cooled pasta in a large serving bowl; set aside.

In a small bowl combine zesty Italian dressing and ranch, mix well. Add dressing to pasta and toss well to coat pasta.

Add bacon, lettuce, tomato, and onion to the pasta bowl, mix well to combine, and season with salt and pepper as desired. Serve at once, or chill until needed.