This 20-Minute BLT Easy Pasta Salad is fresh, fast, SUPER satisfying! This simple bow tie pasta salad is LOADED with bacon, lettuce, and tomato!!! And then it's dressed in a slightly creamy – and totally addicting – Zesty Italian dressing.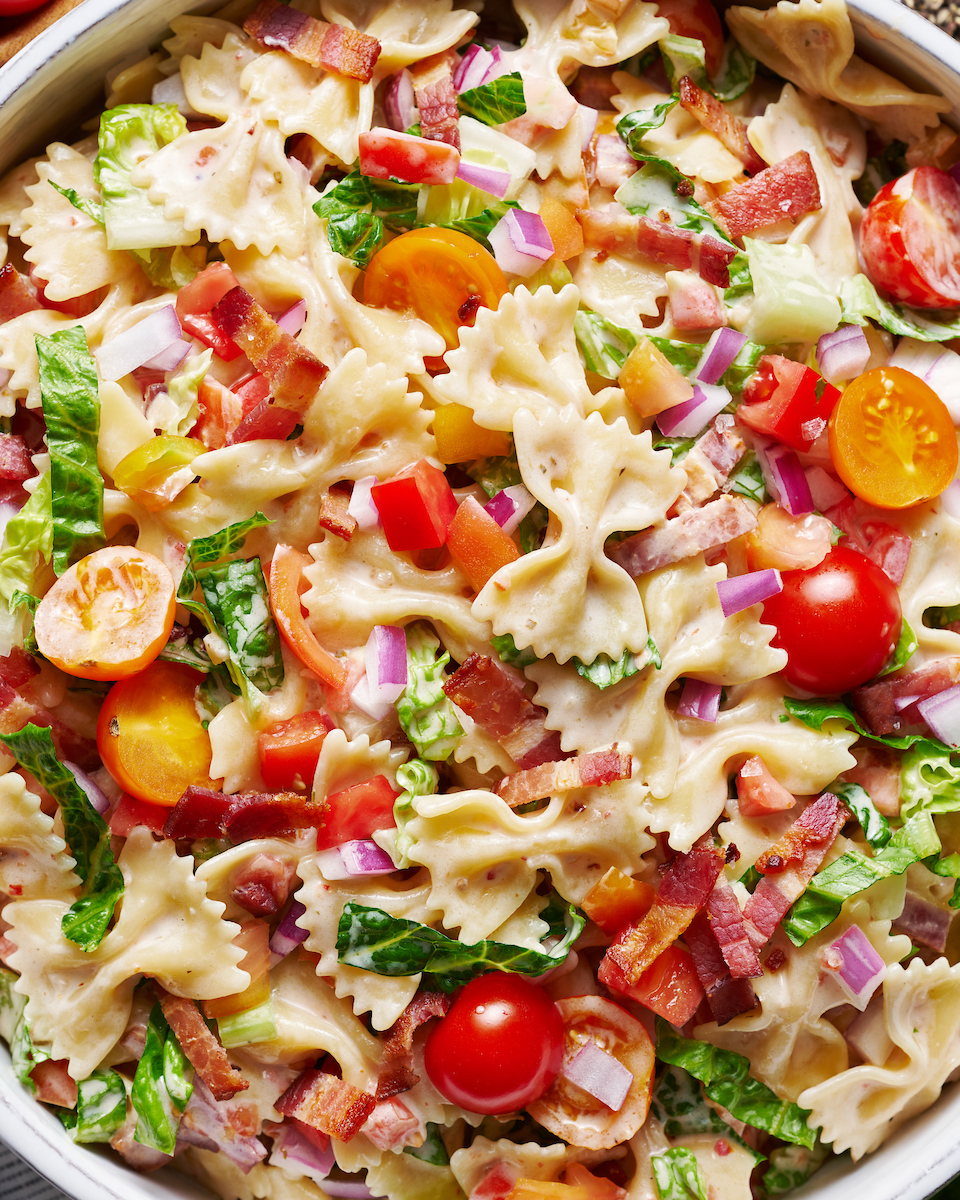 Easy BLT Pasta Salad

BLT Bow Tie Pasta Salad Recipe
We got back from the beach yesterday, and guess what… I'm beat! After 2 hours of packing up the car, 2 hours in the car, and then – wait for it – 2 hours unpacking the dang car, I felt like I was ready for another vacation!!! Or at least a spa day 😉
Hey… a girl can dream, right? To ease back into the whole real life situation, I decided to take things easy dinner wise and make this incredibly simple 20-minute BLT pasta salad.It's creamy, dreamy, and just begging to be your dinner!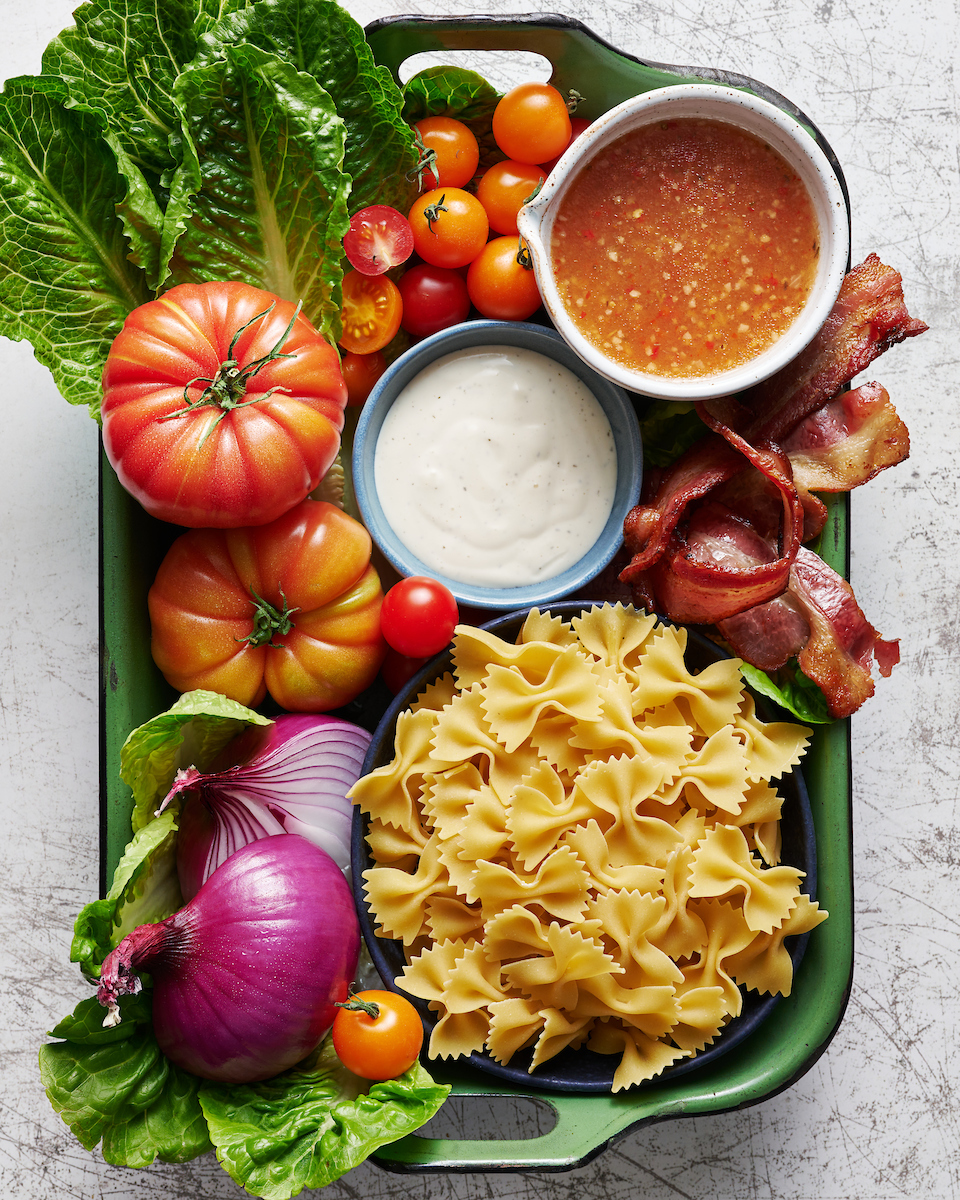 I usually like my pasta salad loaded with a TON of veggies, cheeses, and meats – like this classic Italian pasta salad – but since I wanted something simple and fast, I decided to SHAKE things up and try a new recipe that had been floating around my brain for ages. BLT PASTA SALAD. I mean, how could it not be amazing, right?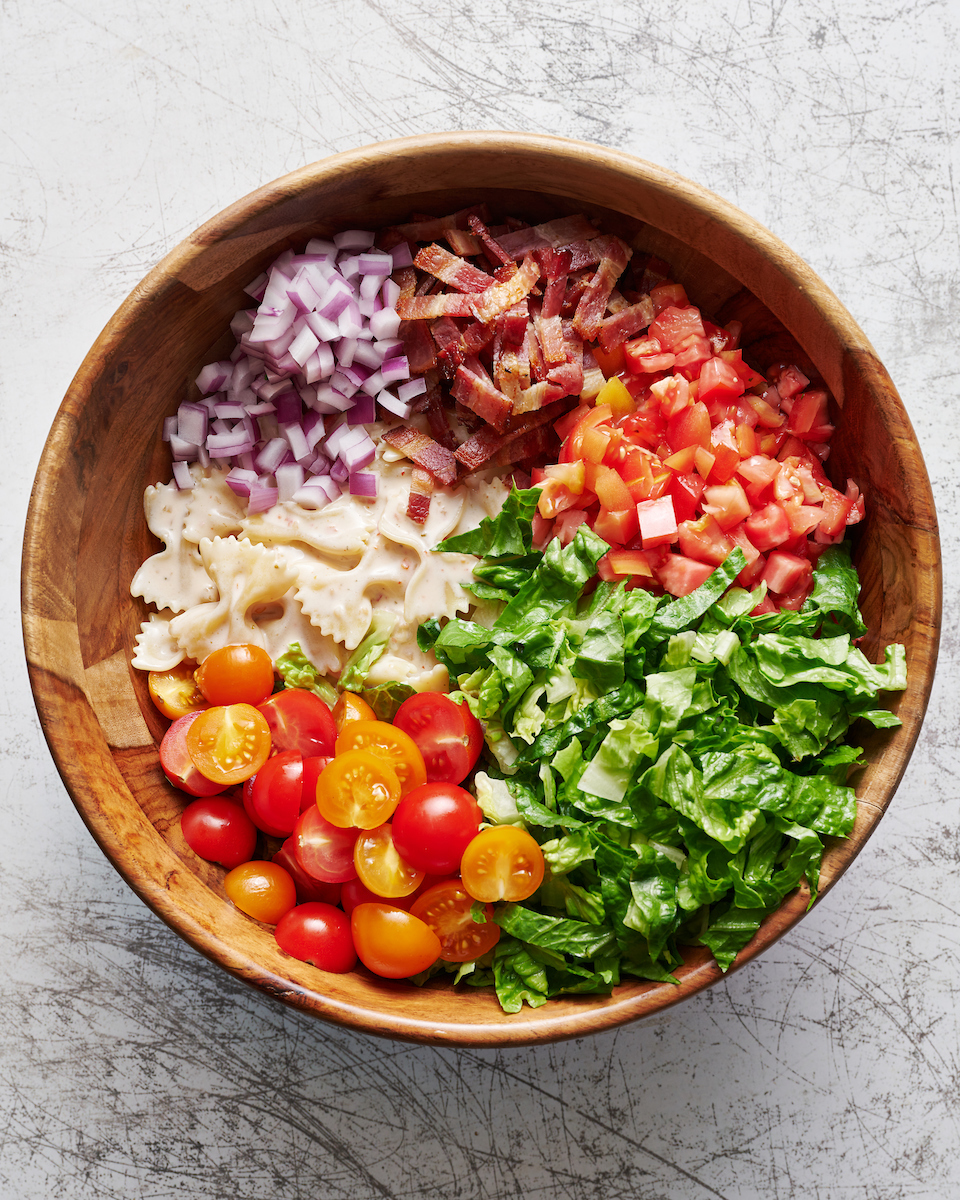 How to make Easy BLT Pasta Salad
To make this blt bowtie pasta salad, you'll need the following ingredients:
bow tie pasta: aka farfalle! but feel free to use another small noodle in its place!
zesty Italian salad dressing: use your favorite brand!
creamy Ranch salad dressing: this is my secret ingredient… it adds a subtle creaminess to the pasta salad. trust me!!!
thick cut bacon: fried until crispy!!! then cut into strips or crumbled. But I think strips looks prettier.
ripe tomatoes: diced! Heirloom tomatoes and cherry tomatoes work great here, but any juicy tomato will work.
crispy romaine lettuce: keyword crispy!!!
red onion: diced, this ingredient adds a nice kick.
And of course, salt and pepper: to taste
This pasta can be ready to go in 20 minutes, but also can be made up to 8 hours before serving! Perfect for those busy days when you need to make dinner in advance 😉 Just be sure to add the lettuce in right before serving if making ahead of time… otherwise it gets a little soggy and sad.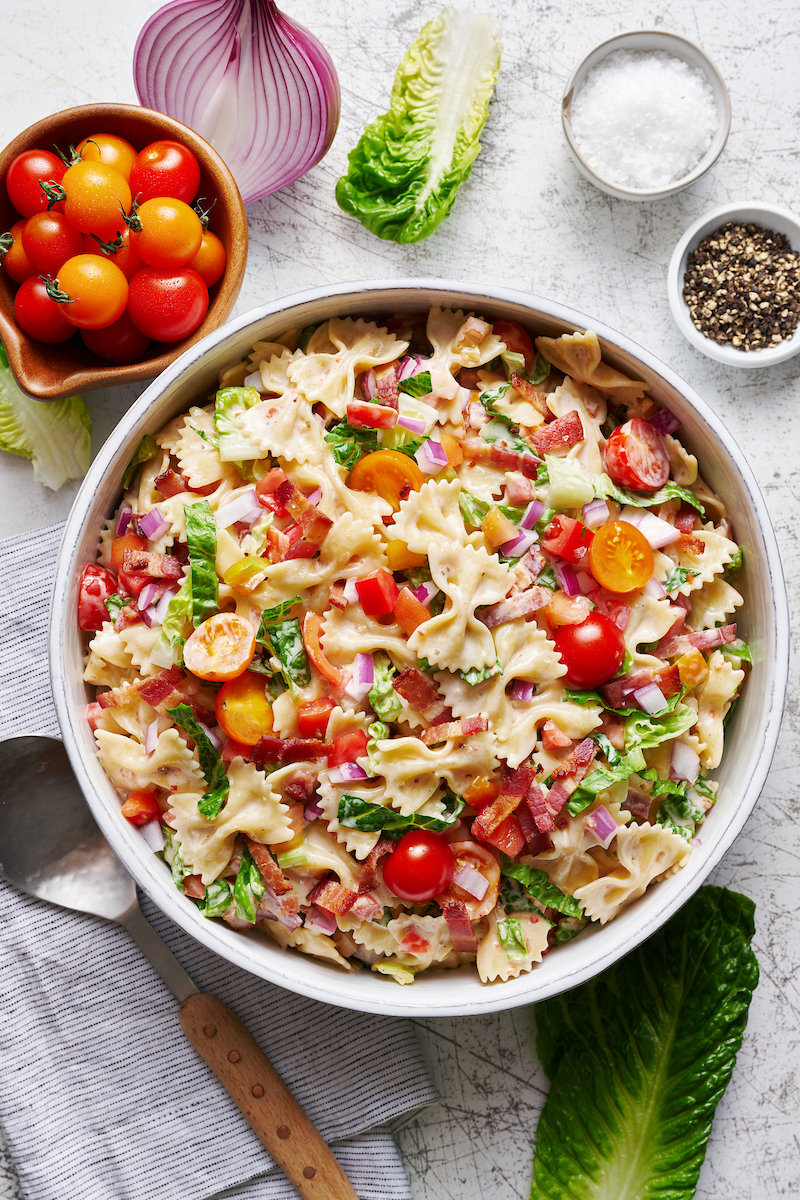 If you have a picnic coming up, or are just looking for a fast, fresh dinner idea, BLT pasta salad has to be on your menu! And with only 8 simple ingredients… I suggest whipping it up TONIGHT!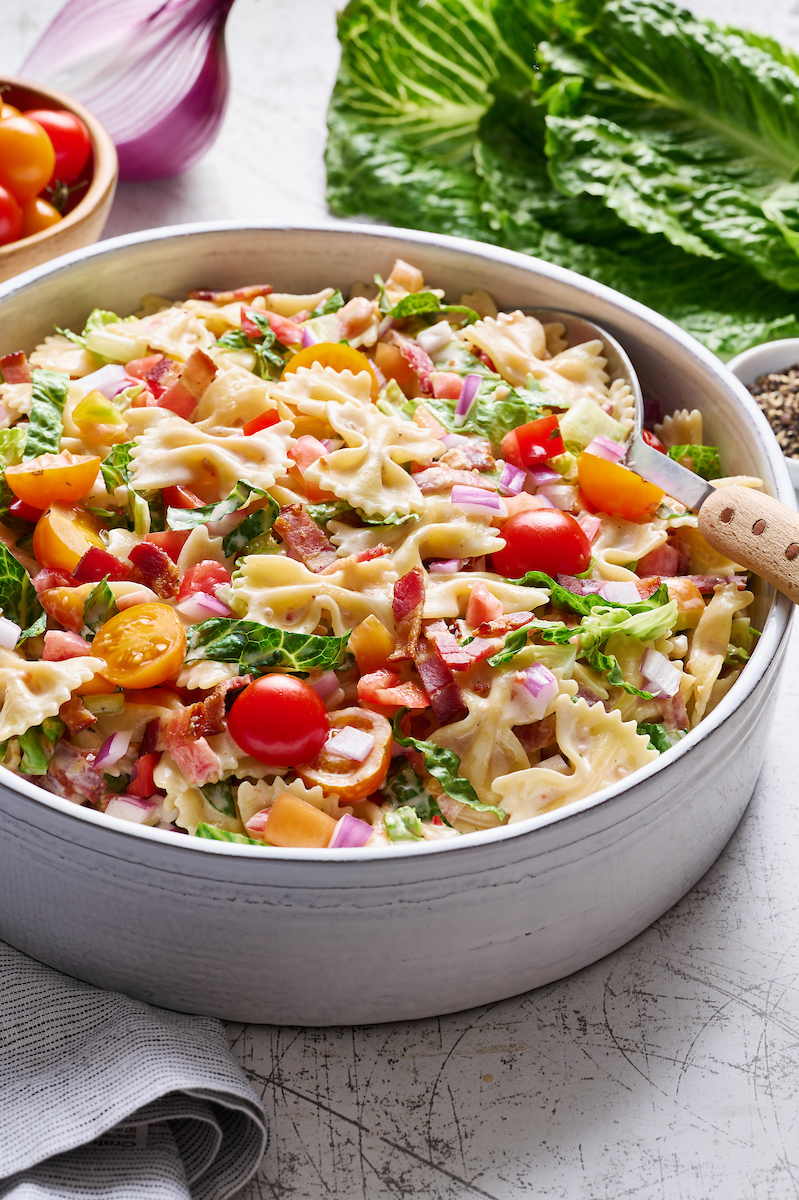 More Pasta Salad Recipes: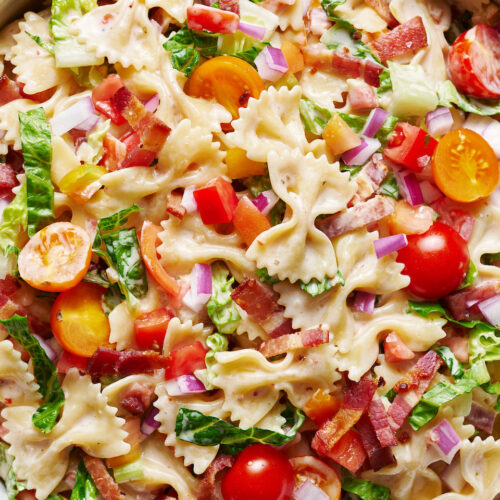 20-Minute BLT Pasta Salad
This 20 Minute BLT Pasta Salad is quick, easy, and a summertime staple in our house! Perfect for parties or potlucks. And easily adaptable!
Ingredients
1 pound bow tie pasta
1 cup zesty Italian salad dressing
1/2 cup creamy Ranch salad dressing
1 pound thick cut bacon cut into strips or crumbled (I think strips looks prettier, but it's a little more work)
2 large ripe tomatoes diced (heirlooms work great here if you can get your hands on them)
2 cups cherry tomatoes cut in half
10 leaves crispy romaine lettuce washed, dried, and chopped into bite sized pieces
1/3 cup red onion diced
Salt and pepper to taste
Instructions
Bring a large pot of salted water to boil. Add pasta and cook until al dente, about 10 minutes.

Drain pasta and rinse under cold water until cool.

While the water is coming to a boil, heat a skillet over medium heat; add bacon strips, and cook until crispy, about 4 minutes on each side. Transfer bacon to a paper towel lined plate.

Place cooled pasta in a large serving bowl; set aside.

In a small bowl combine zesty Italian dressing and ranch, mix well. Add dressing to pasta and toss well to coat pasta.

Add bacon, lettuce, tomato, and onion to the pasta bowl, mix well to combine, and season with salt and pepper as desired. Serve at once, or chill until needed.