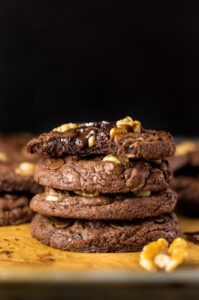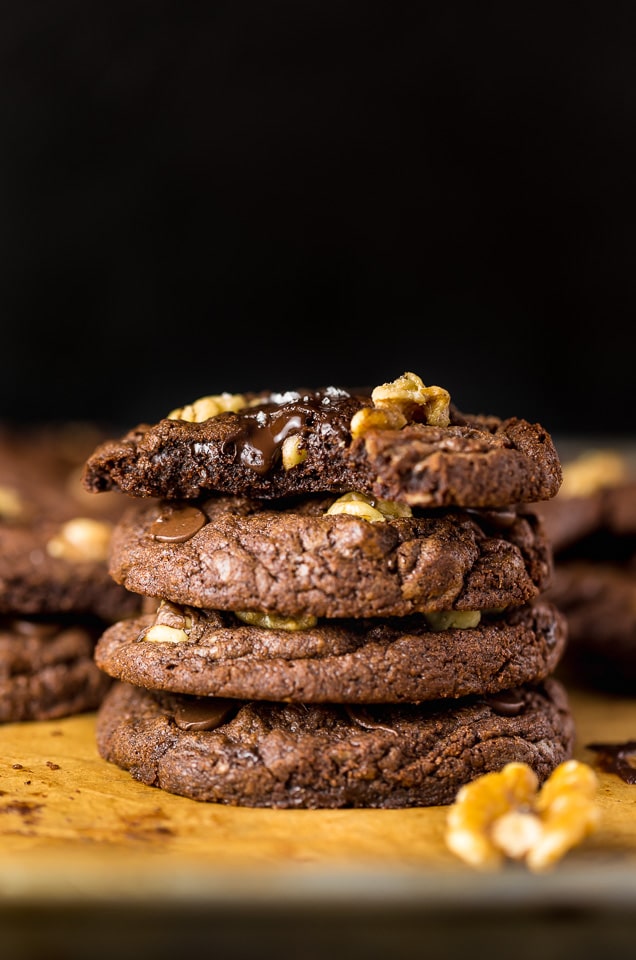 Triple Chocolate Brownie Cookies
Yield 1 dozen cookies
These triple chocolate brownie cookies are SO decadent!
Ingredients
6 ounces semi-sweet chocolate, finely chopped
2 teaspoons espresso powder
3/4 cup all-purpose flour
1 and 1/2 Tablespoons Dutch-process cocoa powder
1 teaspoon baking powder
1/4 teaspoon salt
1 stick (4 ounces) unsalted butter, at room temperature
1/2 cup light brown sugar, packed
1/2 cup granulated sugar
2 teaspoons pure vanilla extract
2 large eggs, at room temperature
1/2 cup semi-sweet chocolate chips
1/2 cup semi-sweet chocolate chunks
1/2 cup walnuts, finely chopped
Instructions
Line a large baking sheet with parchment paper and set it aside until needed.
Fill a medium pot one-third full with water and bring it to a low simmer over medium heat. Place a heatproof bowl that will fit on top of the pan snugly, but will not touch the simmering water, on top of the pan. Reduce the heat to low and the chopped chocolate and espresso powder into the bowl over the pot. Heat until the chocolate is completely melted, stirring occasionally with a silicon spatula. Once the chocolate is completely melted, remove the bowl from heat and set aside to cool.
In a medium mixing bowl, whisk together the flour, cocoa powder, baking powder, and salt. Set aside until needed.
In the bowl of a stand mixer fitted with the paddle attachment, or in a large bowl using a handheld electric mixer, beat the butter, both sugars, and vanilla on medium speed until light and fluffy, about 3 minutes. Add in the eggs, one at a time, beating well after each addition and scraping down the sides of the bowl as needed. Reduce the mixer speed to low and gradually add the flour mixture, mixing just until combined. Turn mixer off.
Using a rubber spatula, fold the melted chocolate into the batter, mixing until evenly combined. Fold in the chocolate chips, chocolate chunks, and walnuts.
Using a large cookie scoop, drop 3-Tablespoon sized mounds of batter onto the prepared baking sheet, spacing them 2 inches apart. Loosely cover the pan with plastic wrap and refrigerate for at least 1 hour, and up to 1 day.
30 minutes before you're ready to bake, preheat your oven to 300 degrees (F).
Bake for 14 to 16 minutes, or until the cookies have puffed up and look slightly cracked on the surface. 
Allow the cookies to cool on the baking sheet, placed on a cooling rack, for at least 20 minutes before transferring to a serving plate.
Store cookies in an airtight container at room temperature for up to 1 week.
Courses Dessert
Cuisine Cookies
Recipe by Baker by Nature at https://bakerbynature.com/triple-chocolate-brownie-cookies/