These Triple Chocolate Brownie Cookies are SO decadent! Soft, fudgy, and sprinkled with crunchy walnuts, it's just like eating a brownie, but in a cookie form. This brownie cookie recipe is always a hit with chocolate lovers!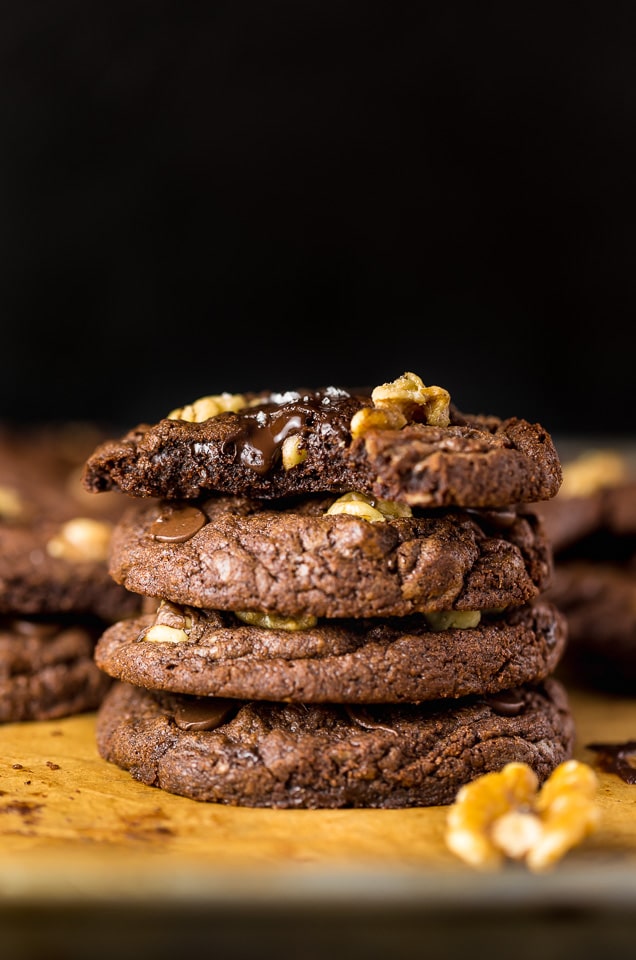 Brownie Cookies Recipe
If you're trying to eat more vegetables in 2018… this might not be the post for you. But! If you're trying to eat more chocolate in 2018, allow me to introduce you to your new best friend ↓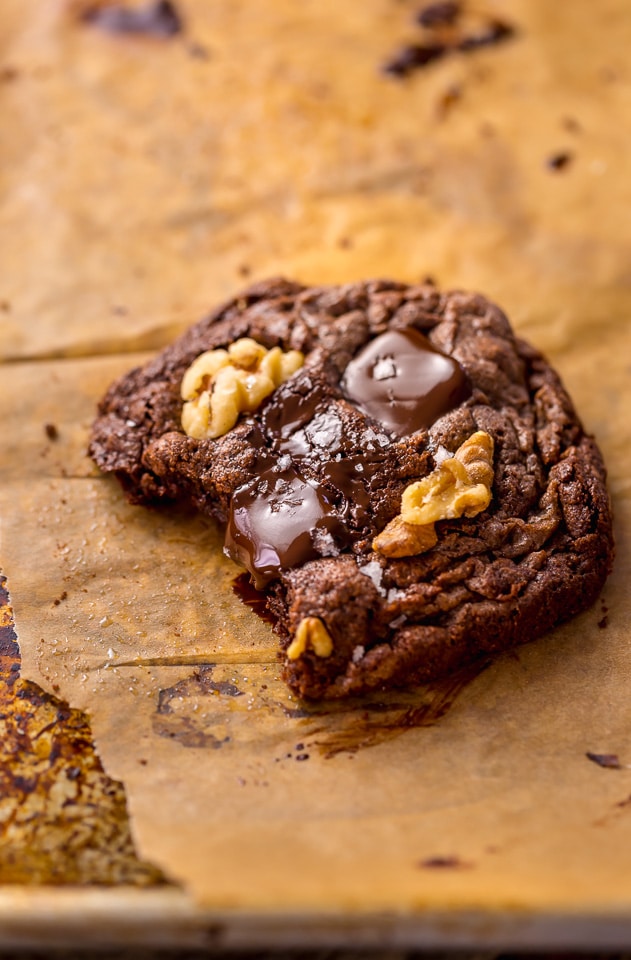 Gooey Fudge Brownie Cookies! And I'm so excited to share this recipe with you. Because who doesn't love a cookie pretending to be a gooey fudge brownie? Especially smack-dab in the middle of Winter.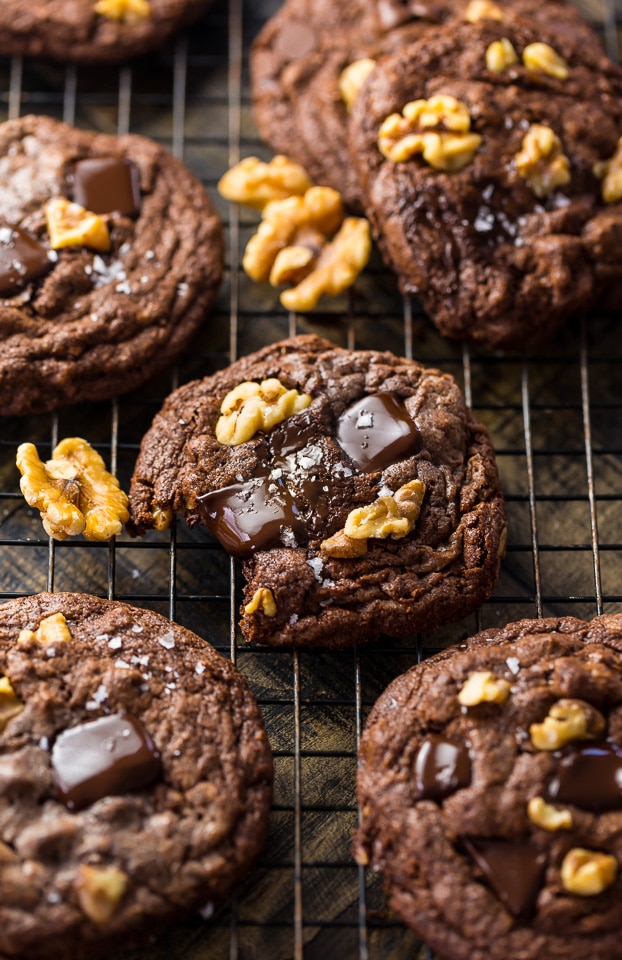 Tips and Tricks for Recipe Success:
Because I believe more is more when it comes to chocolate, these cookies are loaded with chocolate chips and chocolate chunks. You may use all chocolate chips or all chocolate chunks, if preferred. However, for the melted chocolate, you should use real chopped chocolate; not chocolate chips. I prefer dark chocolate or semi sweet.
This recipe calls for Dutch-process cocoa powder, which is different from regular cocoa powder. Dutch-process cocoa powder is made from cocoa beans that have been treated with potassium solution, which neutralizes their acidity. Dutch-process cocoa powder is also darker and more mellow in flavor. Click here to check-out my favorite brand.
Don't skip the espresso powder! It helps enhance the flavor of the chocolate without adding an intense coffee flavor. If you're on the market for a new jar, I highly recommend King Arthur Flour Espresso Powder, which is what I use in all of my chocolate desserts.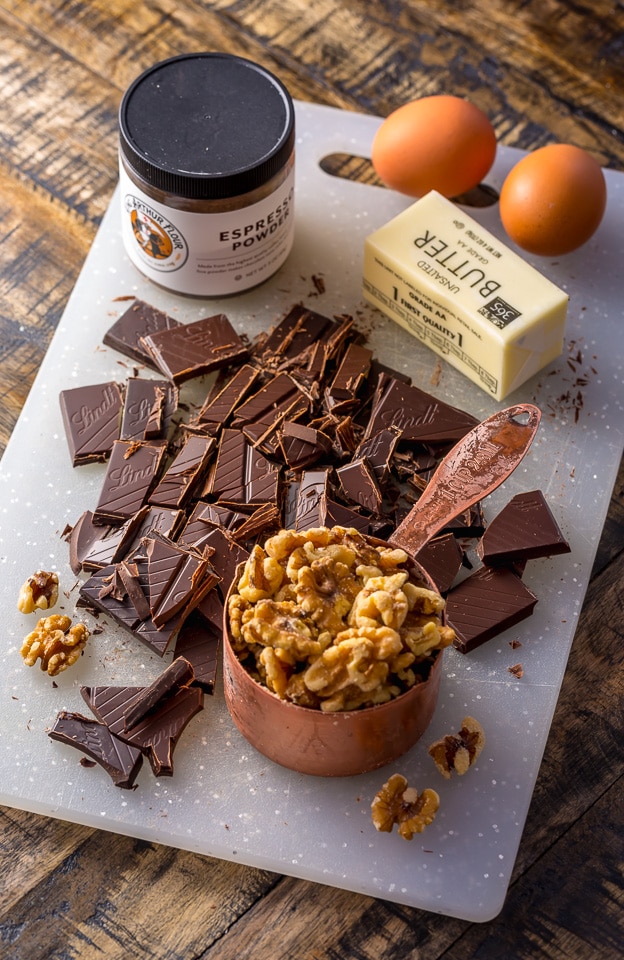 I love walnuts in my brownies, so naturally I added a 1/2 cup to these cookies. But if you're allergic, or just not a fan, feel free to omit them without making any other changes. You can also use a different nut, like pecans or peanuts.
The cookie dough will look more like a thick chocolate batter. This is normal!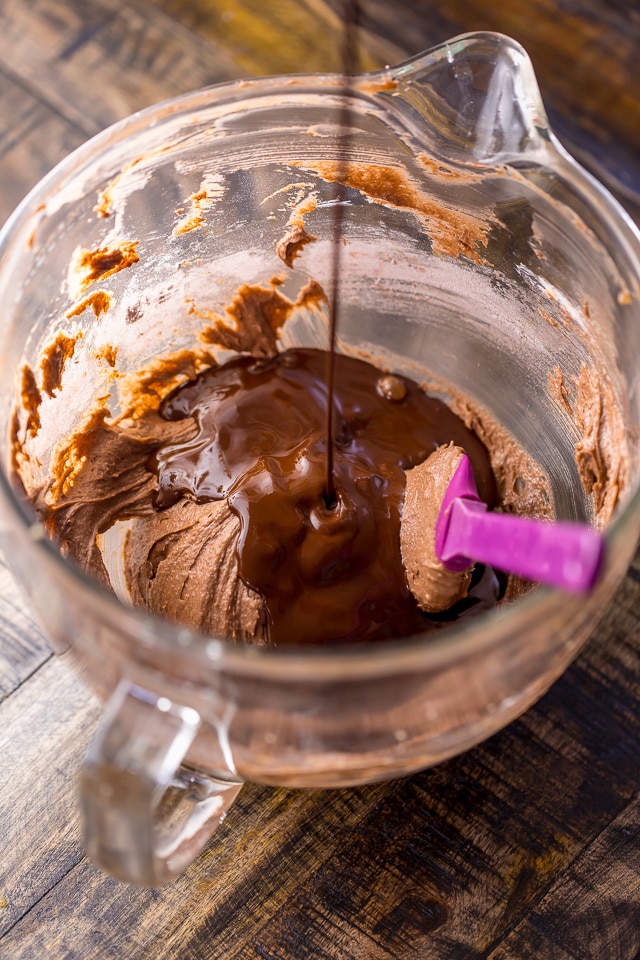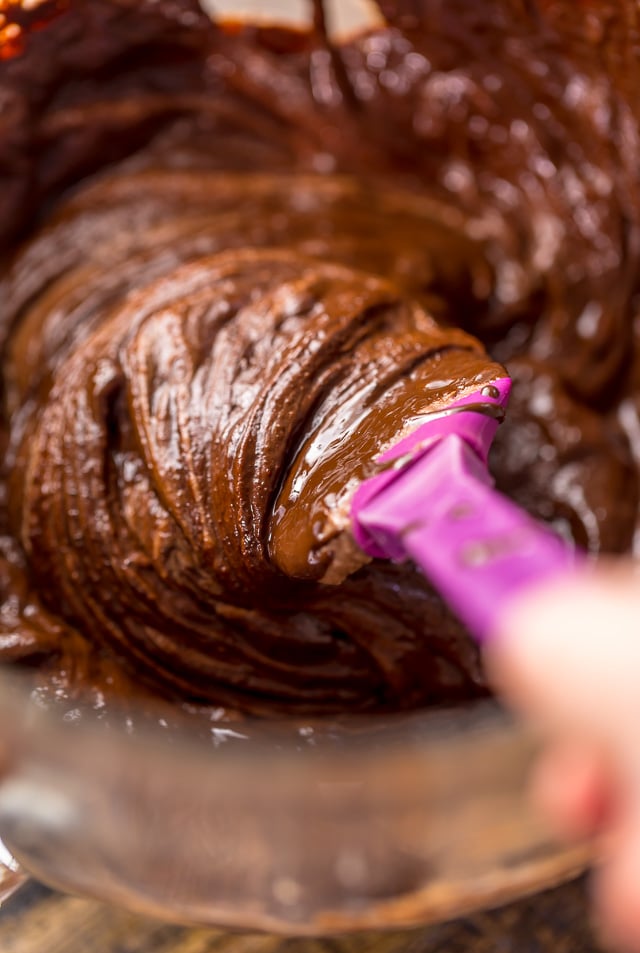 Here's what you're going to do: using a large cookie scoop (or ice cream scoop) drop mounds of the thick batter onto your prepared baking sheet, leaving 2 inches between each mound. Cover the baking sheet loosely with plastic wrap and pop it in the fridge for at least one hour (and up to 1 day). Once the dough has chilled, you're ready to bake!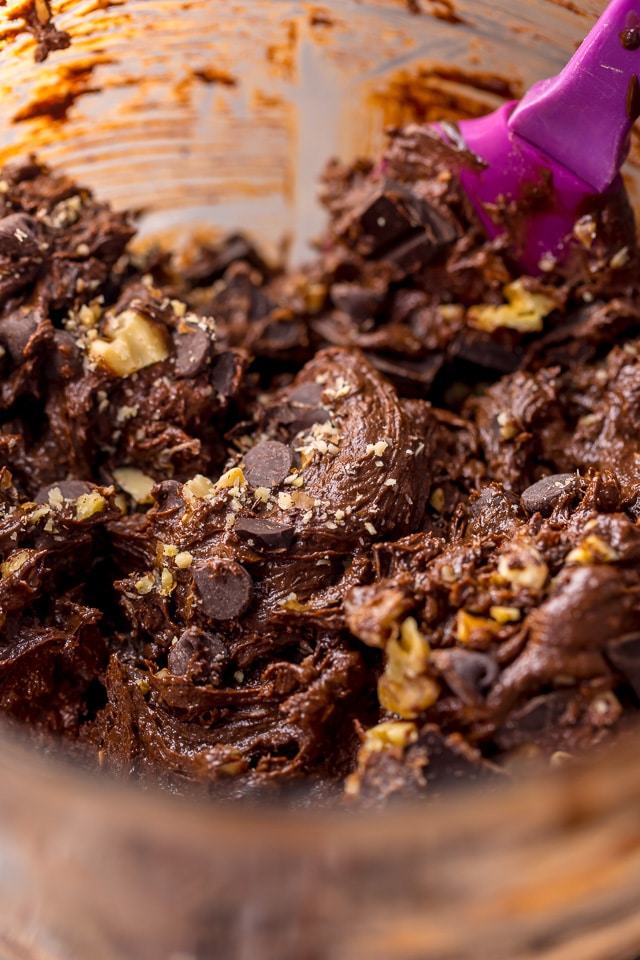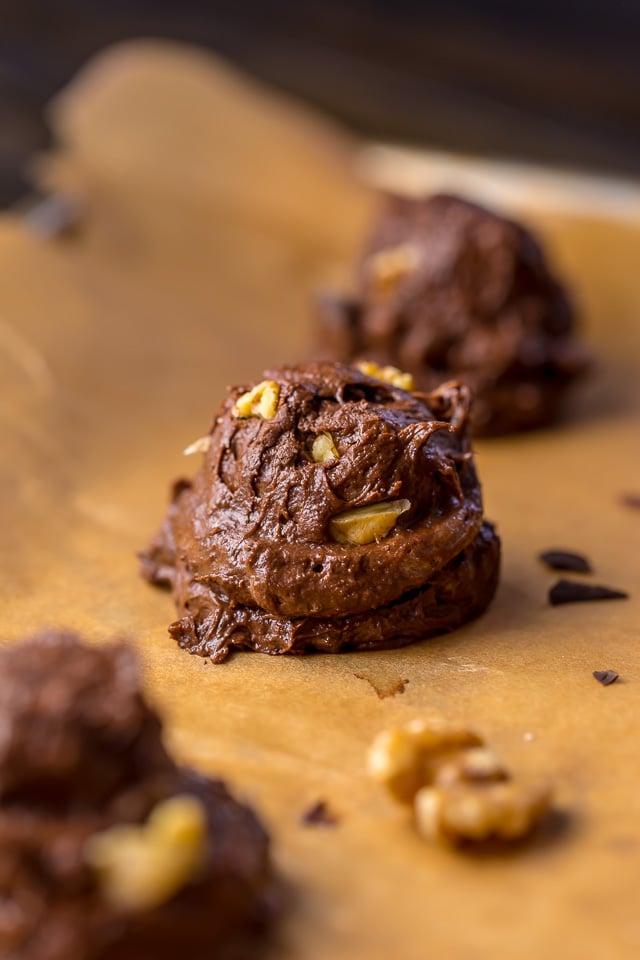 Don't over bake your cookies! The cookies will look almost uncooked in the center when you pull them from the oven, but will firm up quite a bit while cooling.
Finally, be sure to cool the cookies on the baking sheet, placed on top of a wire rack. They'll come out of the oven too fragile to touch, but will firm up once they've cooled.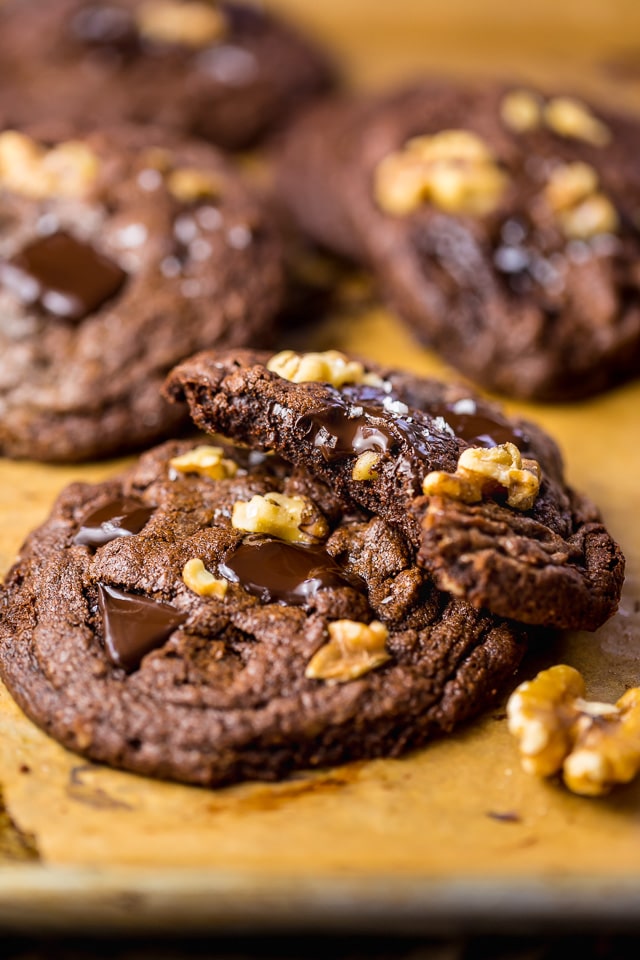 Love brownies? Love cookies? Well then don't let another day slip by before baking these triple chocolate brownie cookies!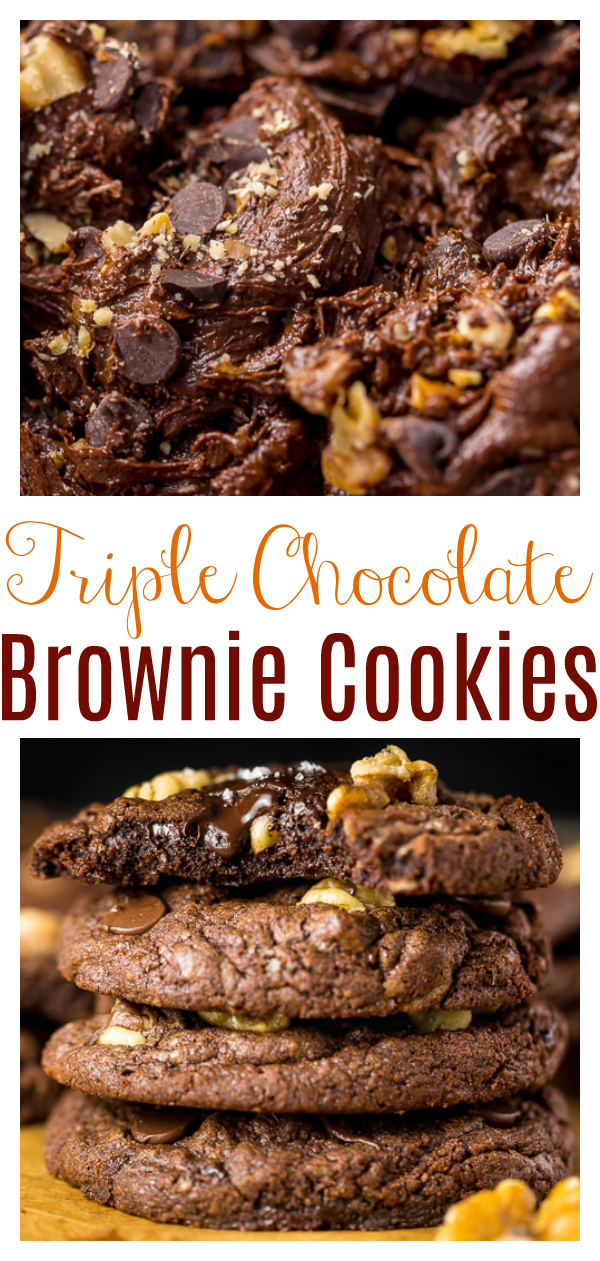 More Chocolate Cookie Recipes:
If you try this recipe for Triple Chocolate Brownie Cookies, let me know! Leave a comment below and don't forget to snap a pic and tag it #bakerbynature on instagram! Seeing your kitchen creations makes my day.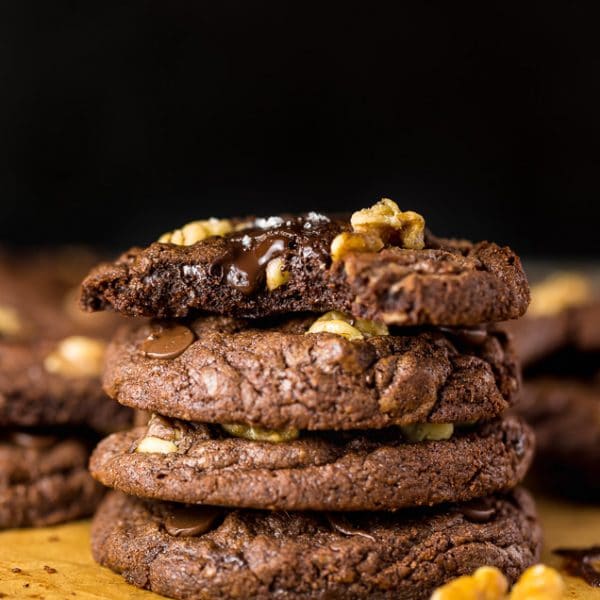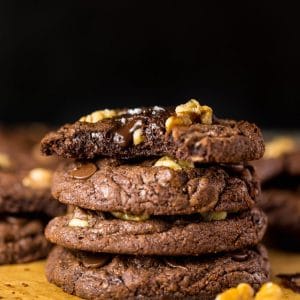 Triple Chocolate Brownie Cookies
These triple chocolate brownie cookies are SO decadent!
Ingredients
6 ounces semi-sweet chocolate, finely chopped
2 teaspoons espresso powder
3/4 cup all-purpose flour
1 and 1/2 Tablespoons Dutch-process cocoa powder
1 teaspoon baking powder
1/4 teaspoon salt
1 stick (4 ounces) unsalted butter, at room temperature
1/2 cup light brown sugar, packed
1/2 cup granulated sugar
2 teaspoons pure vanilla extract
2 large eggs, at room temperature
1/2 cup semi-sweet chocolate chips
1/2 cup semi-sweet chocolate chunks
1/2 cup walnuts, finely chopped
Instructions
Line a large baking sheet with parchment paper and set it aside until needed.

Fill a medium pot one-third full with water and bring it to a low simmer over medium heat. Place a heatproof bowl that will fit on top of the pan snugly, but will not touch the simmering water, on top of the pan. Reduce the heat to low and the chopped chocolate and espresso powder into the bowl over the pot. Heat until the chocolate is completely melted, stirring occasionally with a silicon spatula. Once the chocolate is completely melted, remove the bowl from heat and set aside to cool.

In a medium mixing bowl, whisk together the flour, cocoa powder, baking powder, and salt. Set aside until needed.

In the bowl of a stand mixer fitted with the paddle attachment, or in a large bowl using a handheld electric mixer, beat the butter, both sugars, and vanilla on medium speed until light and fluffy, about 3 minutes. Add in the eggs, one at a time, beating well after each addition and scraping down the sides of the bowl as needed. Reduce the mixer speed to low and gradually add the flour mixture, mixing just until combined. Turn mixer off.

Using a rubber spatula, fold the melted chocolate into the batter, mixing until evenly combined. Fold in the chocolate chips, chocolate chunks, and walnuts.

Using a large cookie scoop, drop 3-Tablespoon sized mounds of batter onto the prepared baking sheet, spacing them 2 inches apart. Loosely cover the pan with plastic wrap and refrigerate for at least 1 hour, and up to 1 day.

30 minutes before you're ready to bake, preheat your oven to 300 degrees (F).

Bake for 14 to 16 minutes, or until the cookies have puffed up and look slightly cracked on the surface. 

Allow the cookies to cool on the baking sheet, placed on a cooling rack, for at least 20 minutes before transferring to a serving plate.

Store cookies in an airtight container at room temperature for up to 1 week.