These Soft Batch Chocolate M&M Cookies are super fudgy and so decadent! Loaded with M&M candies, these chocolate cookies are kid friendly, but also loved by adults. Use seasonal M&M candies to make them festive for any season!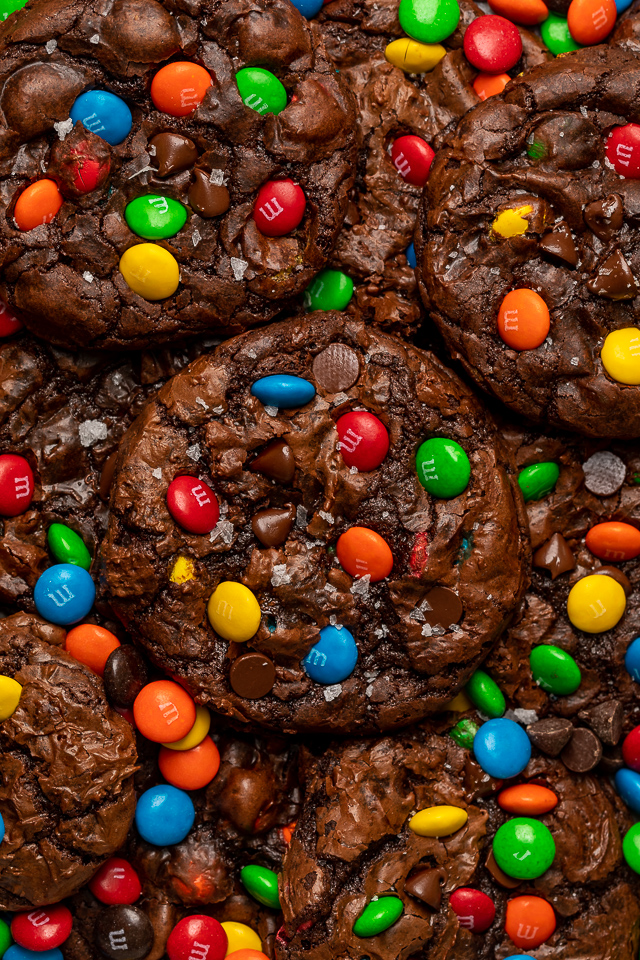 Chocolate M&M Cookies
Hello and happy Tuesday! I'm super excited about today's recipe, so please pardon my haste in getting right down to business. And by business, I mean cookies, of course.
Friends, allow me to introduce you to my newest obsession – soft batch chocolate M&M cookies! They are:
rich and fudgy
soft and chewy
oozing with chocolate
loaded with rainbow M&Ms
perfectly sweet
SUPER easy
ready in less than 30 minutes
perfect with a cold glass of milk
loved by old and young
sure to be a new favorite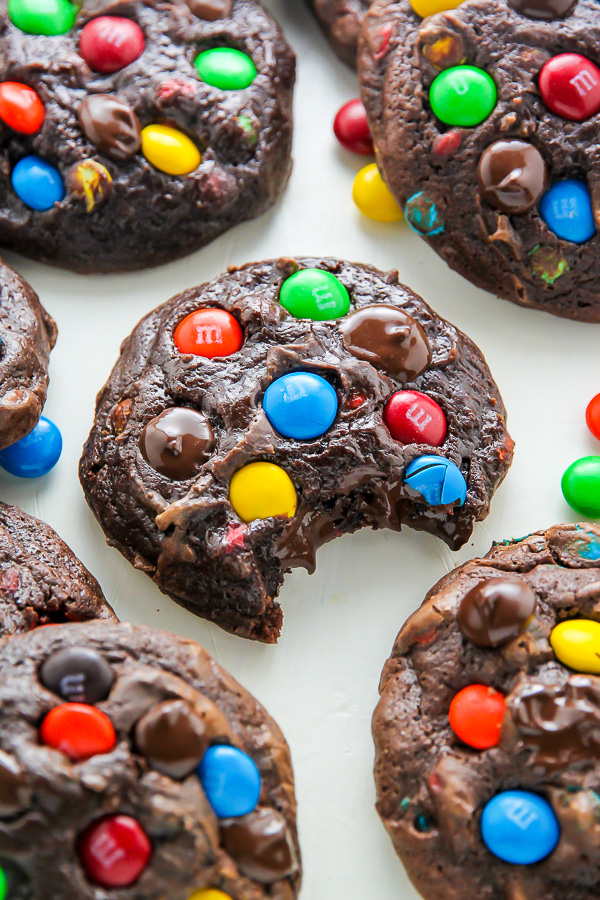 To make these Chewy Chocolate M&M Cookies, you'll need:
semi-sweet chocolate chips
butter
flour
unsweetened cocoa powder
baking powder
salt
granulated sugar
light brown sugar
2 large eggs
whole milk
vanilla extract
milk chocolate chips
and M&Ms!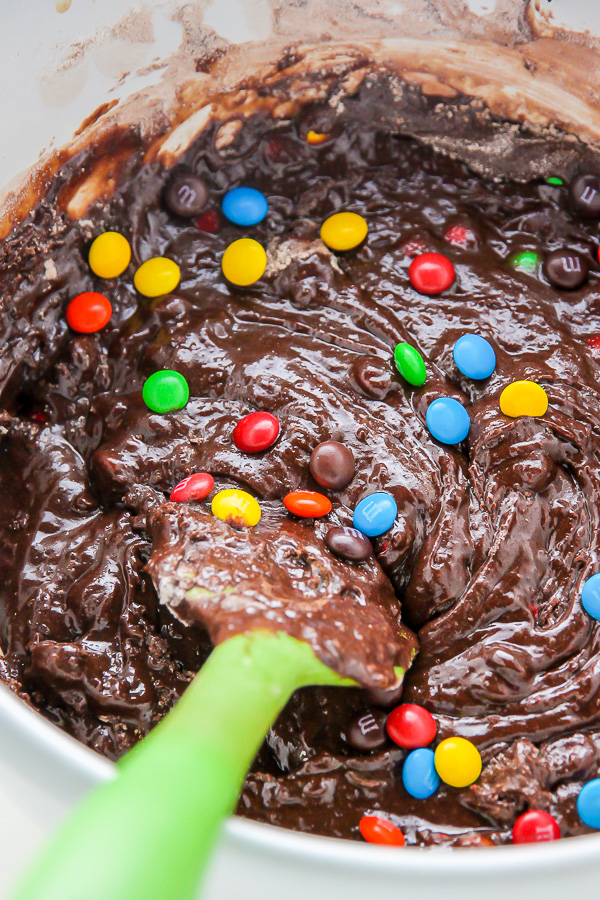 How to make M&M Cookies:
The batter will need to be scooped, not rolled. It will be much thinner than typical cookie dough, but don't be alarmed by this! To make this step as easy as possible, I like to use a lightly greased 1/4 cup measuring spoon to scoop up the cookie dough.
Make sure you leave a good inch in between each mound of cookie dough – they spread!
Do not skip the salt and vanilla! These cookies are very chocolate heavy; the salt and vanilla help balance everything out.
These cookies must – I repeat – MUST cool completely on the tray. I usually leave the room for a good 20 minutes before I even think about sneaking one off the tray.
Don't they just look fabulous?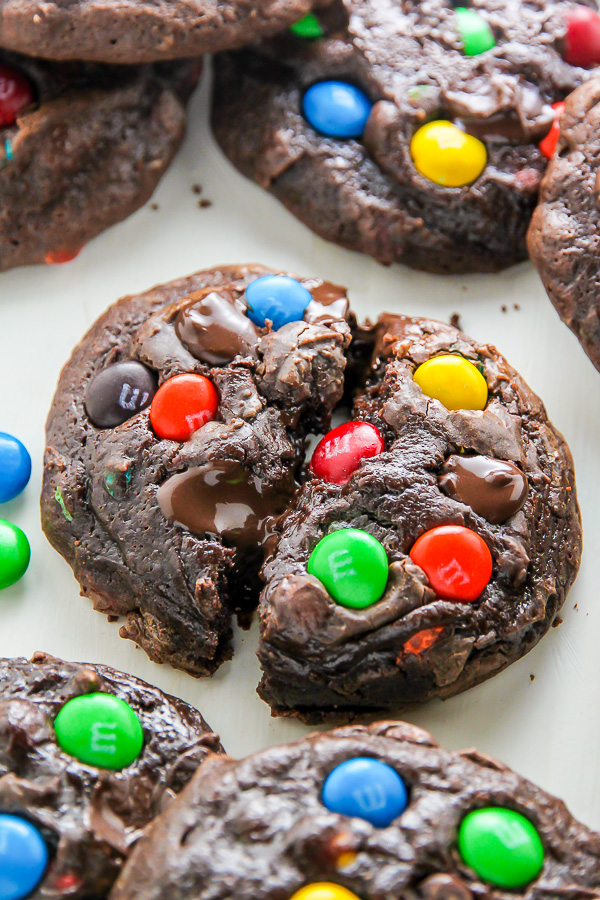 Dare you to try eating only one. #impossible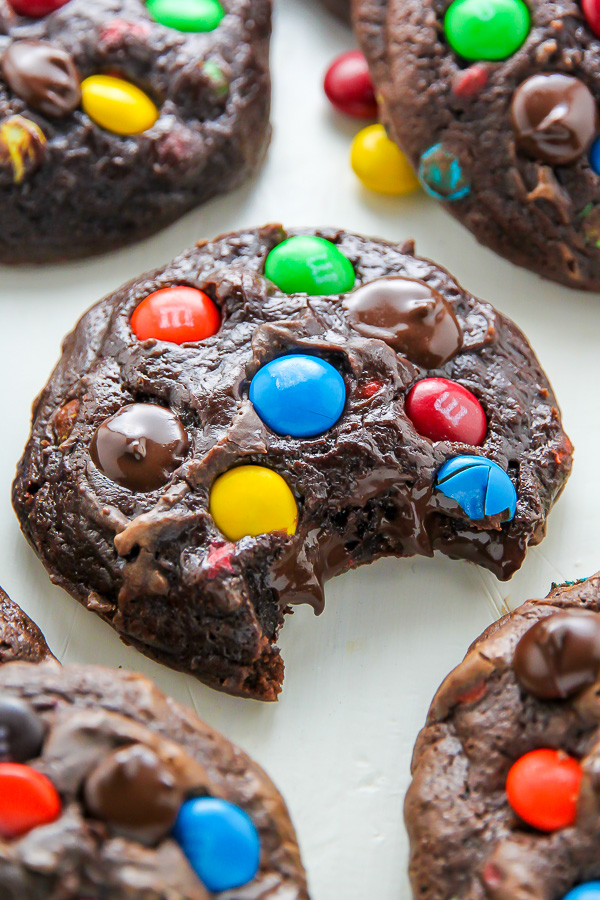 More M&M Recipes:
If you try this recipe, let me know what you think! Leave a comment below, and don't forget to snap a pic and tag it #bakerbynature on instagram! Seeing your creations makes my day.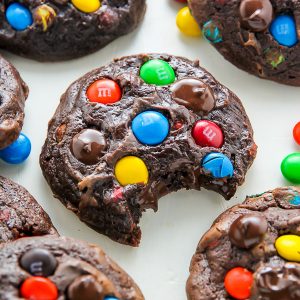 Soft Batch Chocolate M&M Cookies
Thick and incredibly decadent soft batch chocolate M&M cookies. Everyone loves these!
Ingredients
1 cup plus 2 tablespoons (140 grams) all-purpose flour
1/4 cup (21 grams) unsweetened cocoa powder
1 teaspoon baking powder
1/2 teaspoon salt
1 cup (170 grams) semi-sweet chocolate chips
2 tablespoons (29 grams) unsalted butter, chopped into tiny pieces
2 teaspoons pure vanilla extract
1/2 cup (99 grams) granulated sugar
1/3 cup (71 grams) light brown sugar, packed
2 large eggs, at room temperature
2 tablespoons (34 grams) whole milk
1 and 1/2 cups milk chocolate M&Ms
1 cup milk chocolate chips
Garnish:
1/4 cup M&Ms
1/4 cup semi-sweet chocolate chips
Instructions
Preheat oven to 300 degrees (F). Line two large baking sheets with parchment paper, lightly spray them with non-stick spray, and set aside.

In a medium-sized bowl whisk together the flour, cocoa powder, baking powder, and salt; set aside.

In a large, microwave safe bowl, combine the chocolate chips and butter. Heat them in the microwave on low power for 15 second increments, mixing in between each, until butter and chocolate are completely melted and can easily be whisked smooth. Be sure not to overheat or the mixture will seize. Whisk in the vanilla, then whisk in both sugars. Beat in eggs, one at a time, beating well after each addition. Beat in milk.

Add the dry ingredients into the wet ingredients, and stir to combine - be sure not to over mix here!

Fold in the M&M's and milk chocolate chips, stirring until everything is just combined.

Scoop 1/4 cupfuls of the batter onto the prepared baking sheets. Bake one tray at a time, for 16 to 18 minutes, or until the edges are set and the tops are dark and shiny.

Press a few extra M&Ms and chocolate chips of the warm cookies right when they come out of the oven. Allow cookies to completely cool on the baking sheet before serving.
Notes
Recipe was updated on 7/18/2017.