These Chewy Chocolate Fudge Cookies are rich, chocolatey, and vegan! But you'll never guess it from the taste! If you love vegan baking, these vegan chocolate cookies are a must try!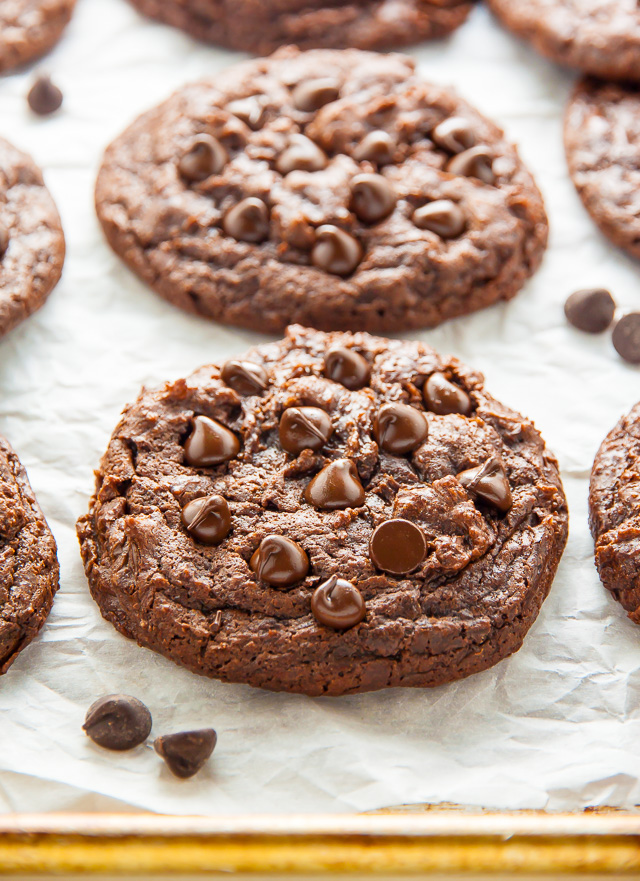 Vegan Double Chocolate Cookies
I've been flirting with vegan baking for a while now, but these chocolate fudge cookies have turned that little fling into straight up LOVE.
They are:
loaded with real chocolate flavor
super chewy
devilishly decadent
SO easy to make
sure to please any serious chocolate lover
vegan, but you'd never guess it from taste
made with simple, everyday ingredients
perfect with a cup of coffee or a tall glass of (almond) milk
probably going to be your new favorite cookie!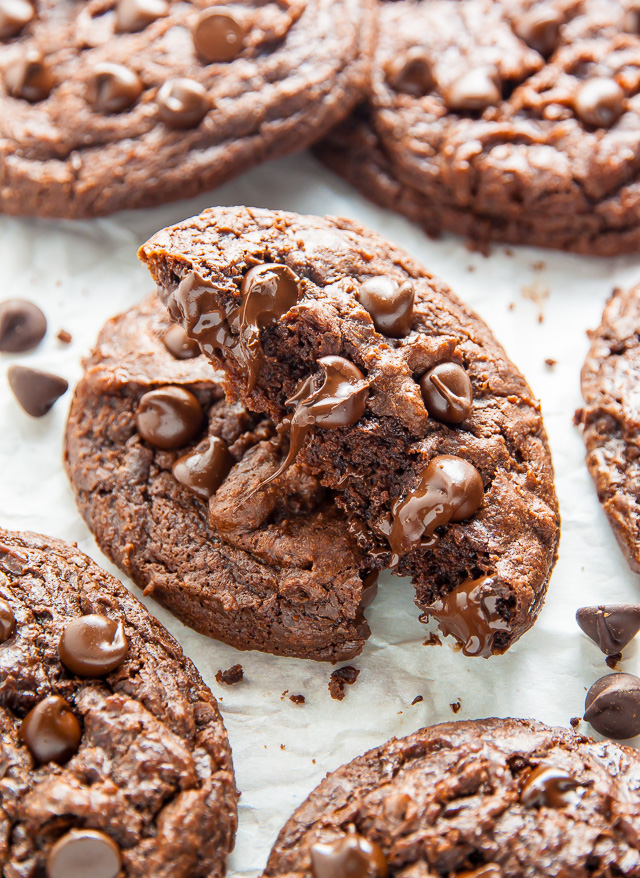 If you're thinking these cookies look familiar, you'd be right! This recipe was inspired by my ever popular soft batch double chocolate fudge cookies.
To make the recipe vegan, I simply removed the butter and eggs, and added an equal amount of coconut oil and applesauce in their place. If you're thinking the combination of coconut and applesauce in cookies sounds weird… don't fret! You really can't taste it at all. These ingredients just add moisture and help bind the cookie dough.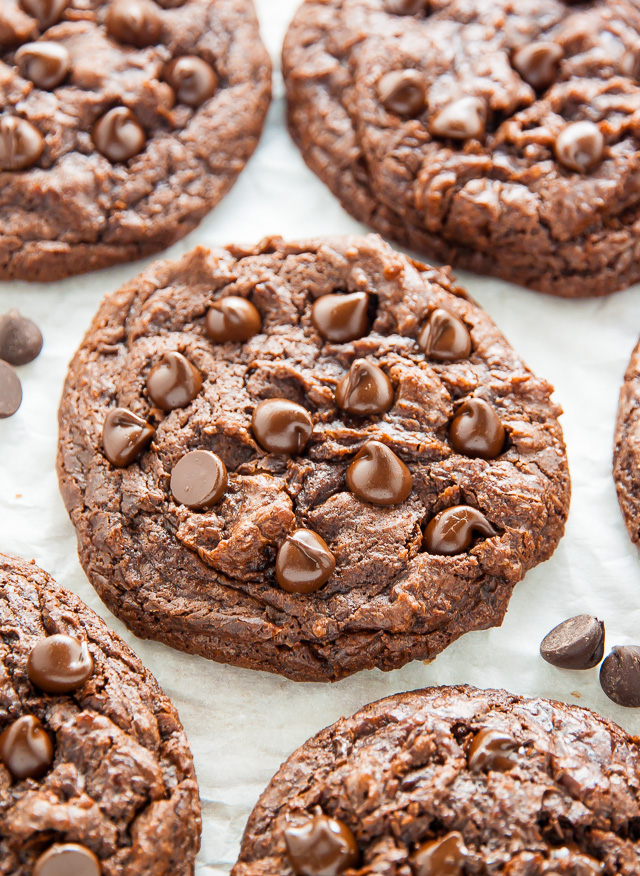 Tips and Tricks for Recipe Success:
You'll preheat your oven to 325 degrees (F), but immediately reduce the temperature to 300 degrees (F) once you place the cookies in the oven. This low baking temperature gives the cookies their crackly shell and gooey, chewy fudge interior.
I highly suggest using a vegan chocolate you know melts well.
Don't skip the salt! It's essential to the overall flavor of these cookies, and helps balance out the sweetness.
These cookies MUST cool completely on the tray before being removed. If you try to move them before they're cool, they will fall apart. You can pop the pan in the fridge to help speed up the process.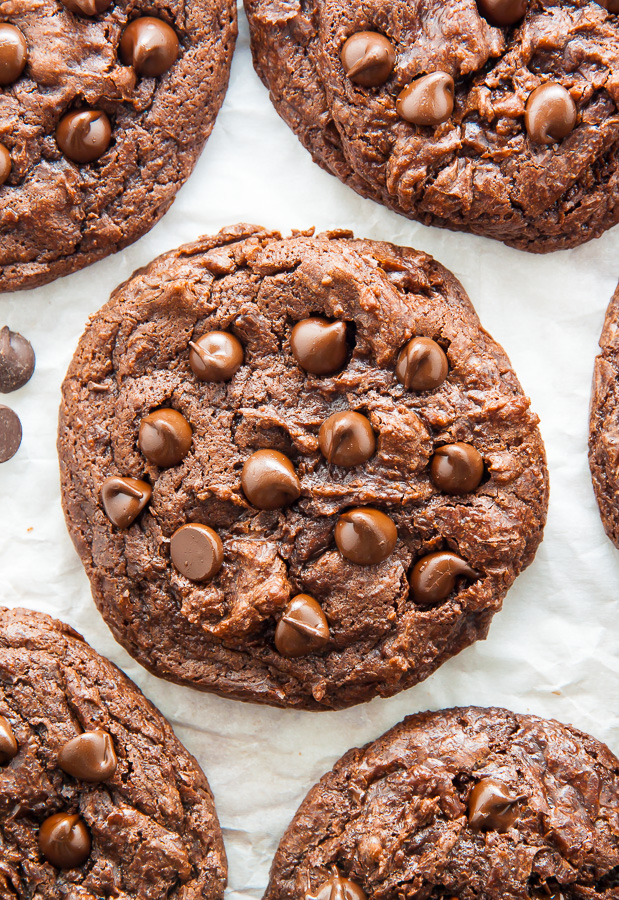 Bet you can't eat just one. Trust me… I've tried 😉
If you try this recipe, let me know what you think! Leave a comment below, and don't forget to snap a pic and tag it #bakerbynature on instagram! Seeing your creations makes my day
More Vegan Cookies: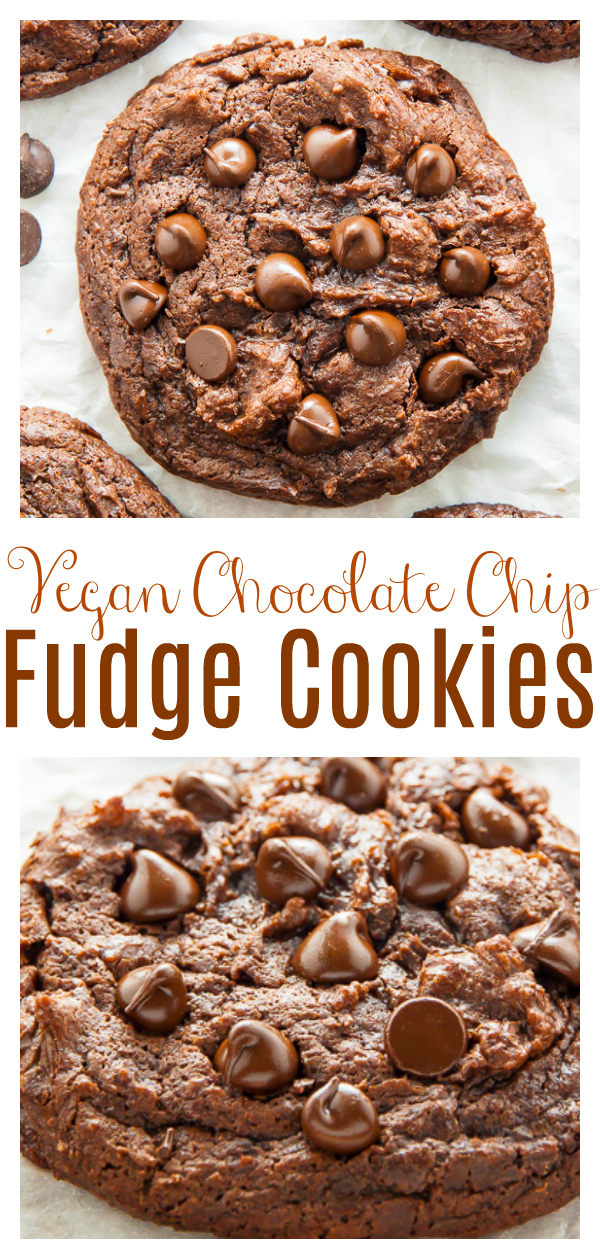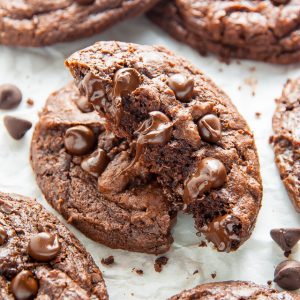 Gooey Chocolate Fudge Cookies (Vegan)
Gooey Chocolate Fudge Cookies! Effortlessly vegan and so delicious.
Ingredients
2 cups semi-sweet chocolate chips, divided (use vegan chocolate you know melts well)
2 tablespoons coconut oil
1 cup granulated sugar
1/2 cup unsweetened applesauce
2 tablespoons unsweetened almond milk
1 teaspoon vanilla extract
1 cup plus 2 tablespoons all-purpose flour
1/4 cup unsweetened cocoa powder
1 teaspoon baking powder
1/2 teaspoon salt
Instructions
Preheat oven to 325 degrees (F). Line two large baking sheets with parchment paper; lightly spray them with non-stick spray and set aside.

Place 1 cup of the semi-sweet chocolate chips in a small, microwave safe bowl; add in the coconut oil and heat them in the microwave on low power for 15 second increments of time, mixing in between each, until they are completely melted and can easily be whisked smooth. You may also do this process on the stove top if you don't own a microwave. Transfer the melted chocolate mixture into a large mixing bowl. Whisk in the granulated sugar, then add in the applesauce, almond milk, and vanilla; whisk smooth. Set aside.

In a medium-sized bowl whisk together the flour, cocoa powder, baking powder, and salt.

Add the dry ingredients into the wet ingredients, and stir to combine - be sure not to over mix here!

Fold in the remaining semi-sweet chocolate chips, stirring just until they're incorporated in the batter.

Using a measuring scoop, spoon scant 1/4 cupfuls of the batter onto the prepared baking sheets, leaving room between each for spreading. Place pans in the oven, one at a time, and reduce heat to 300 degrees; bake for 20 minutes. Allow cookies to completely cool on the baking sheet before serving.
Notes
Cookies must cool completely on the baking sheet before being moved. If you move them while they're still hot, they will fall apart. I highly suggest using a vegan chocolate brand you know melts well. If you're not religiously vegan, you may use any brand of semi-sweet chocolate that melts well. Cookies will keep in an airtight container for 3 days.