Oh how I love today! Today I get to share with you cake. Also, it's FRIDAY. Cake + you + Friday… This makes me forever and ever happy! The fact that it's a triple chocolate cake made with oats and oat milk?! Huzzah! Let's do this.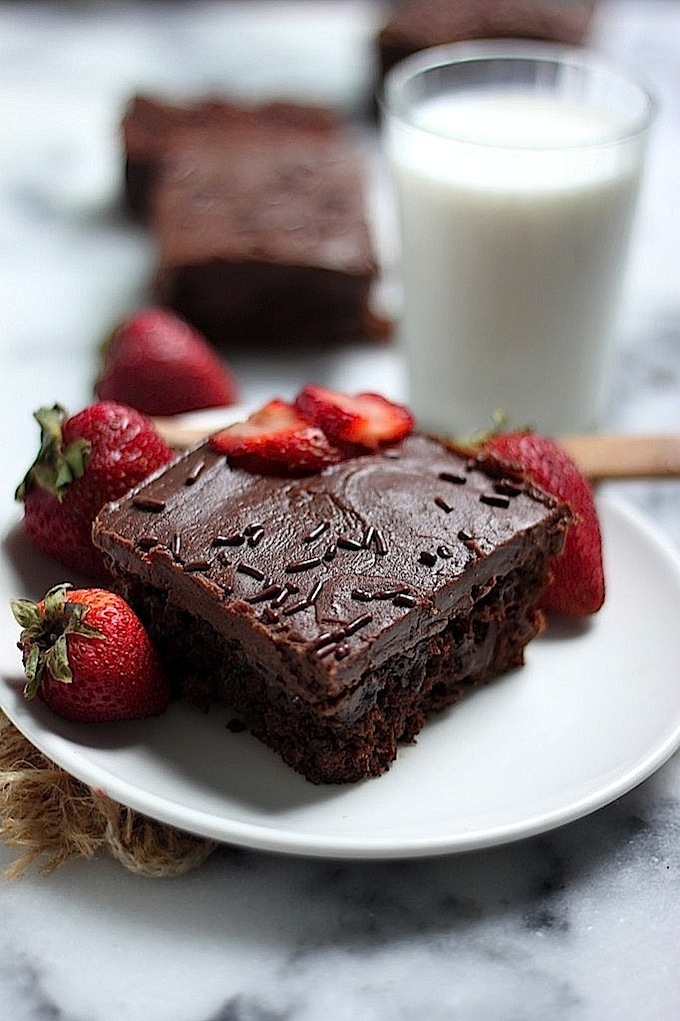 Are you familiar with oatmeal cakes? There are about a million and one different variations out there. And I'd be happy to make (and EAT) them all! You see, I'm quite the fan. I LOVE OATMEAL CAKE. Oops. Did I just scream that?
…
So what's so great about oatmeal cake (you ask)? Well! Let's just say it's kind of like a rich, fudgy cake meets the muffin of your dreams and jumps into a sheet pan. Oh. And it's topped with the BEST chocolate icing in the world! The icing truly makes this cake. I highly recommend it as a breakfast // anytime treat! Spoil yourself 😉
As I mentioned in the beginning of this post, this cake is rocking chocolate in 3 ways! It has a chocolate cake base (which is studded with spots of gooey chocolate chunks), a chocolate icing, and chocolate sprinkles. For all of us chocolate lovers, this is a very good thing! 
This cake is dangerously simple to throw together! Just be sure to keep oats, oat milk, and chocolate on hand and you'll be ready to make this cake at all times. How great is that?
Also, try not to eat all the batter before you pop it in the oven. It will look like this…
And taste like heaven in a 9×13. Self control will definitely need to be practiced! But it's worth the wait 😉
Psssst… be sure to top a slice with strawberries! Strawberries + chocolate. So dang good!
Triple Chocolate Oatmeal Cake
Ingredients
½ cup butter, melted
1/2 cup brown sugar
1 1/2 cups white sugar
2 eggs + 1 egg yolk, at room temperature
1 1/4 cups all purpose flour
3/4 cup oat flour
1 teaspoon baking soda
3/4 teaspoon salt
2 tablespoons unsweetened cocoa powder
1 cup quick cooking oats
1 1/2 cups boiling oat milk
1 teaspoon espresso powder
10 ounces dark chocolate chunks, divided
For the Icing:
1 stick + 4 tablespoons butter
1/4 cup cocoa powder
4-5 tablespoons oat milk
4 1/2 cups confectioners sugar
1 teaspoon vanilla
Chocolate sprinkles
Instructions
Preheat oven to 350 degrees (F). Generously grease a 9 x 13 cake pan; set aside.

In the body of a stand mixer fitted with the paddle attachment, or in a large bowl using hand held beaters, cream the butter and sugars for 2-3 minutes, or until light and fluffy. Add the eggs and egg yolk; beat well.

In a small bowl whisk together flour, baking soda, salt and cocoa; add it to the wet mixture and stir until just incorporated.

Place oat milk in a small saucepan over medium-high heat. Once rapidly boiling, add oatmeal, stir once, then remove from heat. Let the mixture stand for a few minutes, then add the oat mixture to the batter; mix well.

Stir in the espresso powder and half of the chocolate chunks.

Pour into prepared pan. Sprinkle the top of the cake with the rest of the bag of chocolate chunks.

Bake for 25-30 minutes or until a cake tester comes out clean and the surface springs back lightly when touched. Let the cake slightly cool while you're making the icing.

In a large saucepan over medium-low heat melt the butter completely. Whisk in the cocoa, stirring until completely combined. Remove the pan from heat and add the milk, sugar, and vanilla. The icing will be thick, but keep stirring! If the consistency is just too thick and not pourable, add a splash more milk. If it's too thin, add more sugar. Once it's at a pourable consistency, pour the icing over the cake, spread evenly, and add any sprinkles you may be using. This icing sets QUICKLY! So you'll have to move fast 😉

Let cake cool completely before cutting into slices and serving! Enjoy!
Notes:
I made this recipe using Pacific Foods Oat milk which was provided to me by Pacific foods. As always, all opinions are my own.