I'm so excited we're in November! It's the prelude to my favorite month ever. Speaking of November; I apologize for being absent the last week of October. I posted that chocolate babka and skipped town for a few days. There was lots of food, family, friends, and a new puppy I just had to get my hands on. I hope you all enjoyed Halloween, and kept it safe and classy. I totally ignored the dressing up and candy bingeing and opted for a cozy and quiet dinner for two. Homemade pizza, a few beers, and an episode of Dexter are about as spooky as things got in this hood. What did you guys get up to?!
Now that I've properly apologized for my naughty blog entry skipping ways- let's talk cookies! These chewy little darlings have ginger in 3 glorious forms:
Crystalized.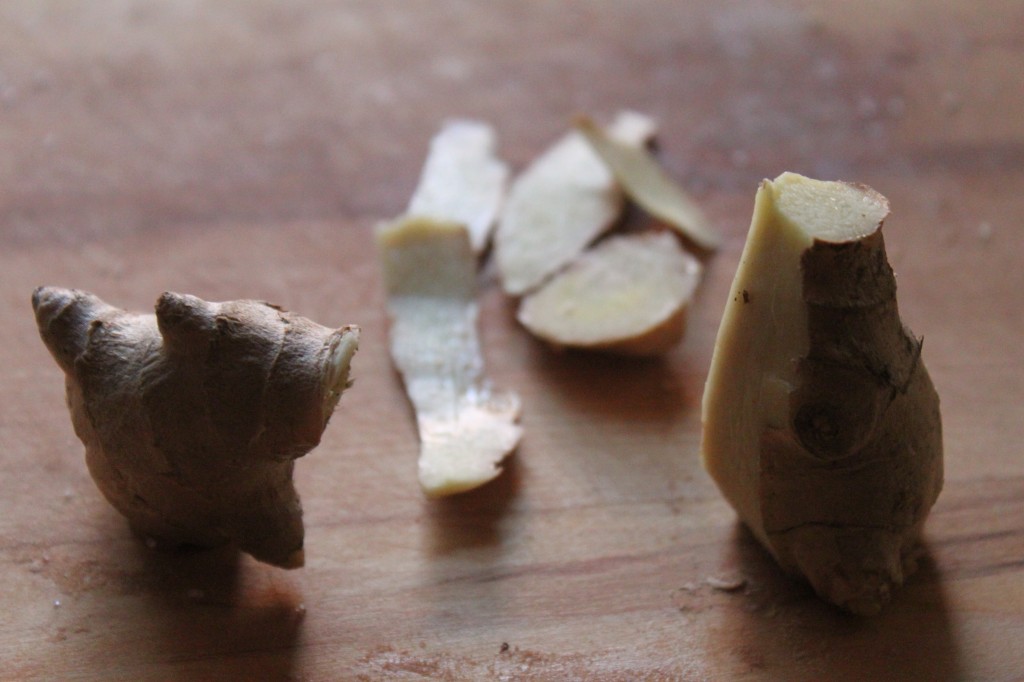 Fresh.
And ground.
The trio of ginger results in one spicy, spankingly good cookie. It's intense.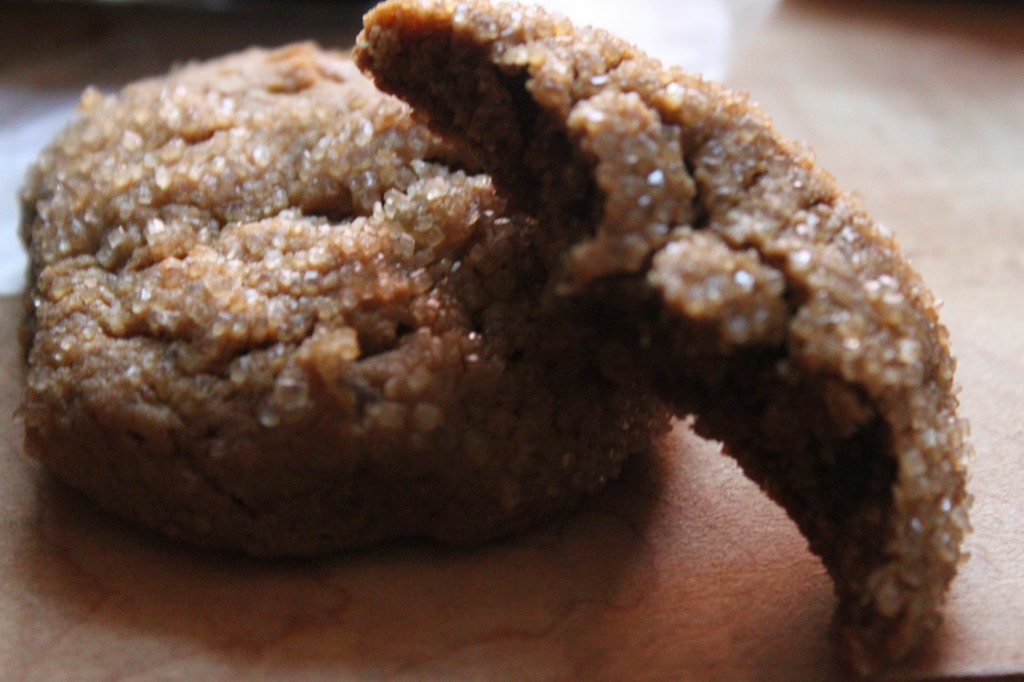 I had three hot off the pan. Then another 3 on the walk to yoga… worth.every.bite.
Molasses and brown sugar are deep, sweet, and totally in love with each other lovely together.
Rolling the dough in raw sugar before baking gives the finished product a seriously awesome crunchy outside/chewy inside result.
This recipe was a winner! Winner winner winner! I like winning… in life and in recipes. These cookies are a sure way to bake us some success.
All month I'll be "auditioning" recipes to find out which ones will be being re-baked, and brought home with me to share with the family for Thanksgiving. These little spicy show stoppers will definitely be on the train with me… let's just hope I can stop myself from eating them all before I reach my destination.
Triple – Ginger Cookies – adapted from Bon Appétit | December 2009
Ingredients:
2 1/2 cups all purpose flour
1/2 cup minced crystallized ginger
2 teaspoons baking soda
1/4 teaspoon salt
3/4 cup (1 1/2 sticks) unsalted butter, room temperature
1 cup (packed) dark brown sugar
1 large egg, room temperature
1/4 cup light (mild-flavored) molasses
2 teaspoons finely grated fresh peeled ginger
1 1/2 teaspoons ground ginger
1 1/2teaspoon ground cinnamon
1/2 teaspoon ground cloves
1/2 cup raw sugar for rolling dough
Directions:
Position 1 rack in top third and 1 rack in bottom third of oven; preheat to 350°F. Line 2 baking sheets with parchment paper. Whisk flour, crystallized ginger, baking soda, and 1/4 teaspoon salt in medium bowl. Using electric mixer or by hand, beat butter in a large bowl until creamy and light, about 2 minutes. Gradually beat in brown sugars. Beat on medium-high speed until creamy, about 3 minutes. Add egg, molasses, fresh ginger, ground ginger, cinnamon, and cloves. Beat to blend. Add flour mixture in 2 additions, beating on low speed just to blend between additions.
Place 1/2 cup sugar in small bowl. Measure 1 tablespoon dough. Roll into ball between palms of hands, then roll in sugar in bowl to coat; place on baking sheet. Repeat with remaining cookie dough, spacing cookies 1 1/2 to 2 inches apart.
Bake cookies until surfaces crack and cookies are firm around edges but still slightly soft in center, about 15 minutes. Cool completely on sheets on rack. DO AHEAD: Cookies can be made up to 4 days ahead. Store in airtight containers at room temperature.
* I made these by hand using no mixer.
* Check cookies around the 9 minute mark; mine were finished baking at 10 minutes.