If you love salted caramel, you have to try the Ultimate Salted Caramel Cupcakes! Moist, fluffy, and loaded with salted caramel flavor.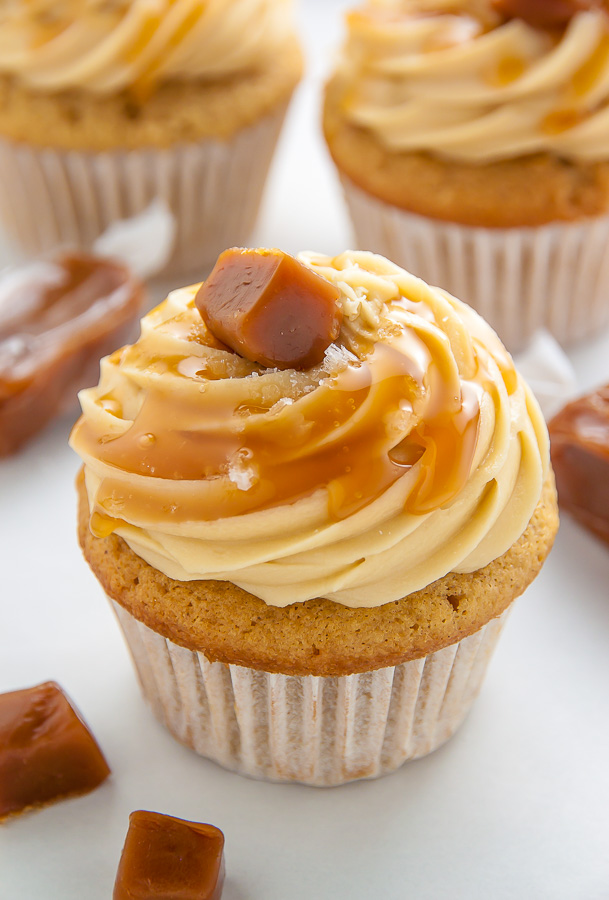 How to make Salted Caramel Cupcakes
Hello friends, hello weekend, hello sea salt caramel cupcakes! It's a stunning Spring Saturday here in New York, so I'm going to keep this post short and sweet. We're packing a little charcuterie platter and heading to the park for some fun in the sun. Any big plans on your end?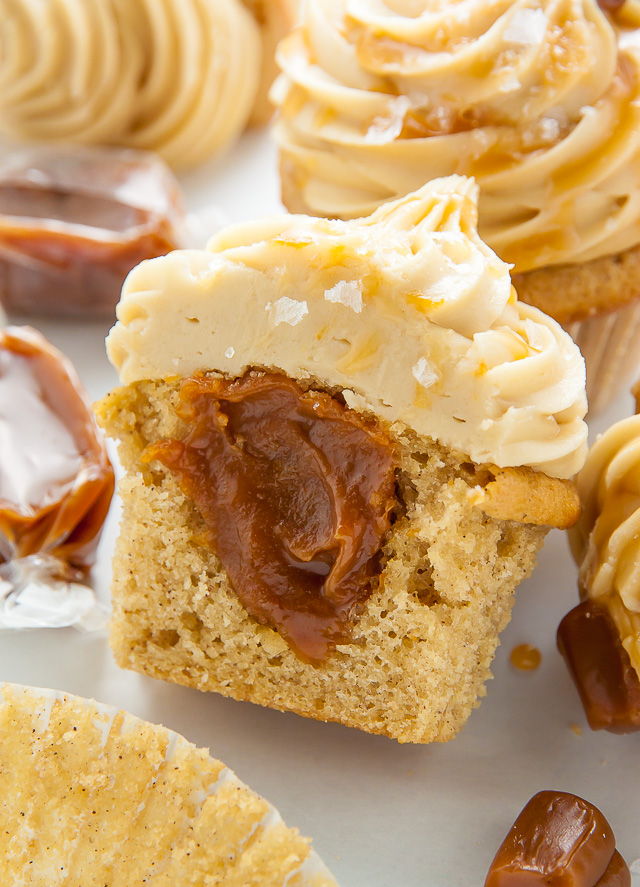 Alright, time to get down to business. Lucky for us, today's business is Salted Caramel Cupcakes! Trust me when I sat no one can resist these beauties… 😉
Fluffy brown sugar cupcakes stuffed with a rich pocket of salted caramel sauce (optional) then topped with homemade salted caramel frosting. I used Fran's Salted Caramel Sauce, but any thick variety will work. You can also skip this step if you'd prefer non-stuffed cupcakes. But seriously… who would want to skip THIS ↓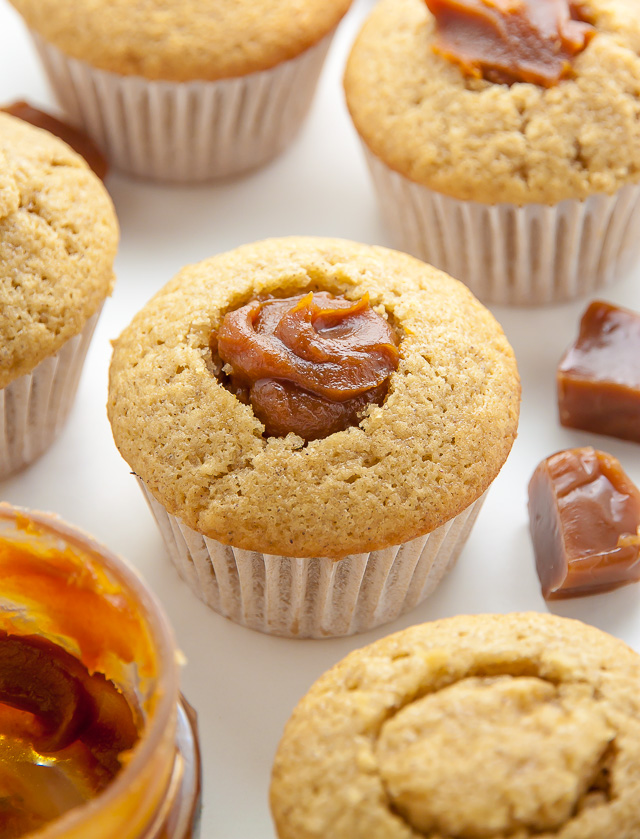 But I'm getting ahead of myself. The first step in this recipe is baking the sweet and oh-so-fluffy brown sugar cupcakes. To make them you'll need: all-purpose flour, baking powder, baking soda, salt, cinnamon, whole milk, sour cream, butter, granulated AND  light brown sugar, eggs, and water.
A few important notes on ingredients:
I used full-fat sour cream and whole milk in this recipe and I recommend you doing the same. These cupcakes get a lot of their moisture from the fat in these ingredients. Using fat-free or reduced fat replacements will result in a drier end result.
This recipe calls for granulated sugar AND brown sugar. I don't recommend substituting all one or the other. The brown sugar adds moisture and flavor, while the granulated sugar assists with the fluffy consistency.
Make sure your butter is the right temperature before you begin beating it. It needs to be at room temperature, meaning it should be soft enough that, when lightly pressed with your finger, it leaves an indentation in the stick of butter. I typically leave my butter on the counter for an hour or so, but if you're really short on time, you can cut the cold stick of butter into into small pieces, which will help speed along the thawing process. Just leave them out at room temperature until they're soft to the touch.
Your eggs, egg yolk, milk, and sour cream should also be at room temperature. Cold ingredients won't incorporate evenly, resulting dense cupcakes, so be sure to take the extra step and bring them to room temperature.
Here's a trick for the eggs: to bring cold eggs to  room temperature, simply place them in a bowl of warm water for 15 minutes. Just be sure you don't use hot water!
Speaking of hot water, this recipe calls for a 1/4 cup of boiling water! You'll mix it in at the very end, and it's essential to the batter. The water should be freshly boiled to ensure it's warm enough.
Hope all those little tips and tricks help!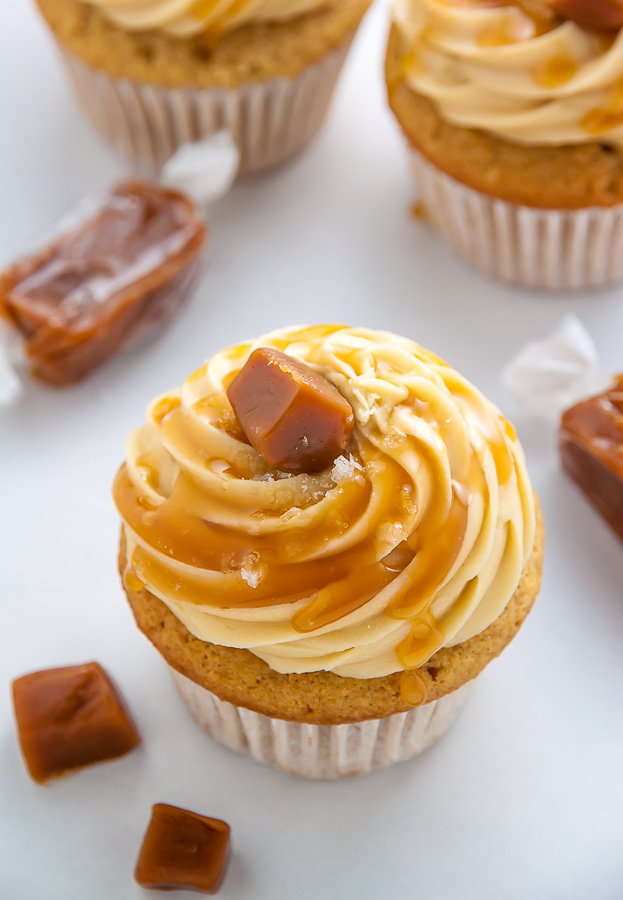 Moving onto my favorite part: the salted caramel frosting!!! I'm dead frigging serious when I say you'll want to eat this stuff by the spoonful. Three important things:
Do NOT skip the salt in this frosting. It is verrrrry sweet, and needs the salt to balance it out. Trust me on this.
The frosting beings by making a caramel, then adding confectioners' sugar and beating it. You must beat this frosting for the full 5 minutes.
You will need to chill your frosting for 15 minutes before pipping or spreading.  I don't recommend keeping it in the fridge any longer or it will begin to seize. When you take the frosting out of the fridge, stir it smooth, then frost away! I used this Star tip to pipe the frosting on my cupcakes, but decorate as you please 😉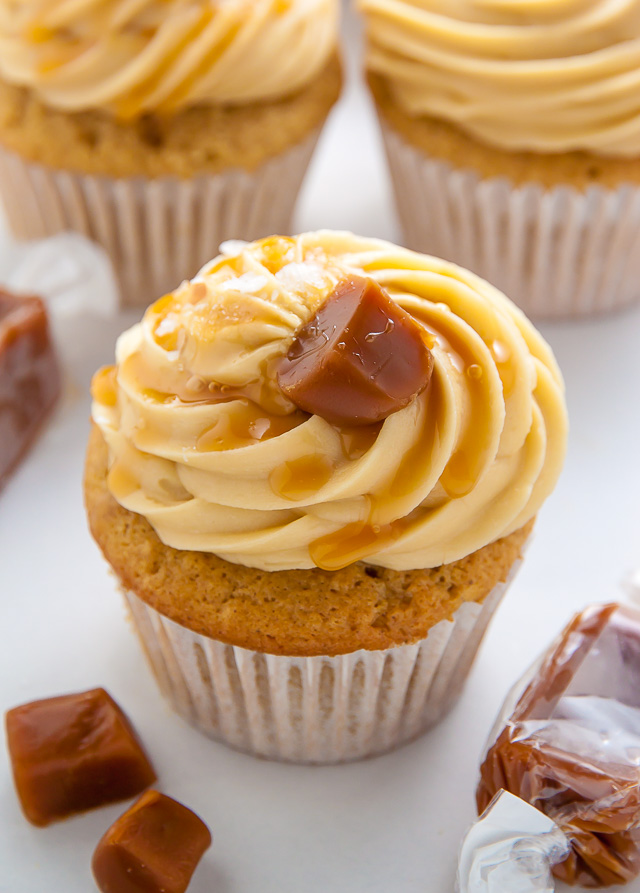 To fancy up the cupcakes even more I topped them with caramel sauce, flaky sea salt, and a caramel candy piece. I used Maldon Sea Salt, Ghiradelli Caramel Sauce, and my favorite caramel candies, but feel free to use any brand you like! These cupcakes are a salted caramel lovers dream come true.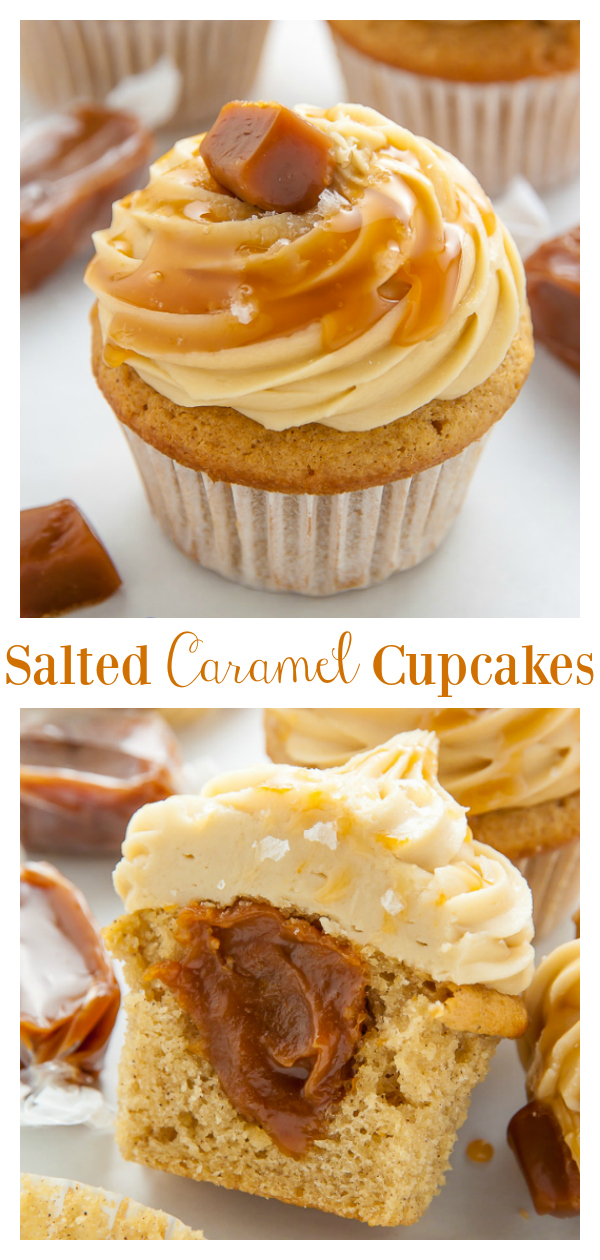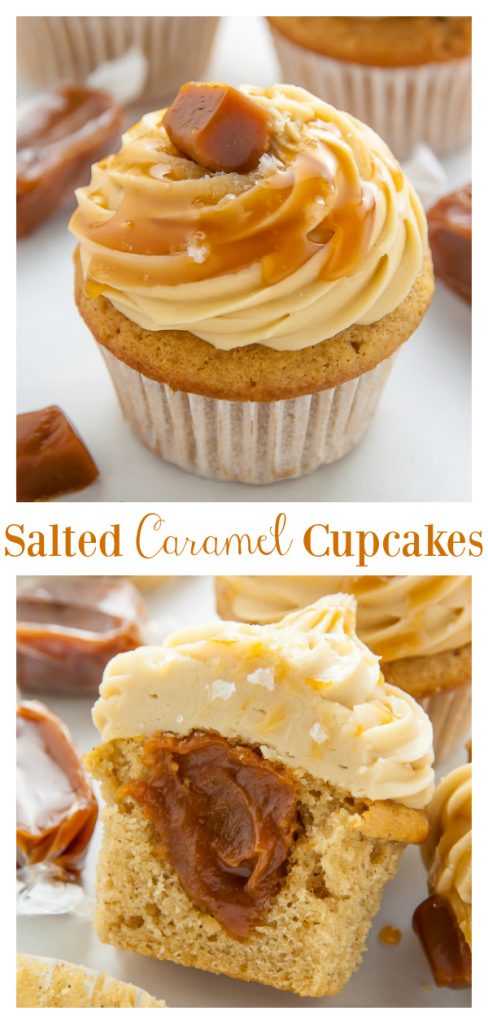 More Salted Caramel Recipes:
If you try this recipe for the best salted caramel cupcakes, let me know! Leave a comment below and don't forget to snap a pic and tag it #bakerbynature on Instagram! Seeing your kitchen creations makes my day. ♥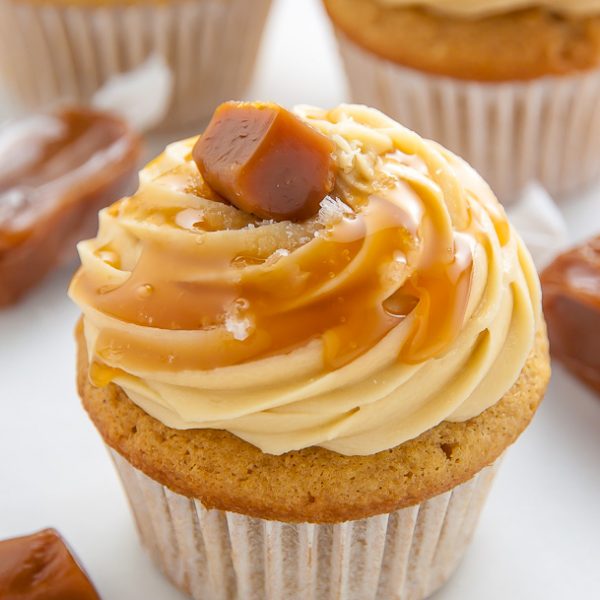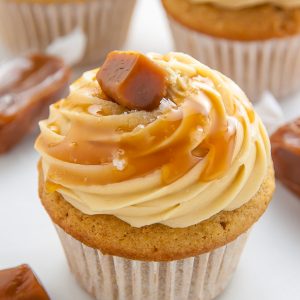 Ultimate Salted Caramel Cupcakes
For salted caramel lovers only... brown sugar cupcakes are stuffed with caramel cream and topped with salted caramel frosting.
Ingredients
For the cupcakes:
2 cups all-purpose flour (be sure NOT to pack your flour)
1 teaspoon baking powder
1/2 teaspoon baking soda
1/2 teaspoon salt
1/2 teaspoon ground cinnamon
1/2 cup whole milk
1/2 cup full-fat sour cream
1 stick unsalted butter, at room temperature
1/4 cup granulated sugar
3/4 cup packed light brown sugar
2 large eggs plus one large egg yolk, at room temperature
1/4 cup boiling hot water (should be very hot, and poured into measuring cup right after boiled)
1/2 cup thick, creamy caramel sauce (see post for references), optional
For the frosting:
1/2 cup (1 stick) unsalted butter
1/2 cup heavy cream
1 cup packed light brown sugar
3/4 teaspoon salt
3 and 1/4 cups confectioners' sugar, sifted
Decoration:
1/4 cup liquid caramel sauce, for drizzling, optional (see post for references)
1 teaspoon flaky sea salt
6 chewy caramel candies, cut in half (see post for references)
Instructions
For the cupcakes:
Preheat oven to 350 degrees (F). Line a 12-mold cupcake tin with paper liners and lightly spray the liners with non-stick spray, set aside. In a large bowl combine the flour, baking powder, baking soda, salt, and cinnamon, set aside. In a small bowl combine the milk and sour cream, mix well to combine and set aside. In a large bowl using a handheld electric mixer (or a stand mixer fitted with the paddle attachment) beat the butter and both sugars until light and fluffy; about 4 minutes (don't skimp on time here!). Beat in the eggs and egg yolk, one at a time, beating well after each addition. Reduce mixer speed to low and gradually add in flour mixture in 2 additions, alternating with sour cream/milk mixture, beginning and ending with the flour. Finally stir in the hot water, beating just until combined.

Fill the prepared cupcake tins 3/4 of the way full. Bake in preheated oven for 20-22 minutes, or until a toothpick inserted into the center of a cupcake comes out clean. Allow cupcakes to cool in the pan for 10 minutes before transferring them to a cooling rack to cool completely. Once cooled, use a small sharp knife to carve out a small hole in the center of each cupcake; do not discard the carved out cake piece. Fill each hole with two teaspoons of caramel sauce, then cover again with the carved out cupcake piece. Set aside and make the salted caramel frosting.
For the Salted Caramel Frosting:
In a medium-sized saucepan, placed over medium-heat, combine the butter, cream, brown sugar, and salt. Cook, stirring occasionally, until the sugar melts and the mixture comes to a low simmer; about 4 minutes. Remove the mixture from heat and let it cool for 2 minutes, then transfer the mixture into the bowl of an electric mixer fitted with the whisk attachment. Add 2 cups of confectioners' sugar to the bowl and beat on medium-low speed until well combined. Add in remaining confectioners' sugar and beat smooth, then increase speed to medium and beat for 5 full minutes. Place frosting in the fridge for 15 minutes, stir, then frost cooled cupcakes as desired.
Decoration:
Top each frosted cupcake with a drizzle of caramel sauce, a pinch of flaky sea salt, and half of a caramel candy.
Notes
*Cupcakes may be frozen, unfrosted, for up to 2 months. *Cupcakes must cool completely before being frosted.