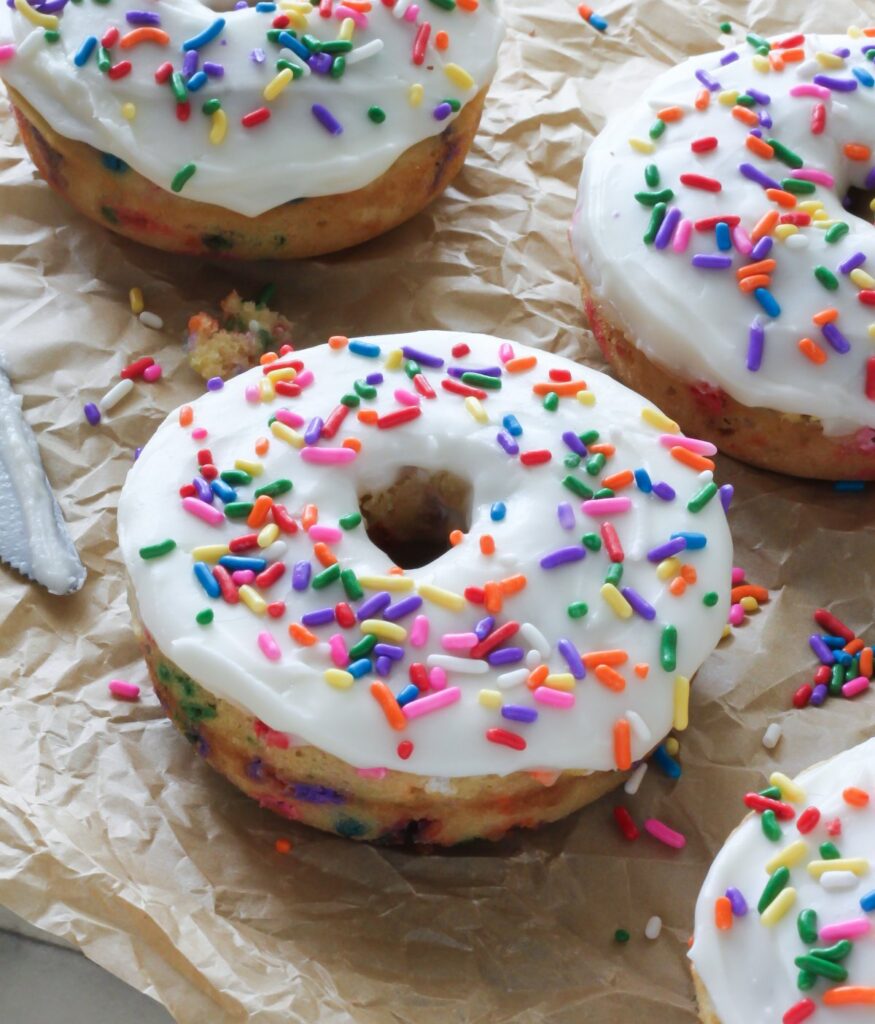 Funfetti Donuts
It's officially the weekend! Time to ditch any weekday worries, pick up some rainbow sprinkles, and impress everyone with a batch of vanilla frosted funfetti donuts! Don't worry – they're baked, super easy, and so good you'll be tempted to spend the afternoon shoving one after another right into your face <— and that's a promise!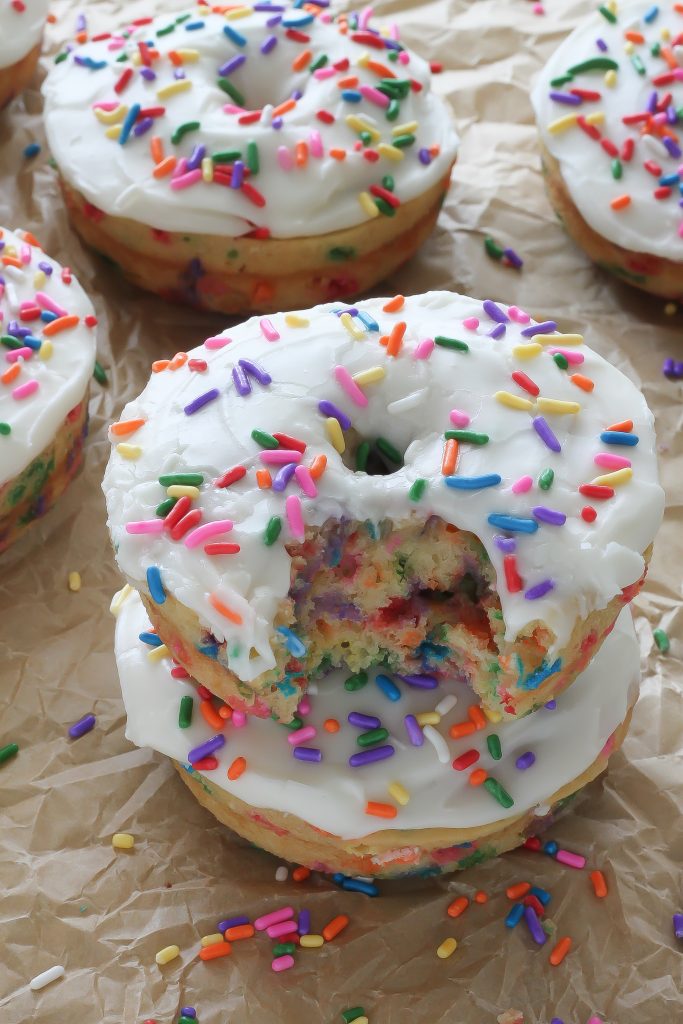 Let's talk about the beauty of baked donuts for a sec!
First things first, you own a donut pan, right?! If you're shaking your head no, pause this reading session and go pick one up! They are moderately priced (I bought mine for 13 bucks but I know a few folks who have bought them for as low as 8!) and mandatory when it comes to the baked donut game. In addition to being affordable, they're pretty thin and easy to store, which is great if you're short on space like us! I've added a link to the donut pan I love madly at the end of this post – just in case you want to be twinsies and buy the same pan as me 😉
Moving forward. The second thing we're going to talk about is texture.
I'm serious when it comes to texture, and am happy to report the consistency of these colorful crumbs is moist, buttery, and perfect.
These donuts are: fat, fluffy, and speckled with rainbow sprinkles. Bite by bite these baked beauties are going to make you beam with happiness —> I just know it.
The vanilla frosting is s-e-r-i-o-u-s-l-y simple and dangerously addicting. All you need is confectioners' sugar, heavy cream, a dash of vanilla, and SALT. Salt in caps because it's important! I cannot tell you how many folks report back that a recipe was too sweet only to later disclose they didn't add the salt because they didn't want their cake tasting salty. Here's the thing tho! The salt won't add a saltiness to your frosting – I promise it won't. It just helps balance everything out. The salt… it's important! Promise promise, my friends.
The vanilla frosting is thick and creamy, so you'll need a butter knife to assist you in swirling and smoothing it a top each cooled donut. I have no method or fancy tricks for this step – just slather it on thick! The great thing about frosting these donuts is you don't have to stress too much how they look post-frosting because, well, SPRINKLES. You're going to cover those suckers in sprinkles galore! And we all know sprinkles make everythang pretty. It's like magic or something.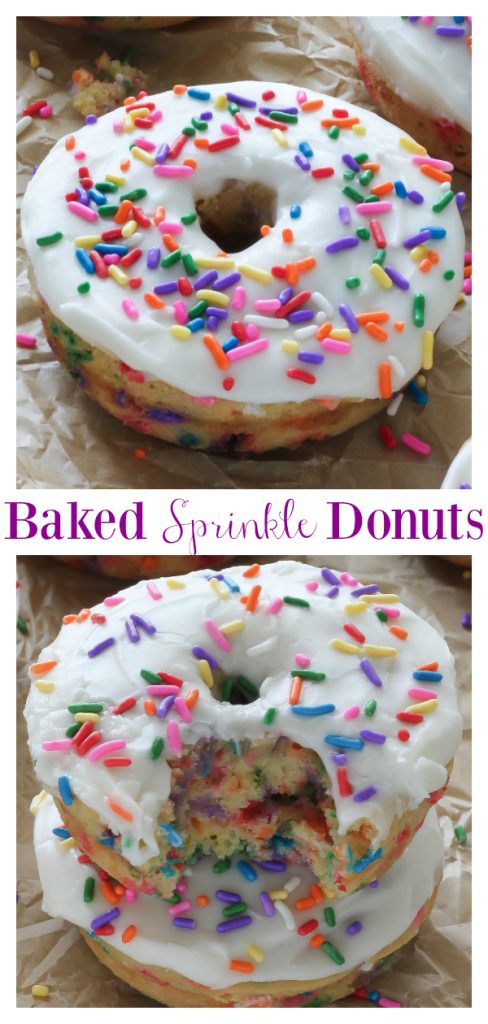 Time for me to go! We're in Manhattan today (swoon with me for NYC!) and I have some major devouring to do. I plan on eating my way through the East Village. Challenges challenges…
I hope you make your way into the kitchen this weekend! Bake up some donuts, slather them earnestly, and devour a few with hot coffee close by (chaser!). Saturdays call for sprinkles, friends! The answer is in these donuts. xoxo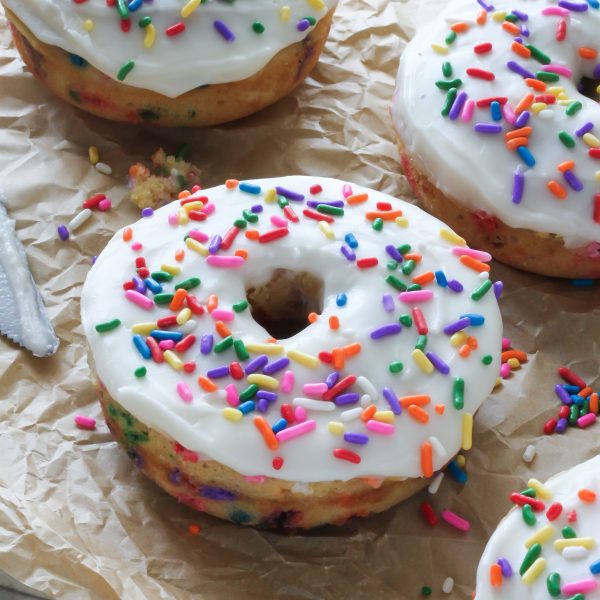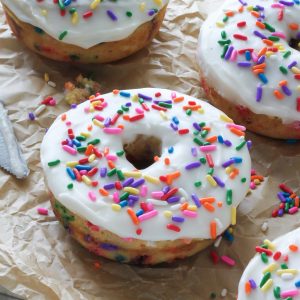 Vanilla Frosted Funfetti Donuts (Baked and Super Easy)
Soft and fluffy funfetti donuts are loaded with rainbow sprinkles and topped with a sweet vanilla frosting! Baked, not fried, these can be ready in just 30 minutes!
Ingredients
1 cup + 2 tablespoons all-purpose baking flour
1/4 cup packed light brown sugar
1/4 cup granulated sugar
1/2 teaspoon salt
1 teaspoon baking powder
1/2 cup milk (I used almond milk but cow's milk will work)
2 1/2 tablespoons unsalted butter, melted
1 large egg, at room temperature
1/4 cup rainbow sprinkles
For the vanilla frosting:
2 tablespoons heavy cream (more if needed)
1 cup confectioners' sugar
1/4 teaspoon salt
1/4 teaspoon vanilla extract
1/2 cup rainbow sprinkles, for decorating
Instructions
Instructions

Preheat oven to 350 degrees (F).

Lightly grease a doughnut pan; set aside.

In a large bowl whisk together the dry ingredients. In a separate bowl whisk together the milk, butter, and egg. Gently fold the wet mixture into the dry mixture until just combined - don't over mix! Gently fold in sprinkles.

Spoon mixture into prepared doughnut pan, and bake for 10-11 minutes, or until the doughnuts spring back when lightly pressed. Allow doughnuts to cool a few minutes in the pan before transferring to a wire wrack to cool for a few more minutes.
For the glaze:
Combine heavy cream and confectioners' sugar in a medium-sized bowl. Whisk smooth, adding a touch more cream if the frosting seems too thick; adding a touch more sugar if the frosting seems too thin. Mix in salt and vanilla.

Once the donuts have cooled completely, spread the frosting over the tops of each and decorate with sprinkles.
Notes
This recipe can easily be doubled as needed.