Homemade BROWN BUTTER Funfetti Cupcakes topped with creamy frosting and tons of sprinkles! The perfect cupcake for birthday parties or any festive celebration.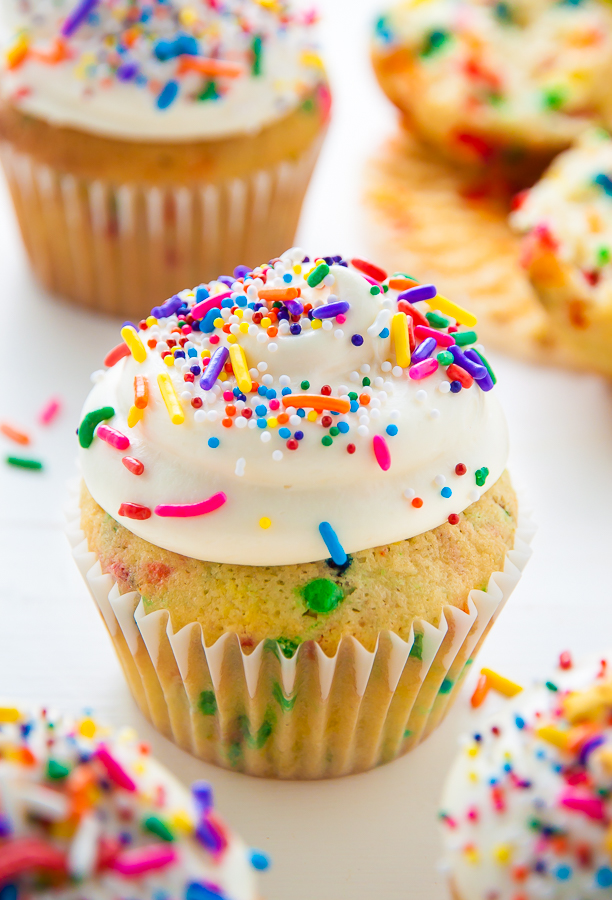 Funfetti Cupcakes
Monday calls for something special and by that I mean Monday calls for sprinkles! And brown butter. And FROSTING.
Basically what I'm saying is Monday calls for cupcakes. More specifically… THESE cupcakes ↓
You in?
Brown butter has a special place in my heart and plays an important role in this recipe. It adds depth, flavor, and personality to the flavor profile. If you've never browned butter before – don't fret! It's a ridiculously simple process and I've included everything you need to know about it below.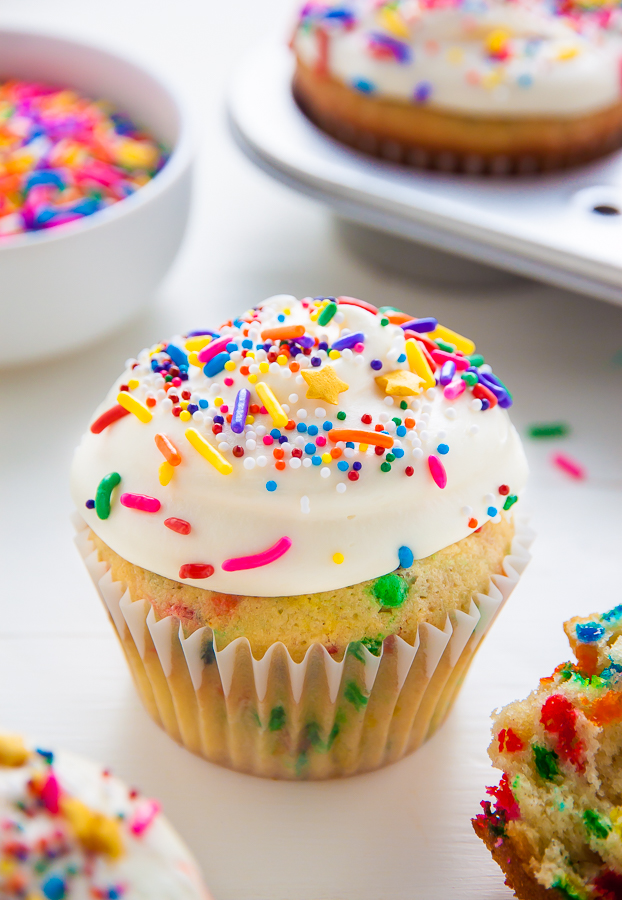 Tips and Tricks for Recipe Success:
Brown butter is simply butter that's been cooked just long enough to toast the milk solids. It's an easy step that really AMPS up the flavor of the butter and can be used in many sweet or savory dishes. All you'll do is place the called for amount of butter in a small saucepan over medium-heat and cook it, stirring frequently, until it's turned golden brown and smells slightly nutty. Seriously… it's that easy!
For this recipe you MUST bring your browned butter back to room temperature. To do this simply place the melted butter in the fridge until it's soft but solid enough to hold the indentation of your finger when lightly pressed upon. Cold butter as well as melted butter should never be used when making these cupcakes; it will not work.
When combining the sprinkles with flour, be sure to completely coat them before adding them to the batter. Also, be sure not to use more sprinkles than called for. Using a larger quantity will weigh the batter down and make the color look messy.
I recommend using confetti quins or rainbow sprinkles in the batter, and then decorating the buttercream with rainbow nonpareils. I do not recommend using nonpareils in the batter as their colors easily bleed into the cupcake batter and result in more of a tie-dyed cupcake.
I do not recommend substituting the full-fat sour cream and whole milk for reduced fat varieties. This cake gets a lot of its moisture from the fat in these ingredients, so using fat-free or reduced fat replacements will result in a drier end result.
To ensure you reach the proper frosting consistency you'll want to make sure your butter and cream cheese are very soft before beginning. I suggest setting them out on the counter for at least an hour before unwrapping them and getting busy.
Once all of the confectioners' sugar has been added to the frosting, be sure to beat it on medium-high for the FULL 2 minutes. Beating the frosting on high makes it luscious and fluffy. You will need to use a stand mixer or handheld electric mixer for this step.
If your frosting appears too thin, add a little more confectioners' sugar, one tablespoon at a time, until desired consistency is reached; if your frosting appears too thick, add a touch of cream.
If you want a stark white frosting I suggest leaving out the vanilla as adding it will tint the frosting ever so slightly.
Don't skip the salt! Many readers have have informed me they don't add the salt called for in dessert recipes because "they don't like salty sweets". The salt is called for to help balance out the sweetness, and in this case, is quite important for achieving a balanced taste.
See you tomorrow with a healthier recipe…
But for now, sit back and soak up all of the brown butter and sprinkles your heart can handle 😉
If you try this recipe, let me know! Leave a comment below and don't forget to snap a pic and tag it #bakerbynature on Instagram! Seeing your kitchen creations makes my day. ♥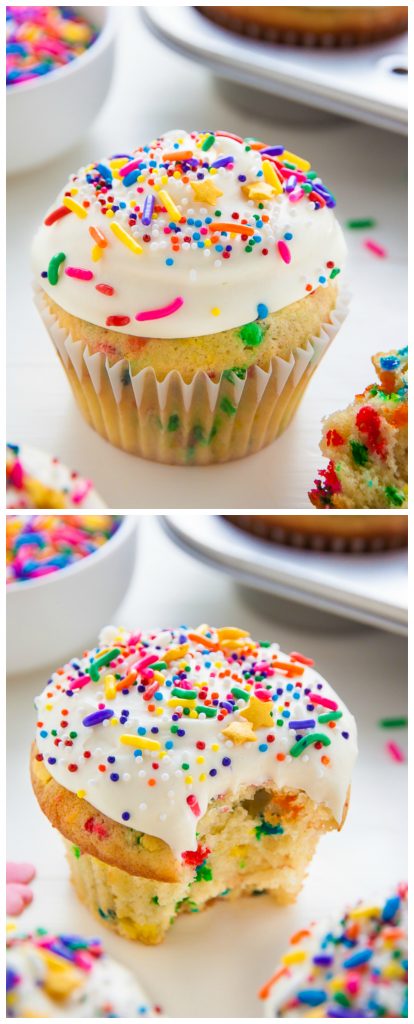 More Funfetti Recipes: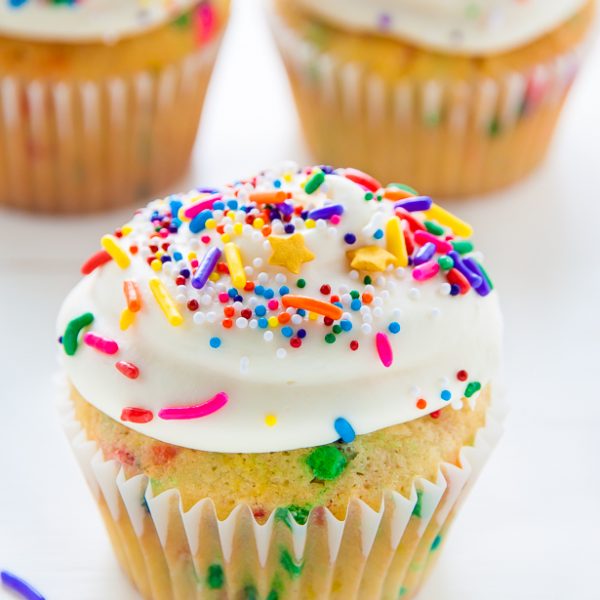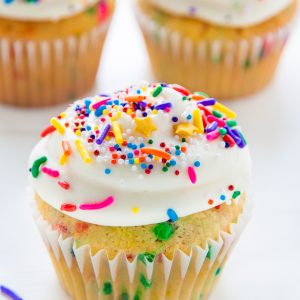 Brown Butter Funfetti Cupcakes
Homemade Brown Butter Funfetti Cupcakes! Perfect for parties and celebrations.
Ingredients
For the cupcakes:
1 stick unsalted butter, at room temperature
2 cups all-purpose flour (be sure NOT to pack your flour)
1 teaspoon baking powder
1/2 teaspoon baking soda
1/3 cup rainbow sprinkles
1/2 teaspoon salt
1/2 cup whole milk
1/2 cup full-fat sour cream
1 cup granulated sugar
2 large eggs plus one large egg yolk, at room temperature
1/4 cup boiling hot water (should be very hot, and poured into measuring cup right after boiled)
For the Cream Cheese Frosting:
8 ounces cream cheese, VERY soft
2 ounces unsalted butter, VERY soft
1/4 teaspoon pure vanilla extract
1/4 teaspoon salt
3 and 1/2 cups confectioners' sugar, sifted (more if needed to reach preferred consistency)
To decorate:
Assorted sprinkles and nonpareils
Instructions
To brown the butter:
Place the butter in a small sauce pan over medium-high heat and cook for about 3 minutes – stirring almost constantly – until the butter has turned an amber gold/brown and smells slightly nutty. Remove from heat and pour the butter into the mixing bowl you'll be making the cake batter in. Place the bowl in the refrigerator or freezer and bring the butter back to room temperature. You'll know the butter is at room temperature when you press a finger into the top and it makes a slight indentation. It should be solid but soft.
For the cupcakes:
Preheat oven to 350 degrees (F). Line a 12-mold cupcake tin with paper liners and lightly spray the liners with non-stick spray, set aside. In a large bowl combine the flour, baking powder and baking soda. Add sprinkles and toss to coat; set aside. In a small bowl combine the milk and sour cream, mix well to combine and set aside. In a large bowl using a handheld electric mixer (or a stand mixer fitted with the paddle attachment) beat the butter and sugar until light and fluffy; about 4 minutes (don't skimp on time here!). Beat in the eggs and egg yolk, one at a time, beating well after each addition. Reduce mixer speed to low and gradually add in flour mixture in 2 additions, alternating with sour cream/milk mixture, beginning and ending with the flour. Finally stir in the hot water, beating just until combined.

Fill the prepared cupcake tins 3/4 of the way full. Bake in preheated oven for 20-22 minutes, or until a toothpick inserted into the center of a cupcake comes out clean. Allow cupcakes to cool in the pan for 10 minutes before transferring them to a cooling rack to cool completely. Set aside and make the frosting.
For the cream cheese frosting:
In a large bowl using an electric handheld mixer, beat the cream cheese, butter, and vanilla on medium-high speed until completely smooth; about 2 minutes. Reduce the speed to low and gradually add the sifted confectioners' sugar and salt. Once all of the sugar has been added beat on high-speed for 1-2 minutes. Once the cupcakes have completely cooled, spread the frosting over the cupcakes or use a piping bag to pipe it into decorative swirls. Decorate at once with sprinkles and nonpareils. Serve at once or store the cupcakes in the fridge, covered, for up to 3 days.
Notes
I suggest doubling the frosting if you plan to pipe it on in high swirls. Cupcakes will be slightly darker on the lids due to the brown butter; the interiors will be soft and fluffy.