To say I'm anything less than OBSESSED with these fudgy, rich, absolutely amazing chocolate coconut cake doughnuts would be a lie! I'm just so utterly into them. It's almost ridiculous. The fact that they're vegan and gluten free is just extra gravy on the awesome train.
I made these on the fly Wednesday morning, and I kid you not, they were gone by noon! And there's only two of us here…! They were just that good. Or actually, I should say, that addicting! My boyfriend muttered the word "dreamy" while inhaling his third (in a row!), and he didn't even know they were diet-ish doughnuts! Such a win in my book. Plus, how often do you hear a dude call something dreamy?!
This is 100% a recipe we will be making over, and over, and over again! If you're a lover of rich, gooey chocolate cake, and have a soft spot for a kiss of coconut, I think you're going to LOVE these!
P.S. Even if you're not too coconut crazy, these may still get ya! My guy isn't too nuts for it, but like I said, inhaled these babies! The chocolate is the real star of this doughnut show 😉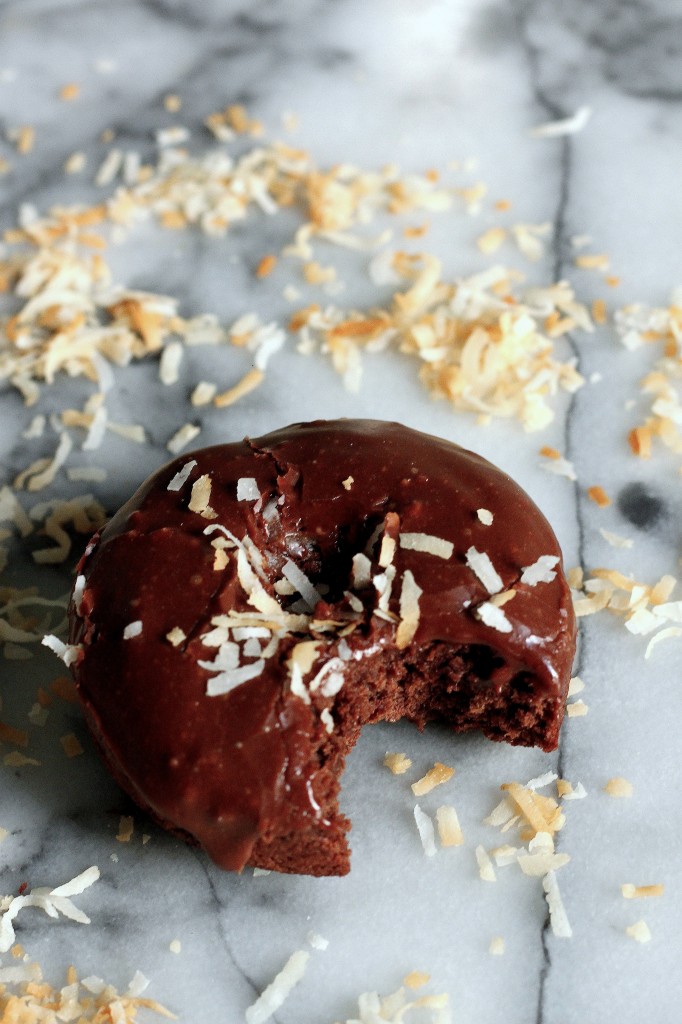 (Vegan & Gluten Free!) Chocolate Coconut Cake Doughnuts – Baker by Nature
Makes 6 baked doughnuts
Ingredients:
1 cup bob's red mill gf all purpose baking flour
3/4 teaspoon xanthan Gum
1/2 cup dark brown sugar
1/2 teaspoon salt
1/4 cup cocoa powder
1/2 teaspoon baking powder
1/4 teaspoon baking soda
1 teaspoon vanilla extract
1/2 cup unsweetened apple sauce
3 tablespoons coconut oil, at room temperature
6 tablespoons coconut milk
1/2 cup shredded coconut, lightly toasted
For the chocolate glaze:
4 ounces vegan chocolate, chopped (please make sure the chocolate is GF is this is an issue for you!)
1/4 cup coconut milk
3/4 cup confectioners sugar
Instructions: 
Preheat oven to 350 degrees (F). Spread coconut on a large baking sheet and toast for 5 -6 minutes, or until golden. Remove from oven and set aside.
Lightly grease a doughnut pan; set aside.
In a large bowl whisk together the dry ingredients. In a separate bowl whisk together the wet ingredients, then gently pour them into the dry ones. Fold ingredients together until just combined.
Spoon mixture into prepared doughnut pan, and bake for 13 – 15 minutes, or until the doughnuts spring back when lightly pressed. Allow doughnuts to cool a few minutes in the pan before transferring to a doughnut pan to cool completely.
While your doughnuts are cooling, make your glaze!
In a small saucepan heat coconut milk just until it begins to simmer. Remove from heat and whisk in chopped chocolate, stirring until completely smooth. Whisk in confectioners sugar. Dip each cooled doughnut into the warm chocolate topping, then into the toasted coconut.
Let doughnuts rest another 3-4 minutes after dipping, then EAT!
*gf = gluten free ap flour