I love muffins! Always have, always will. They're a staple in our house – I'm almost embarrassed to think about how many batches a week we fly through – and there's always a backup batch or two snoozing in the freezer for quick snacks and lazy breakfasts.
Recently, I've been really into baking vegan versions of our favorites. I made a pumpkin batch a few months ago that started the fire, and now when I start thinking about muffins, I'm always contemplating whether to make them with or without eggs (butter, milk, etc.). Considering I run out of eggs (and butter, and milk, and the list goes on and on) a lot, it's really nice to have a few go-to versions that don't need any of that stuff.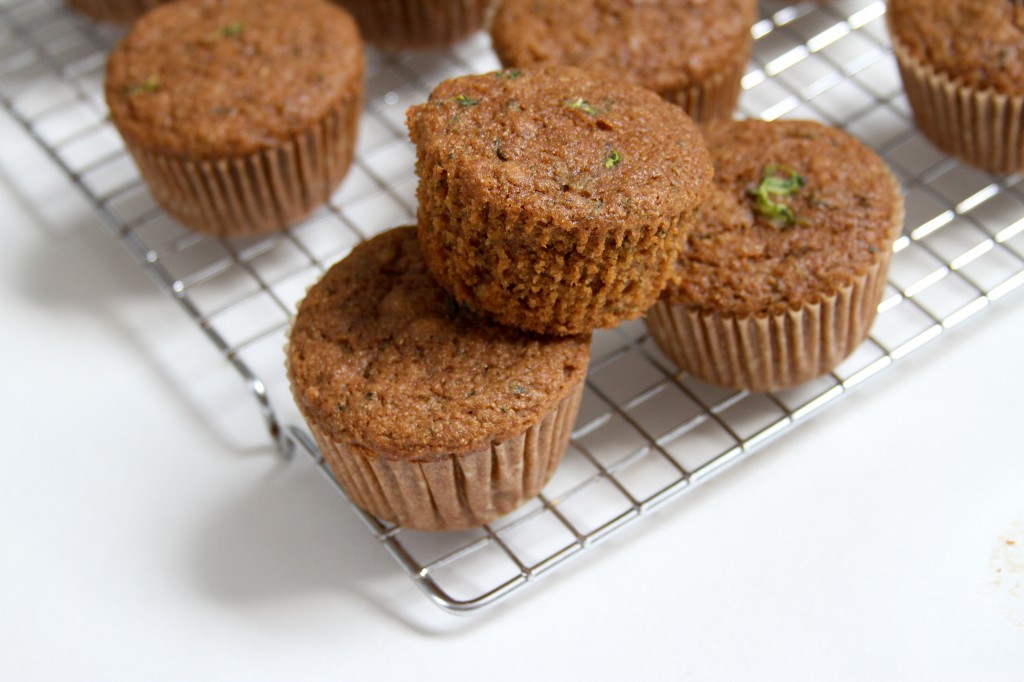 One of the things I really love about these muffins is how pillowy and tender they are. Now that we're finally basking in the Summer months, I prefer my muffins to pack a little lighter punch. I find that when the weather does its delightful temperature switch, my body just sort of naturally follows suit and yearns for things light, bright, and fresh.
Also, it's prime sangria/ margarita/ pink wine slurping season – so I'd much rather drink most of my meals… if you know what I mean.
To keep these muffins 100% sweet, moist, and all around lovely, I added tons of fresh zucchini, maple syrup, and olive oil – because, you know, I cannot stop myself from baking with it these days!

The whole muffin making process is insanely easy, and it's only a two bowl affair!
The first bowl features our wet ingredients: zucchini, olive oil, maple syrup, molasses, almond milk, and vanilla extract.
The second bowl consisting of our dry stuff: spelt flour, baking powder, a dash of salt, a touch of sugar, and our lovely spices (hello, cinnamon, nutmeg, and ginger!).
Once your two bowls have met, shook hands, and delighted in each others company, you'll scoop your lovely thick batter into a prepared baking tin and send those bad boys off to the oven to get their bake on. It's the right thing to do. They can handle the heat! … They were made for it!

I scraped the zucchini scraps into a little pile and sprinkled them on top of my unbaked muffins before sending them into the oven – even muffins like to be properly accessorized and such.
Fresh out of the oven, these babies didn't last a day!
You might get a few raised eyebrows and looks of skepticism as you tell people these muffins are made with spelt flour, zucchini, and maple syrup, but after the first bite all you'll see is pure joy. And who doesn't want to see that all over someones face?
*If spelt flour or zucchini really don't excite you, how about some lovely Blackberry, Lemon, and Thyme Muffins? Or, you know what!? I bet you'd love these Whole – Wheat Raspberry & Peach Ginger Muffins – they're pure beauty and just oozing with prime Summer fruit!
(Vegan) Spelt Flour Zucchini – Maple Muffins – Baker by Nature
Makes one dozen muffins
Ingredients:
2 1/4 cups spelt flour
1/4 teaspoons salt
1 tablespoon baking powder
3/4 teaspoon cinnamon
1/2 teaspoon nutmeg
1 teaspoon ground ginger
1 cup freshly grated zucchini, grated as tiny as possible
1/2 cup almond milk
1/2 cup olive oil
1/4 cup sugar
1/2 cup pure maple syrup
1 tablespoon molasses
Instructions:
Preheat oven to 400 (F). Grease or line muffin tray, set aside.
In a large bowl stir together flour, baking powder, salt, and spices. In a separate bowl, whisk together zucchini, maple syrup, almond milk, oil, sugar, and molasses. Mix the wet ingredients into the dry, stirring until combined.
Fill the muffin cups and bake for 18 to 20 minutes. Let cool completely, or burn your mouth and eat 2 hot out of the oven like I did.