This easy, cheesy Veggie Fajita Quinoa Casserole is ready in just 45 minutes! And the leftovers are even MORE delicious the next day. Vegetarians and carnivores love this easy veggie casserole recipe!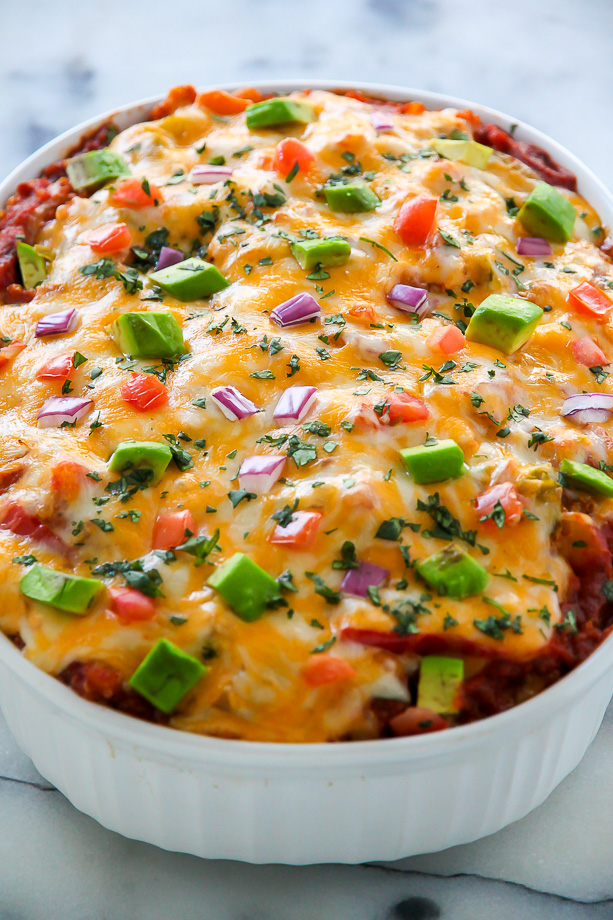 Fajita Casserole
Hi and happy January! We're barely a week into this new year and I'm already finding myself craving comfort food… HARD. So I have to ask… am I alone on this?
I know I should be preaching smoothies and salad, but I have to level with you, when it's 10 degrees and hailing, cheese and carbs are the only thing saving my sanity. #hardcoldtruth
Today's recipe is inspired by my wildly popular One-Pan Veggie Fajita Pasta. I took all those wonderful fajita flavors and turned it into this creamy, dreamy casserole. Each bite is wonderfully cheesy, loaded with fresh veggies, packed with protein, and naturally gluten free.
I sprinkled a little avocado, tomato, and cilantro on top for extra pizzazz. So, are you hungry yet?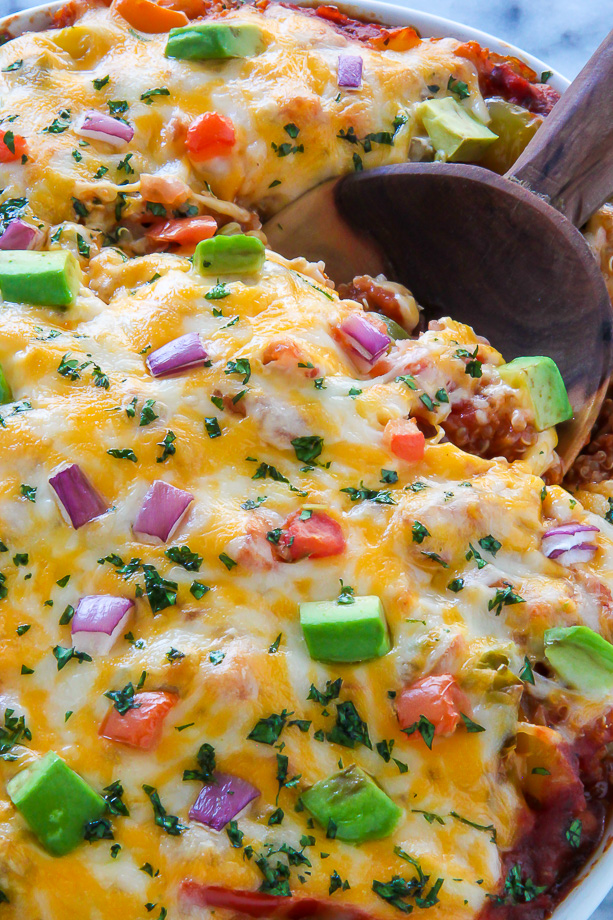 Alright, so let the veggie fajita quinoa casserole chit chat begin! And don't worry, nothing too fancy here. For this recipe you'll need quinoa, olive oil, a slew of spices, red onion, bell peppers, crushed tomatoes, white beans, cilantro, shredded Colby-Jack cheese, avocado, and tomato.
↑ SO many fresh ingredients = SO MUCH FLAVOR.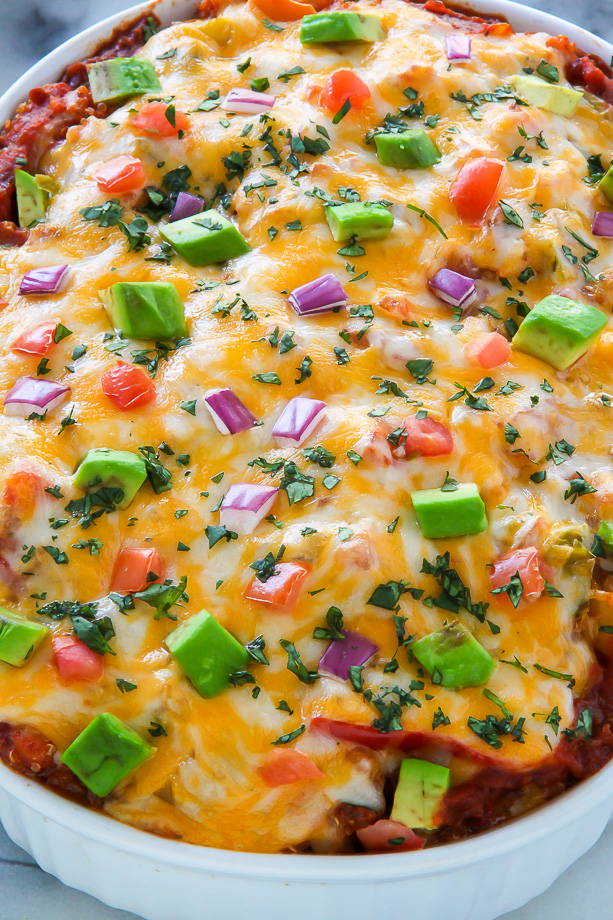 I like to chop my peppers and onion into quarters before thinly slicing them so they're nice and bite sized. But really… you can chop yours any way you'd like!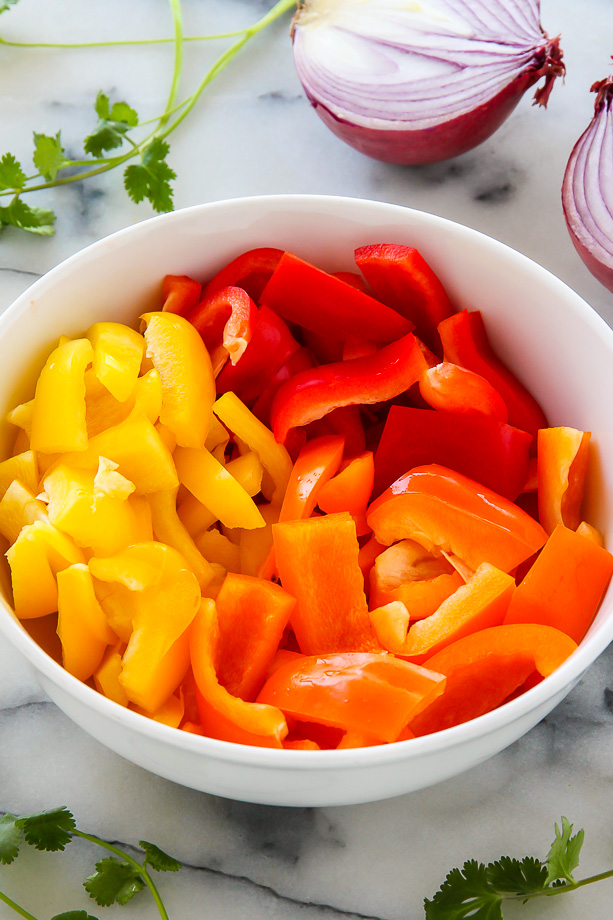 You'll cook the onions and peppers in a fiery red sauce before combing all of the ingredients in a large bowl. It's really simple and really delicious!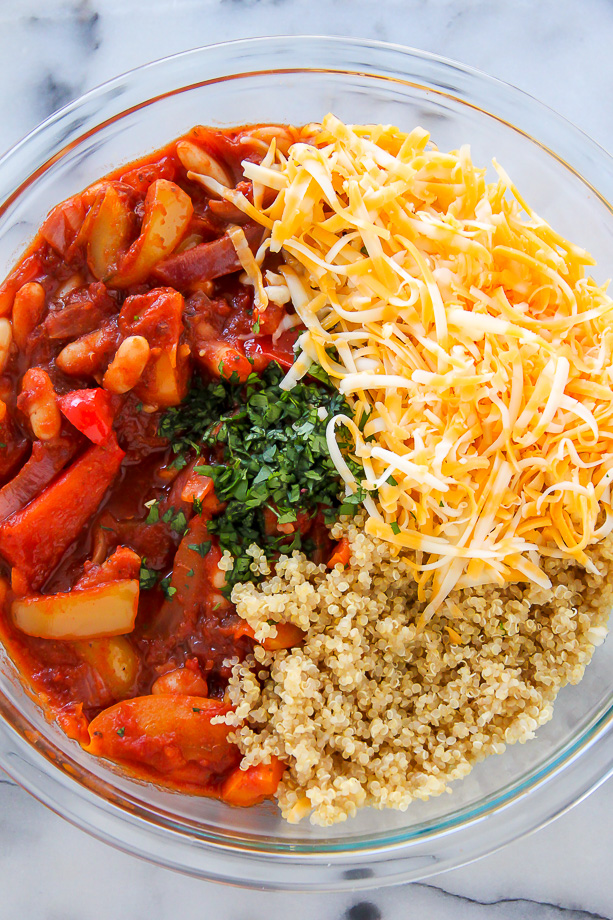 Let me tell you a few reasons why I'm SO crazy over this veggie fajita quinoa casserole:
It's extremely versatile! Serve it with a side salad, or a piece of steak, or scoop it into warm flour tortilla. Any way you serve it, you're bound to fall in love.
The leftovers are AMAZING. And they taste even better the next day. Packed lunch never tasted so good!
There are so many ways to get creative! Seriously… what's your favorite cheese? Use it instead of the Colby-Jack. Love black beans? Use them in place of the white beans. Looking for a heartier spin? Add grilled chicken or shrimp! The options are endless.
This recipe is already a favorite in our home… hope it becomes one in yours too! ♥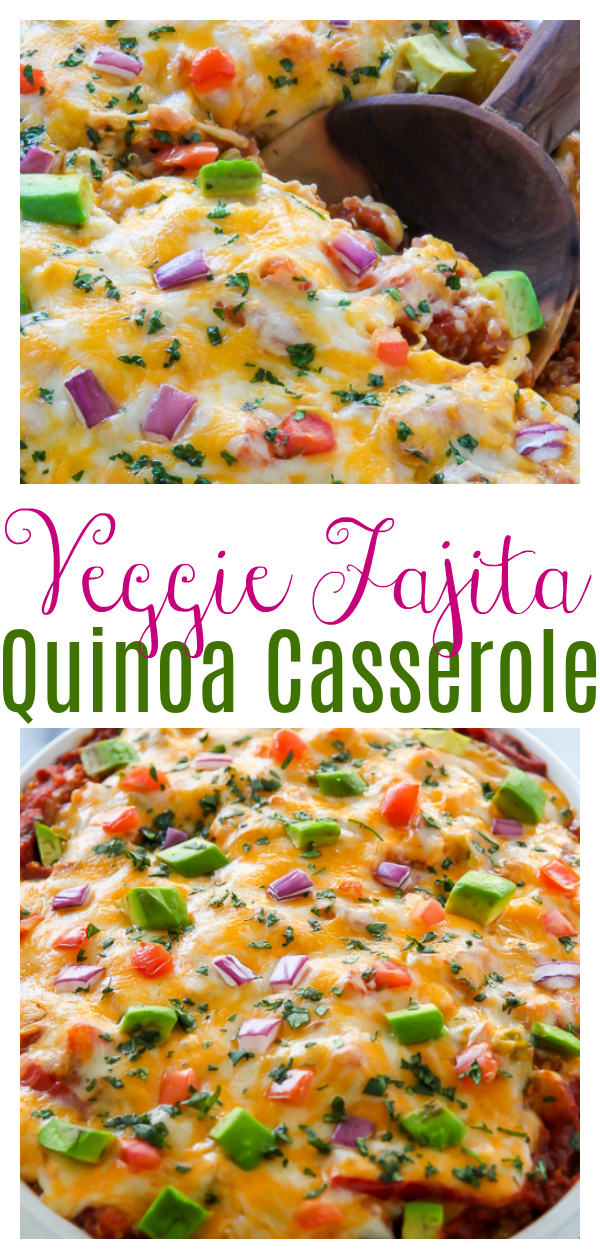 If you try this easy veggie casserole recipe, let me know! Leave a comment below and don't forget to snap a pic and tag it #bakerbynature on instagram! Seeing your kitchen creations makes my day.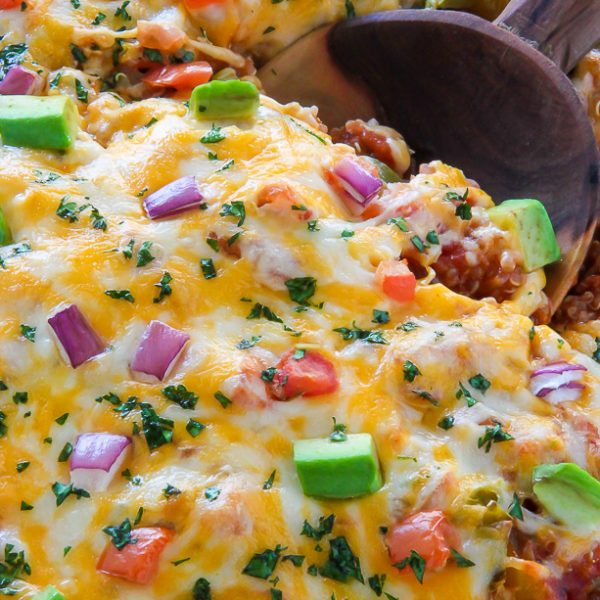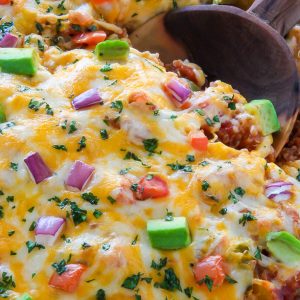 Veggie Fajita Quinoa Casserole
A delicious and healthy veggie fajita bake loaded with quinoa, beans, cheese, and fresh vegetables! The leftovers last for up to three days and taste incredible.
Ingredients
1 cup quinoa
3 tablespoons olive oil
1/2 teaspoon crushed chipotle chili flakes (add a little more if you like heat)
1 and 1/2 tablespoons chili powder
1 and 1/2 teaspoons dried oregano
1 and 1/2 teaspoons cumin
1 and 1/2 teaspoons garlic powder
3/4 teaspoon salt
1/4 teaspoon black pepper
1 red bell pepper, seeded and thinly sliced
1 orange bell pepper, seeded and thinly sliced
1 yellow bell pepper, seeded and thinly sliced
1 medium red onion, peeled and thinly sliced
(1) 28 ounce can crushed tomatoes
1 cup canned white beans, drained and rinsed
1/4 cup fresh cilantro leaves, chopped
1 and 1/2 cups Colby-Jack cheese, shredded
Diced avocado, tomato, cilantro, and red onion, diced, for garnish (optional)
Instructions
Preheat oven to 375 degrees (F). Lightly grease a 2 quart baking dish; set aside.

In a large saucepan add 2 cups water and cook quinoa according to package instructions. Once fully cooked, transfer it to a large bowl and set aside.

Heat olive oil in a saucepan over medium high heat. Stir in crushed chipotle chili flakes, chili powder, dried oregano, cumin, garlic powder, salt and pepper and whisk to combine. Add in the red, orange, and yellow peppers and red onion, stir to combine and cook, stirring frequently, for 8 minutes. Add in the crushed tomatoes and bring to a boil; reduce heat and simmer for 10 minutes. Stir in the white beans and remove from heat.

Into the large bowl holding the quinoa add the pepper mixture, cilantro, and half of the cheese; stir well to combine.

Spread the quinoa mixture into the prepared baking dish and evenly top with the remaining cheese. Place the pan into the oven and bake for 20 minutes, or until the cheese is golden, bubbly, and melted.

Serve at once, garnished with avocado, tomato, cilantro, and red onion, if desired.
Notes
Feel free to use black beans or kidney beans in place of the white beans.