Packed with fresh veggies, Kalamata olives, and tons of tangy feta cheese, this flavorful Greek Pasta Salad is ready in 20 minutes. Bonus: The leftovers taste even better the next day! This crowd-pleasing recipe is perfect for Summer parties, picnics, and barbecues!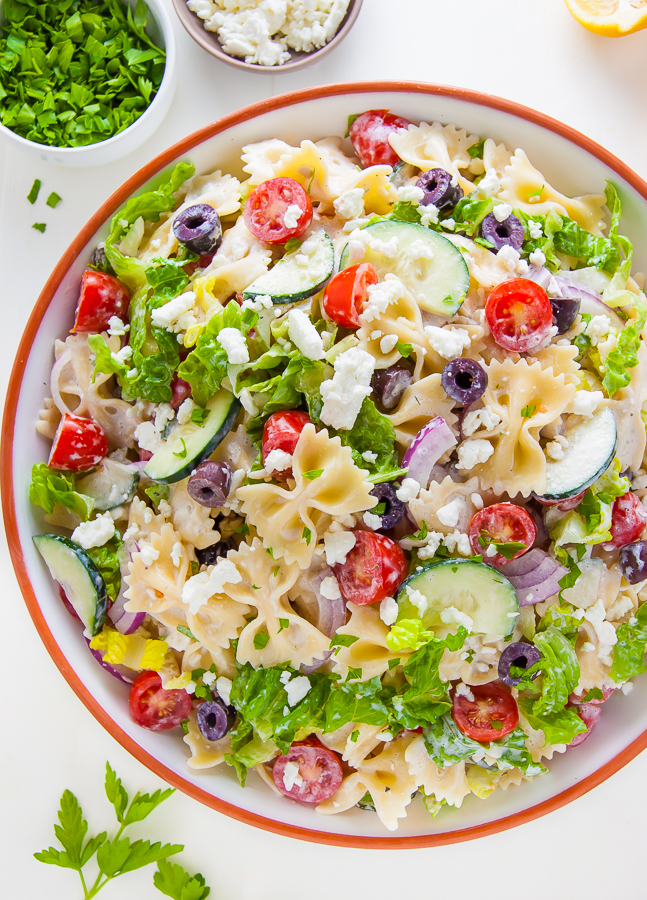 Easy Greek Pasta Salad Recipe
Popping in on this sunny Saturday to share with you my new favorite dinner: 20-Minute Greek Pasta Salad! If you've been following my blog for a while now, you already know I have nothing but love for pasta salad. More specifically, super quick and super delicious pasta salads.  There's the extremely popular BLT Pasta Salad, the bright and beautiful Rainbow Veggie Pasta Salad, and – my personal favorite – the 15-Minute Italian Pasta Salad. Heck, I've even made antipasto skewers… AKA pasta salad on a stick!
So I truly hope you love pasta salad too! Because when it comes to this obsession, I see no end in sight 😉

MY RECENT VIDEOS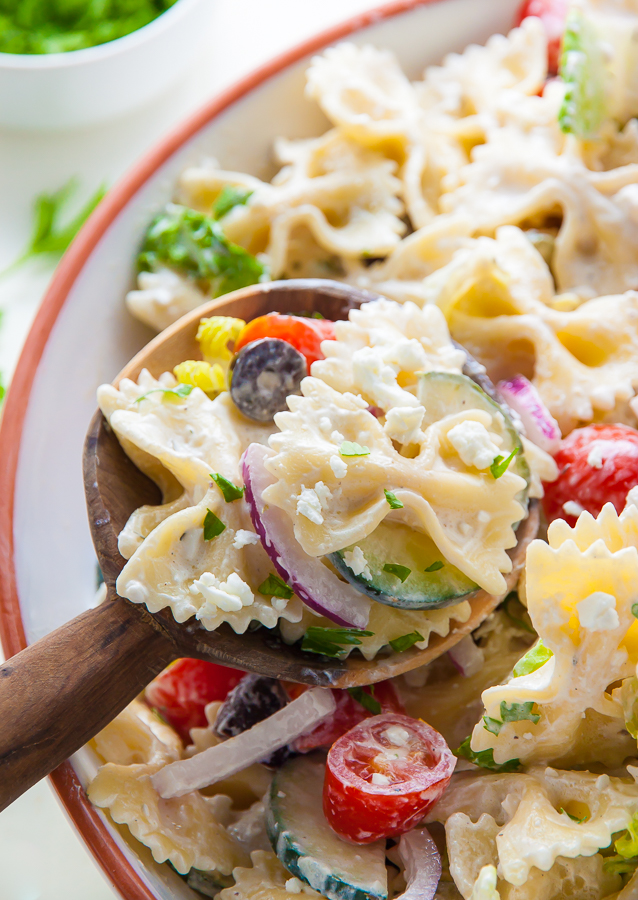 Today this vibrant Greek Style Pasta Salad joins the party, and you guys, this one is a keeper. Because when fresh pasta, crunchy veggies, tangy feta, and creamy tzatziki join forces… you just know it's going to be good. I brought this Greek inspired pasta salad to a BBQ last weekend and it was the first dish gone! And everyone begged me for the recipe. That's when I knew I had to hop online and share it with you guys, too!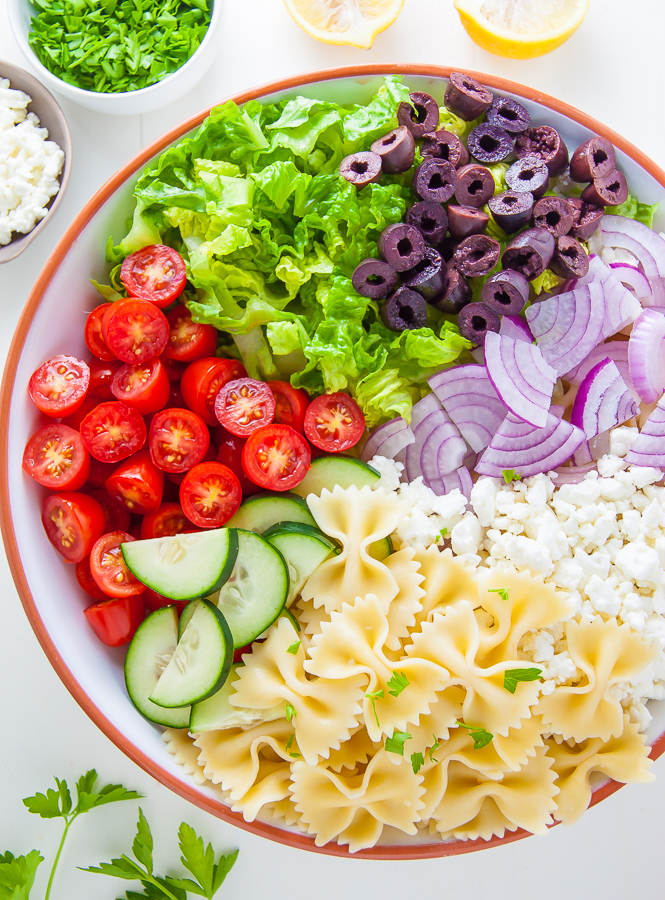 Tips and Tricks for Recipe Success:
This pasta salad recipe can be made in exactly 20 minutes (promise… I timed myself making it 3 times!) but you'll need to work quickly and efficiently. When you set your water on the stove to boil, get busy chopping those veggies and making the dressing! That way when the pasta is cooked and drained, all you need to do is add everything together and toss!
Be sure you don't over cook your pasta. It should still have a toothy bite to it!
To ensure the romaine lettuce doesn't get too soggy, I recommend choosing the crispiest leaves you can find. Or, just use the bottom half of the leaves; they're always the crispiest.
This pasta salad will be OK sitting out in a cool environment for about 2 hours, however, due to the deliciously creamy nature of tzatziki, it shouldn't be left out in extremely warm conditions for long amounts of time, and should always be refrigerated when not being served.
If you're looking to bulk this pasta salad up a little, it goes great with grilled chicken or shrimp!
Perfect for lunch or dinner, I know we'll be making this Greek pasta salad all Summer long! Hope you do too 😉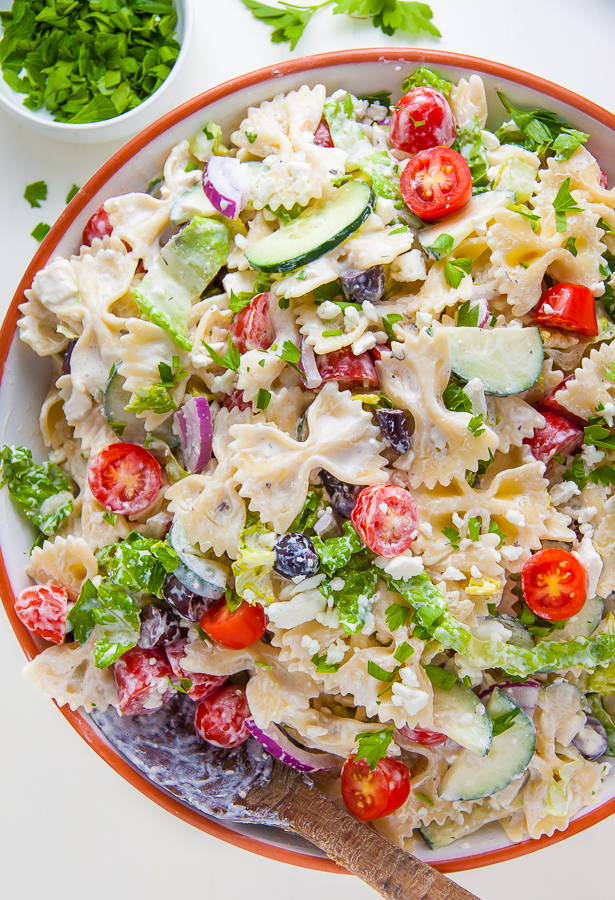 Enjoy your weekend! I'm off for a long hike with friends, then dinner at a little bistro I've been dying to try. What are you up to?!
For more Pasta Recipes, Check Out: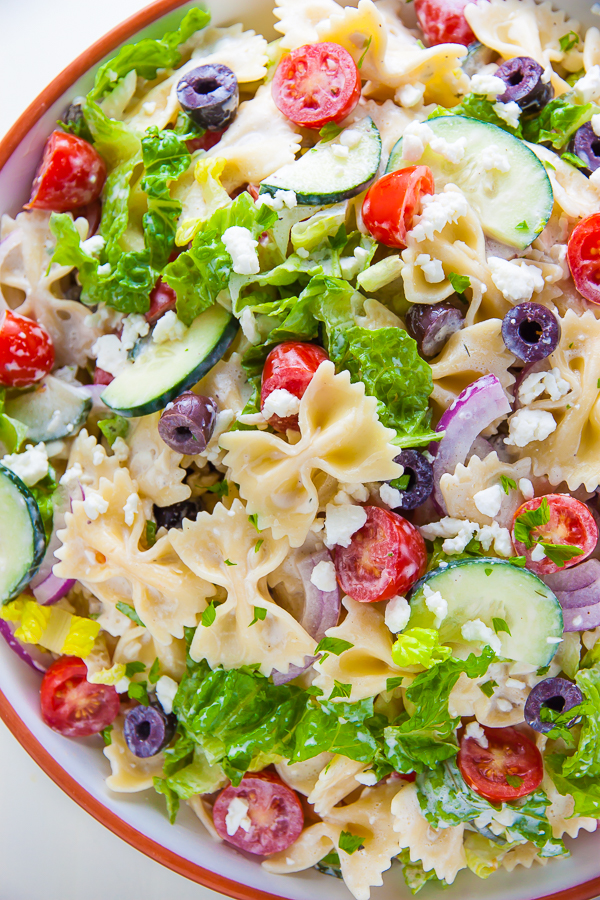 If you try this recipe for Greek Pasta Salad, let me know what you think! Leave a comment below, and don't forget to snap a pic and tag it #bakerbynature on instagram! Seeing your creations makes my day ♥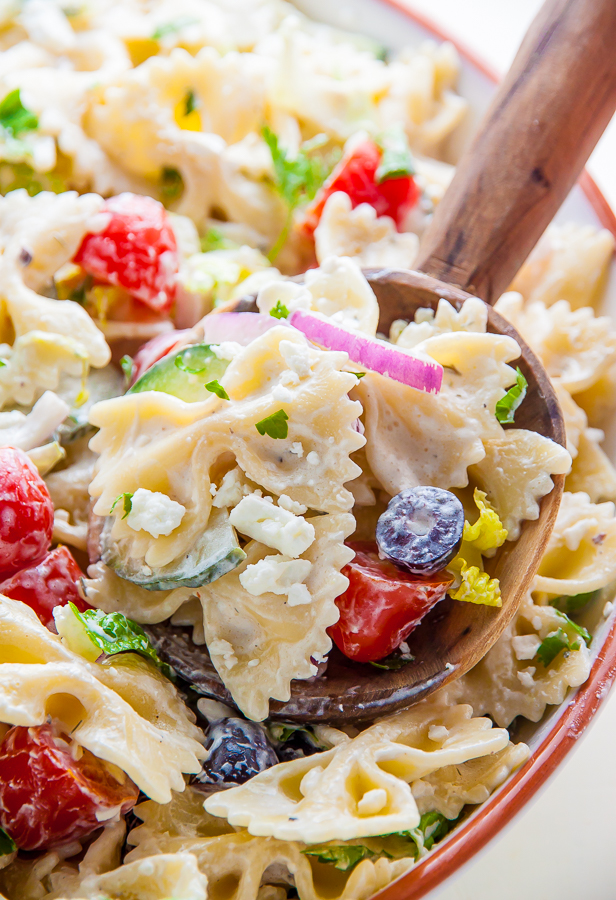 20-Minute Greek Pasta Salad
Yield 8 servings
Packed with fresh ingredients and tons of flavor, my Greek Pasta Salad is ready in just 20 minutes!
Ingredients
1 pound farfalle pasta
1 cucumber
2 cups cherry tomatoes
2 cups (about 8 leaves) romaine lettuce, chopped
3/4 cup fresh parsley
1/2 cup kalamata olives, pitted
1/2 cup thinly sliced red onion
(1) 8 ounce container crumbled feta
2 cloves garlic, minced
1/3 cup olive oil
3 tablespoons red wine vinegar
2 teaspoons granulated sugar
1/2 teaspoon salt (more or less to taste)
1/2 teaspoon ground black pepper (more or less to taste)
1 cup tzatziki sauce
Instructions
Place a large pot of salted water over high heat; bring to a rolling boil. Add pasta and cook until al dente, 8 to 10 minutes.
While the water comes to a boil and the pasta cooks, prepare the vegetables and dressing. Halve the cucumbers lengthwise and remove the seeds with small spoon; slice into half-moons and set aside. Slice the cherry tomatoes in half; roughly chop the romaine lettuce; finely chop the parsley; slice the olives in half; thinly slice the onion; set aside. In a small bowl combine the minced garlic, olive oil, vinegar, sugar, salt, and pepper; whisk well to combine. Add in the tzatziki sauce and mix well; season to taste.
When the pasta has finished cooking, drain it at once and quickly rinse it under cold water until cool, about 1 minute. Place cooled pasta in a large mixing bowl. Add dressing to pasta and toss well to coat.
Add the chopped cucumbers, tomatoes, lettuce, parsley, olives, onion, and feta and toss to combine. Serve at once, or chill until needed.
Notes
Pasta salad will keep, covered and stored in the fridge, for 3 days.
Courses Dinner
Cuisine Greek
Nutrition Facts
Serving Size 1 large scoop
Amount Per Serving
% Daily Value
* Percent Daily Values are based on a 2,000 calorie diet. Your daily values may be higher or lower depending on your calorie needs.