Loaded with fresh vegetables and tons of flavor, this one-pan veggie fajita pasta is a sure way to win any pasta lovers heart! Add grilled chicken or shrimp for a heartier meal! Did you know I'm a huge pasta lover? It's probably not that surprising since I've shared like 10 pasta recipes with you this year alone. I have no doubt there's more to come! I'm just a noodles and sauce kind of gal. So much carby goodness in every bite 😉 I just love it!
This pasta rocks for an abundance of reasons, and if you read on, I'll list them all…
But first, let's just stop and stare at this for a moment. Creamy, carby heaven… mmm!
I'm totally fighting the urge to stop writing this post and go polish off the leftovers sitting in the fridge. It's taking major WILLPOWER!!!
This pasta was born out of my love for fajitas. Fajitas are just fun, happy food! And since pasta is sort of a Sunday tradition around here, I decided to combine the two and see what happens…
This happened! This creamy, flavorful, SO STINKIN' EASY pasta dish that is sure to be a new favorite for everyone everywhere. Did I mention you cook everything in one pan? ONE PAN, people! O-N-E. You just add your water, your sauce, your veggies, and your noodles in a big ol' pot, bring them to a boil, stir, and serve! It's really that easy.
This dish is vegetarian, but if you're in the mood, feel free to grill up some chicken or shrimp to toss on top. I bet you could even add more veggies if you wanted. But for me, I'll be sticking to this recipe as is… it's just too good! Loads of veggies and loads of sauce = pasta perfection! Let me know what twists you add when you make it 😉 Enjoy! xoxo
*The creaminess comes from a dollop of luscious Greek yogurt that gets swirled into the pasta right before serving. If you're vegan, or serving a vegan crowd, opt for non-dairy sour cream, or maybe even cashew cream. I haven't tried them, but I have a good feeling they'd be a great fit.
If you can't find 8 ounce packages in your grocery store and don't want to order them online, you may use 1 cup from a 32 oz package. Just remember to use up the leftover stock within a few days or it will spoil.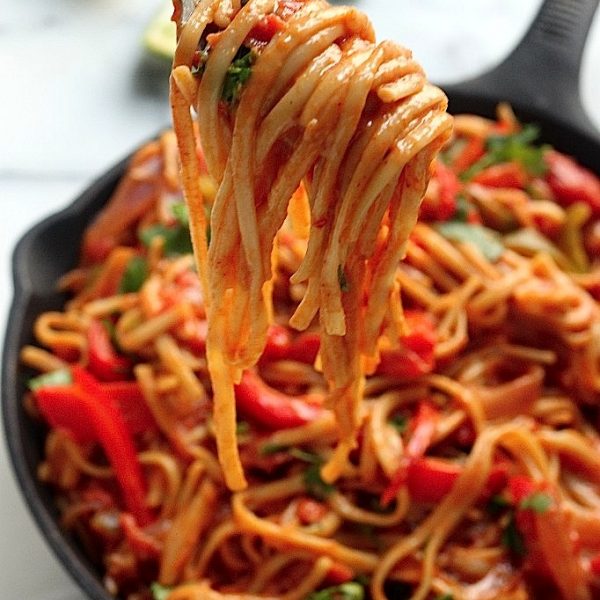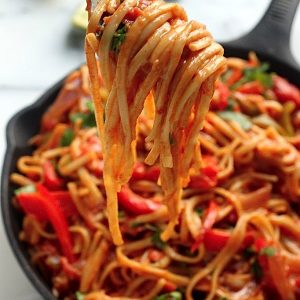 One-Pan Veggie Fajita Pasta
An incredibly easy one-pan veggie fajita pasta sure to please even the pickiest of eaters! Add shrimp or chicken for a heartier meal!
Ingredients
16 ounces linguine
(1) 28 oz can crushed tomatoes
(1) 8 oz container vegetable stock
2 tablespoons Sriracha hot sauce (plus more for serving)
1 large (or two small) red onion, thinly sliced
8 cloves garlic, thinly sliced
1 large red bell pepper, thinly sliced
1 green pepper, thinly sliced
1/2 teaspoon red-pepper flakes
1 tablespoon salt
1 teaspoon cumin
3/4 teaspoon chili powder
1/4 teaspoon ground oregano
2 sprigs cilantro, plus extra for garnish
3 tablespoons extra-virgin olive oil
Freshly ground pepper, to taste
2 1/2 cups water
1/3 cup Full-Fat Greek yogurt (optional, makes it creamy)
Limes, for serving
Instructions
In a VERY large pot (preferably heavy bottomed) combine linguini, tomatoes, stock, hot sauce, onion, garlic, red and green peppers, red-pepper flakes, cilantro, oil, salt, cumin, chili powder, oregano, pepper, and water. Bring to a boil over high heat.

Boil mixture, stirring and turning pasta frequently, until pasta is cooked and the sauce has nearly evaporated, about 11 minutes. It may look like a lot of sauce when you remove the pan from heat, but trust me, it will soak into the pasta! Remove cilantro sprigs if visible. Stir in the greek yogurt.

Season to taste with salt and pepper. Garnish with chopped cilantro and lime for squeezing. Serve at once!
Notes
A note on serving size: I typically can get 6 decent sized portions out of this recipe if I'm serving it with a small side salad. If you plan to serve this as the main dish with nothing else, I would say this will serve 4.

Next try this Veggie Fajita Quinoa Casserole!