It snowed yesterday! The first snow of the season. And such a pretty one, too. I soaked in the giant, wet flakes on my morning walk, and by the time I got home, I knew some chili was a MUST! Warm, spicy food just seems right when it's a snowin'!
Even though the feisty freezing flakes only lasted a few hours, my love for this chili is going strong and hard! I think I'll love it forever. It's just SO hearty, simple, spicy, and GOOD. We topped ours with giant dollops of sour cream and fresh cilantro, and I can stand by them as 100% awesome choices to finish off your chili adventure! Although a little cheese and some red onion was also quite good. Let me know which way you like it best 🙂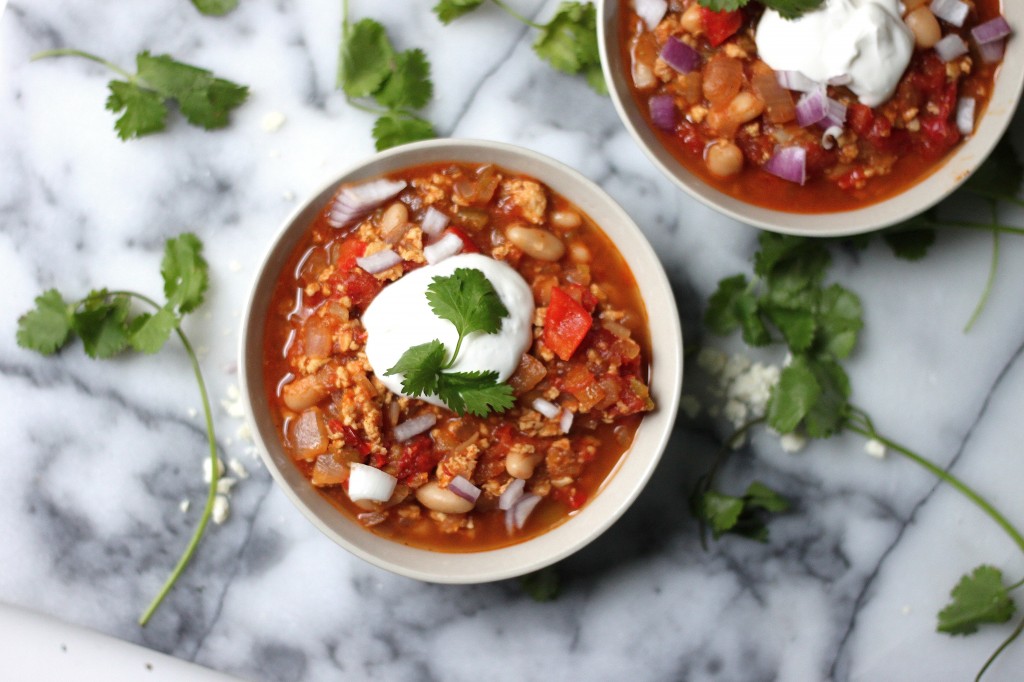 White Bean Chicken Chili – Baker by Nature
Ingredients:
2 tablespoons olive oil
1 VERY large yellow onion, finely chopped
1 large red bell pepper, chopped
(2) 4 oz cans diced green chilies
4 cloves garlic, minced
1 teaspoon salt
3/4 teaspoon chili powder
1 teaspoon ground cumin
1 pound ground white meat chicken
(1) 28 oz can whole, peeled tomatoes & their juices
1/2 cup white wine or chicken stock
2 tablespoons tomato paste
(1) 15 oz can cannellini beans, drained
1/4 cup sour cream, for topping (optional)
1/2 cup chopped cilantro, for topping (optional)
Instructions: 
Heat the olive oil in a large heavy bottomed soup pot over medium-high heat. Add the onion and cook for 5 minutes – stirring occasionally – then add the red pepper, chilies, salt, and spices. Cook for another 5 -7 minutes, or until the vegetables have browned.
Add the ground chicken and break it up with a wooden spatula. Cook, stirring occasionally, until meat has completely cooked and released all of its juices, about 8 minutes.
Add wine, and quickly scrape the bottom of the pan to release anything (yummy) that may have gotten stuck. Add tomatoes, and gently break them up using a large wooden spatula. Bring to a boil, then reduce heat to low and simmer for 20 minutes. Add the tomato paste. Adjust seasonings as needed, and feel free to add a splash more wine or water – just a tablespoon or so – if it looks a little too dry.
Scoop chili into bowls, top with sour cream and cilantro, and serve at once!