Chewy White Chocolate Macadamia Nut Cookie Bars!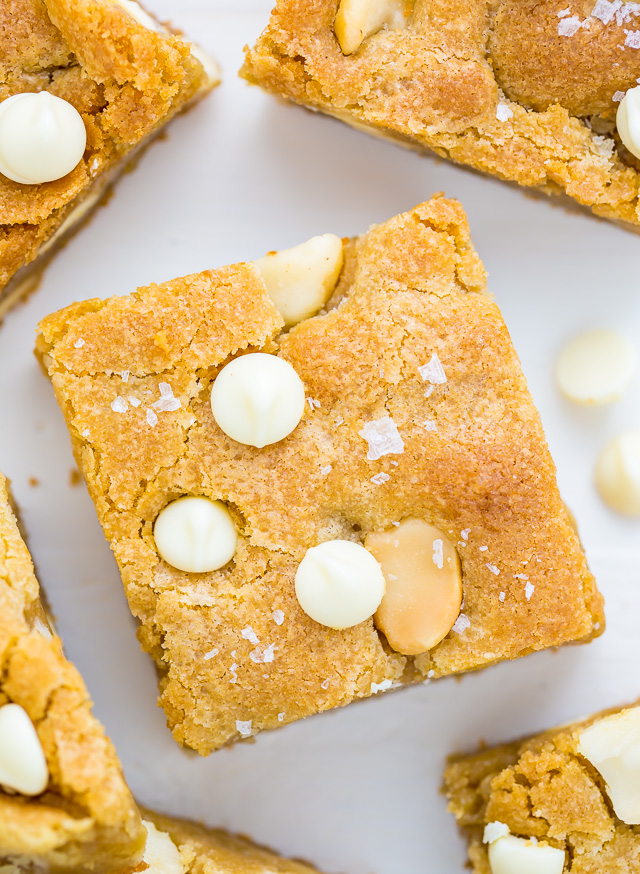 I consider myself somewhat of a cookie connoisseur. While my true love is thick, chewy, chocolate studded cookies… I've been known to flirt with cake cookies, cookie sandwiches, flourless cookies, and even BREAKFAST cookies. I don't discriminate! Love is love and delicious is delicious.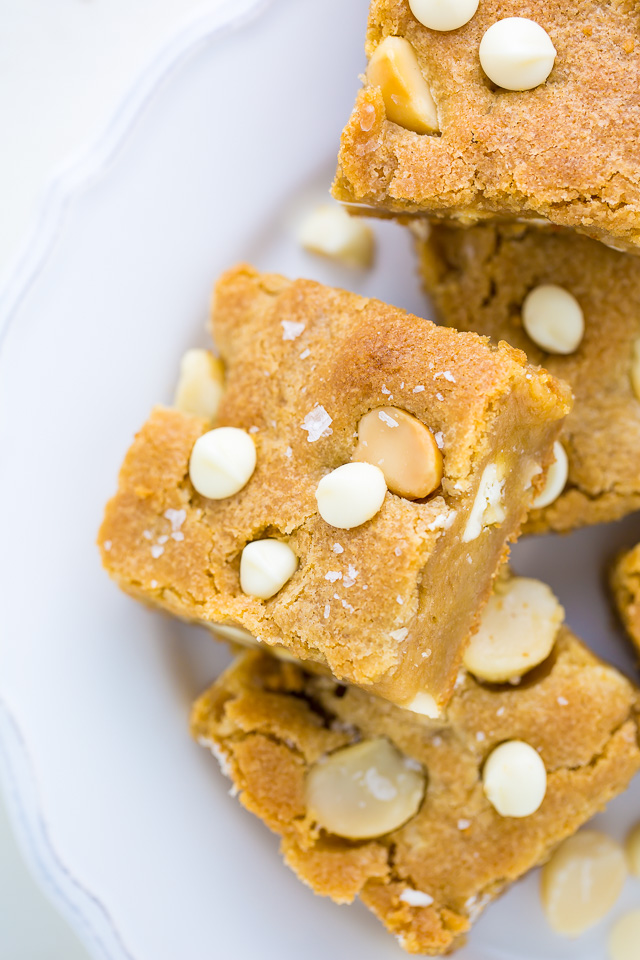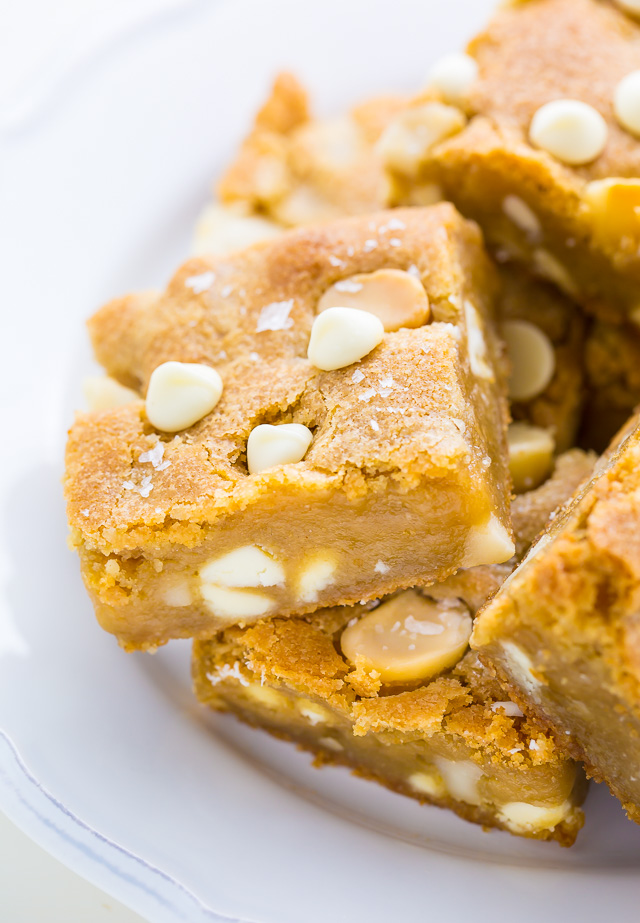 Lately life has been busy in the best kind of ways. Always rushing off to an outdoor event, BBQ or block party. Always trying to bake something quick and delicious on the fly!
Enter today's post: White Chocolate Macadamia Nut Cookie Bars. These beauties are made in one bowl, ready in 30 minutes, and could trick anyone into believing they were bought from some fancy schmancy bakery. That's what I call WINNING!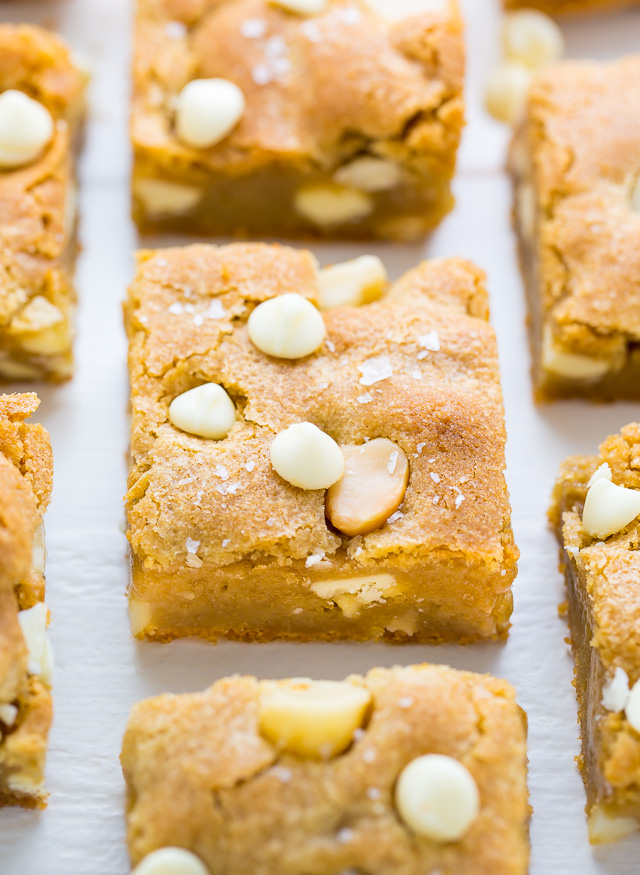 Tips and Tricks for Recipe Success:
When mixing the flour into the batter, be sure not to over mix!
If you're not a fan of white chocolate, feel free to use an equal amount of milk chocolate or dark chocolate chips instead.
The cookie bars will have slightly raised edges. This is normal and delicious! The edges are super super chewy while the center is nice and gooey. YUM.
Don't over bake the bars! When they're set at the edges but a little wiggly in the center, they're ready to come out of the oven! If you bake them until they're ALL the way set, they'll end up hard as a rock.
Cool the cookie bars completely in the pan before cutting. They'll need about an hour to firm up, but you can speed this process up by popping the pan in the fridge.
If you have any leftovers, store them in an airtight container for up to 3 days.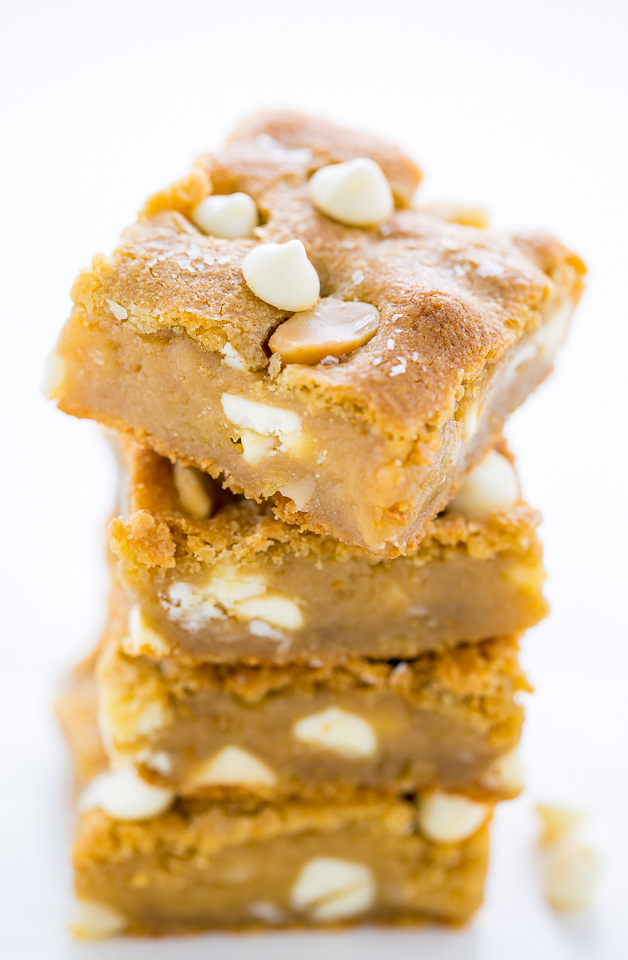 Perfect for dinner parties, cookie exchanges, and so much more, my white chocolate macadamia nut cookie bars are sure to be in heavy rotation ALL year long.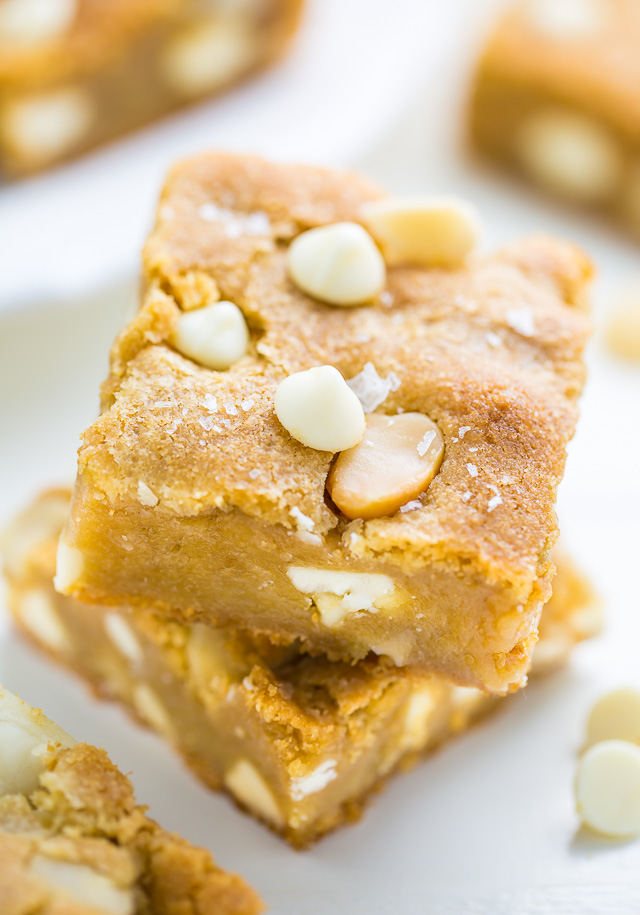 If you try this recipe, let me know what you think! Leave a comment below, and don't forget to snap a pic and tag it #bakerbynature on instagram! Seeing your creations makes my day.
White Chocolate Macadamia Nut Cookie Bars
Chewy White Chocolate Macadamia Nut Cookie Bars!
Ingredients
2 stick butter (8 ounces), melted
1 and 1/2 cups light brown sugar, packed
1/2 cup granulated sugar
2 large eggs, at room temperature
1 teaspoon vanilla extract
2 and 1/4 cups all-purpose flour (be sure not to pack your flour)
1 teaspoon baking powder
1 cup macadamia nuts, roughly chopped
1 and 1/2 cups white chocolate chips
Instructions
Preheat oven to 350 degrees (F). Line a 9x9 inch square baking pan with parchment paper and spray parchment lightly with non-stick spray, set aside.
Melt butter in a medium-sized skillet over medium heat. Remove from heat and cool for a few minutes, then whisk in both sugars; beat until well combined. Add in the eggs and vanilla, beating until combined. Gently stir in the flour and baking powder, being sure not to over mix. Fold in the chopped macadamia nuts and white chocolate chips.
Bake for 28 to 30 minutes, or until the edges are firm and golden and the center is just slightly wobbly. Cool in pan for at least 30 minutes before transferring uncut bars to a cooling rack to cool completely. Once bars are completely cool, slice into squares and serve.
Notes
Blondies will keep, stored in an airtight container, for 3 days.
Courses Dessert
Cuisine Cookies
Nutrition Facts
Serving Size 1 small square
Amount Per Serving
% Daily Value
* Percent Daily Values are based on a 2,000 calorie diet. Your daily values may be higher or lower depending on your calorie needs.
Next try:
Brown Butter White Chocolate Macadamia Nut Cookies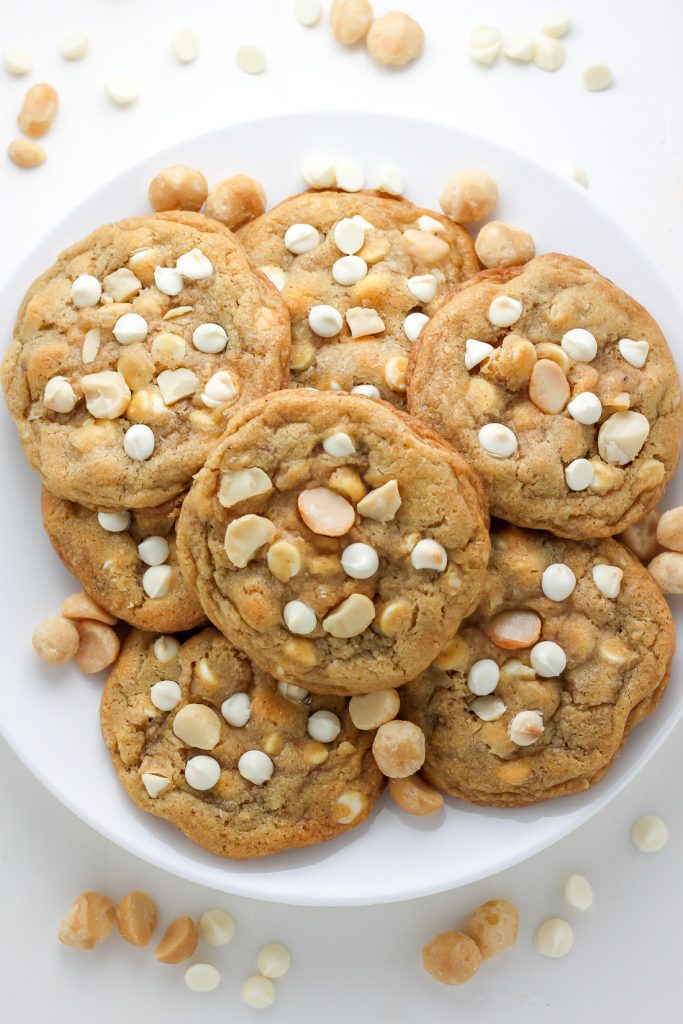 Thick and Chewy White Chocolate Peanut Butter Blondies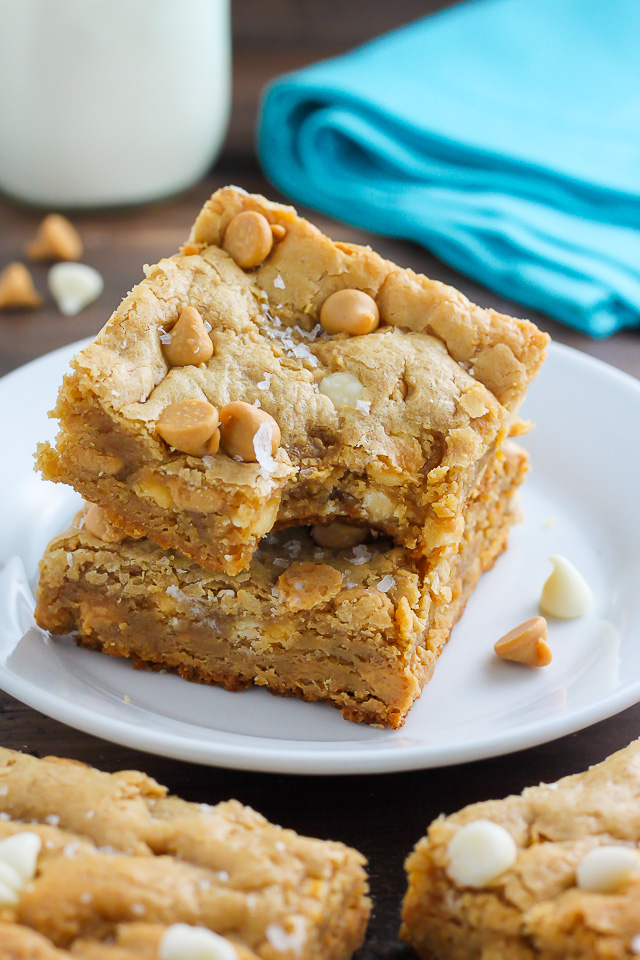 White Chocolate Reese's Pieces Peanut Butter Chip Cookies