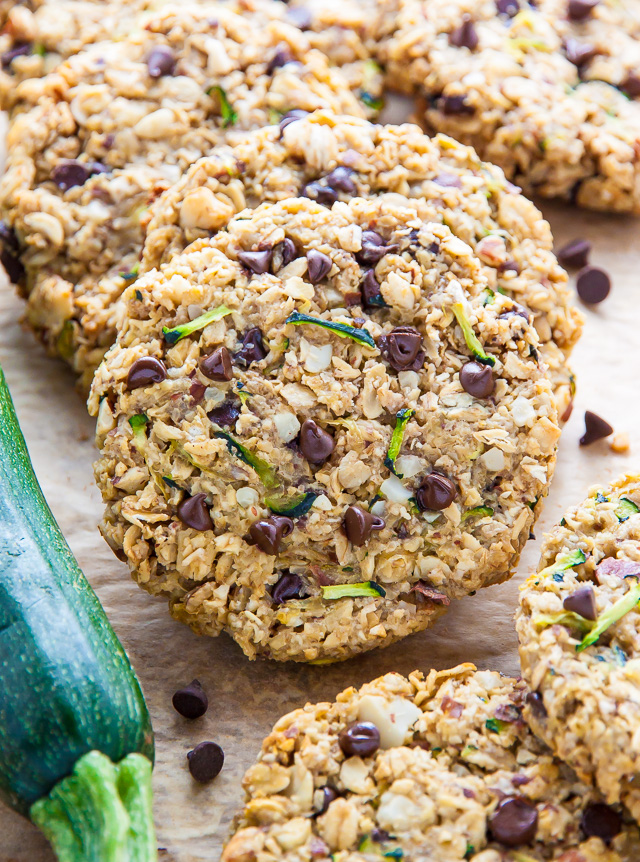 Zucchini Cookies
IT'S THE RETURN OF THE BREAKFAST COOKIE! Zucchini Bread Breakfast Cookies, to be exact. In the past, we've made banana bread breakfast cookies and chocolate coconut banana bread breakfast cookies… but today?
Today we're talking perfectly chewy, crispy, honey sweetened oatmeal cookie goodness, you guys! I mean really… who knew vegetables could be SO delicious?!? I've actually made these cookies three times in the past two weeks. I love warming one up and enjoying it with my morning java, but they also make a great grab-and-go snack. P.S. If you're looking to get a little more decadent… try slathering one with a teaspoon of Nutella. Trust me!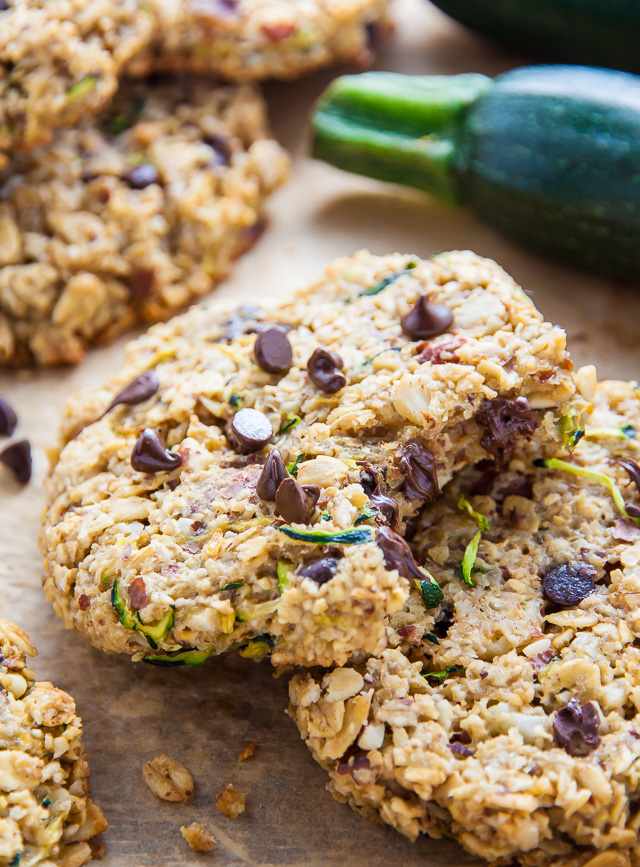 Very happy to report these slightly sweet, amazingly chewy, chocolate chip studded cookies are kid tested and approved! Since we don't have kids I brought a batch over to my neighbors house and her little ones devoured them before I could even debate with their mom whether or not they would notice the "green stuff" hiding between the oats. #VICTORYDANCE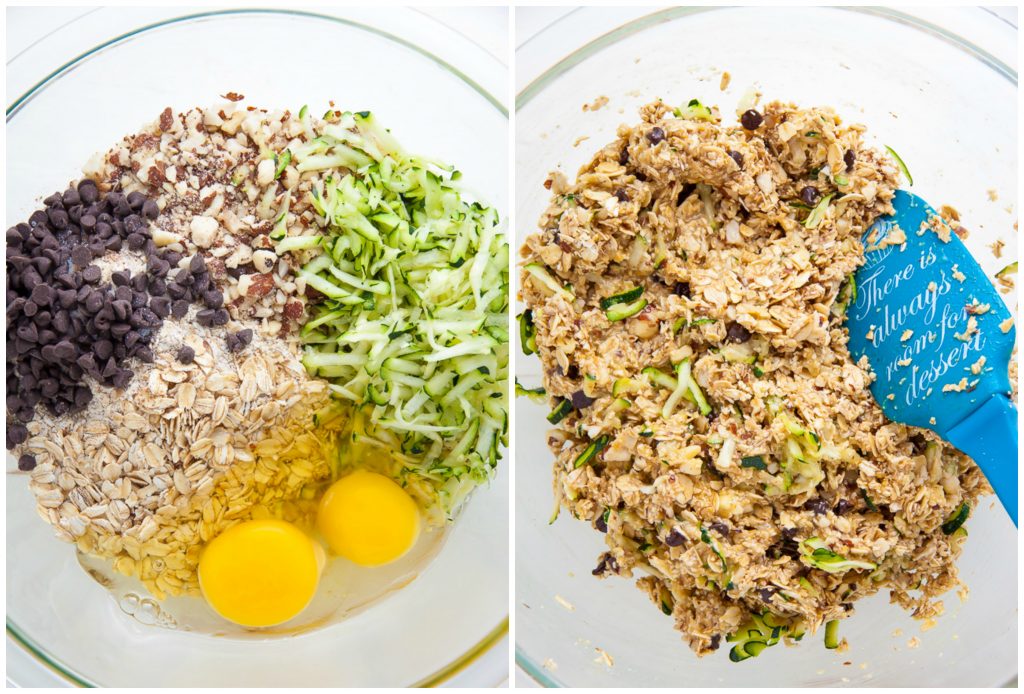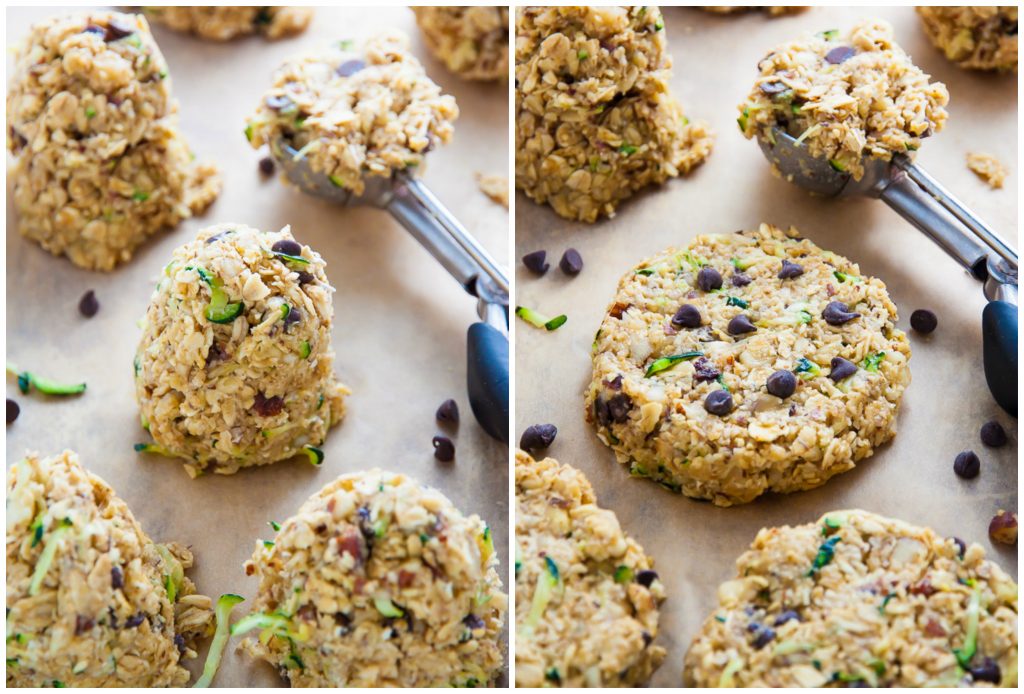 Tips and Tricks for Recipe Success:
For this recipe you're going to want to grate the zucchini (coarsely) then drain the heck out of it. I'm serious! Zucchini is loaded with moisture, so you'll want to squeeze out as much of it as you can before adding it to the cookie batter. If you skip this step your cookies will be soggy and I don't want that to happen to you! To efficiently drain your zucchini, simply place it in a fine-mesh strainer and let it sit for about 10 minutes, then press as much moisture out as you can by hand; you can also wrap the shredded zucchini in a piece of cheesecloth (or a clean hand towel) and squeeze the moisture out. Both ways work just fine, so it's really just a matter of what tools you have on hand.
The cookie dough will be very wet at first – but don't fret! Once the dough has chilled (it needs 90 minutes in the fridge), it will be workable.
You'll need to press the cookie down onto the prepared sheet and flatten them using your palms. The cookies do not spread at all while baking.
These zucchini bread breakfast cookies MUST cool completely on the cookie tray… so put on your patience cap when you pull them out of the oven. Trust me, they're worth the wait!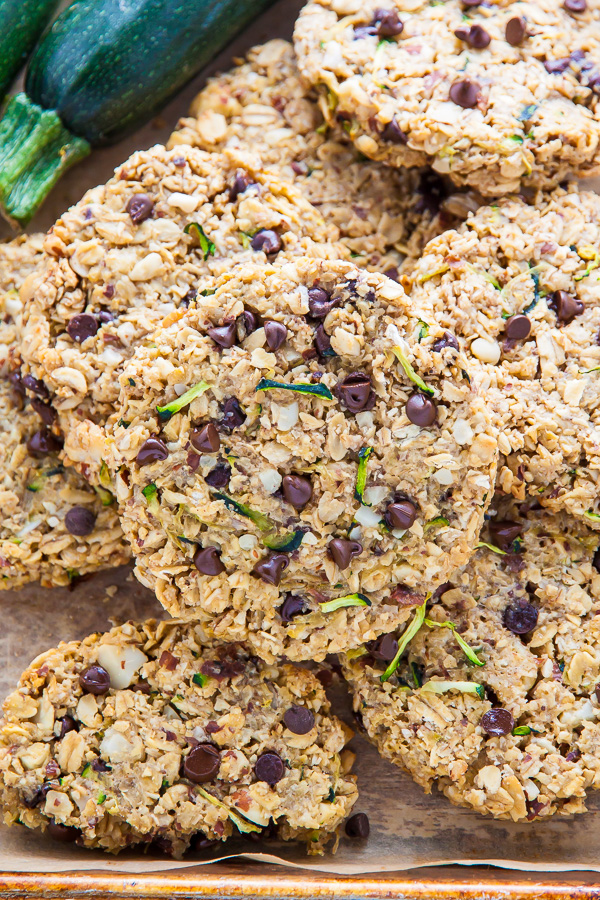 I mean seriously… who wouldn't want these for breakfast?!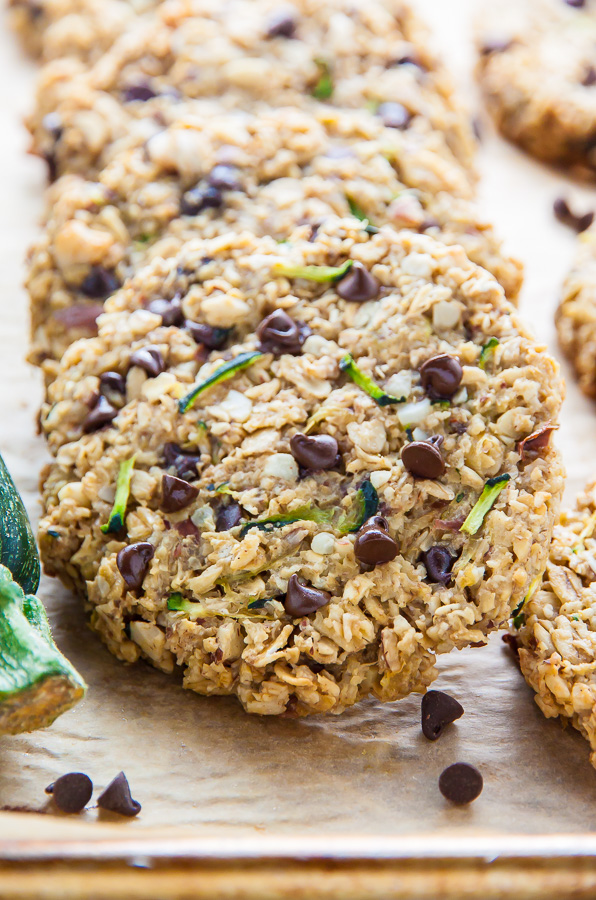 More Zucchini Recipes: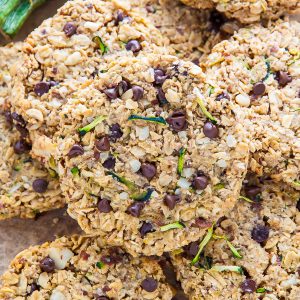 Zucchini Bread Breakfast Cookies
Zucchini Bread Breakfast Cookies are loaded with mini-chocolate chips and walnuts!
Ingredients
4 tablespoons honey
3 and 1/2 tablespoons coconut oil, melted
2 large eggs, beaten
1 teaspoon vanilla extract
1/2 cup zucchini, coarsely grated and drained (see post for more on this)
2 tablespoons unsweetened applesauce
3/4 cup old fashioned oats
1 and 1/2 cups instant oats
1/3 cup walnuts, chopped
3/4 teaspoon cinnamon
1/4 teaspoon nutmeg
1/3 cup mini-chocolate chips, plus more for sprinkling (optional)
1/4 teaspoon salt
Instructions
Line a large baking sheet with parchment paper; set aside.

In a large bowl combine the honey and melted coconut oil; whisk smooth. Add in eggs, one at a time, beating smooth after each addition. Whisk in vanilla, zucchini, and applesauce. All at once add in both oats, walnuts, cinnamon, nutmeg, mini-chocolate chips, and salt; gently fold the dry ingredients into the wet ingredients just until evenly combined. Cover the bowl and chill for 1 hour and 30 minutes.
When you're ready to bake:
Preheat oven to 325 (F). Scoop 3 tablespoon sized potions of the mixture into your palm and roll it into a large ball. Press the cookie down onto the prepared sheet and using your palm flatten the cookie down to 1/4 inch (the cookies do not spread at all while baking); repeat with all cookie dough. Bake for 18 minutes. Sprinkle a few mini-chocolate chips on the top of each cookie right when they come out of the oven, if desired. Allow cookies to cool completely on the baking sheet before serving.
Notes
Total time indicated above includes chill time.

You might also enjoy:
Banana Bread Breakfast Cookies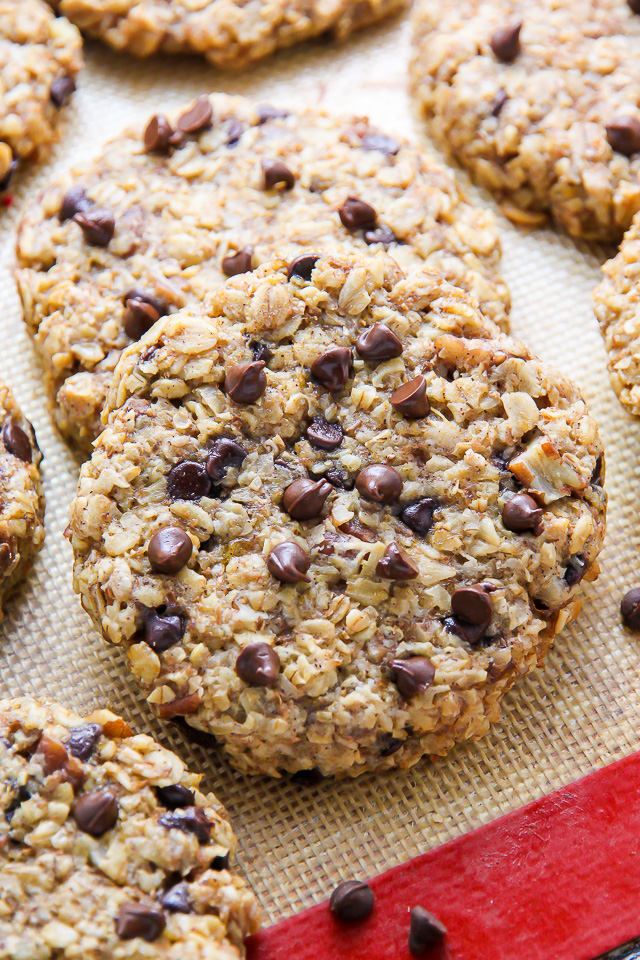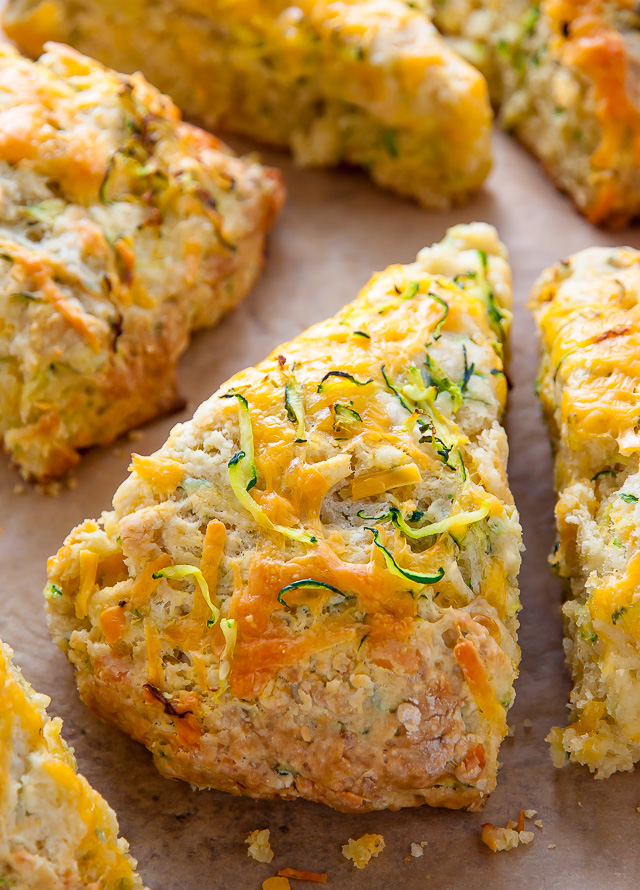 Healthy Double Chocolate Banana Muffins