Don't let the whole wheat fool you – these chocolate chip scones are supremely moist, flavorful, and crunchy in all the right places. In other words, they're a dream come true.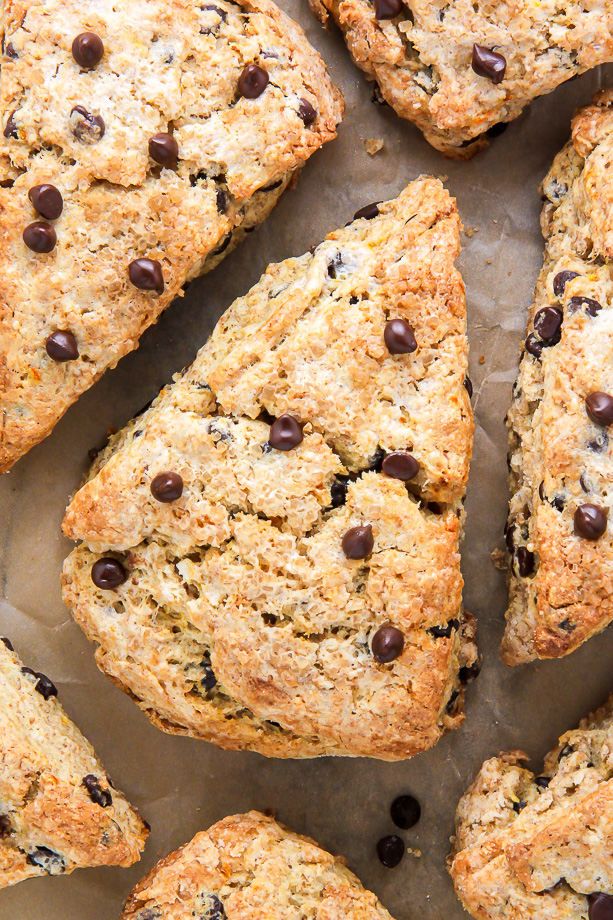 Chocolate Chip Scones
Hi. How are you today? I hope you're deep and cozy in your Sunday routine.
For me, Sunday means sipping hot coffee, lounging in jammies, and pecking at something sweet and preferably homemade. Don't get me wrong – I'm no enemy of the bakery. But I like to nest on the weekends, so leaving the house for my sugar fix isn't my #1 option.
↑ Lucky for us, these whole wheat chocolate chip scones are better than the bakery, made with everyday ingredients, and ready in about 30 minutes. I'm marking this down as a WIN for all of us.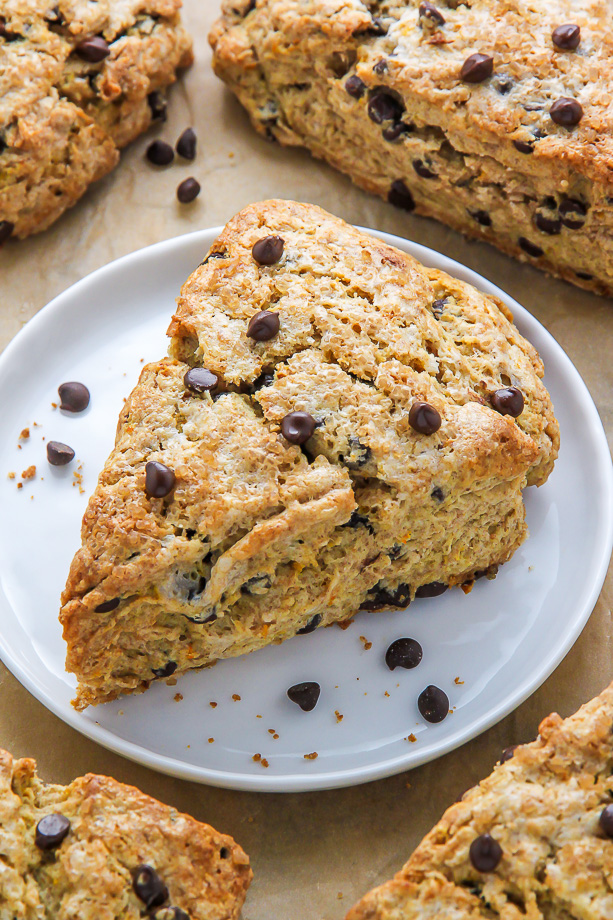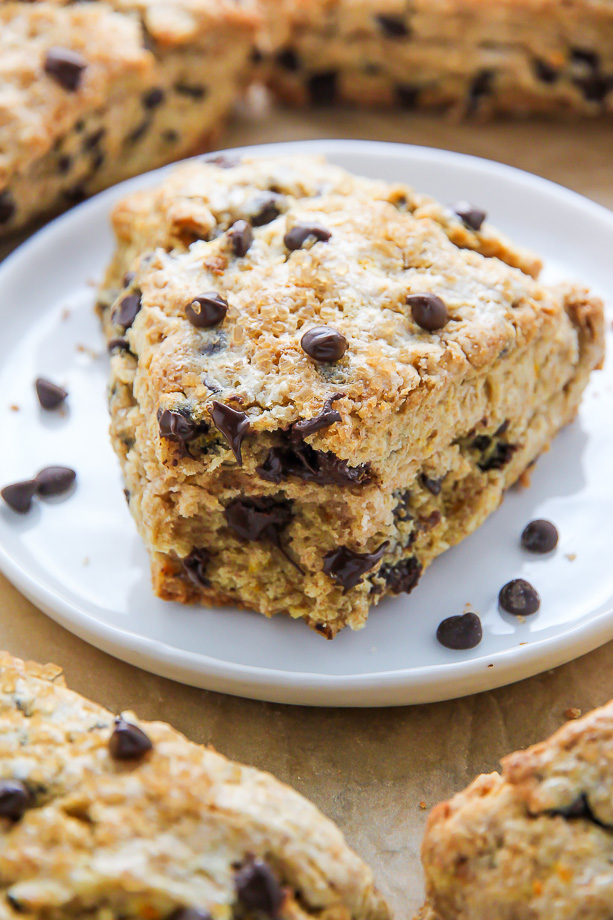 How to Make Chocolate Chip Scones
Making scones at home is simpler than you may think, but there are a few things you need to know before jumping in. When made wrong, scones can be dry, bland, and blah. But when done the right way? They are a luxury to be savored.
Rich and tender with fluffy, chocolate chip studded interiors, and crunchy edges. They can be enjoyed for breakfast, brunch, or even dessert.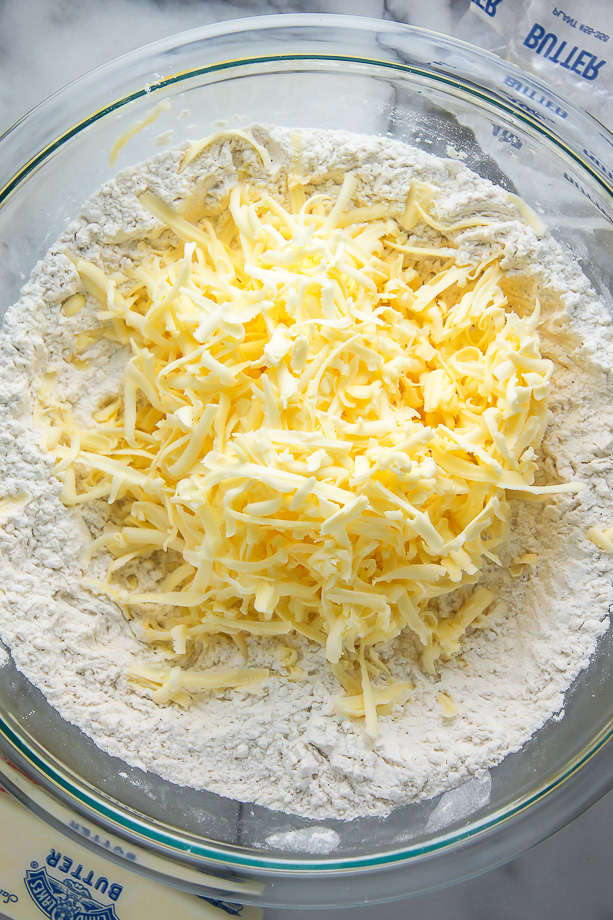 Cold Butter is King
Why cold butter? Read on! Cold butter is what creates scones that are flaky, crumbly, and tender. If your butter is warm and melts before baking, you're going to loose the buttery layers that are essential in a scone. When it comes time to add the butter into the dough, you should resist using your hands, since body heat will quickly melt the butter. Instead, use a pastry cutter or two forks. My favorite method is grating the butter then quickly working it into the dough with two forks.
Once your chilled butter situation is under control, you're all set to assemble! For the dry ingredients you'll need flour (I used a combination of whole wheat and all-purpose), baking powder (2 tablespoon give these scones their high rise), baking soda, brown sugar (this adds moisture as well as sweetness), chocolate chips (I used mini chips) salt, and nutmeg. I also added orange zest, but this is completely optional. These ingredients are quite basic and should be easy to find at your local grocery store, if you don't happen to already have them at home.
For wet/cold ingredients you'll need sour cream, milk, vanilla, an egg, and butter (remember – COLD). You'll also need a lightly beaten egg for brushing over the scones right before baking. I like to sprinkle turbinado sugar on top of the eggwash so the lids caramelize while baking, but again, this is optional.
Much like the dry ingredients listed above, these should be very easy to find – and may even already be in your kitchen waiting for you.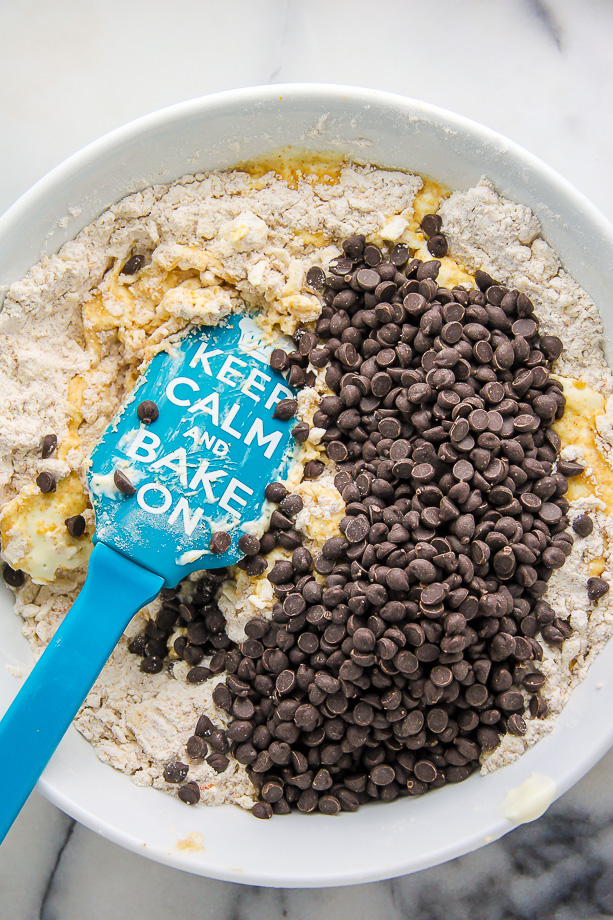 When it's time to cut the scones, you won't need any fancy equipment – just a large, sharp knife to slice the circle into 8 triangles. Scones are forgiving treats, so don't beat yourself up if they look a little… rustic. The important thing to remember is to work quickly and try not to handle the dough too much. If you find your dough is warm and sticky, pop it back in the fridge or freezer for a few minutes and let it chill, then get back to work.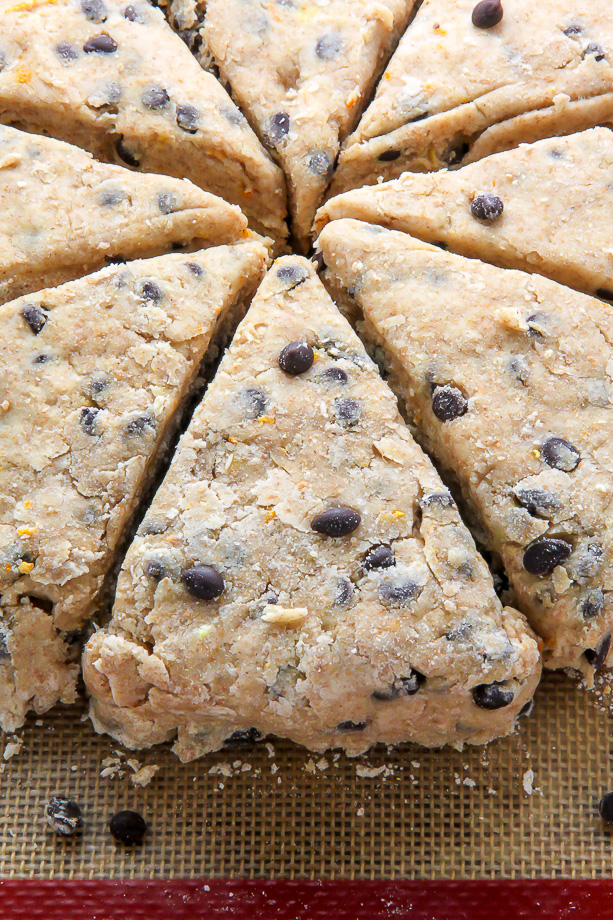 Pop them in the oven for 18 minutes and viola! Bakery style scones straight from your oven. Sounds pretty great, right?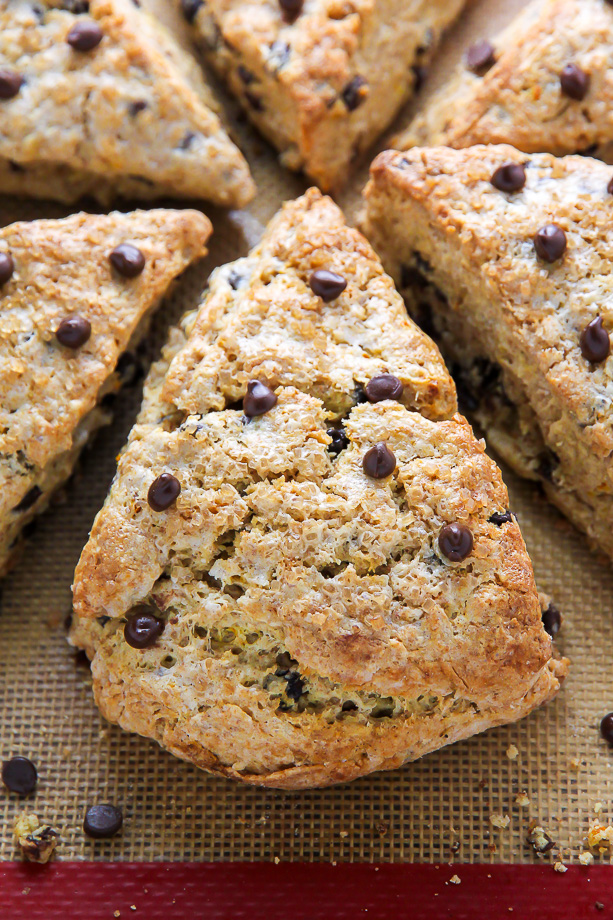 If you try this recipe, let me know! Leave a comment below and don't forget to snap a pic and tag it #bakerbynature on instagram! Seeing your kitchen creations makes my day. ♥
More Scone Recipes: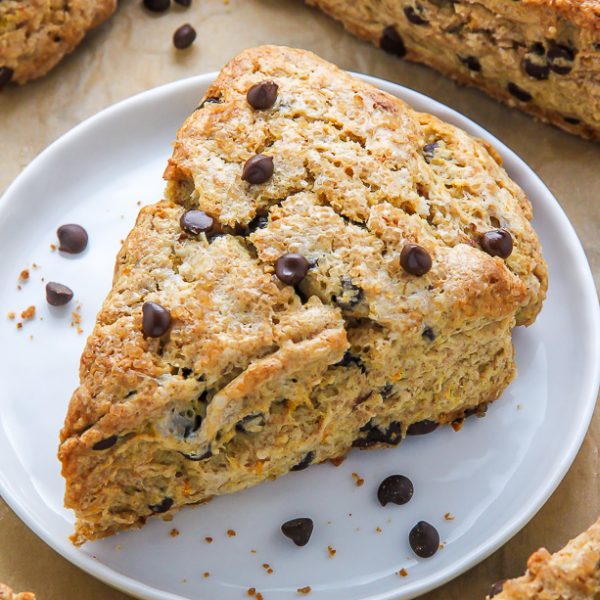 Whole Wheat Chocolate Chip Scones
Classic and crumbly chocolate chip scones made with whole wheat flour!
Ingredients
1 cup whole wheat flour
1 and 1/2 cups all-purpose flour
1/2 teaspoon salt
1 tablespoon baking powder
1/2 teaspoon baking soda
1/3 cup light brown sugar, packed
1 teaspoon orange zest (optional)
1 stick (4 ounces) unsalted butter, VERY cold and cut into tiny pieces
1 large egg, beaten
1 teaspoon vanilla extract
1/2 cup full-fat sour cream
3 tablespoons milk (I used full-fat but any type will work)
1 cup chocolate chips
For the egg wash:
1 large egg, beaten
1 teaspoon milk or water
2 tablespoons turbinado sugar, for sprinkling (optional)
Instructions
Preheat oven to 400°(F). Line a large baking sheet with parchment paper; set aside. In a large bowl mix together flour, salt, baking powder, baking soda, sugar, and orange zest.

Cut the butter into small cubes then quickly work it into the mixture (using your fingers) until lit resembles a coarse meal.

In a small bowl, whisk together the egg, vanilla, sour cream, and milk, then add to flour and butter mixture. Use a fork to stir everything together until just moistened.

Add in the chocolate chips and gently fold them into dough with a spatula.

Pour the shaggy dough out onto a clean, floured work surface and shape the dough into an 8-inch circle. Cut the dough into 8 wedges and carefully transfer to the prepared sheet. Lightly brush each scones with the egg wash, then sprinkle the top of each scone with sugar.

Bake for 18-20 minutes, or until the tops are lightly golden brown.