Classic and crumbly Pumpkin Chocolate Chip Scones! This easy scone recipe is loaded with pumpkin flavor and mini chocolate chips. Perfect for Fall baking!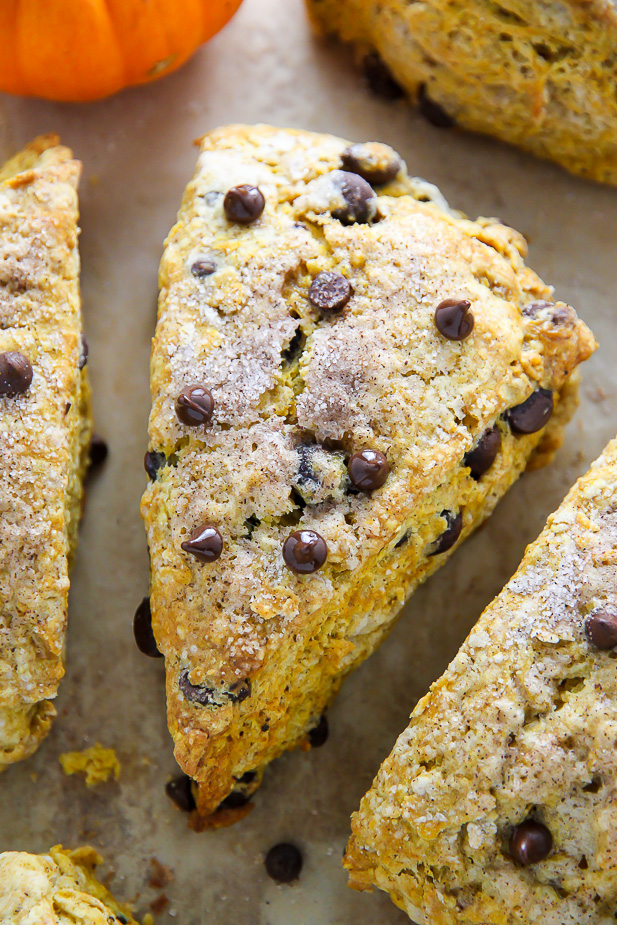 Pumpkin Chocolate Chip Scones
Are you as thrilled as I am that it's pumpkin season? You may have noticed I'm loving pumpkin pretty hard this month (evidence can be found here, here, and here) but this combination – rich pumpkin, subtle spices, and gooey chocolate – was so good I made a triple batch to store in the freezer. On a chilly morning, nothing beats a warm scone and a cup of creamy coffee.
But if pumpkin scones aren't your thing, feel free to browse ALL my pumpkin recipes!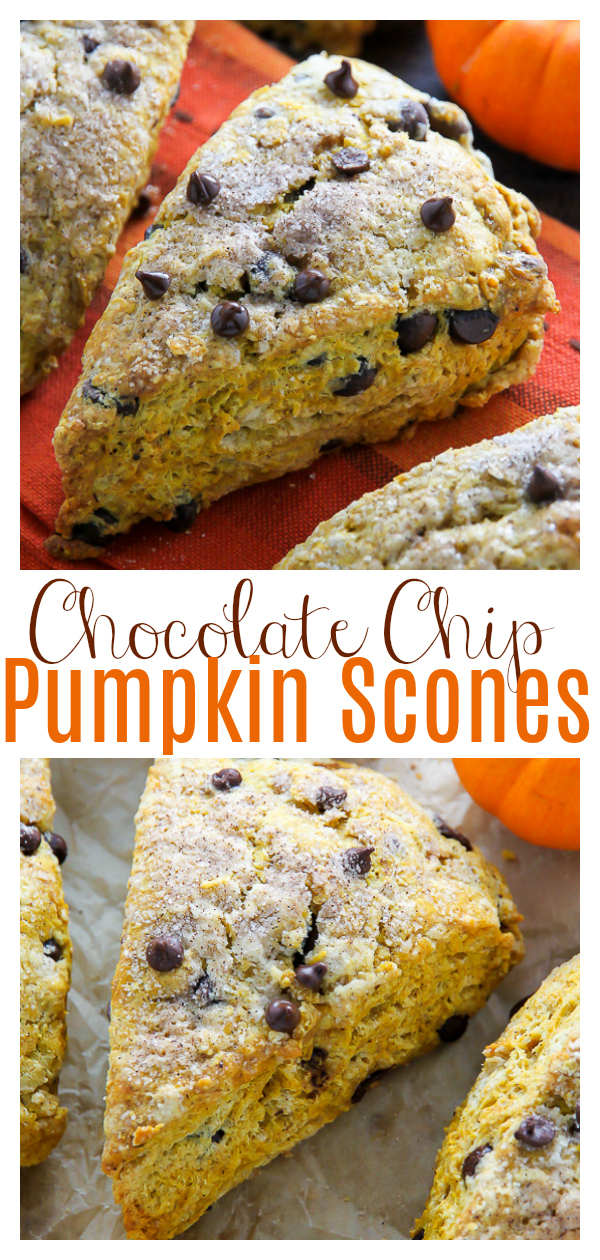 How to make Pumpkin Scones
For this recipe you'll need all-purpose flour, salt, baking powder, baking soda, brown sugar, butter, eggs, pumpkin puree (not pumpkin pie mix), pumpkin pie spice, milk, and chocolate chips. No fancy or hard-to-find ingredients in this one!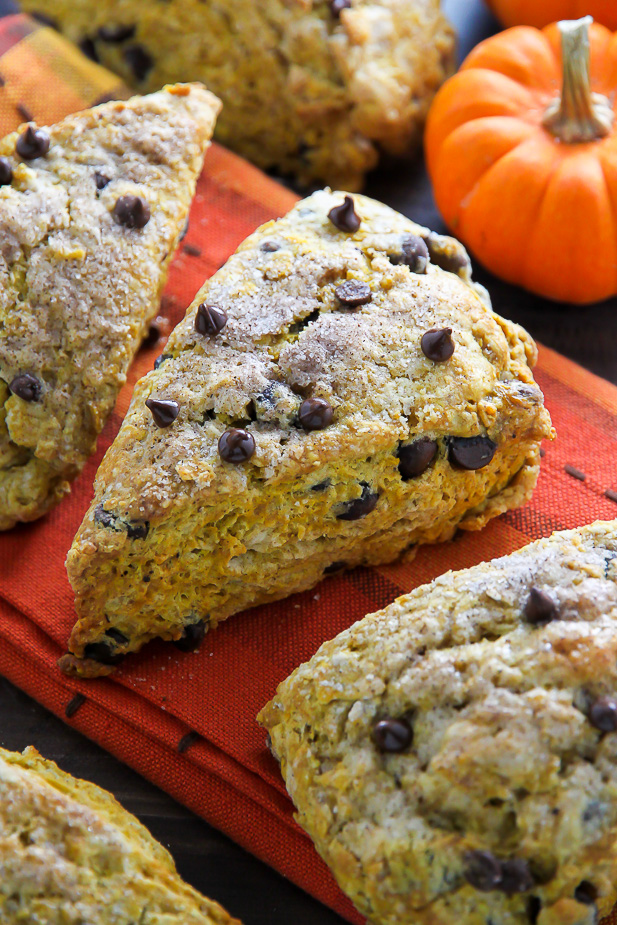 P.S. I used mini chocolate chips in this recipe because they're cute and I already had them at home, but regular-sized chocolate chips will work perfectly fine. Use what you have/can easily find.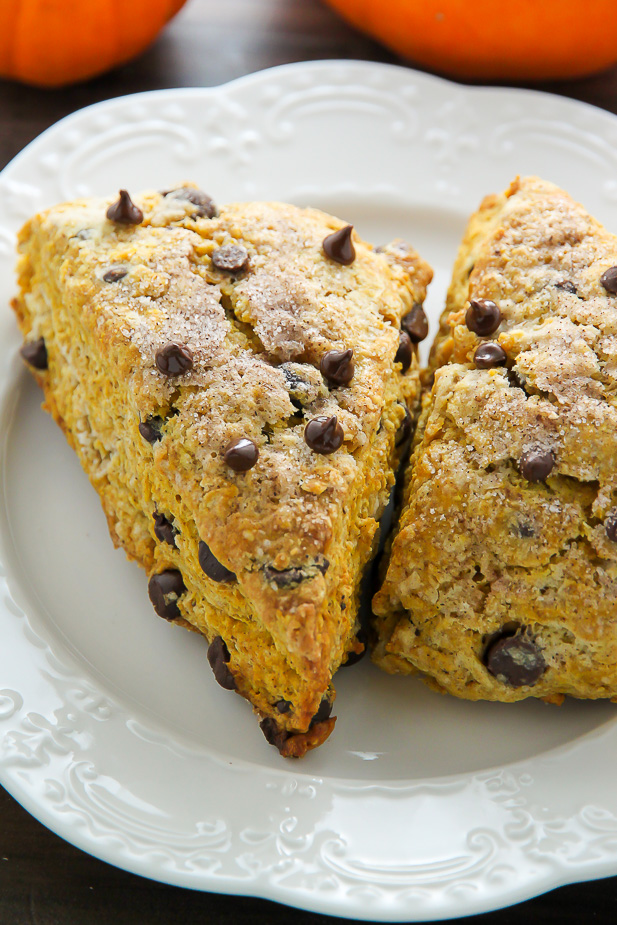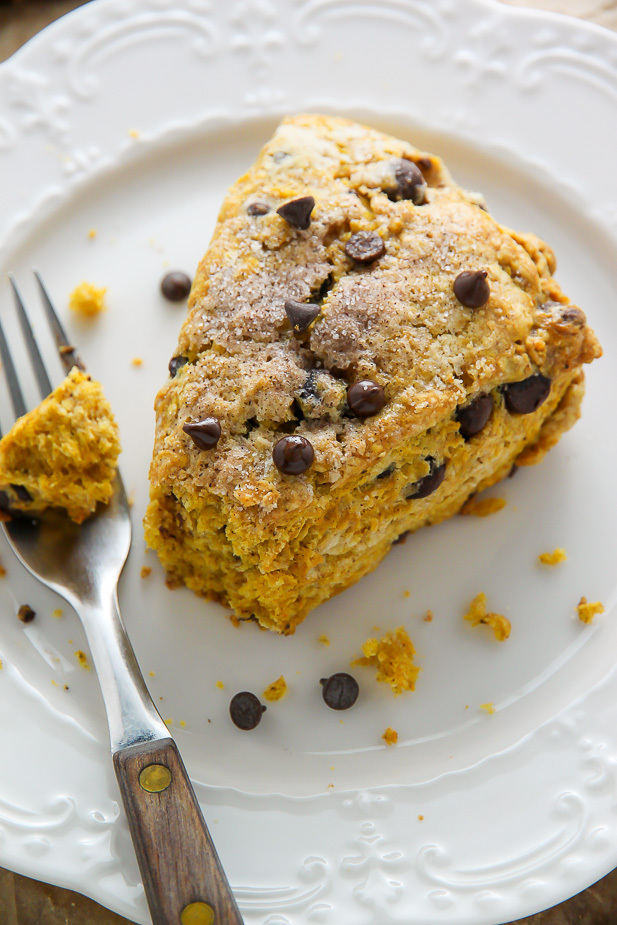 My #1 rule for making scones is always use COLD butter. Warm butter is a major no-no.
Your butter should be cold enough that it can be grated easily. I like to pop my stick in the freezer for 15-20 minutes before getting my shred on. If you don't own a box grater, simply cut your cold butter into tiny cubes before adding it to the dough.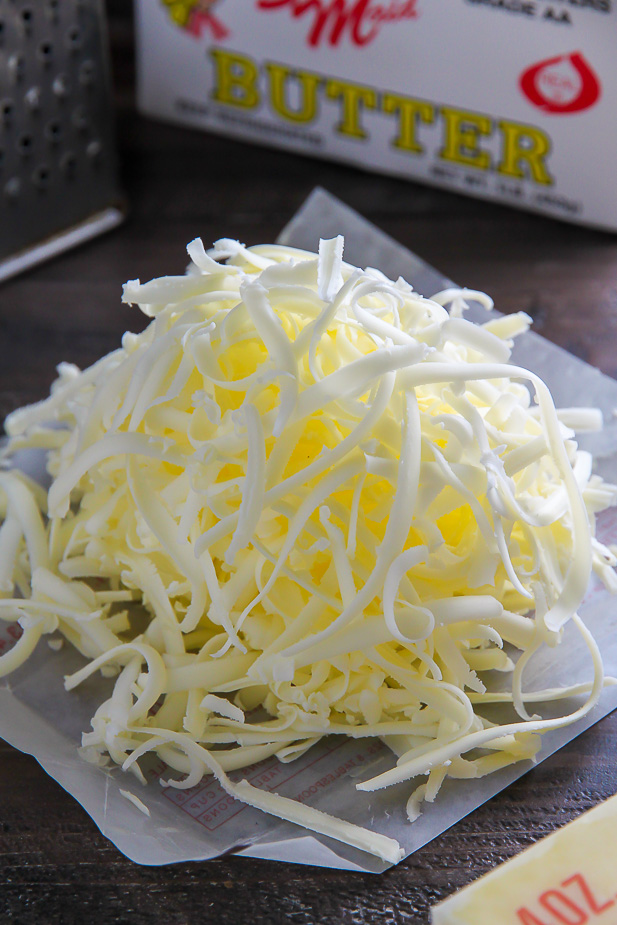 When it comes time to knead your dough, be sure to generously flour your work surface. It takes a little patience, but the dough will eventually come together.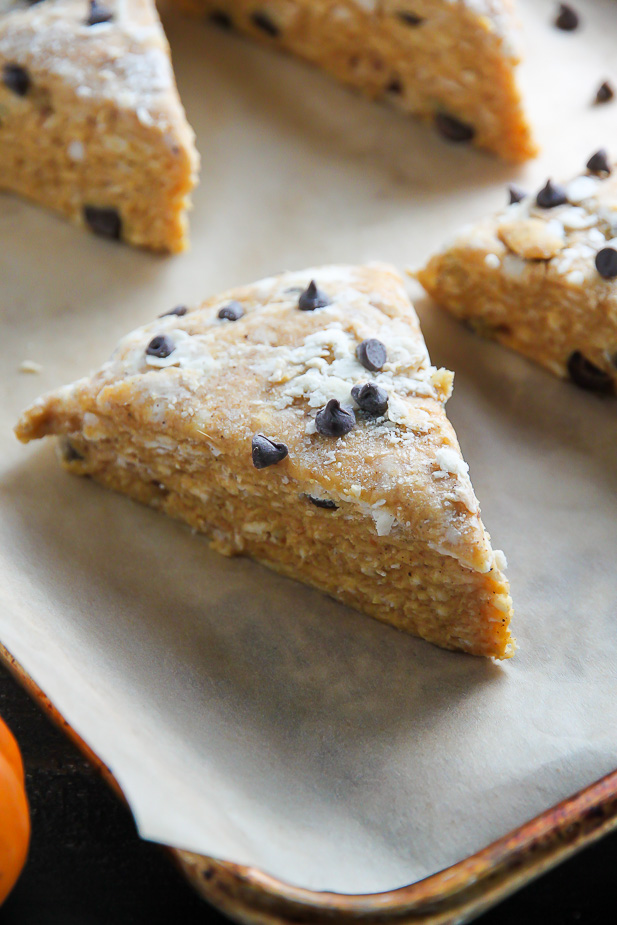 These chocolate chip pumpkin scones are perfect in every way. They're my new favorite Fall breakfast… and you should know I don't toss around words like "favorite" and "perfect" lightly.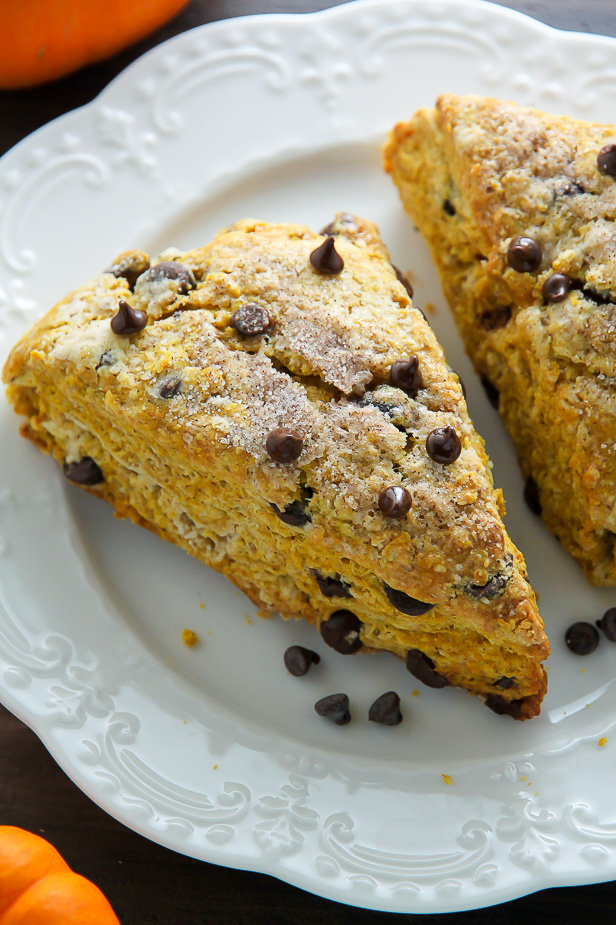 These pumpkin scones are:
Melt-in-your-mouth moist and tender.
Perfectly crunchy at the edges.
Bursting with real pumpkin flavor.
Loaded with rich chocolate chocolate chips.
Better than a bakery.
Utterly delicious.
Your coffee's new best friend.
More Scone Recipes: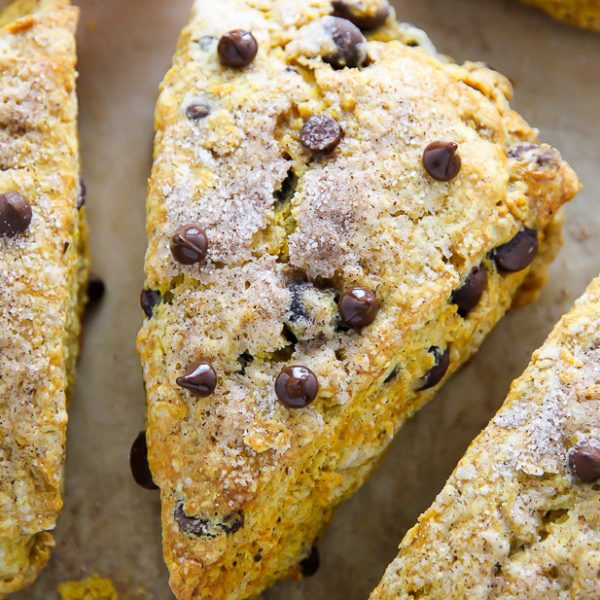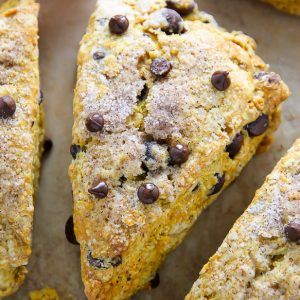 Chocolate Chip Pumpkin Scones
Tender Pumpkin Scones loaded with Chocolate Chips. Perfect for breakfast!
Ingredients
For the egg wash:
1 large egg, beaten
1 teaspoon milk or water
For the cinnamon sugar topping:
1/2 teaspoon cinnamon
2 tablespoons granulated sugar
For the scones:
2 1/2 cups all-purpose flour
3/4 cup mini-chocolate chips
1/2 teaspoon salt
1 tablespoon baking powder
1/2 teaspoon baking soda
1/3 cup granulated sugar
1 teaspoon pumpkin pie spice
1 stick (4 ounces) unsalted butter, VERY cold and either grated or cut into tiny pieces
1 large egg, beaten
1/2 cup pumpkin puree
3 tablespoons milk (I used almond milk but any variety will work)
Instructions
For the egg wash:
In a small bowl beat together the egg and water; set aside until needed.
For the cinnamon sugar topping:
In a small bowl combine the cinnamon and granulated sugar; set aside until needed.
For the scones:
Preheat oven to 400°(F). Line a large baking sheet with parchment paper; set aside.

In a large bowl combine the flour, mini-chocolate chips, salt, baking powder, baking soda, sugar, and pumpkin pie spice; mix well; set aside.

Cut the butter into small cubes (or use a cheese grater to shred it) then quickly work it into the flour mixture (using a pastry cutter or two forks) until it resembles a coarse meal.

In a medium-sized bowl whisk together the egg, pumpkin puree, and milk; pour into the flour and butter mixture and using a fork, gently stir everything together until just moistened.

Pour the shaggy dough out onto a clean, well floured work surface. Using your hands, shape the dough into an 8-inch circle. Cut the dough into 8 wedges and carefully transfer them to the prepared sheet.

Lightly brush each scones with the egg wash, then sprinkle each one generously with cinnamon sugar.

Bake scones for 18-20 minutes, or until the tops are lightly golden brown. Cool scones for 10 minutes on the tray, then serve warm!