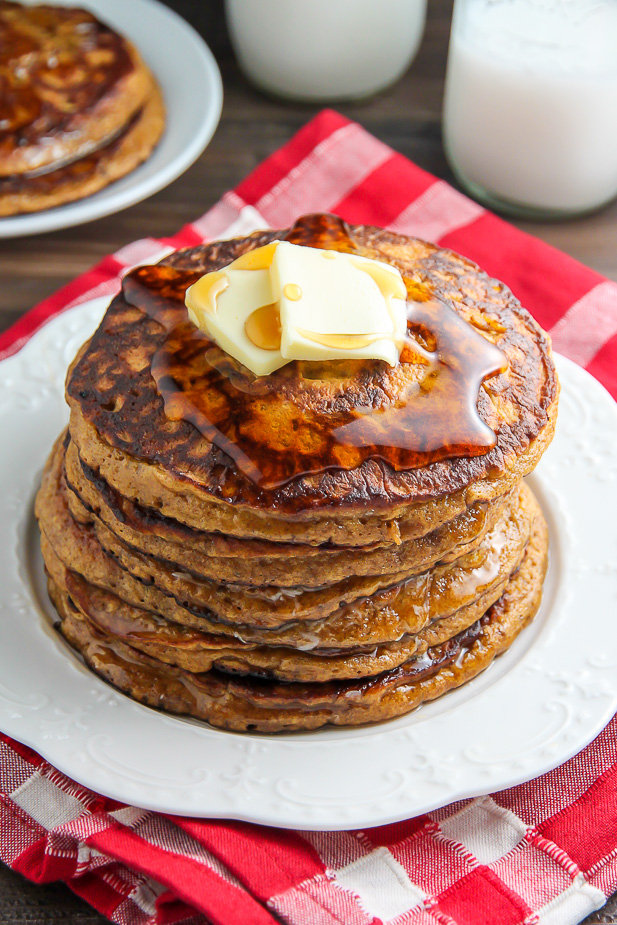 Saturday brunch is, by far, my favorite meal of the week. I have a lot of go-to brunch recipes, but I have to admit, pancakes are my #1 choice when it comes down to it. Nothing beats a warm stack of buttery pancakes covered in sticky sweet syrup!!! Waffles are a close second, but we'll save that conversation for another post.
Today, it's all about these delectable whole wheat gingerbread pancakes.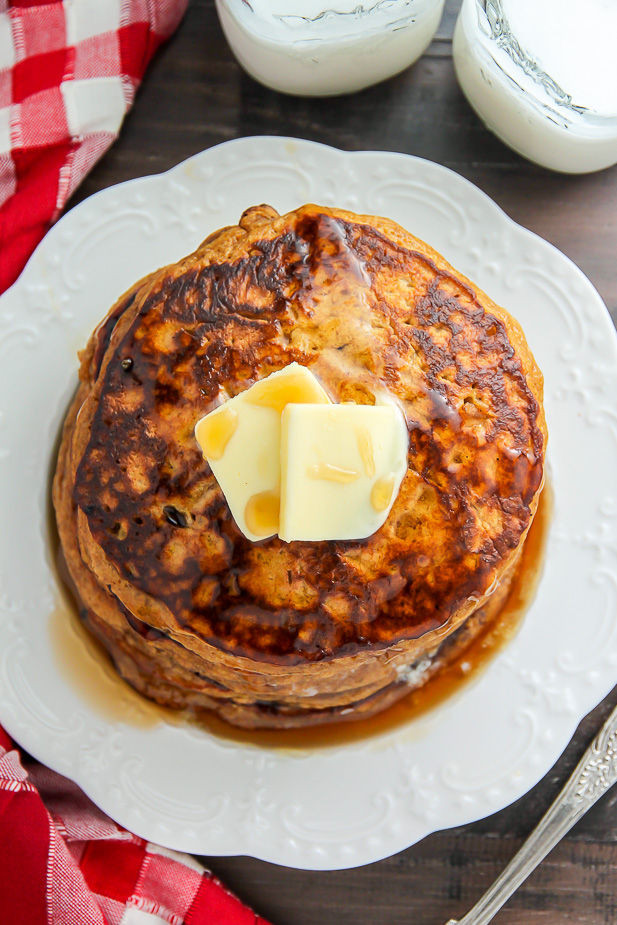 So fluffy. So sweet. So full of rich gingerbread flavor. ♥♥♥
The fact that they're made with whole wheat flour and minimal sugar is just the syrup on the stack.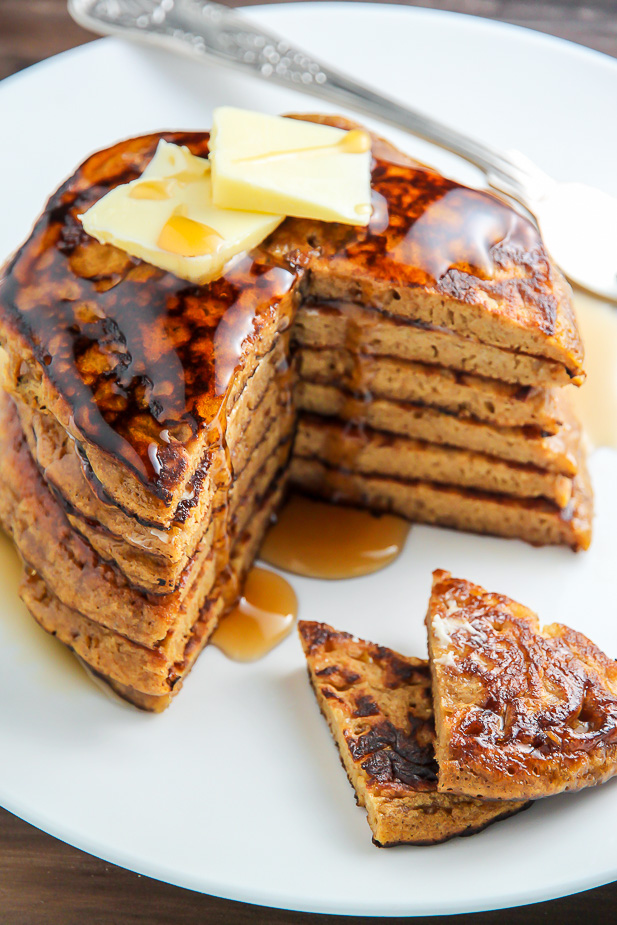 It took me a few tries to get these pancakes just right – I am a stickler when it comes to perfecting taste and texture – but after a few trial-and-error test runs, I finally nailed the perfect ratio of ingredients.
For the pancake batter you'll need eggs, sour cream, milk, molasses, brown sugar, salt, vanilla extract, baking powder, flour, cinnamon, ginger, nutmeg, cloves, butter, and maple syrup.
The eggs will be separated so that you can beat the egg whites. Foamy egg whites = extra fluffy pancakes. The egg yolks will get mixed together with the sour cream, milk, and molasses. And the brown sugar baking powder, flour, cinnamon, ginger, nutmeg, and cloves will be whisked together until well combined.
The gingerbread flavor comes from the brown sugar, molasses, and spices. The brown sugar also provides moisture to these pancakes, so I do not recommend subbing granulated sugar in this case.
I speak from straight from the heart when I say that these are the most comforting pancakes on a chilly Fall (or Winter) morning. They're certain to make any morning much brighter!
Add extra syrup and butter because… YUM!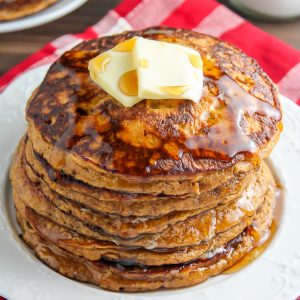 Whole Wheat Gingerbread Pancakes
Moist and flavorful gingerbread pancakes!
Ingredients
6 large eggs, at room temperature, separated
1 cup full-fat sour cream
1 cup whole milk
5 tablespoons molasses
6 tablespoons dark brown sugar
2 teaspoons vanilla extract
2/3 cup and 2 tablespoons whole wheat flour
2/3 cups and 2 tablespoons all-purpose flour
1 teaspoon salt
4 teaspoons baking powder
1 and 1/2 teaspoons cinnamon
1/2 teaspoon ground ginger
1/2 teaspoon ground nutmeg
1/2 ground cloves
1 stick of butter, for the pan
Maple syrup, for serving
Instructions
In a large bowl whisk together the egg yolks, sour cream, milk, molasses, sugar, and vanilla; set aside.

In a separate bowl combine the flours, salt, baking powder, cinnamon, ginger, nutmeg, and cloves; whisk well.

Add the dry mixture into the wet mixture, and stir until just combined; do not over mix! Set aside.

Add the reserved egg whites to a large bowl or the body of a stand mixer. Beat, using a handheld mixer or the whisk attachment, until the whites begin to form soft peaks.

With a rubber spatula fold egg whites into the pancake batter, stirring until fully incorporated.

Melt 1 tablespoon of butter in a large skillet over medium heat.

Ladle 1/3 cup scoops of the batter into the skillet, only cooking a few at a time so they don't blend together.

Cook pancakes until the edges begin to brown and the top of the batter bubbles, then flip and cook for another 1-2 minutes. Repeat for all pancake batter.

Top pancakes with syrup and extra butter, or anything else your heart desires! Serve at once.