Is there anything better than a dense, rich, buttery cake studded with seasonal fruit and topped with a crispy crunchy lid?
How about one that's also packing whole wheat flour, ground & crystalized ginger, and even some thyme! Oh, and it travels like a dream. A major plus for this holiday season that is truly UPON us!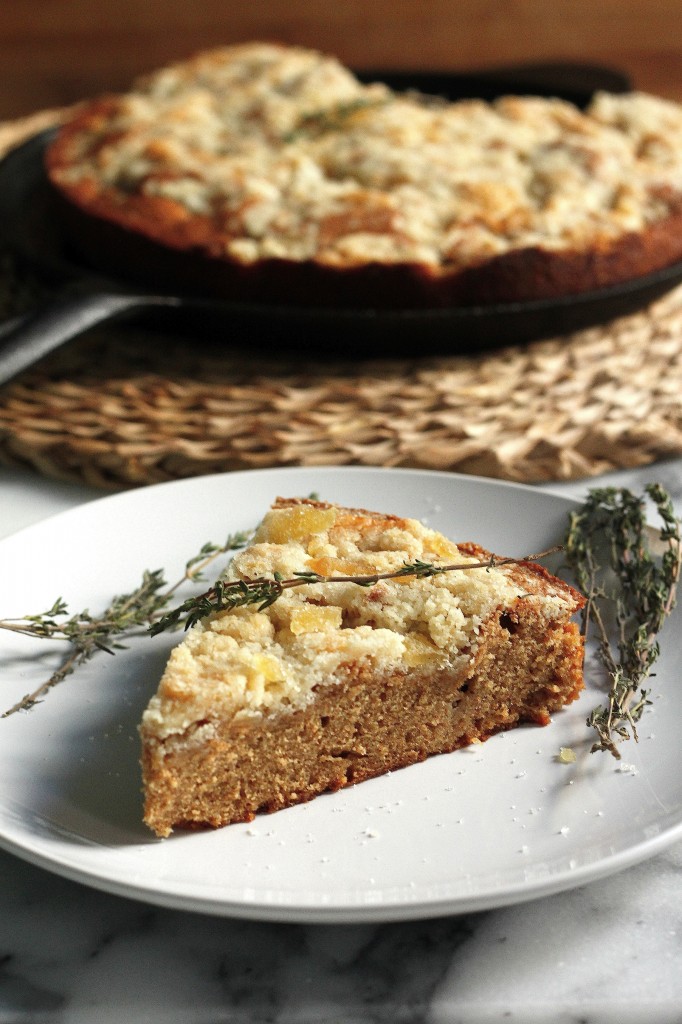 I have a cup of chai and the last piece of this beautiful buckle waiting for me in the other room… so ya know, I gotta go 😉
Wishing you an amazing day! xo
Whole Wheat Pear, Ginger, and Thyme Buckle – Baker by Nature
Ingredients
For the topping:
4 tablespoons unsalted butter, cut into tiny bits
1/2 cup brown sugar
1/3 cup all-purpose flour
1/2 teaspoon cinnamon
1/4 teaspoon freshly grated nutmeg
1/4 teaspoon ground ginger
1/2 teaspoon fresh thyme, chopped
1/4 cup crystalized ginger, chopped into tiny pieces
For the batter:
1 1/2 sticks unsalted butter, at room temperature
3/4 cup brown sugar
2 teaspoons vanilla extract
1/2 teaspoon double-acting baking powder
1 cup whole wheat flour
1/2 cup all purpose flour
1 teaspoon ground ginger
1/2 teaspoon salt
3 large eggs
3 large pears, peeled, cored, and chopped into bite sized chunks
1/4 cup full-fat greek yogurt or sour cream
Instructions: 
Preheat oven to 350 degrees (F). Generously grease a 10 x 2 inch round cake pan; set aside.
For the topping: In a small bowl blend together the butter, sugar, flour, cinnamon, nutmeg, ginger(s), and thyme until the mixture resembles coarse meal. Chill the crumble in the freezer while preparing the buckle batter.
For the batter: In the body of a stand mixer fitted with the paddle attachment beat together the butter and sugar until light and fluffy. Add in the vanilla.
In a small bowl stir together the baking powder, flour, ginger, and salt. Add the flour mixture into the butter mixture, alternately with the eggs, 1 at a time, beating well after each addition. Fold in the pears and greek yogurt, being careful not to over mix!
Spread the batter into the prepared pan, sprinkle the crumble evenly over top, and bake for 45 to 50 minutes, or until a tester comes out clean and the topping is crisp and golden. Serve the buckle with ice cream, whipped cream, or as is!