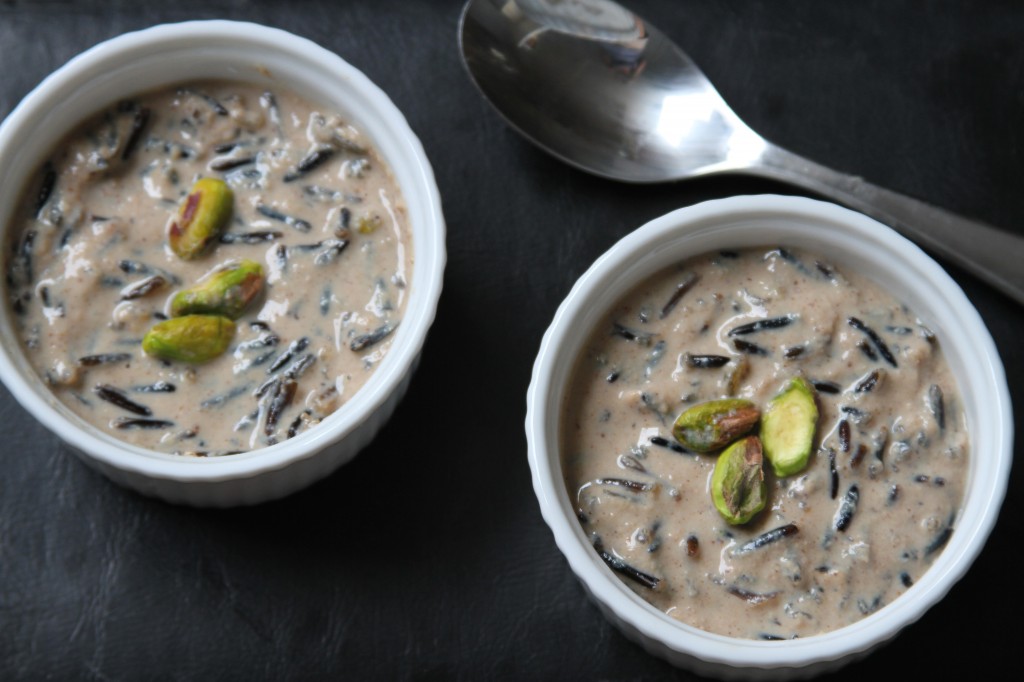 This is wild rice, in the style of pudding. This is a very good thing.
This is how we eat dessert for lunch and write it off as health food. This is how we spend a much needed hour hovering over the stove – spoon in hand – stirring and singing (spoons make great improv microphones!!). This is how we spend a sunny afternoon swimming deep in Parisian day dreams in lieu of errands, exercise, and emails.
We all need to sing into a sticky spoon sometimes, right? Let's keep life light, like that.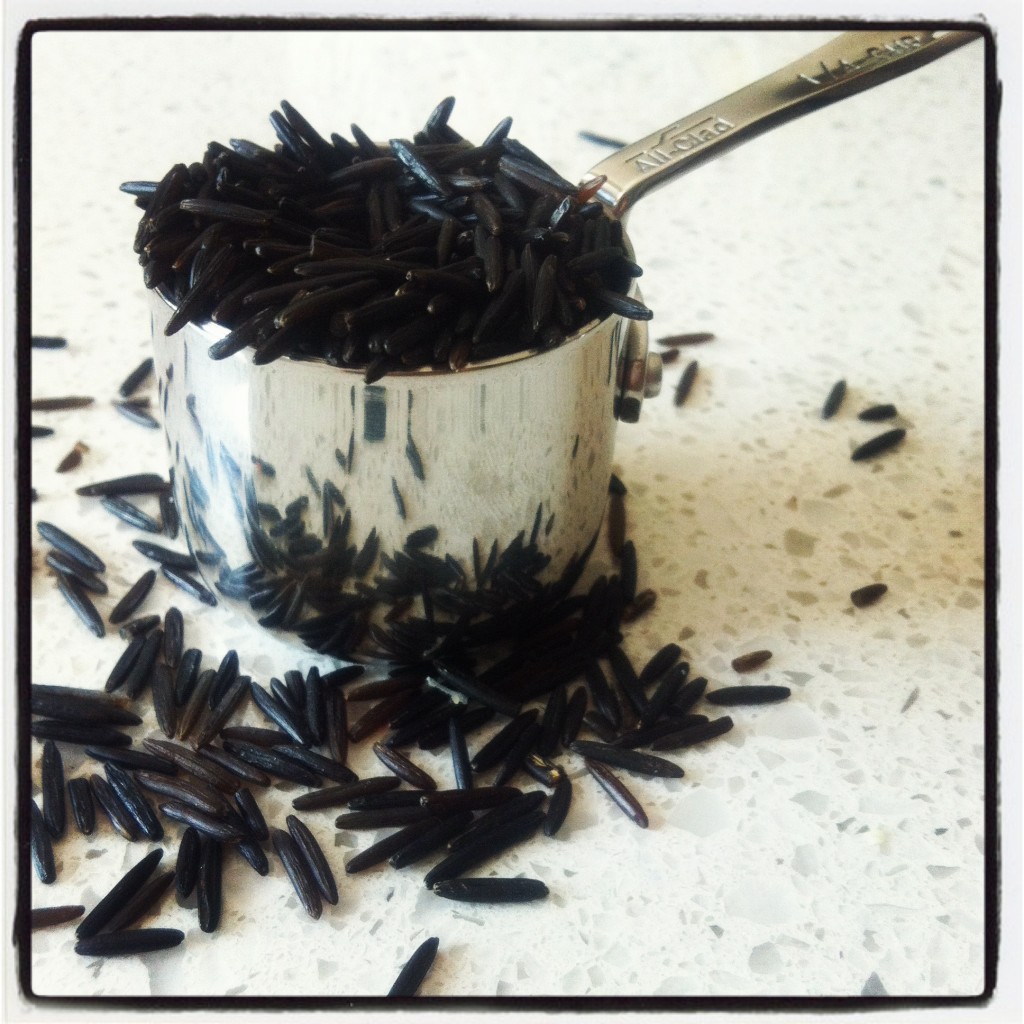 Sane logic would argue rice pudding is typically anything but light. And this would be true… if we were sticking with typical thinking. We're not.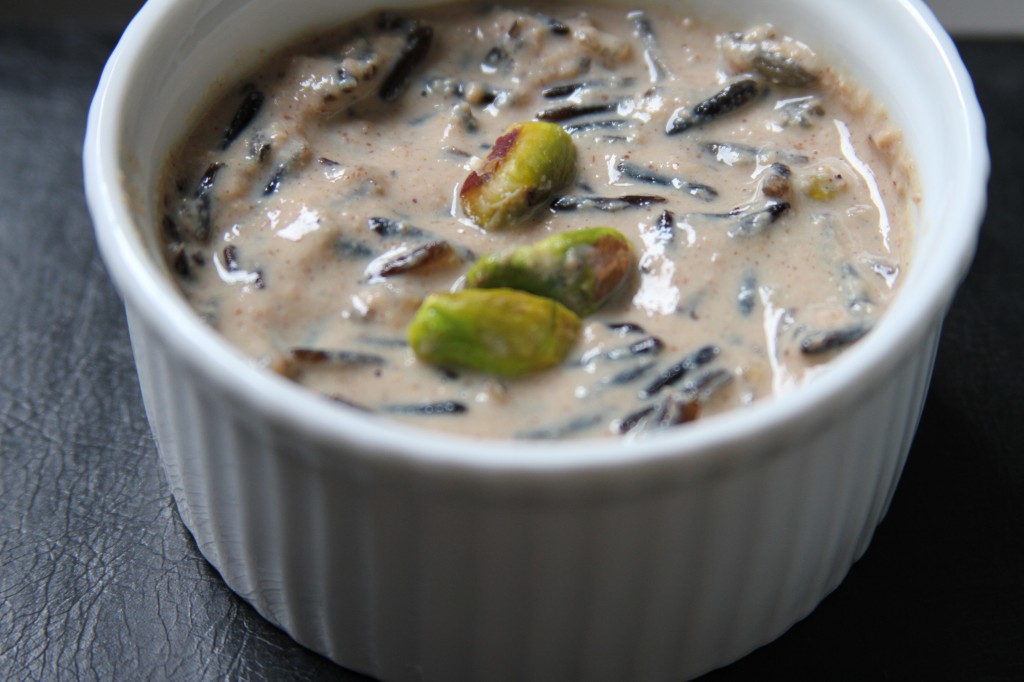 Sure… it's still not salad. But it's lighter!
We're swapping plain rice in favor of the super health-ed up wild variety. We're deleting sugar and adding a touch of maple syrup. And we're ditching cream for utterly pure and creamy whole milk. Oh, and there's major spices to keep things interesting: ginger, cinnamon, cloves, and nutmeg, of course! Chopped pistachios on top… Stop it! Seriously.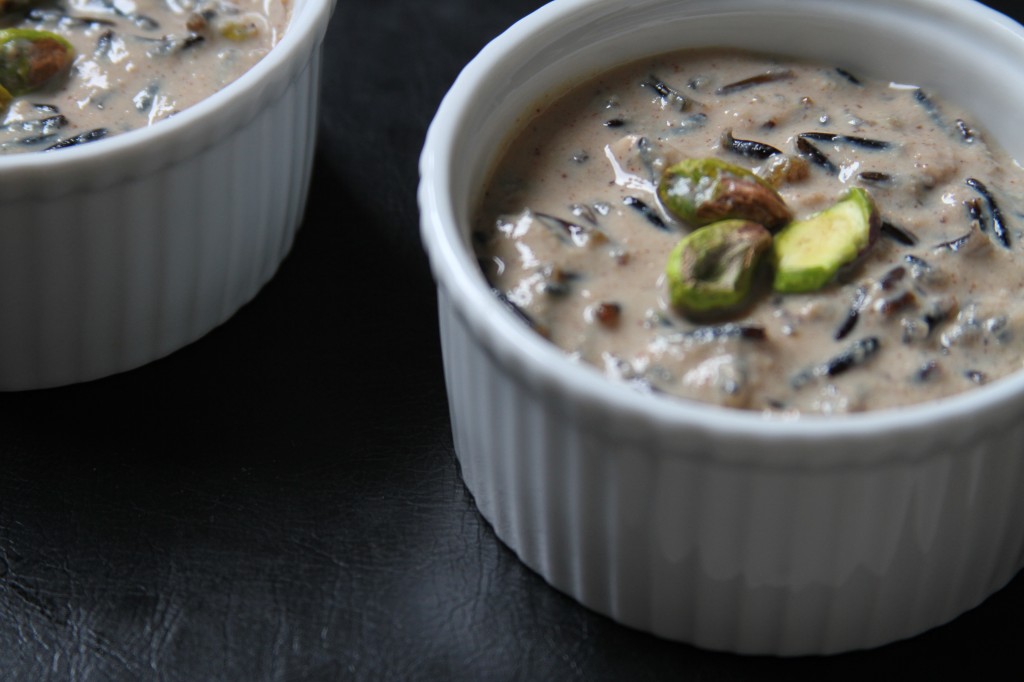 Like risotto, this dish really does require a good dash of patience. You can do it! Patience totally pays off.
And really, an hour in front of the stove with nothing but stirring on the agenda can be major in the relaxation department. My hand is always raised when rice, relaxation, and pudding are involved. How about you?
Wild Rice Pudding – Baker by Nature
1/2 cup wild rice
3 cups whole milk
1/4 cup maple syrup
1/2 teaspoon salt
1/2 teaspoon cinnamon
1/2 teaspoon ginger
1/4 teaspoon cloves
1/4 teaspoon nutmeg
1 tablespoon vanilla extract
1/4 cup chopped pistachios for sprinkling
Makes 4 servings
Instructions:
Wash wild rice well, drain and place in medium large saucepan. Add milk, maple syrup, salt, spices, and vanilla; Bring to a boil, stirring constantly. Once rapidly boiling, reduce heat to low and cook, stirring occasionally, for 45 minutes- 1 hour, or until liquid has reduced to resemble a thick pudding and rice is just under cooked. Garnish with pistachios and serve immediately, or wrap with cling wrap pressed to touch pudding and refrigerate.