Fluffy Yellow Cupcakes with Nutella Buttercream Frosting are so festive and perfect for parties! A classic treat everyone will love!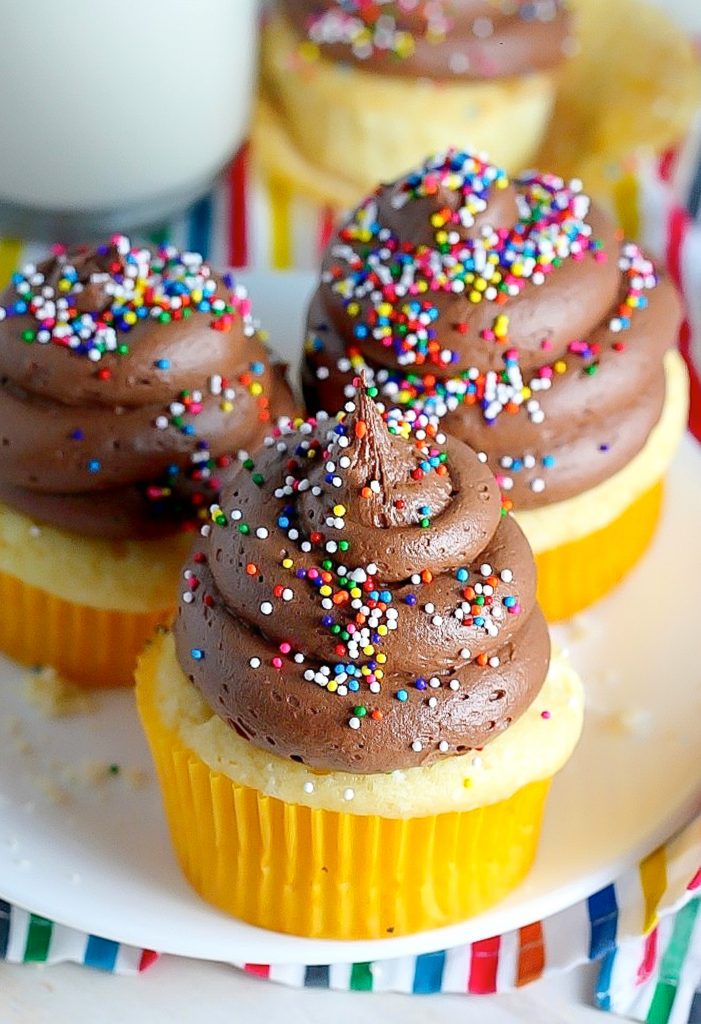 Yellow Cupcakes with Nutella Frosting 
Last weekend we spent some time exploring a new town not far from our own, and I was so excited to see there was not one, or two, BUT three cute bakeries on the same block! They were all a bit different – one was vegan, one was French (and super fancy), and one was old fashioned baked goods – but we decided to try a little treat from each. Sometimes you just gotta indulge, right? I loved everything we tried (no surprise there), but my favorite of the three was a perfect yellow cupcake we bought from the old fashioned bakery. It was moist, flavorful, and piled high with chocolate buttercream. I ate every single crumb! And when it was gone, I instantly felt inspired to try and recreate it at home.
After a few tries, I've found your new favorite yellow cupcake recipe! The base is so light, moist, and buttery – no dry yellow cake here. To make things even better, these perfect cupcakes get topped with a thick, creamy Nutella frosting that is just to-die-for. I seriously could not stop "taste-testing" it! I have a feeling once you take a little taste for yourself you'll see why 😉
These cupcakes are basically heaven on earth!
The batter is so easy to make and comes together using a stand mixer in just minutes! The cupcakes bake for about 16 minutes, then cool in the tin for another 10 before making their way to a cooling rack. It is important, as always, to wait for the cupcakes to cool completely before slathering them in frosting. Waiting is hard, but totally worth it in the end 😉
The buttercream is also simple to make, and can be made in the stand mixer as well. If you don't own a stand mixer, I suggest using a handheld beater for this process, as the butter really needs to be beaten until creamy, and that can be hard with just a whisk and elbow grease. Hard… but I don't think impossible 😉 Just sayin'. xoxo
More Birthday Cake Recipes:
Yellow Cupcakes with Nutella Buttercream Frosting
Ingredients
For the Yellow Cupcakes:
5 1/2 tablespoons unsalted butter, at room temperature
3/4 cup + 2 tablespoons granulated sugar
1 large egg + 1 egg yolk, at room temperature
1 teaspoon Vanilla Extract
1 1/4 cups all-purpose flour
1 1/4 teaspoons baking powder
1/2 teaspoon salt
1/2 cup sour cream (I used Full-fat)
2 tablespoons milk (I used whole)
For the Nutella Buttercream:
8 tablespoons unsalted butter, at room temperature
2 cups powdered sugar, plus more if needed to reach a thicker consistency
2 1/2 tablespoons heavy cream
Scant 1/2 cup cocoa powder
1/4 cup Nutella
Colored sprinkles, optional
Instructions
For the Yellow Cupcakes:
Preheat oven to 350° (F). Line 12 muffin cups with paper liners and spray them lightly with non-stick spray.

In a large bowl using a handheld mixer or in the body of a stand mixer fitted with the paddle attachment, cream the butter and sugar until light and fluffy; about 2 minutes. Add egg and then egg yolk, beat until combined. Beat in vanilla.

In a separate bowl, whisk together flour, baking powder and salt; add to creamed butter mixture alternately with sour cream and milk, beating well after each addition.

Fill prepared cups three-fourths full.

Bake 16-20 minutes or until a toothpick inserted in center comes out clean. Cool in pans for at least 10 minutes before removing to a wire rack to cool completely. Spread with frosting once cooled.
For Nutella Buttercream:
In the body of a stand mixer fitted with the paddle attachment beat butter until creamy. Gradually add the sugar, then cocoa powder, and beat until combined (it make be craggily, that's ok). Add 2 tablespoons of the cream and beat until smooth. Beat in Nutella, and add additional powdered sugar (a 1/4 cup at a time) if the frosting looks too thin. Add additional cream if the frosting looks too thick, a tablespoons at a time. Spread evenly over cupcakes. Decorate with sprinkles if desired.