This is the BEST white cake recipe you'll ever bake! Each slice is moist, fluffy, and so delicious. This tender snow white cake recipe is made completely from scratch and with simple ingredients!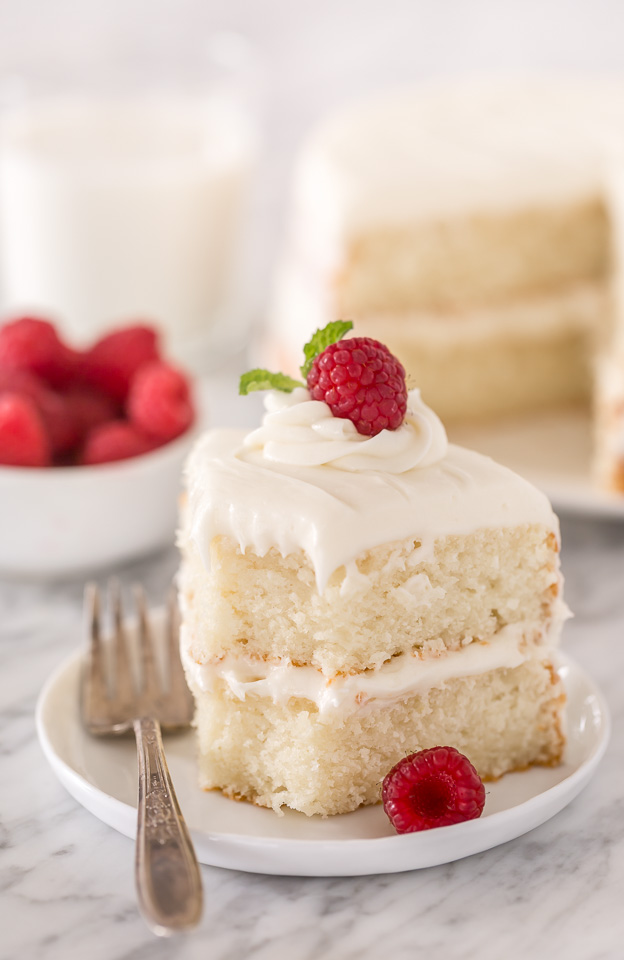 White Cake Recipe
Here at baker by nature, we LOVE cake! And we can prove it! Because if you search for cake on the site, you'll find over 300 options… with close to half of them being some variety of chocolate cake. Is my bias showing???
I think it is. Fine… I know it is. So while I'll always be #teamchocolate, I think it's about time we start showing some other flavors a little love. So this week we're adding 3 brand new cake recipes to the blog! Starting with today's brand new recipe for a white cake recipe from scratch!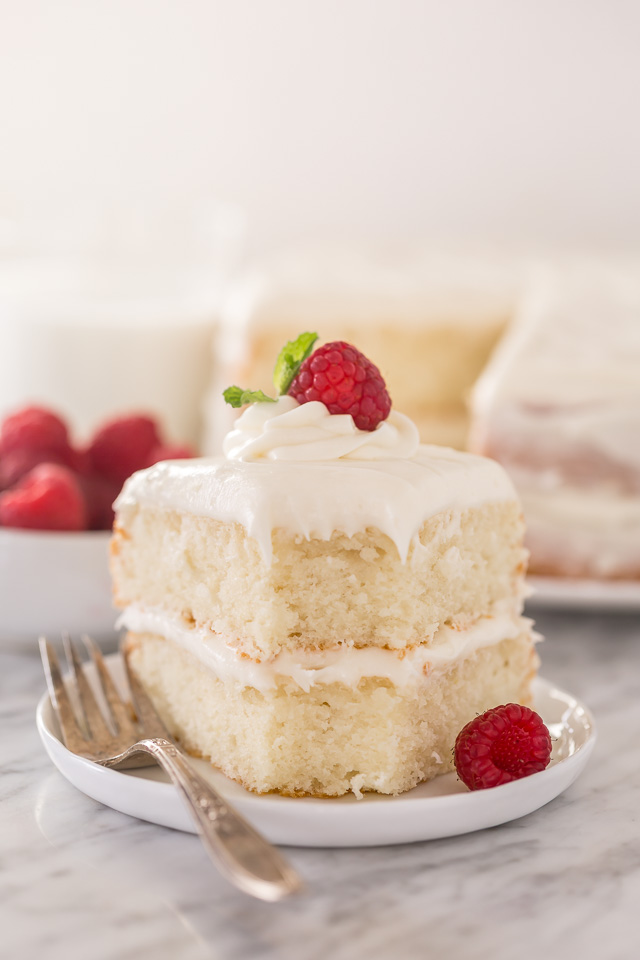 This cake recipe is:
super fluffy, yet sturdy enough to hold up under a variety of frostings! And yes… I think it could even handle a layer of fondant! but my favorite frostings for this cake are silky cream cheese frosting (I use this recipe) or a simple vanilla buttercream frosting!
flavorful yet moist! that's because we use butter AND oil! using both of these ingredients yields a super moist white cake recipe you're sure to love. the butter gives the cake its rich and buttery flavor, while the oil adds essential moisture. so use them both!
made with just a handful of basic ingredients! just 8 ingredients needed for the cake itself!
perfect for birthday parties, small weddings, or any celebration!
Simply put, this is an easy homemade cake recipe everyone will love!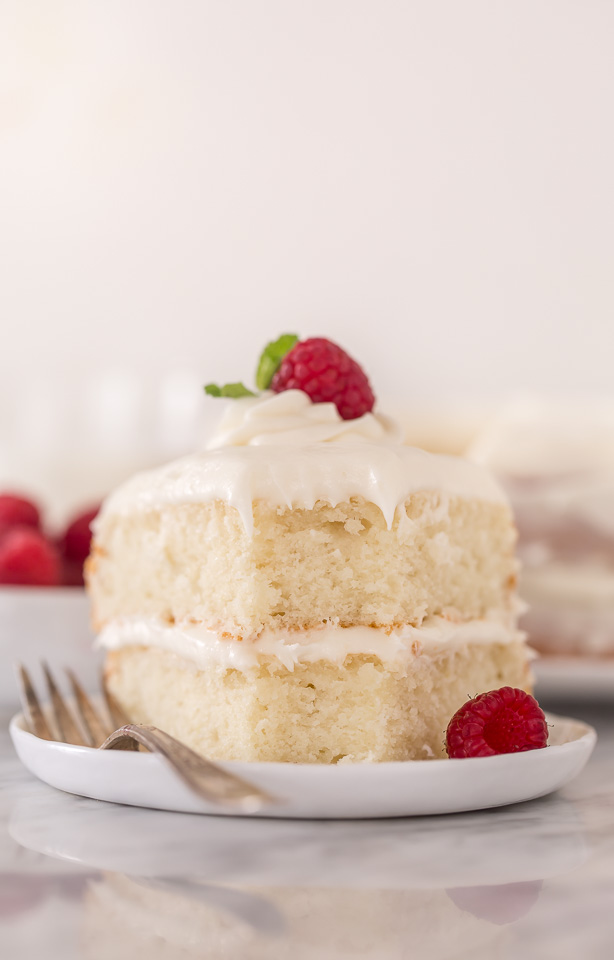 Best White Cake Recipe
What Ingredients do I need to make this?
butter: this cake calls for 8 ounces of unsalted butter, but salted will work in a pinch! simply reduce the amount of salt called for in the recipe by a 1/4 teaspoon.
sugar: for a snow white colored cake, be sure to use ALL granulated sugar.
egg whites: you'll need 6 large egg whites. but don't throw those egg yolks away! you can place them in a small storage container and save them for another recipe.
lemon zest: this is totally optional, but personally I love the light lemon flavor it adds.
flour: a lot of white cake recipes call for cake flour, but my recipe uses all-purpose flour because i know that's what most folks always have on hand. if you have cake flour and want to use it, feel free!
baking powder: our rising agent. you'll need 1 TABLESPOON of it. and yes, tablespoon… not teaspoon 😉
salt: to balance out the flavors.
milk: for moisture! be sure to use full-fat milk. also known as whole milk.
and oil: this ingredient gives our cake a moist crumb. you can use canola oil, vegetable oil, or even unrefined coconut oil, just be sure it's melted and slightly cooled first.
And that's it! I do not use vanilla in my white cake recipe, but if you'd like, you can add a splash. Just be aware that unless you're using a clear colored vanilla extract, it may alter the color of your white cake. So if the pure white color is important to you… skip it or buy a clear variety of vanilla.
You'll also need cream cheese, butter, powdered sugar, and cream to make the frosting I used. But like I mentioned earlier, you can pair this cake with any frosting you want! So don't feel like you have to stick with cream cheese.
Equipment wise, you'll need two things:
This might be a no-brainer, but you will need two 9″ cake pans for this recipe. I have not tested this recipe using a different pan – such as a 9×13 pan or cupcake pan – so I cannot advise on how that would work.
You'll also need a stand mixer or electric hand mixer for this recipe! Unfortunately, this fluffy white cake recipe cannot be made without some kind of electric mixer, as the butter and sugar MUST be beaten at a high speed.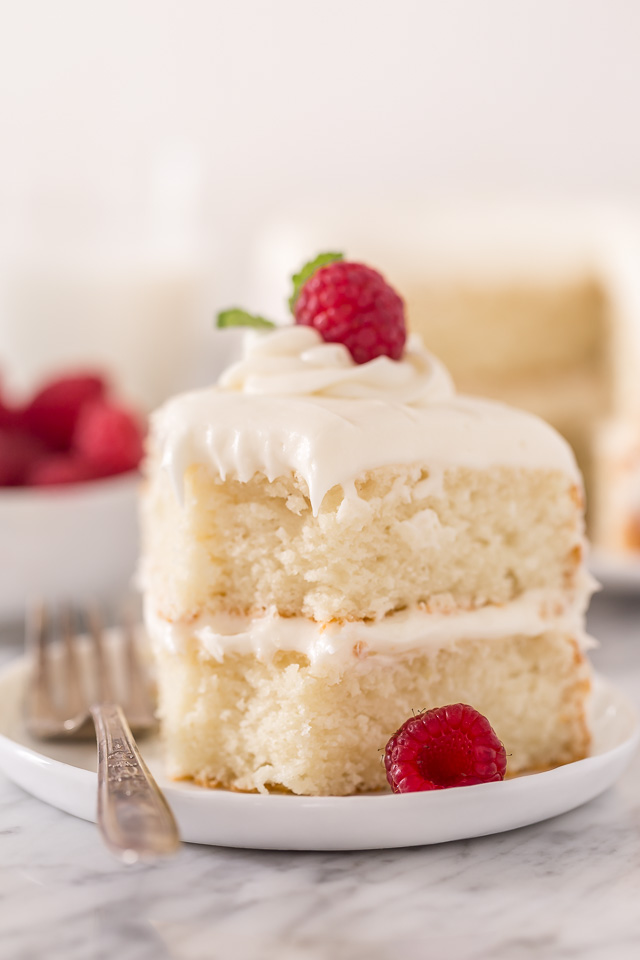 How to make White Cake
If you already have those two items, baking this cake is… well, a piece of cake! ← Sorry, I couldn't resist!
First step is beat the butter until smooth. Then you're going to gradually beat in the sugar (and lemon zest, if using) and beat this mixture on high speed until light and fluffy. At this point, you'll want to reduce your mixer speed to low and add in those egg whites, a little bit at a time, scraping down the sides of the bowl as needed, and beating well after each addition. ONE QUICK AND IMPORTANT NOTE ABOUT THE EGG WHITE: you must beat them before adding them to the butter and sugar mixture. I go into detail on this in the recipe box below, but I just want to double stress how important this is! It only takes about 2 minutes, but it's a crucial step in the batter coming together the right way.
Ok, now we can continue 😉 Next you'll add in the flour mixture in thirds, alternating with the milk, beginning and ending with the flour. Be sure not to over mix here! And finally, you'll fold in that oil and mix until it's just combined.
Last but not least, you'll divide the cake batter evenly among the prepared cake pans and bake for 22 to 24 minutes. But if you're oven runs hot, you might want to start peeking on it around 20 minutes. You'll want to bake the cakes until they're lightly golden around the edges and a toothpick inserted in the center comes out clean. Be sure to cool the cakes in the pans placed on a cooling rack for 15 minutes before removing them from the pans to cool completely.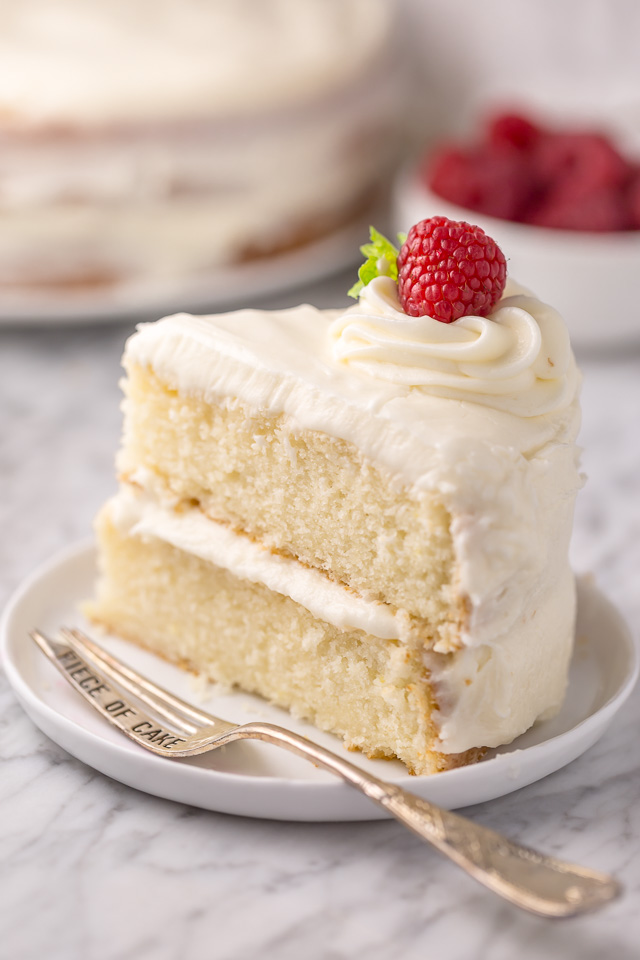 While the cakes cool, you can whip up whatever frosting you're going to use so it's ready to go. And finally, if you'd like to decorate your cake like I did, simply top it with some fresh raspberries and a little sprig on mint. I love these garnishes because they add a pop of color without taking away from the classic look of this cake. But feel free to decorate with rainbow sprinkles, a variety of berries, or leave plain!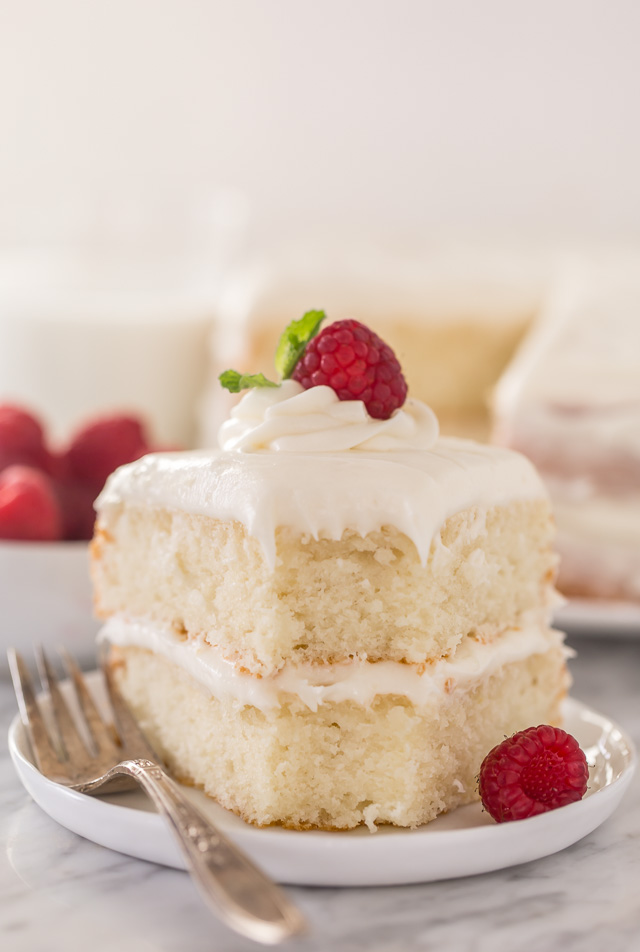 Best Cake Recipes
So many cakes… so little time!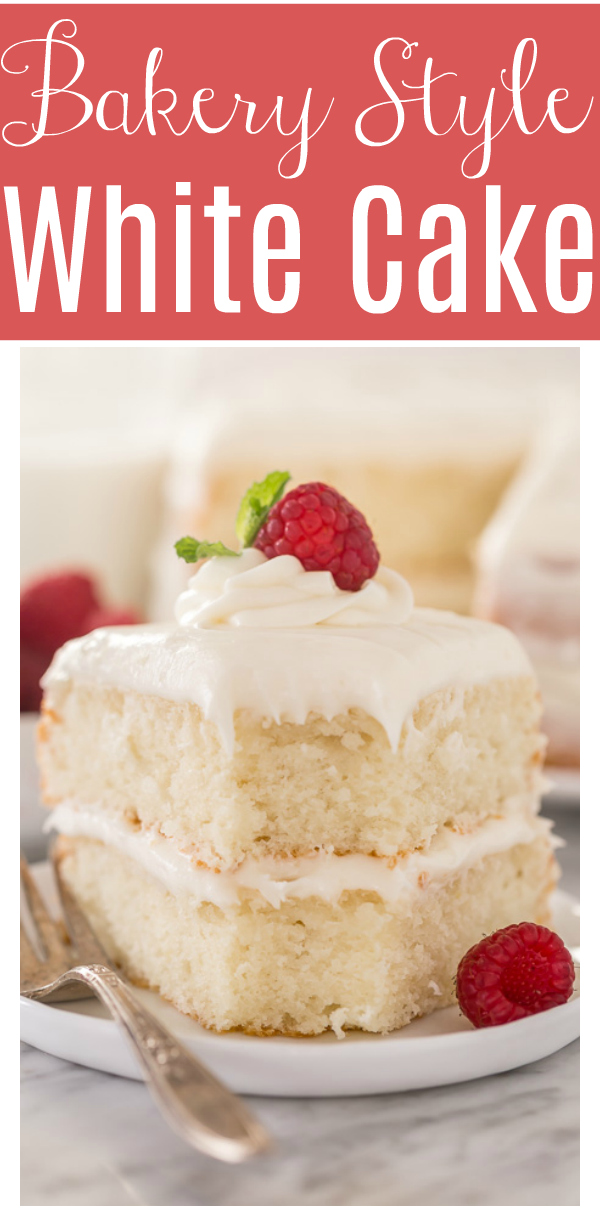 AND IF YOU TRY THIS RECIPE FOR THE BEST WHITE CAKE, LET ME KNOW! LEAVE A COMMENT BELOW AND DON'T FORGET TO SNAP A PIC AND TAG IT #BAKERBYNATURE  ON INSTAGRAM! SEEING YOUR KITCHEN CREATIONS MAKES OUR DAY.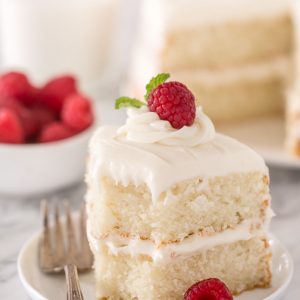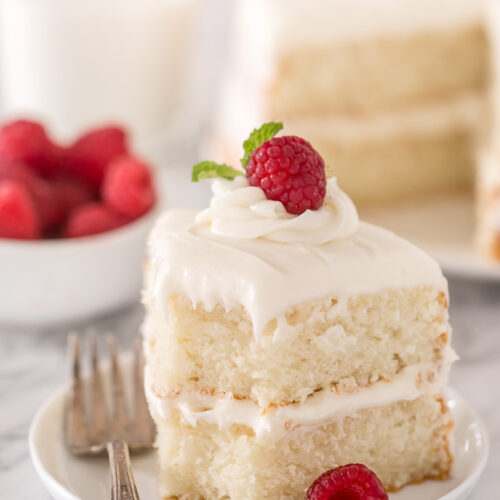 The Best White Cake Recipe
This is the BEST white cake recipe you'll ever bake! Each slice is moist, fluffy, and so delicious. This tender snow-white cake is made completely from scratch and with simple ingredients!
Ingredients
3 cups all-purpose flour (be sure not to pack your flour into the measuring cup)
1 Tablespoon baking powder
3/4 teaspoon salt
1 cup (8 ounces) unsalted butter, softened to room temperature
1 and 1/2 cups granulated sugar
6 large egg whites, *lightly beaten
1/2 teaspoon lemon zest, finely grated, optional
1 and 1/2 cups whole milk
1/4 cup oil (canola or vegetable)
This cake goes great with ANY frosting! I used this cream cheese frosting for the one you see in my photos!
Instructions
Preheat oven to 350 degrees (F). Generously grease the bottom and sides of two 9-inch round cake pans; set aside until needed. 

In a large mixing bowl, sift together the flour, baking powder, and salt; set aside. 

In the bowl of a stand mixer fitted with the paddle attachment, or in a large bowl using a handheld electric mixer, beat the butter on medium-high speed until smooth and creamy, about 1 minute. Gradually add in the sugar. Once all of the sugar has been added, beat on high speed for 2 minutes. 

Reduce the speed to low and add in the lightly beaten egg whites, a little bit at a time, beating well after each addition, and scraping down the sides of the bowl as needed. Beat in the lemon zest, if using. 

Add the flour mixture in three additions, alternating it with the milk, beginning and ending with the flour, mixing until just combined. Fold in the oil and mix on low until the oil is incorporated into the batter. 

Divide the batter evenly among the prepared pans and smooth the tops. 

Bake for 22 to 25 minutes, or until lightly brown around the edges and a toothpick inserted in the center of the cakes comes out clean. Cool the cakes in the pans places on a wire rack for 15 minutes. Then invert the cake layers onto cooling racks and cool completely.

Once cool, frost with your icing of choice and serve! 
Notes
*Separate egg yolks and egg whites. Place the yolks in a small bowl and save for another use, or discard them. Place the egg whites in a large bowl. Using a whisk, lightly beat the whites until they look frothy and small bubbles appear on the surface. They are now ready to be added to the batter.