For a while now I've been on the search for a perfect everyday chocolate chip cookie (also searching for the perfect ballet flats, but that hunt is still on!). Not so much a cookie that should be eaten everyday - although that would be sweet! But more of an everyday chocolate chip cookie that appeals to a fearless baker as much as it does to a quite terrified one. A chocolate chip cookie that my picky pants toddler of a niece will devour as quickly as my bosses fancy friends. A cookie that doesn't need days on days parked in the fridge trying to develop personality and charm. Not that there's anything wrong with that. Ya know, it's just sometimes I want a cookie, and I want it NOW.
I'm sure you know that feeling… right?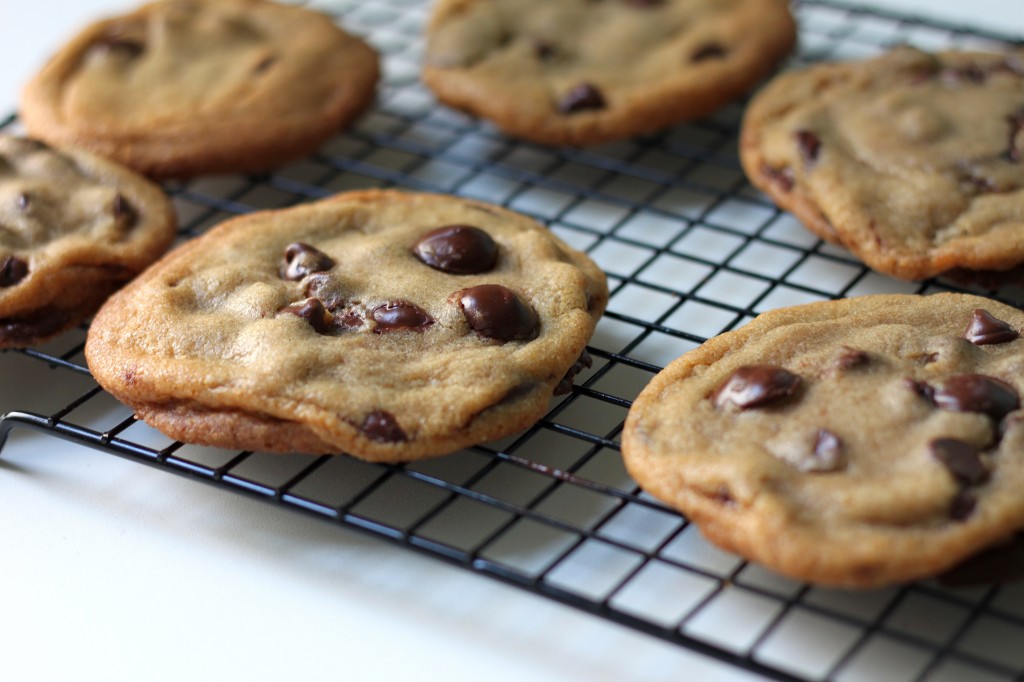 I've been toying with my family recipe for a few weeks now, and finally – after many very good buuuuut not quite perfect trial batches – I found the one! I totally want to eat these every day. And maybe I have been… Can you blame me?!
They're thick! They're chewy! They're oozing with chocolate! Did I mention the crispy edges and gooey centers? Ooooooh, and the daintiest hint of sea salt that gives enough pop for developed palates but doesn't freak out toddlers!? Yeah. It's all there.
We brought these to our beach house a few weeks ago and the kids (and adults!) finished them in a matter of hours.
These cookies are teenager, toddler, and boyfriends mother approved… and that is, well, saying a lot!
Happy baking, friends. Now, let's go get our faces messy with hot, chocolate chip cookies!
Everyday Chocolate Chip Cookies – Baker by Nature
Ingredients:
2 cups all-purpose flour
3/4 teaspoon baking soda
1/2 teaspoon flaky sea salt
15 tablespoons salted butter
1 cup dark brown sugar
1/2 cup granulated sugar
1 teaspoon vanilla
2 large eggs
1 cup milk chocolate chips
1 cup dark chocolate chips
1/2 cup bittersweet chocolate chips
Instructions:
Preheat oven to 375 degrees (F). Line 2 large baking sheets with parchment paper and set aside. In a medium sized bowl whisk together the dry ingredients and set aside. Place 8 tablespoons of butter in a small sauce pan over medium-high heat and cook for about 2 minutes – stirring almost constantly – until the butter has browned. Remove from heat and stir in remaining 7 tablespoons of butter; whisk until completely smooth. Add the sugars and the vanilla to the melted butter and whisk until combined. Add the eggs and beat quickly – for only about 30 seconds – until they're just combined. Let the mixture rest for about 5 minutes, then beat the eggs for another 30 seconds. Gently fold in the flour mixture with a wooden spoon, stirring only until the flour begins to disappear. Fold in milk, bittersweet, and dark chocolate chips.
Roll 3 tablespoon sized balls of dough between your palms to form a ball, then place on prepared sheet (make sure to leave enough room in between each cookie for inevitable spreading). Continue this process until all the dough has been rolled. Place baking sheets in preheated oven and bake for 12-14 minutes, or until golden at the edges but still soft in the middle. Let cookies cool for 5 minutes on the sheet before transferring to a wire wrack to cool completely.