My Foolproof All Butter Pie Crust is the best and ONLY pie crust recipe you'll ever need! Easy to roll out and yields a flaky and flavorful butter crust every single time. Perfect for all of your pie baking needs!

All Butter Pie Crust Recipe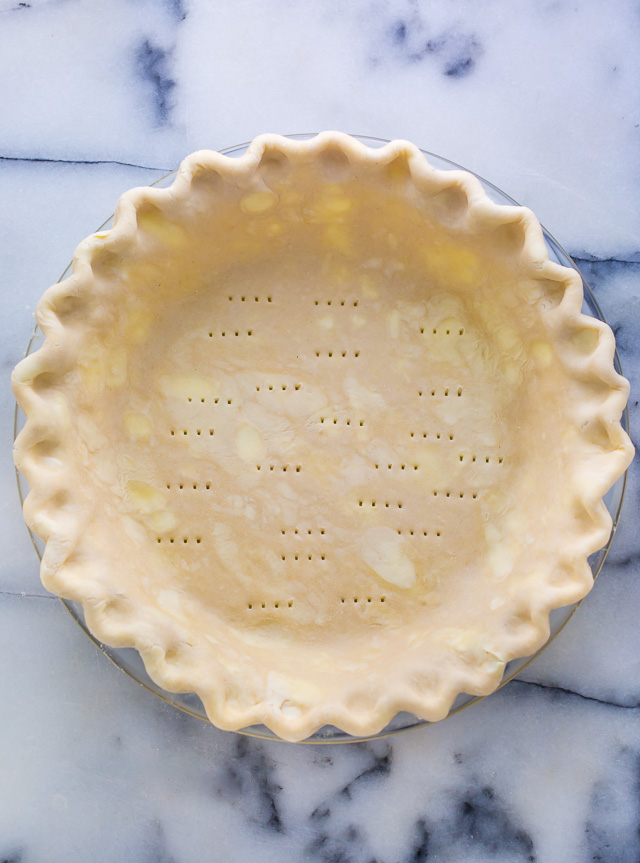 The Best All Butter Pie Crust Recipe
One of my goals for 2016 was to develop a foolproof all butter pie crust that anyone could make. I spent hours researching the topic, and countless nights in my kitchen baking one pie after another. It was a long road and I'm not going to lie – it wasn't always easy! Some of the pie crusts came out too greasy… others too dry… some wouldn't roll out… some shrank the minute they entered the oven… and on and on and on it went. Until finally, after exactly 26 fails, my hard work paid off!!! Lucky number 27 was flaky, flavorful, and quickly became my all-time favorite.
So without further ado, allow me to introduce you to my beloved foolproof all butter pie crust!
I should warn you – this recipe is not conventional. For starters, it only makes one pie crust per recipe. You'll have a little over a pound of pie dough, which will provide you with plenty to cover the pie pan as well as some leftover scraps which you can use to make a braided crust, add decorative cutouts, or simply discard. If you're making a double crusted pie, you'll need to make this recipe twice so you have enough dough.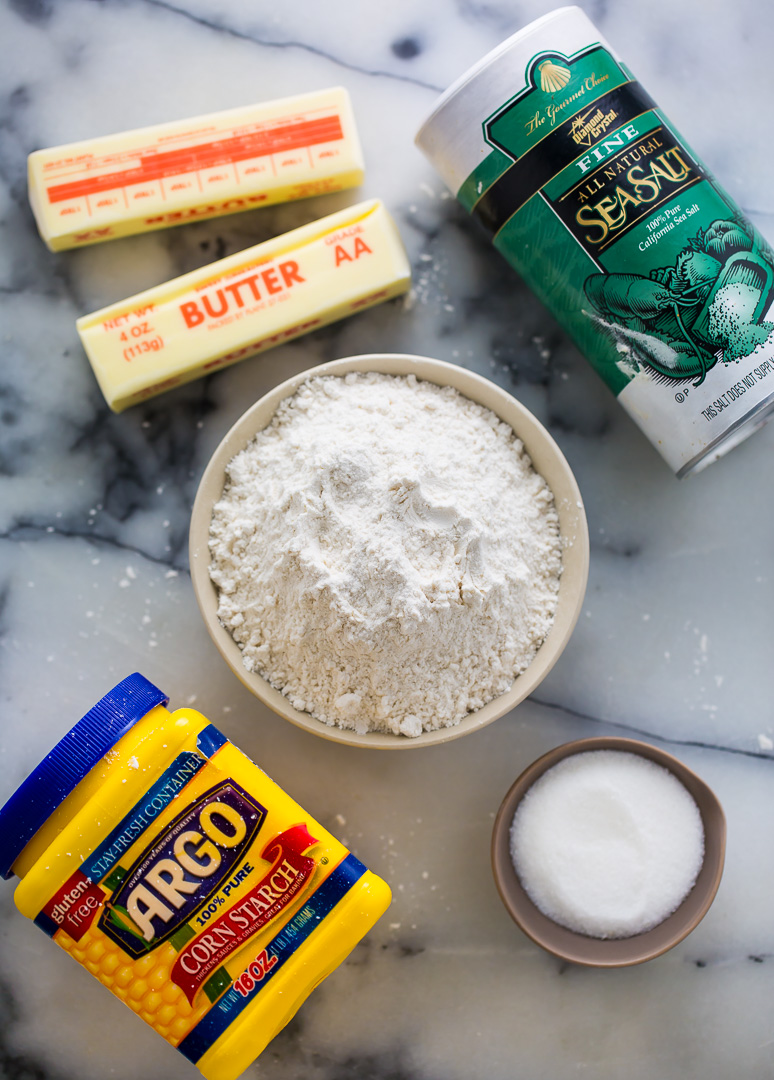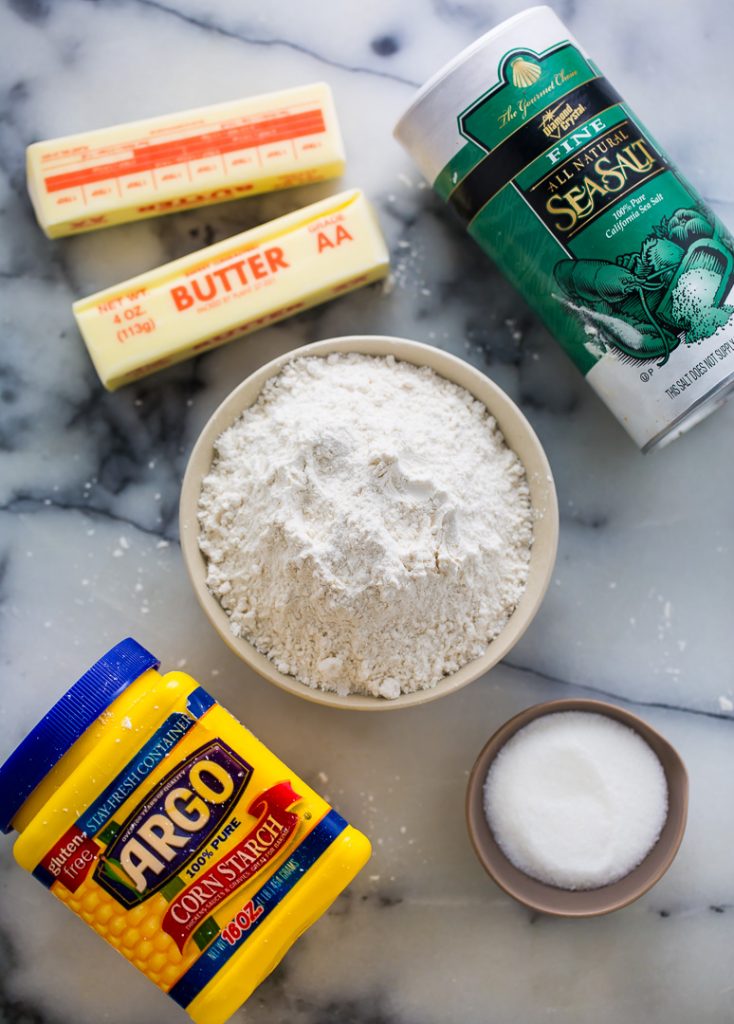 Choosing your ingredients:
For this recipe you'll need: flour, cornstarch, sugar, salt, butter, water, and apple cider vinegar.
Butter is easily the most important ingredient when it comes to making pie crust. Like many serious pie bakers, I love using European-style butter since it's sweet and higher in fat content than standard butter, however any unsalted butter will work. No matter what brand of butter you use, make sure you keep it as cold as possible! I recommend cubing the chilled butter then sticking the cubes in the freezer for 5 minutes before getting to work.
Most pie crust recipes use flour as the binder, however my recipe uses a combination of flour and cornstarch. The addition of cornstarch helps reduce the amount of gluten in the crust, which helps keeps it flaky and tender.
The liquid we'll be using in this recipe is a mixture of water and apple cider vinegar. You'll want to combine the two in a measuring cup, then place the mixture in the fridge until needed. If you find you need more liquid to bring the crust together, add one teaspoon of water at a time. Just be careful not to add too much! You'll want the dough to be just moist enough that it holds together when pinched.
I love using finely ground sea salt for this foolproof all butter pie crust, but kosher salt and even table salt will both work in a pinch.
Choose a quality brand of flour you enjoy working with. I use unbleached King Arthur flour in my pie crust and highly recommend checking them out if you're looking for a new brand to try.
Essential Tools: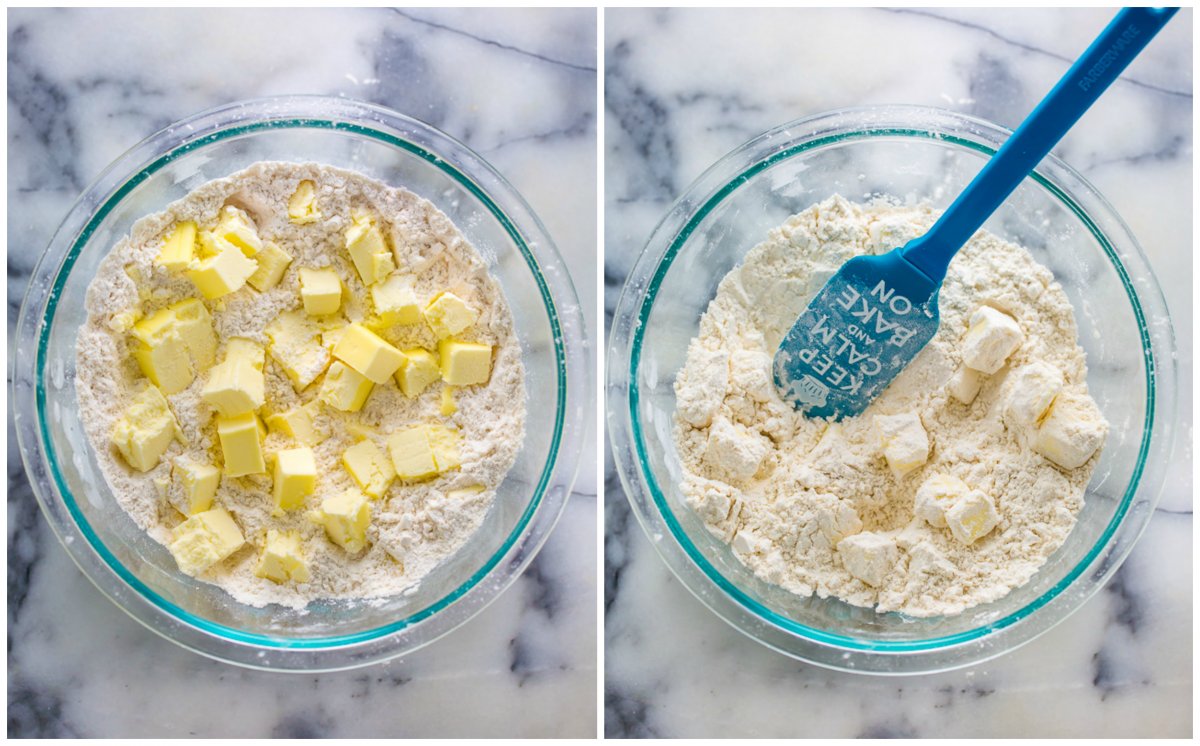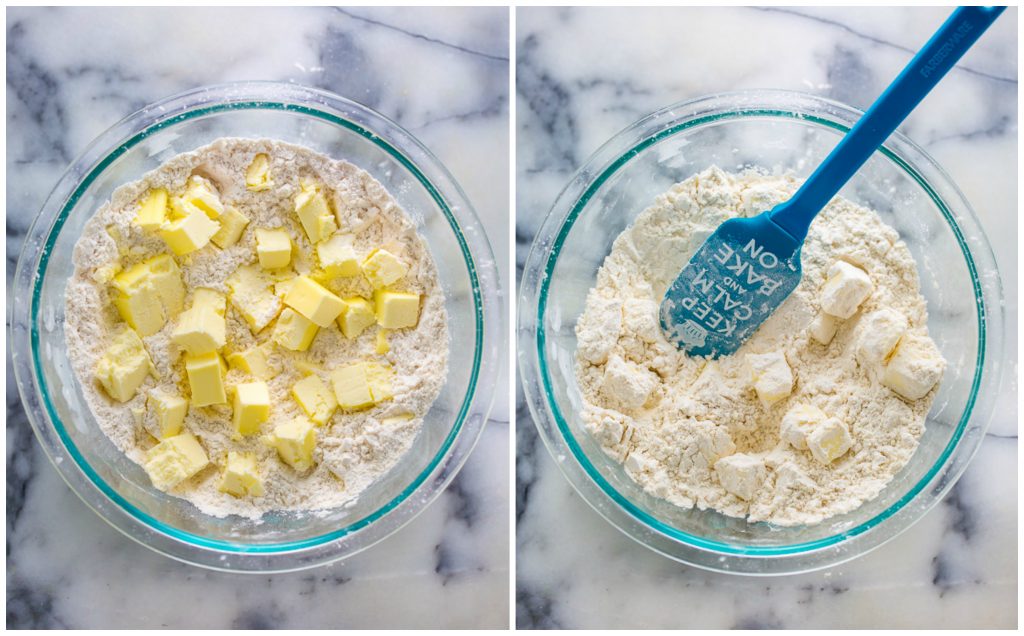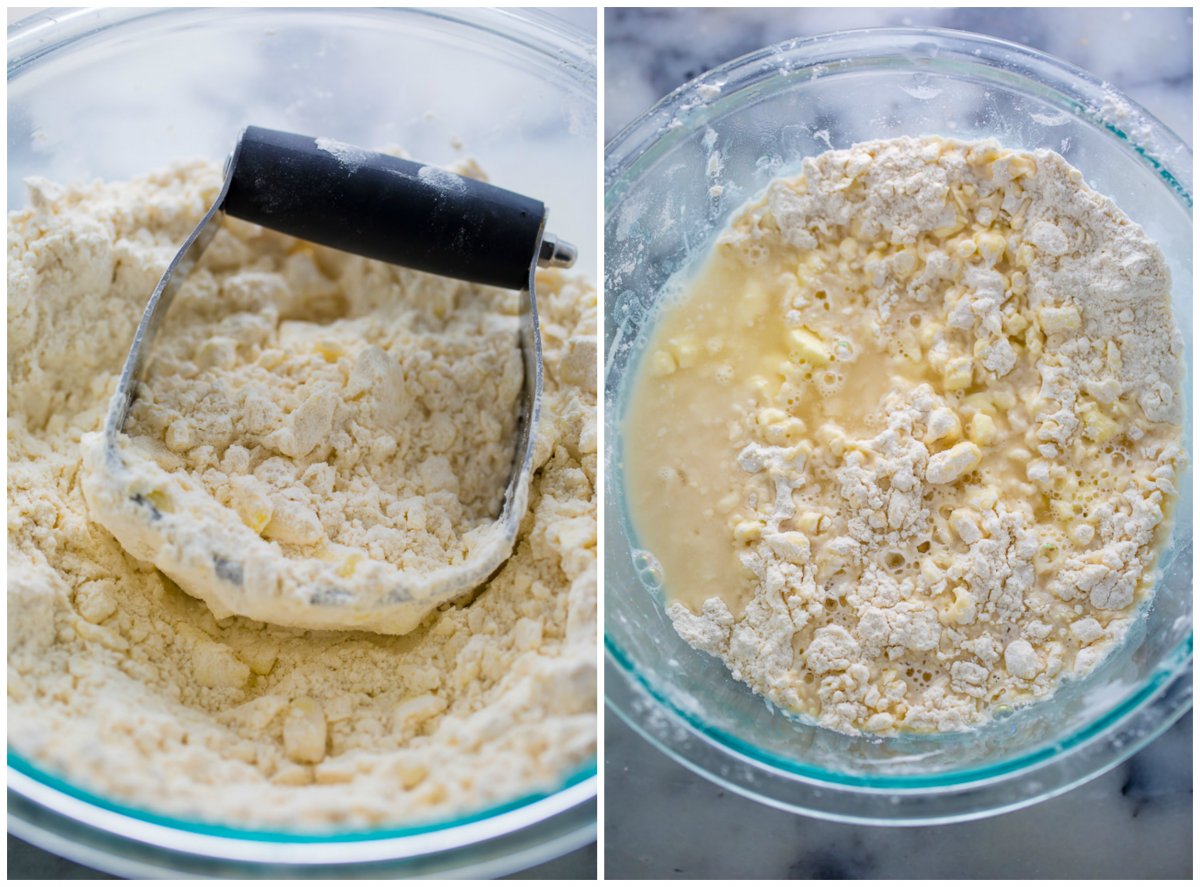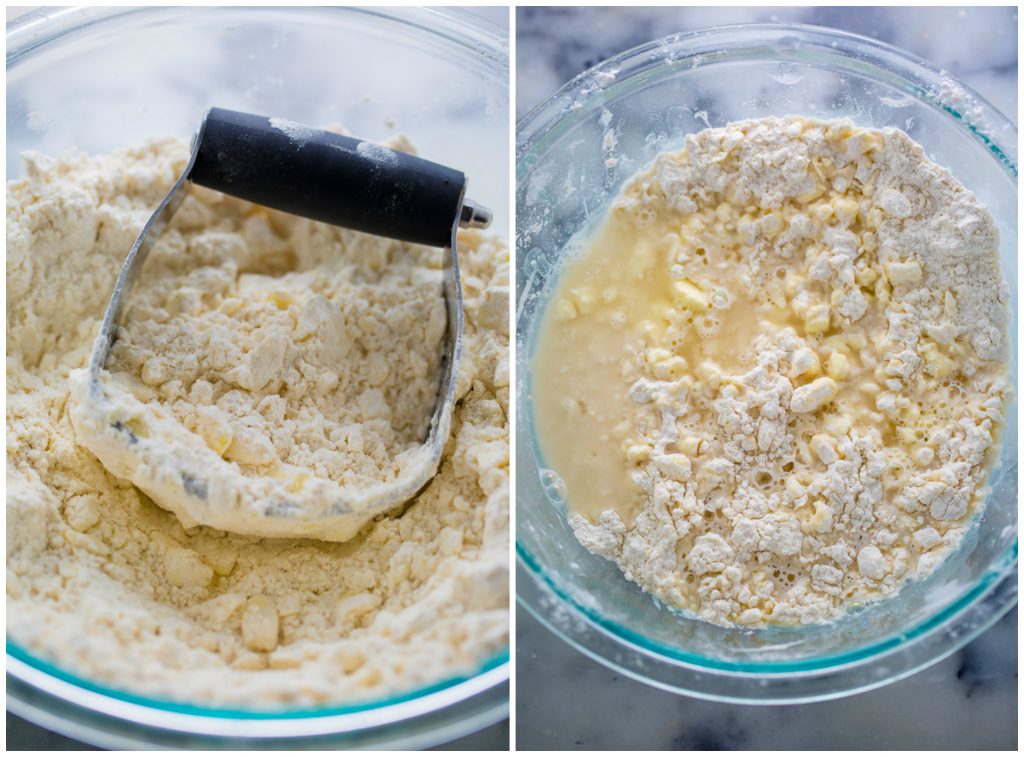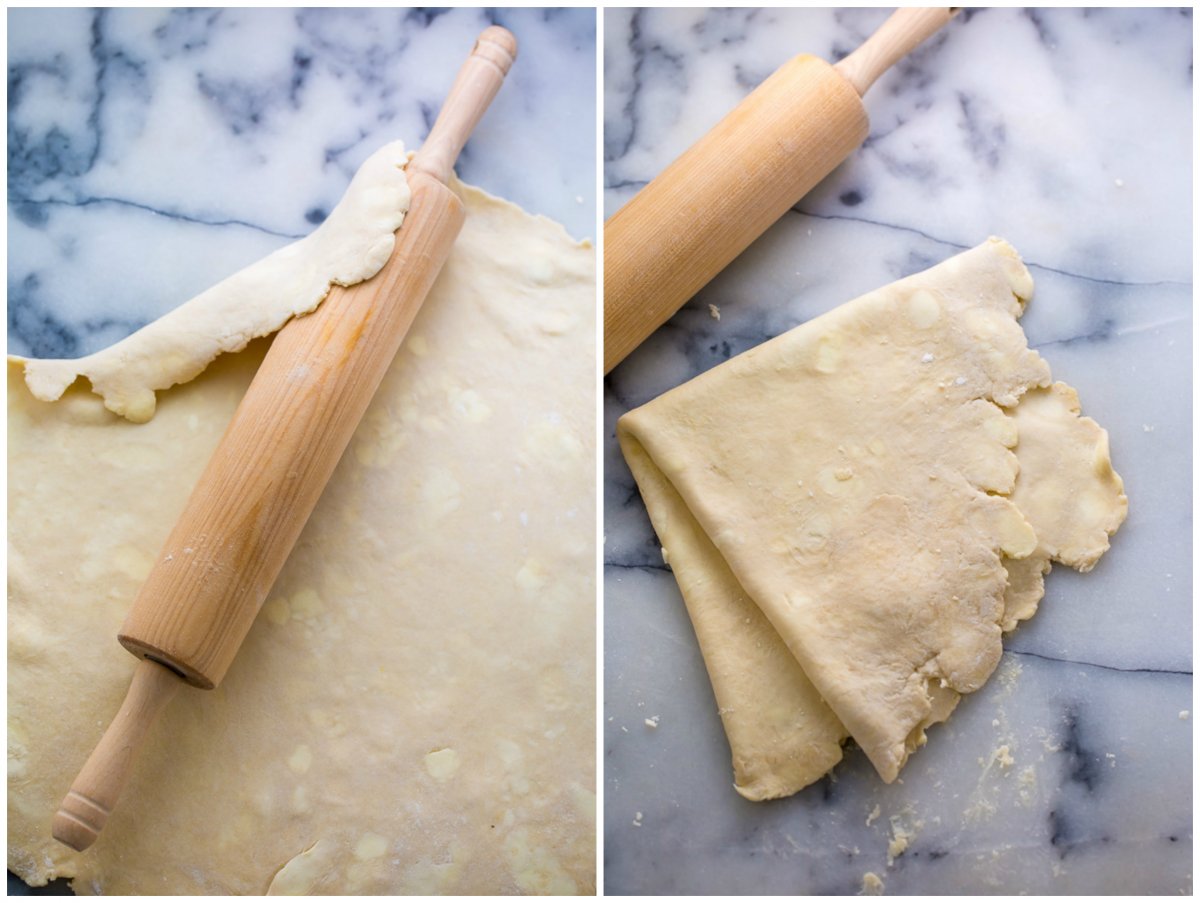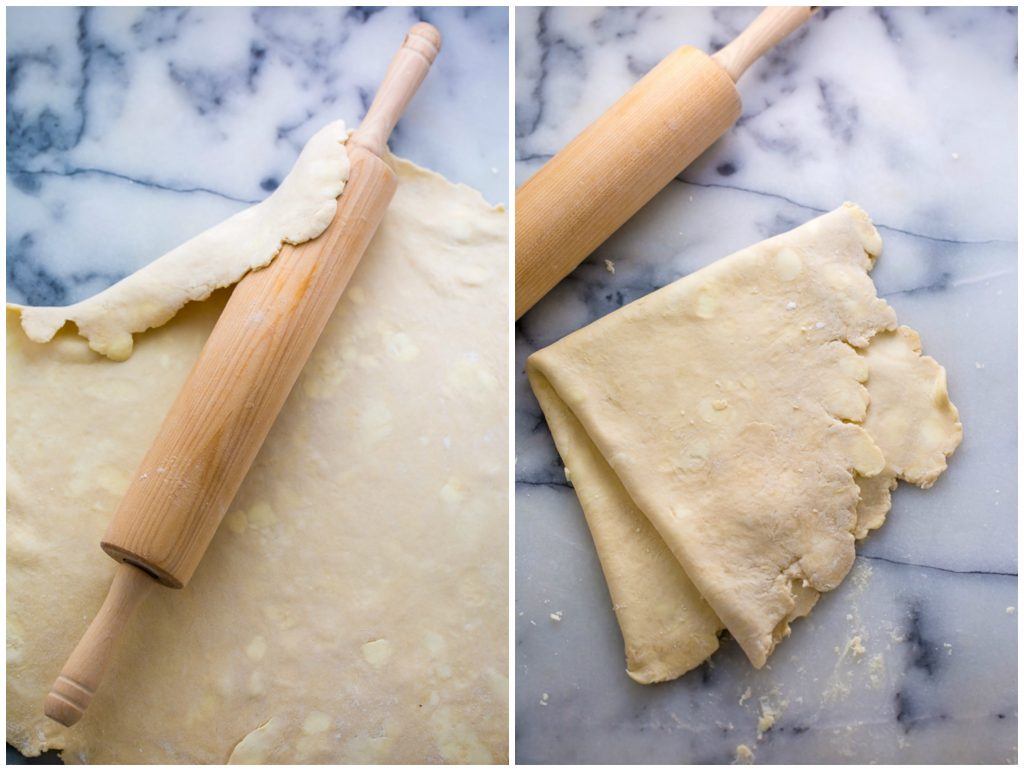 Tips and Tricks for Recipe Success:
Read the recipe twice and follow it exactly as written! Making any changes to the ingredient list or method will certainly affect the overall outcome of your pie crust.
Be aware of temperature the entire time you're making the dough. It must never get warm and the butter must never melt!
Make the pie crust in advance! It needs at least 2 hours in the fridge before being rolled out, another hour once it's been fitted into the pie pan, and at least another 20 minutes after its been filled. If you decrease the chill time, the pie crust will most likely shrink when baking. If you plan on baking multiple pies in one day, I suggest making your pie crusts in advance. Pie crust will keep, wrapped well in plastic wrap, in the refrigerator for up to 3 days and in the freezer for up to two months.
Choose the right pie dish. When I first started baking pies I had no idea how much this mattered! But it really, really does. Pie dishes come in many sizes, shapes, and are made from a variety of materials, such as glass, ceramic, aluminum, and metal. I prefer to bake with glass pie dishes because glass conducts heat evenly, which helps the crust and filling cook consistently. My second choice is ceramic pie dishes, which conduct heat just as well as glass, but can throw off the bake time, especially if you're using a very thick ceramic plate. I avoid metal pie dishes when possible because they absorb heat very quickly and tend to produce overcooked pie crusts. If you must use a metal pie plate, I suggest keeping an eye on your pie, and adjusting your baking time as needed. This recipe makes enough pie dough to line a 9″ or 10″ pie plate.
Be careful not to overwork your dough. Overworking the dough activates the gluten in the flour, which can cause the crust to become tough and shrink while baking. The good news? You can deactivate the gluten by placing the dough in the fridge to chill.
Before rolling out your chilled pie crust, make sure it's the right temperature by performing a simple test: press the dough lightly with your finger, your fingertip should leave an imprint but shouldn't easily sink into the dough. If the dough is too soft, place it back in the fridge to continue chilling; if the dough is too hard, let it soften at room temperature for 10 to 20 minutes.
So, are you ready to tackle this foolproof all butter pie crust or what?!
If you try this recipe, let me know! Leave a comment below and don't forget to snap a pic and tag it #bakerbynature on instagram! Seeing your kitchen creations makes my day. ♥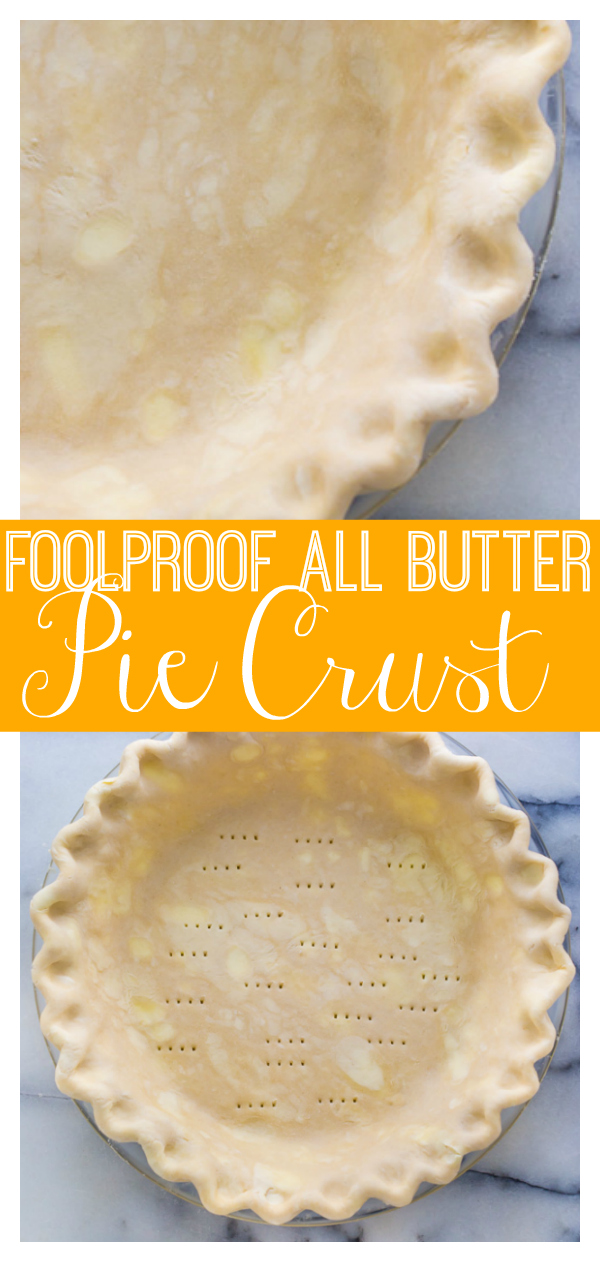 Ready to bake some Pies? Check Out these delicious Pie Recipes: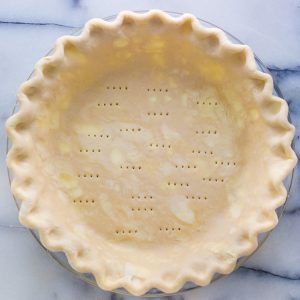 Foolproof All Butter Pie Crust
This Foolproof All Butter Pie Crust is the ONLY pie crust recipe you'll ever need! Perfect for all of your pie baking needs.  
Ingredients
1/2 cup ice cold water 113 grams
1 teaspoon apple cider vinegar 4 grams
2 cups all-purpose flour 280 grams
2 tablespoons cornstarch 15 grams
1 teaspoon salt 8 grams
2 tablespoons granulated sugar 26 grams
12 tablespoons unsalted butter, very cold and cut into cubes 166 grams
Instructions
In a spouted glass measuring cup combine the water and apple cider vinegar; place in the freezer until needed (this will get it ice cold).

In a large bowl combine the flour, cornstarch, salt, and sugar; whisk well to combine. Add the cold butter cubes and toss them in the flour, making sure each piece gets coated.

Using a pastry cutter, cut the flour and butter together until the pieces of butter are the size of peas. Slowly add in about 3/4 of the cold water and, using a rubber spatula, fold it into the mixture until there are just a few bits of loose flour left. If the dough is too dry and doesn't hold together when pinched, add the remaining cold water, one Tabelspoon at a time, just until the dough comes together. Be sure not too add to much liquid here!

Gather the dough together and carefully pour it out onto a lightly floured work surface. Gently knead the dough into a shaggy ball, about 5 or 6 kneads should do it. Scrape up the dough and form it into a disk. Wrap the dough in plastic wrap and refrigerate for at least 1 hour before use.

Remove the dough from the fridge 10 minutes before you begin rolling, as dough that is too cold will crack. Lightly flour a rolling pin and your work surface. Set the dough in the middle of the work surface and - beginning from the center of the disc - roll the dough away from you in one firm and even stoke. After each stroke, rotate the disc a quarter turn clockwise and roll again. Lightly sprinkle more flour on the work surface, on the dough, and on the rolling pin as needed. You want to use just enough to prevent the dough from sticking. As your disc of dough becomes larger, be sure not to overstretch the center of the dough. Continue rolling until the dough is 3 inches longer than the pan you are using, and around 1/8" to a 1/4" in thickness.

Carefully fold the dough in half and lay it across one side of a buttered pie pan, placing the seam of the dough in the center of the pan. Gently unfold the crust, then use your hands to fit the dough down into the pan, making sure there are no gaps between the dough and the pan. Burst any air bubbles with a fork. Do not pull or stretch the dough here!

Using kitchen sheers, trim the dough overhang to 1 and 1/2 inches, measuring from the inner rim of the pan. If making a single crust pie, roll and pinch the excess dough overhang under so that it fits directly on top of the pan's rim. Be sure to pinch and roll it tightly here, otherwise it could unroll while baking. Next, flute (or crimp) the pie crust. The best way to do this is to use the index finger and thumb of one hand to form a letter C that the thumb of your other hand fits into. Crimp the edges all the way around the pie, being sure the final crimped crust sits directly on the rim of the pan.

Cover the crust with plastic wrap and refrigerate for at least 1 hour, or up to 48 hours. You may also freeze for up to 2 months.

For baking, follow the instructions of the recipe you're using, as all pies are baked differently.